Coldsnap Booster Box
Description:
Terisiare, the island continent that was home to the Brothers' War and the Ice Age, is in a state of rebirth known as the Thaw. The icy shell that encased the continent is melting away. Most of the inhabitants of Terisiare rejoice as the ice gives way to warmth and the rebirth of the land. But, in this time of great change, there are some who see it as a time to angle for power: a secretive society of mages poised to shroud the continent with their icy brand of magic.
A tournament-legal expansion designed to complete the Ice Age block, Coldsnap returns players to the lands and characters of Kjeld, Krov, the Fyndhorn Forest, Soldev, Koilos, and more.
Each factory-sealed display box contains 36 booster packs.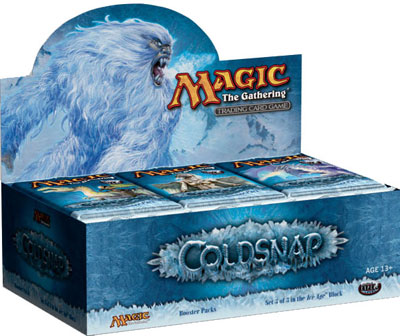 Condition: NM/M



Price: $349.99




Out of Stock.