From the Vault: Dragons
Description:
Includes 15 black-bordered premium foil dragon cards, each printed with a distinctive finish.
6 dragon cards feature new artwork.
Features some of the most popular dragon cards from Magic's 15-year history.
Cards appearing in From the Vault: Dragons are legal in formats in which those cards appeared in expansion sets. The card Hellkite Overlord will appear in the future expansion Shards of Alara but will be legal in the Legacy and Vintage formats beginning August 29, 2008.
A full-color collector's insert that includes a list of every dragon card printed in Magic's 15 year history, rules for the Elder Dragon Highlander casual format, and a brief description of each of the 15 dragon cards.
A spin-down life counter featuring the From the Vault: Dragons expansion symbol.
Includes Hellkite Overlord, a dragon from the Shards of Alara expansion which won't be available for sale until October 3rd 2008.
Cards: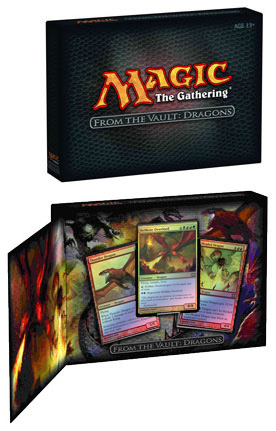 Condition: NM/M



Price: $179.99


1 in stock