LANSING, MI

July 20
Event Info
StarCityGames.com® Classic Series
The StarCityGames.com® Classic Series gives players additional opportunities to play in large-scale Magic the Gathering events across the country and qualify for a StarCityGames.com® Invitational. Classic Series events are single-day, Standard or Sealed format events and award $5,000 in total cash prizes paid down to 32nd place. The Top 8 finishers also earn invites to a StarCityGames.com® Invitational, and Open Points are awarded to all who attend.

StarCityGames.com®

STANDARD

Saturday - 10AM
Entry: $30 (cash only)
Registration: 8AM - 9:50AM*
1st Place: $1,200 - 10 Open Points
2nd Place: $600 - 8 Open Points
3rd-4th Place: $400 - 6 Open Points
5th-8th Place: $200 - 4 Open Points
9th-16th Place: $100 - 3 Open Points
17th-32nd Place: $50 - 2 Open Points
33rd+: 1 Open Point
Print Decklist Form
Expand
Side Events
Two-Headed Giant Sealed
Deck Construction: 2PM
Entry: $30/team
Registration: 1PM


Current Sealed format Two-Headed Giant.
8 packs total - two 40-card minimum decks.
Four rounds of Swiss.
Prizes
4-0:
8 Booster Packs per Team
3-0-1:
6 Booster Packs per Team
3-1:
4 Booster Packs per Team
2:
2 Booster Packs per Team
Standard Challenge
Start Time: 4PM
Entry: $10

Registration: 3PM

Four rounds of Swiss.


Prizes
4-0:
$50 Dealer Credit
3-0-1:
$25 Dealer Credit & 3 Booster Packs
3-1:
6 Booster Packs
2 wins:
1 Booster Pack
Single-Elimination
Booster Drafts
Entry: $10
Prizes
1st:
3 Booster Packs
(or entry into the next draft)
Single-Elimination
Constructed Tournaments
Entry: $15
Formats: Standard, Modern, Legacy
Prizes
1st:
36 Booster Packs
Four-Players Commander
Chaos Games
Entry: $5

Prizes
1st:
$20 Dealer Credit
Special Guests
Amber Musick
Amber Musick will be at this event offering her custom, full art playmats and tokens as well as creating new works of art and customizing your playmat with original art. Pricing and her current offering of playmats can be found on her deviant art page: zhycalui.deviantart.com. You can contact Amber at [email protected] to request a playmat to be picked up at the event.
Rei Hiroki

Rei will be selling and creating hand painted alters and tokens! Make sure to stop by and check out these awesome cards! You can view samples of her work at reihiroki.tumblr.com. To inquire about commissions to be ready at the event please contact Rei at [email protected]
Travel Info
Lansing Center
333 E Michigan Ave
Lansing, MI 48933
For our location in the venue itself, please refer to the following map: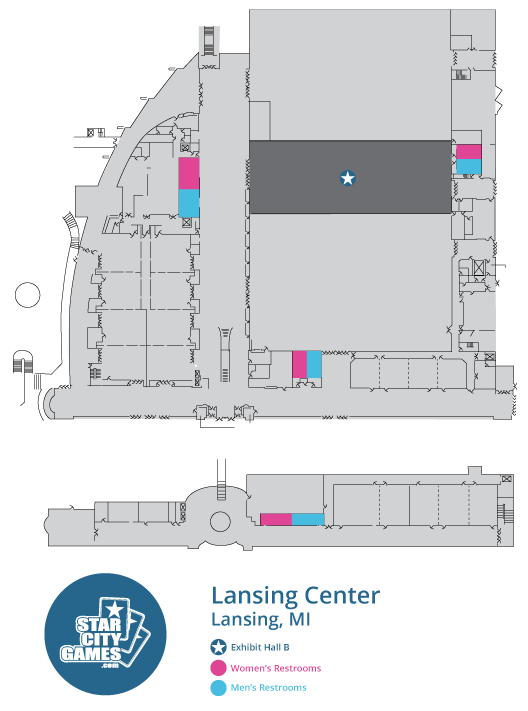 Trading
Although trading is both allowed and encouraged, please note that the following things are not permitted at this event.
Buying/selling cards with anyone except for our authorized dealers(s)
Soliciting to buy/sell cards nearby (including via social media such as Facebook, Twitter, etc.)
Advertising without receiving permissions from StarCityGames.com®'s on-site Event Manager
Offering to "alter" cards in exchange for some form of compensation
Utilizing an excessive amount of space when trading
Using suitcases, handcarts, luggage carts, etc. for the purpose of transporting excessive amounts of trade stock.
Please note that failure to obey these rules may result in all involved parties being both removed from the event without refund, and banned from attending future events.
Contact
Judging
Judges interested in working at this event, including candidates interested in testing, should submit an application through www.magicjudges.org. Judges who are on staff for StarCityGames.com® events qualify for our Judge Rewards Program
Judge certification for Level One and advancement to Level Two is available at this event. Candidates should email Steven Zwanger ([email protected]) at least two weeks prior to the event and include their full name and DCI number.
More Information
Your question may already be answered in our
tournament FAQ
.
However, if you still have questions, please feel free to
email us at

[email protected]
or call
(540) 767-GAME (4263)
. We want your experience to be as enjoyable as possible, and will do our best to assist you in any way we can.