Deck Tech: Bone-Blade with Dan Glennon
Dan's tempo strategy drops the white for black and adds Reassembling+Skeleton to the mix!
This isn't the first time Reassembling+Skeleton has carried a Sword, but it's certainly a different take on the theme. Previous Bone-Blade enthusiasts have sued Reassembling+Skeleton as a pseudo-Squadron Hawk in a control strategy—Dan's made it his "Moorland Haunt" and added the bag of bones to a Delver+of+Secrets tempo strategy.
He was excited to give the deck a run today. "It looked fun," he said. "Also, having sacrifice effects is good. I like having hard kill spells to get rid of real threats, like Titans in the Wolf Run matchup—the original build had Liliana in it." His playgroup all had something similar in mind, arrived at completely separately!
The basic premise of the deck should seem familiar—after all, it's pretty much the same Delver deck, beyond the switch into black. Going into black offers real removal, including an effective solution to hexproof creatures in Geth%27s+Verdict.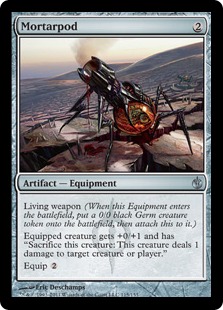 One of the nice things about Reassembling+Skeleton is that the Ghost+Quarters growing more and more popular won't shut him down as they do Moorland+Haunt. Both cards are slightly vulnerable to Nihil+Spellbomb and the like, however.
Another awesome gain from including the Skeleton? He's an excellent way to lock down Sword+of+War+and+Peace, provided the opponent isn't flying over your head. If they are, black's removal is an efficient way of stripping the Sword mid-combat and dodging any trigger hits.
But my favorite interaction has to be Mortarpod! Reassembling+Skeleton alongside Mortarpod wreaks havoc on conventional U/W Delver lists, letting you control their equipment maneuvering or just gain a quick edge on their creature base. Moorland+Haunt isn't especially mana-efficient, so matching them with your four-mana "combo" on legs isn't too difficult. "Mortarpod and Reassembling+Skeleton has been a lot of fun," Dan admitted.
His singleton Nephalia+Drownyard has done some major heavy lifting. "The Nephalia+Drownyard is sweet, because it can get the Skeletons to the yard after a Ponder and refresh the top of the deck," Dan explained. "Also, it adds Snapcaster targets to the graveyard."
Dan's other land has performed well. "Inkmoth has actually been awesome," he said. "It's a legitimate threat—a lot of the time, Delver decks in general don't run too many creatures. The Skeleton acts like Moorland Haunt, but the Inkmoth+Nexus can give me a really fast clock." Runechanter's Pike has a habit of making him very, very scary.
"The look on someone's face, when they realize they have to block Reassembling+Skeleton," Dan said with a grin. "It's priceless."
Creatures (14)
Lands (21)
Spells (25)