Deck Tech: BUG Architect with Carl Endres
Carl Endres fans the cards powering him to a strong start in Standard today.
Viewers in Round 3 received a real treat—a BUG Architect list featuring tons of bullets and more than a few guns, including Grand+Architect and Vedalken+Certarch. The cherry on top? Creeping+Renaissance!
Spotting Carl in the crowd, I knew the camera would want to see what he'd cooked up. "I took what I thought was a basic Architect shell, tossed in Pod and Glissa for the 'lulz,' and added Heartless+Summoning, Carl said. "I figured out that Heartless was crap, so I threw in Tezzeret, tweaked the numbers, and came up with this." Incorporating an artifact engine alongside a few powerful vehicles, Carl can maximize his bullets with a few Clone effects, while also earning a natural defense against the popular legends of the format.
The deck may look clunky, and Carl admits that some games are slow to start. Once they do, however, it's a completely different story. "Other than a few mana issues in the early game, once it gets started it can be really difficult to stop," Carl explained. "You look at your opening hand, and decide how you're playing the deck. The Architect plan? The Glissa plan? The Pod plan? Or do I just ram and get there with big stuff?"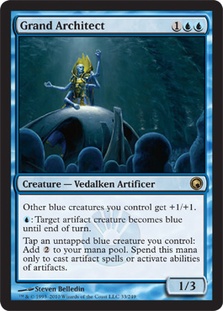 Analyzing the opening grip is essential to Carl's play for the deck, and mana is the primary consideration. "You need to make strong mulligan decisions. If you don't have all of your colors, you mulligan the hand," he advised. Once the game actually starts, it's still a tough nut to crack. "The deck is extremely technical—there's about eighteen billion things going on at once," he said. "Every card works towards the greater whole. You can't just analyze one card—you have to see the deck as a whole, rather than as individual parts." Keep that in mind before making any changes to the list! "So far, every time I've drawn a card, it has performed well for me…unless I didn't have the ability to cast it."
Vedalken+Certarch is pretty cute, but Carl confessed that their metalcraft hasn't done much for him yet. "I've only really activated them once, but I use them basically as 2/2 Sol+Rings. They're very useful for dropping Spines off of Grand+Architect," he explained.
I'm loving Bitterheart+Witch in the sideboard, moving an Innistrad Limited killer combo into the deck against Delver and other Moorland+Haunt strategies. Birthing+Pod is easily the best way to sacrifice a Bitterheart Witch—and in this deck, you can use it to find the 1/2 as well! The absence of Entomber+Exarch is a little surprising, as both his Duress and Gravedigger abilities seem powerful in this strategy. That's especially true considering that counterspells have been Carl's true foe today. "Dissipate is my worst enemy," he admitted, the powerful counter typically throwing a wrench into his plans at a crucial moment.
If you're in the mood for something new, Carl has (at least) three decks in one for you. Check out the list!
Creatures (25)
Planeswalkers (1)
Lands (23)
Spells (11)