Deck Tech: BUG Control with Nicholas Spagnolo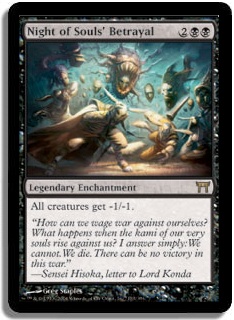 Sitting on a perfect 5-0 record after smashing the Standard portion with the Delver Humans deck we featured earlier, Nicholas Spagnolo turned his attention to Legacy and registered an updated BUG Control list that lines up perfectly with the metagame.
Nick admitted that he always plays planeswalker control decks, and Liliana of the Veil and Jace, the Mind Sculptor are two great ones to build around, but Night of Soul's Betrayal is the real standout card in the deck. It shuts down many of the format's most popular creatures from Mother of Runes and Noble Hierarch to Delver of Secrets, Dark Confidant and Lingering Souls tokens, and can even keep Stoneforge Mystic from powering up an Umezawa's Jitte since it has zero power with the legendary enchantment in play.
Similarly, Dread of Night is a monster sideboard card that crushes popular sectors of the format for just one black mana, shutting off spirit tokens, Thalia, Guardian of Thraben, Mother of Runes, Aven Mindcensor, Mirror Entity, and even narrower guys like Flickerwisp and Mangara of Corondor, Soul Warden, Nomads en-Kor and Martyr of Sands. Nicholas credits his friend Lewis Laskin, who had a great 20th place finish in Grand Prix Indianapolis, for the discovery.
Holding up the powerful enchantments are the usual suspects of Brainstorm and Ponder along with a thick suite of removal and counterspells to keep the opponent in check. Nicholas switched from the Crucible of Worlds he was playing to the "just better" Life from the Loam, and it has worked wonders so far, allowing him to break the parity on Liliana of the Veil and force the opponent into a very tough spot between losing a card or a creature every turn while Wasteland does a number on their manabase. Creeping Tar Pit and Mishra's Factory also provide Nicholas with a solid threat that he can recur in an attrition war or if they get caught by a removal spell.
The deck even has a use for the dredge abilities of Life from the Loam and Darkblast, allowing Nicholas to find his sideboard Raven's Crime for further decimation of the opponent's hand. It seems to truly have game against everything and Nick is proving that it's a force to be reckoned with as he tears through day one of the Invitational, though he admits that he might want to change the Pernicious Deeds to Damnation and some one-mana removal, and you may want to try those changes at the next Legacy Open, which will be in Des Moines, Iowa on April 8th.
Creatures (2)
Planeswalkers (5)
Lands (23)
Spells (30)