Deck Tech: Four-Color Control with Eric Rill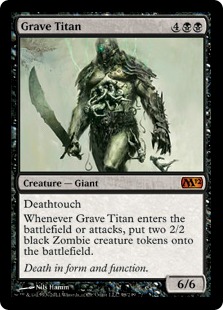 Titan-based control decks are very much the rage in Standard right now, with Solar Flare's recent victories in the last two Standard Opens inspiring more and more players to combine their Sun Titans and Cavern of Souls—a combination Gerry Thompson predicted would hit the big time once the Cavern had stewed in the metagame for a couple minutes.
Eric Rill's added some spicy jalapenos to that concept and built a W/R/B deck that packs quite the punch, with Inferno Titans and Grave Titan alongside Sunny T! Topping his curve, Eric's got the endboss of the format in Elesh Norn, Grand Cenobite.
A lot of these cards will seem very familiar. He's got the sweet blue cards—Forbidden Alchemy and Phantasmal Image—that power the deck's core engine of finding the late game and overpowering the opponent. The same early removal is present: Ratchet Bomb, Doom blade effects, Day of Judgment, and Oblivion Ring. He's got the big holdover from black and white in Lingering Souls, and to a lesser extent Unburial Rites.
But how about those red cards!
Desperate Ravings is often a strict upgrade to Think Twice, especially in decks that treat their graveyard as an extension of their hand. The big game-changer in this list, however, is Faithless Looting. Faithless Looting is a cheap spell that filters out the cards you don't need for the cards you do, while simultaneously setting you up to have the best possible Sun Titans.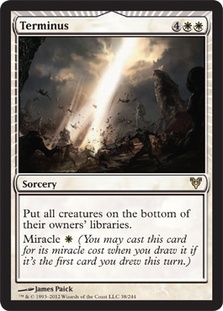 I'm really digging the decision to get greedy and go for the Desolate Lighthouse in this deck. Not only is this one of the better "spell lands" in a control deck, ensuring you can't flood out while an aggro deck claws its way back into the game, but it's also just very powerful alongside Sun Titan and the various flashback spells, generating value regardless of what's going on.
The sideboard mostly has more fat, as Eric's deck is very much a tap-out control deck and really wants to be presenting the most potent threat possible. He's got some niche answer cards, specifically Nihil Spellbomb, Whipflare, Ghost Quarter, and Combust. The Spellbombs and Quarters are even higher impact than usual with Sun Titan in the mix.
Looking forward, I think the deck might be able to evolve and find a place in the format. It seems like Pristine Talisman could have a good home here, provided there's room for more three-drops. The Talisman also makes Gideon a stronger card, and might merit maindeck consideration.
With all these Birthing Pod decks seeing Standard success lately, a heavy control deck jamming sweepers and plenty of Titans might be just what the doctor ordered.
Creatures (10)
Lands (25)
Spells (25)