Deck Tech: Heartless Rites with Ali Aintrazi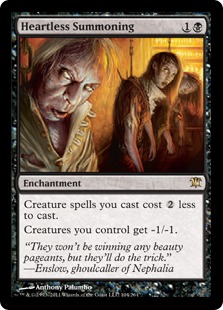 It's no surprise to see Ali Aintrazi with a Heartless Summoning in play—his success with the archetype in Richmond had given him good reason to favor the Innistrad enchantment. That list was very U/B Control; this one's got a little more rock 'n roll to it, featuring four colors and an Unburial Rites package!
Several elements of the deck were included in his U/B build. Beyond the obvious Summonings, he's got Solemn Simulacrums, various Clones, and Rune-Scarred Demon. He's still working sweepers in the setup, but going into red and white has made them way more efficient than Black Sun's Zenith, giving him Whipflare for the little things and Day of Judgment for, well, everything else.
The big upgrade naturally comes from Dark Ascension's Faithless Looting. Cheap and powerful, Faithless Looting lets Ali blast through his deck for whatever it is that he needs. Big man? Unburial Rites? Even Heartless Summoning, in a pinch. Faithless Looting is an effective digging tool that even makes his sideboard a little better… especially those Ancient Grudges!
The addition of an Unburial Rites engine to Ali's deck literally gives him a whole new dimension, alleviating his reliance on the Heartless Summoning schtick. That said, I'm sad to see Havengul Lich leave the list, though not entirely surprised—Unburial Rites does a lot of the five-drop's work, but he's way cooler! The Perilous Myr combo could also be worth working into the deck… even Priest of Urabrask has some potential alongside the Lich!
If you're looking to experiment with Heartless Summoning, give Ali's new brew a try. He demonstrated some of its power on SCGLive already, but there's plenty more where that came from…
Creatures (13)
Lands (26)