Deck Tech: Hexblade with Jimmy Spears
Jimmy Spears is putting the Hex(blade) on his opponents today.
Houston native Jimmy Spears is a Magic veteran, but he's never played anything like the deck he's wielding today. Handed a version of the Stonehorn+Dignitary that stopped a lethal Invisible Stalker powered up with Angelic+Destiny.
While Standard has seen a vast array of aggressive decks this season, Hexblade attacks from a unique angle, playing a large suite of creatures that are very hard for the popular decks in the format to handle, using Angelic+Destiny and Increasing+Savagery to turn them into killing machines like Altered Beast.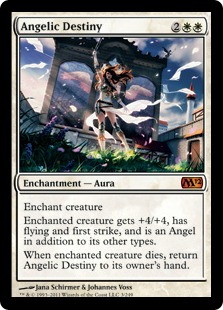 "A lot of games come down to just drawing one of these," Jimmy said, pointing at Angelic+Destiny and Increasing+Savagery. "If I do they are usually dead."
But there's more to the deck than just trying to build your own monster. A lot of games can be won on the back of an early Geist of Saint Traft backed up by Mana+Leak and Vapor+Snag, and anything carrying a sword always has to be taken seriously. Even Thrun, the Last Troll is a monster without any help, and Gideon+Jura has long been a powerful threat that fills a lot of roles for the deck from tapping down the opposing army to clear a path for the kill, to straight up killing the opponent as a 6/6 beater, to giving Hexblade a way to kill a troublesome creature like no other card in the deck can.
Supplementing the dangerous and multi-faceted maindeck, Jimmy's sideboard lies much closer to the middle with answers and workarounds for many of the format's problems. Celestial+Purge, Surgical+Extraction, Batterskull and Negate are all common, household cards at this point, and the only sight is Act+of+Aggression which can steal a game from unsuspecting opponents.
Capable of overpowering opponents with quick, hard-to-kill creatures powered by a boatload of enhancements, it will be interesting to follow Jimmy's progress with the deck. We could have a new major player on our hands, making the Standard scene even more crowded than it already was.
Creatures (19)
Planeswalkers (2)
Lands (24)
Spells (15)