Deck Tech: Planeswalker Magic with Shaheen Soorani
Shaheen's eager to drop Paraselene onto an enchantment-laden battlefield.
Shaheen Soorani has continued his streak of playing powerful control decks in Open Series events this weekend with a three-color take on the archetype, utilizing the incredible power of a planeswalker pack. Wielding Sorin, Lord of Innistrad, Shaheen has crammed double-digit sparks into his seventy-five and started the day undefeated.
Acknowledging the obvious comparison players have made of Sorin to Elspeth, Shaheen doesn't think he's superior or worse—just a different man in a different world. "He's arguably slightly better in a control deck than many other planeswalkers," Shaheen noted, commenting on his ability to play a mild defense and spring a surprisingly potent offense. "The emblems are great in the control mirror—when they mass remove your creatures, the emblems remain," Shaheen said. Snapcaster Mage becomes a pretty vicious flash threat under those conditions!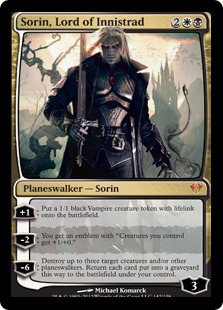 Building the deck, Shaheen decided to push all three colors pretty hard, a decision made possible by Dark Ascension's Evolving Wilds. "Since I had to play white anyway, I didn't want to splash for must-have mana on turn 4, like Day of Judgment. I missed playing my favorite spells—Day of Judgment, Gideon—and the best sideboard card in the format is Celestial Purge. White, in general, is a better control color." His mind made up, Shaheen could have chosen to splash black instead—but he wanted more planeswalkers!
Why Liliana? "I wanted to play Liliana just to curve out planeswalkers," Shaheen explained. "Liliana followed up by Sorin or another planeswalker is pretty unbeatable, especially after boarding." Post-board, the glut of removal Shaheen can threaten aggressive opponents with both defends and enhances his planeswalkers. "You just hammer them with a turn 2 removal spell, turn 3 Liliana, and turn 4 Sorin or Snapcaster. It gives a control deck 'god draws,' which control decks don't usually have."
The planeswalkers can be potent against aggressive decks when wielded properly, especially with Gideon Jura playing ball, but they're most devastating in the control matchups. "I don't think a control deck without planeswalkers has a very good matchup against me," Shaheen explained. "You have the Pat Cox theory of playing no creatures, but I think that's wrong. Planeswalkers are so good—refusing to tap out on your own turn is a pretty stubborn style of play." By chaining threats together, Shaheen can ride just one resolved walker to a hefty advantage. Trimming many reactive spells and card draw spells, Shaheen has room for a lot more business.
The tap-out style has its perils, of course. Shaheen has a short list of cards he hates to see resolve on the other side of the table, and all of them are devastatingly powerful. "Karn is the scariest card in the format for pretty much any control player," he admitted. "Geist is also still pretty scary—I have a lot of answers, but if I don't have it immediately, I'll lose." Of course, enemy planeswalkers can be troubling, but Shaheen has the edge in quantity.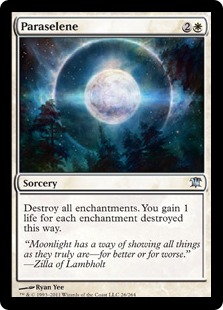 A typical fear of planeswalker-based Magic is its weakness to Oblivion Ring, but Shaheen has come prepared with a nice one. "I haven't played against a deck with Oblivion Rings yet," he admitted. "But I can't wait to." Flashing Paraselene, Shaheen is excited to cast the Limited sideboard star. "Every match against the token decks or the Humans deck involves them playing multiple anthems and Ringing your answer—if you have this when you untap, the game comes right back. It's a theory card, but it seems pretty good."
Also sporting slots in the sideboard are Geist of Saint Traft—Shaheen has been wrecking the mirror with them all day. "I don't bring them in against Geist decks," he said. "The control decks board out Day of Judgment 100%, if they have it, and if you land a Geist then you'll just win. Round 2, my opponent played a tapped land on turn 2, and I just played Geist—he couldn't do anything about it."
With a few rounds under his belt, Shaheen can see room for improvement in the list. "Ratchet Bomb is not as good as I thought it was against the non-token decks." In fact, aggressive strategies have been a tougher matchup than Shaheen expected today, but his sideboard continues to do the heavy lifting. "Those four Celestial Purge in the board have saved me, pretty much. For the maindeck, I'm probably going to cut Doom Blade for Go for the Throat if the unpopularity of Wolf Run continues." That'll make sure he can fight the new black creature decks springing up from Dark Ascension.
Creatures (4)
Planeswalkers (10)
Lands (26)
Spells (20)