Deck Tech: R/B Vampires with Grant Fagan
Grant's Vampires strike fast, sometimes twice, and always hit harder the next time!
The Vampire tribe has made a gradual shift over the years from black to red, and Innistrad saw the red ones rise to the top of the heap in short order, mostly on the back of Stromkirk+Noble. The release of Stromkirk+Captain in Dark Ascension, among other things, points to a surge in bloodsucker potential over the coming months. In this weekend's Standard Open, Grant Fagan has been swinging with the whole tribe!
It all began with one of Innistrad's strongest Curses. "Truthfully, I saw the Curse+of+Stalked+Prey, and I really wanted to make a deck around that one card," Grant said. "A lot of the Vampires I saw, when they hit, also get a counter. I based the deck around creatures that get counters when they hit." Connecting just once can create an avalanche effect that inevitably leads to the opponent succumbing to a wave of Vampires!
The one non-Vampire in the deck, Vault+Skirge, is both essential and powerful, especially with a Curse in play. "The reason I want Vault+Skirge is it gives me the lifelink I really need," Grant said. "My plan is to have the curse on them by the second turn." Soon after, the life totals will begin to diverge… culminating in the coup de grace.
One such finishing move is Falkenrath+Aristocrat. "The Falkenrath+Aristocrat helps me a lot because of the flying and haste, plus it can sacrifice a creature to become indestructible. It's also red and black, so it can't be Doom Bladed." That's no small boon—Falkenrath+Aristocrat is incredibly difficult to remove from the board, at times. Even Vapor Snag isn't too effective! "Most of the time, I drop the Aristocrat on the fourth turn, but I also have Olivia to ping their creatures. She's very good against decks like Tempered+Steel, just letting you get rid of their guys fast if they don't have the enchantment."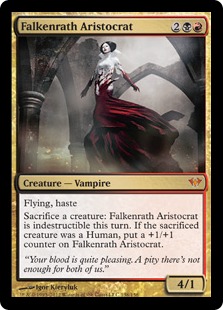 The all-star lord, Stromkirk+Captain delivers. "He's a 'must' card; you have to have it for any Vampire deck, because he gives your Vampires first strike. I mostly use him as a blocker, I don't even attack with him," Grant admitted. "I know if I can keep him on the field that my Vampires will keep the boost." One Vampire who loves the boost is Markov+Blademaster. "The Blademaster, in any situation, is great. He has double strike, and since his effect gives him a counter every time he hits the opponent… with Curse+of+Stalked+Prey, he gets four counters on a direct hit. The Captain and the Blademaster together is a nasty combination!"
It's not all blood red roses and bared necks, however. "The one thing this deck has trouble beating is Spirits. Any Spirit deck is very difficult to beat, unless I can get the jump on them," Grant admitted, citing the power three-drops. "It's very hard to come back once they have hexproof with their captain, or Geist+of+Saint+Traft. It's hard to handle." To shore up the Tempered+Steel matchup, Grant is even splashing a few Ancient+Grudge out of the sideboard with some Copperline+Gorges, which is a nice touch.
A few changes to the list for the next event are already on Grant's mind. "I have two Despises in my deck and they're useful, but they should be in my sideboard. I think Doom+Blade would be better," he decided. "Also, my Shocks should be replaced with Galvanic+Blasts, because there's a slim chance I get three Vault+Skirges onto the battlefield." By now, we all know the power of Galvanic+Blast!