Deck Tech: U/B Control with Jonathan Kornacki
Creatures (4)
Planeswalkers (3)
Lands (26)
Spells (27)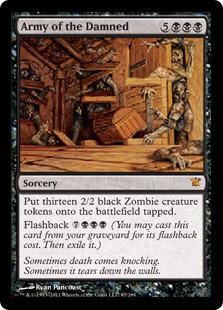 Las Vegas Standard Open Champion Jonathan Kornacki continues to dance with who brought him, staunchly sticking with his U/B Control deck. He's made lots of changes as the metagame has evolved over the last few months and shared his expertise with us today.
"In Las Vegas I was expecting a lot of Mirran Crusaders and Hero of Bladehold, but now it's all Delver of Secrets, which I hope to play against every round since Liliana and Black Sun's Zenith are so good against them."
Jon has adopted several answers to the heavy presence of hexproof creatures in the format like Invisible Stalker and Geist of Saint Traft. Between Liliana of the Veil, Black Sun's Zenith and Curse of Death's Hold, this version of U/B is capable of quickly neutralizing opposing armies before grinding them out with a slim suite a finishers.
"I had to cut down on a lot of the finishers like Consecrated Sphinx since they are really bad against Delver decks. You can't tap out for a sphinx just to have it Vapor Snagged or Mana Leaked. This version can still win with Nephalia Drownyard, Army of the Damned, Snapcaster Mage, and the one Consecrated Sphinx."
Nephalia Drownyard does a lot of work for Jon's deck. Working with Adam Prosak, they developed a plan that involved milling themselves to at least 20 cards in the graveyard, fueling Visions of Beyond and netting a ton of flashback effects. A powered-up Visions of Beyond off Snapcaster Mage is huge and can easily seal a game in Jon's favor. And really, what's better than making 13 zombies?