Deck Tech: U/W Blink with Ken Bearl
Ken's Cloudshift deck builds a wall and flies overhead for the kill!
If you have fond memories of Momentary+Blink, then Restoration+Angel was first spoiled, many players predicted it see some play. A significant body on a flash threat is just what the doctor ordered for Standard—see Wolfir Avenger's success just last week. Of course, with Restoration+Angel you get more than just a 3/4 fighter—she also flies, and mimics a Momentary+Blink!
Avacyn Restored also offered up Cloudshift, an instant that mimics the same effect. "Cloudshift was added to see how good it was." Momentary+Blink came with flashback, but Cloudshift offers itself at a mana cheaper to offset the loss of the second use. Is it a worthwhile trade? In the tempo-drive Standard format—and thanks to the availability of Snapcaster+Mage—the answer very well might be yes!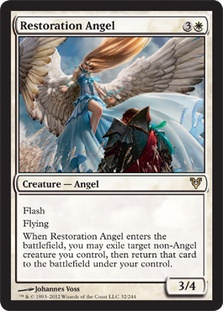 Snapcaster+Mage himself is an obvious accomplice with the Angel and Cloudshift. Not only can Snaps flashback Cloudshift, but extra Snapcaster triggers typically translate into extra cards. Who else to accompany him? Ken began with Aether+Adepts, but was pretty unimpressed by the modern Man-o'-War. "Kyle recommended Blade+Splicers—I don't know how I missed it. That made Cloudshift so much better!" Now, his one-mana instant could completely reverse a racing disadvantage via surprise blocks! Blade+Splicer is probably one of the best targets in the format.

A more unconventional target is Stonehorn+Dignitary. Standard has become very much about combat, and Stonehorn+Dignitary shuts down Geist+of+Saint+Traft and Primeval+Titan alike. In fact, Dignitary is how Ken wins most of his games, and its synergy with Venser is the origin of the deck! "I initially played against the deck back when States was around," Ken said. "I played against Kyle at my local store with a Venser-Stonehorn deck, and Blake Patrow with a Turbo-Fog deck with the Venser-Stonehorn lock."
Most Standard decks have a lot of difficulty breaking through that particular combination, and Avacyn Restored offered the tools to make it better. "With Restoration+Angel coming out, it was one of those things that seemed like it could really help the deck and give you a soft lock until you could get to Venser." To help him dig for his planeswalker, Ken's also playing Merfolk+Looter. "The Merfolk+Looters have been very good. I initially put them in because I needed a two-drop," Ken said. They've done their job well.
Ken also noted that the deck's early turns leave many opponents assuming he's piloting a U/W Delver variant—much to their surprise, Ken's tactics are far more defensive!
After starting 4-0, Ken can see a few holes in the strategy. "One thing we definitely need to fit in the deck somewhere is Phyrexian+Metamorph," he admitted. "The Clone ability is obviously very good with all the come-into-play abilities, and it gives me an additional three-drop. I can do something like drop a Metamorph on turn 3 and turn 4 Restoration+Angel to change it into something else."
Creatures (20)
Planeswalkers (3)
Lands (23)
Spells (14)