Standard and Legacy Metagame Breakdown
After going through both decklists of every player in the room on Friday, I'm happy to present our Invitational Metagame Breakdown! These are the top professionals and grinders from all over the country, playing for their share of a $75,000 pie—you can bet they brought their A-game.
We'll have a more comprehensive breakdown of the Invitational coming to our website soon, but these charts and numbers should whet your metagame appetite. First up—Standard!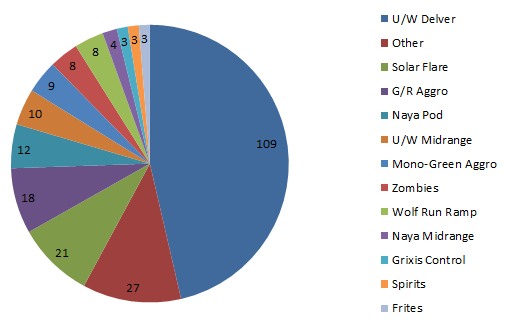 That's Delver domination if I've ever seen it, with nearly half the field playing public enemy numero uno. Keep in mind that this number excludes some very similar decks, like U/W Midrange and Spirits—Seachrome Coast was one of the most popular cards in the room, with only Ponder or maaaybe Glacial Fortress exceeding its presence.
Solar Flare and G/R Aggro were the next two most popular strategies, although each was dwarfed by about 5:1 by Delver of Secrets. That said, these decks performed pretty well—Solar Flare and similar Esper-based decks continued their winning ways against this Delver-dominated field, with Shaheen Soorani going undefeated on Day 1 wielding his favorite color wedge.
After that, plenty of other green decks filled the metagame—Carrie Oliver's Mono-Green Aggro update had plenty of pilots, as did Naya Pod. Zombies and Wolf Run Ramp remained minor players on the side, and none of them broke free of the pack with a strong finish... at least not yet!
Worth noting is that "Other" decks took up a nice slice of the field, indicating that brewers appear to be operating an underground deckbuilding dojo as they remain in hiding, waiting for the sun to shine through Seachrome Coast's oppression. I'd keep an eye on Birthing Pod in the next few weeks, with many players likely looking to replicate Michael Hetrick and Evan Wagstaff's success so far.
Moving on, we've got Legacy to look at: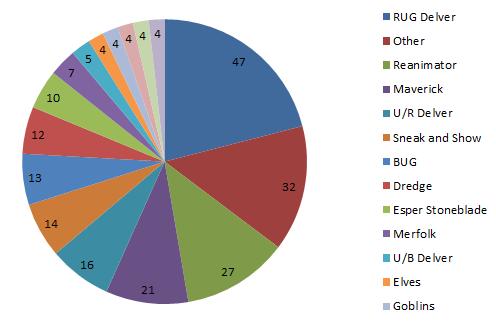 A much more balanced field on the Eternal side of things—nevertheless, we have some clear tiers in place. RUG Delver and Reanimator each broke past 10% of the field, often a rarity in Legacy, but right behind them was a surprising presence: Maverick! Many expected the green-based build to be a minor player, with combo decks like Reanimator, Sneak and Show, and Hypergenesis gaining traction, but many decided to prove those naysayers wrong. That said, RUG Delver was by far the most popular archetype, appearing not far from twice as often as Reanimator.
Speaking of Delver, RUG Delver's cousin, U/R Delver, took up a slot just behind these frontrunners, alongside Sneak and Show. Maverick is really the odd duck out, with the remainder of the top four archetypes split between tempo strategies and Griselbrand-based combo decks.
BUG experienced a surge here, headlined by Nick Spagnolo and Dave Shiels among others. Many of the northeastern players are piloting similar lists, combining their talent for technical play with an oppressive control deck light on ways to win the game but heavy on ways to ensure you never lose.
Beyond that, Legacy's usual suspects appeared, including Dredge, Stoneblade, Merfolk, Elves, and Goblins—with Drew Levin's U/B Delver list from this week popping up a fair bit. Drew himself wound up going with Reanimator, a choice he appeared satisfied with, but there's no question that Underground Sea and Wasteland remain worthy of exploration.
If you're prepping for Standard, U/W Delver, G/R Aggro, and Esper control decks should occupy most of your testing time, with Wolf Run Ramp, Birthing Pod, Frites, and Mono-Green Aggro making up the next tier. For Legacy the field is far more diverse, but RUG, Maverick, and Reanimator are definitely worth your attention.
Perhaps we'll see a new metagame emerge, between #SCGINVI and the Baltimore #WMCQ... We'll find out when the Open Series stops in Detroit next weekend for #SCGDET, with commentators Adrian Sullivan and Patrick Chapin!