Top 5 Gatecrash Preorders
With Gatecrash on the horizon, I figured it was time to start looking toward the Standard of the future. As a member of the SCG team—and a curious soul in my own right—tracking the pricing and preorder history of a new is often illuminating, and always interesting. To that end, I'm bringing you guys the top five most preordered cards over the last month! Keep in mind that mythic rares are naturally disadvantaged in this category, given the limitations placed on preordering them in large quantities.
Firemane+Angel
was a strong constructed role player, and I think we can assume that's the kind of niche the Avenger will fall into. It's no
Hellrider
, failing to impact the board immediately upon landing, but once you start attacking (and triggering) it's clearly got a strong effect... that said, I'm not sold on this one making the big time.
Searing+Spear
is a very reasonable card in several decks at the moment, and you can't give up that kind of value in today's Standard. I have to give the Avenger a "maybe, but probably not."
Clan+Defiance
does an interesting
Bonfire+of+the+Damned
impression and retains
Fireball
functionality at all times, should the opponent fall within its reach. The ability to tag a ground man,
Restoration+Angel
, and the face make it a very relevant weapon in
Naya
mirrors—it can even knock
Angel+of+Serenity
out of the sky with enough mana.
Obviously Aurelia's Fury stole Clan Defiance's thunder once the former was spoiled, but Clan Defiance's rarity has served to boost its preorder numbers (both cheaper and more available). I imagine we'll see both showing up in the early stages of our next Standard format.
Karmic+Justice
variant is the ability to be caught up in a sweeper of some kind. High Priest of
Penance
plays a lot more like
Loyal+Sentry
or
Alaborn+Zealot
(yeah, I'm old) but with the added upside of making some adorable tricks available.
If you can boost the little guy up and start firing minor burn spells at him, then that's a pretty powerful trigger you're getting. All the work probably isn't worth those hoops, however. Stick to using him on defense, and occasionally pressuring planeswalkers as an attacker they can't block effectively.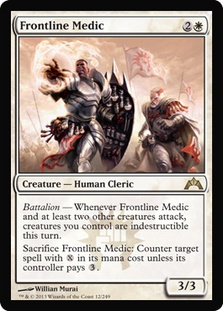 The much-maligned palliative for all our ills, Frontline Medic might be ugly—but he's probably going to get the job done. Bonfire+of+the+Damned has been wavering on the edge of Standard for months, being great some weeks and awful on others, but the real victim of Frontline Medic will probably be Sphinx's Revelation. Frontline Medic forces players to sweep the board and then cast Revelation, rather than the other way around... which is significantly worse, considering how well Revelation digs.
I don't think the Medic will be dominant or a staple, but he's a fine man and sales seem to indicate he'll be an early role player.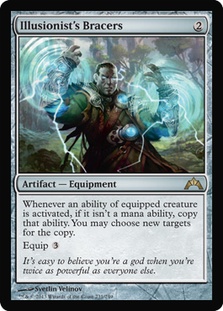 Chalk this one up to just being cool. Unless I've missed some sweet mondo combo—very possible, I'm pretty bad at finding those—this card is probably hitting its high popularity levels based on a combination of "neat" and its incredible Commander playability.
Those are our Top 5 Gatecrash preorders as of Saturday morning—who knows where the week will take us? Keep checking in with Ben Bleiweiss on our home page for updates and pricing on the newest spoilers.
As one final tidbit, our Top 5 most preordered mythic rares:
#1: Deathpact Angel
#2: Obzedat, Ghost Council
#3: Lazav, Dimir Mastermind
#4: Gideon, Champion of Justice
#5: Duskmantle Seer
And on the outside looking in, Aurelia's Fury comes in as #6. Our writers have chimed in on several of these already, so I'm just going to wish you good luck with your prerelease packs next weekend!