Embracing The Chaos: You Can't Get Mad Redux

A few weeks back I reported a game where I blew up Matt Cross' (he of my Monday RPG group) Mirari's Wake about seventy times.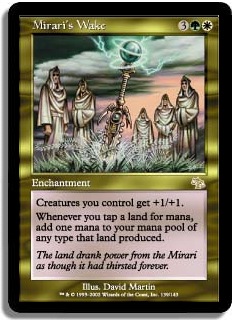 He got a little frustrated about it (although in good humor) and I told him that it was on the list of cards you can't get angry about getting nuked. He agreed that Mirari's Wake really fuels some insane stuff and it deserves to die but there's a WTF moment when he texts me later that night with something like "Dude I looked up the article and Mirari's Wake is totally not on that list." As I came to find out it's not spawning a new list of more cards you can't get upset about when they get destroyed.
I decided to not do play-by-play this week because I wanted to enjoy the games a little more and sometimes recording the PbP to some extent takes my focus off the game. I'll demonstrate that by reporting that helpful reader Phillip260184 pointed out in the forums that we made a mistake by pumping up Kresh after a Saproling-devastating Massacre Wurm rightly pointing out that their power was zero when they went to the yard. I'd still love to do PbP but making rookie mistakes like that makes me reevaluate the value of it. I'll repeat my offer to pay anyone to come record the games so that I can still pay proper attention and do the thing.
The second Thursday of the month is a good day for me in that after I do my morning routine which generally includes a good deal of messing with my Magic cards I have lunch treat myself to a massage (the legitimate kind with a licensed therapist) then head directly to Armada for casual gaming. I played a number of games with the aggro-Phelddagrif deck (having swapped out something for Bellowing Tanglewurm) and it fired on all cylinders every time. It ramped up into land then got some fat going into the Red Zone. Once I got the turn 1 Serra Ascendant spreading its love around the table for a few turns until someone killed it—at which time I was at a significant life advantage. I started thinking maybe my previous League experience with the deck was an anomaly so I decided to run it this week.
Turns out it was still a little flat. I did get in both games the point for recasting my Commander four times and I was well on my way in one game to getting the point for paying twenty for it. In one game I vomited a bunch of lands on the table and then did not much else with it. I'm pretty sure I need to revisit the card draw. Not being able to get Greater Good rolling really hurts and I'd like to not be that vulnerable. I will say that this is not the only mention I'm going to make of Consecrated Sphinx today.
The games were fun but not particularly interesting. I got to save someone from getting killed by a 28/28 Nirkana Revenant (via Mystifying Maze) and got to nearly recover from getting hit with Nicol Bolas (the original not the planeswalker) but neither of the games seemed to involve any important decision points or deep strategies.
The other thing I'll mention before we get to the list is attitude. There are two players David (he of the non-combo Niv-Mizzet and Omnath) and Jeff (he of the Grand Arbiter) who I think have excellent attitudes toward the format. They're both strong players who build strong decks that are intended to play moderately long games. They're both capable of building broken decks (not that that's a challenge of any real kind in this format—and if you think it is you're really delusional) but understand that spreading out the fun for most of the evening making challenging but not devolved games is great for the format and the people playing in it even in a 'competition' like the League. There's another player who I won't mention by name (or Commander) who doesn't have the same kind of understanding and demonstrated it (to Jeff's frustration) by generating a bunch of tokens and swarming everyone with Beastmaster Ascension on turn 6. I don't want to start the "well someone should've had a Disenchant" argument. The point is that the game was over in ten minutes.
While I won't go as far as saying this player did something wrong (he didn't—there certainly isn't any morality to the issue) I think he did (and has done in the past) something stupid namely alienating other players. If you want to be "that guy" your choice is your own. Enjoy your $9 in store credit. If you want to be "that guy" and also be part of a group of people who want to hang around with you you've seriously miscalculated. Not only have I heard people say "I won't play casual games with that guy" (which includes other non-Magic games) I've also heard them say (in fact two of them last week) "If I'm seated with him at a table I'm pulling out the deck just for him." The problem here is that not understanding how to play just rough enough (I'm all for a challenging game that makes you feel like you had a good time win or lose) will create bad blood and worse will create an arms race escalation that leads nowhere good.
Enough soapboxifying. Onto the list:
Mirari's Wake: Since this is the card that brought on the list I'm putting it at the top. The rest of them will be alphabetical. The thing about dropping Mirari's Wake is that unless the people you're playing with know that you won't be doing stuff completely insane with it the people you're playing with don't know that you won't be doing something completely insane with it.
Cabal Coffers: When someone says "it's just a little mana acceleration" I know that Baby Jeebus is crying. This card is one of the reasons that I stopped playing Urborg Tomb of Yawgmoth the other being that it's legendary and everyone else is playing it.
Chainer Dementia Master: This guy is getting some play recently as a commander and I wonder why he hadn't been discovered earlier since he's been around forever. Reanimating someone else's dudes beating with them and then having them exiled on the inevitable board wipe is strong.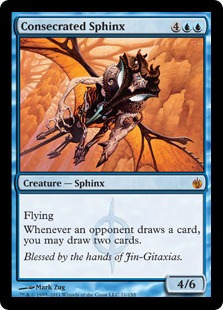 Consecrated Sphinx: It's new and I'll play it in the blue decks but you'll count time in nanoseconds from when you drop it to more than one person announcing it needs to go. The darker side of me wants to pair it in a Grixis Meandeck with Kederekt Parasite. I would however bust out the LOLZ if I dropped the Sphinx and someone else came back with Spiteful Visions.
Debtors' Knell: Again with the free-stuff-once-it's-cast I'm a little surprised I didn't think of this when I made the original list.
Defense of the Heart: While I'll say it's interesting watching people play around it (speaking of which—why don't people play Portcullis more often? That card would be great defense against token strategies) it's just Tooth and Nail that you can see coming and nothing good ever comes from Tooth and Nail.
Elspeth Knight-Errant: I'm not the only one who believes it's bad when an opponent's stuff is evermore indestructible.
Forced Fruition: This thing will mill you out faster than you'd ever imagine. Sure letting opponents draw cards is often a bad idea (except maybe the good-will building you do with Little Jace) but this one is very very seductive in the bad way.
Gaea's Cradle: Cradle isn't nearly as good as Tolarian Academy but it can be pretty saucy especially given that Avenger of Zendikar is commonly played. I was considering putting Avenger on the list but once it's hit play he's already done most of his damage.
Grand Arbiter Augustin IV: I think I may have said a few weeks back that I don't much care about your blue and white stuff being cheaper but my stuff also being more expensive is a pain.
Grave Pact: I'm a huge fan of getting good effects for free. Grave Pact is such a wrecking ball for creature strategies especially if there's more than one on the battlefield. Insert Butcher of Malakir for any instance of Grave Pact.
Leyline of the Void: The graveyard is an excellent resource in the format and you need some defense against the things that opponents will do with it but Leyline of the Void is obvious enough to draw a lot of hate your way. For opponents' graveyard control I prefer Bojuka Bog which they can't really do much of anything about (although I did once see Aaron Fortino Time Stop with a Bojuka Bog trigger on the stack) or things that seem a little less aggressive like Scrabbling Claws or Phyrexian Furnace.
Mana Reflection: I'm all for Mana Flare. Being greedy and keeping it all to yourself seems kind of rude. Note that it triggers on tapping any permanent for mana and unlike Mana Flare it doesn't add one; it doubles the mana. Gaea's Cradle for a million thanks.
Mindleech Mass: This guy is so good in a format where there are giant bombtacular spells in peoples' hands. He scares the crap out of me every time I see him since when I do I'm always carrying something like Read the Runes.
Mindslaver: How do I not put this on the original list? Probably because it's never a six-mana spell; it's a ten-mana cast-and-activate. I've already said often enough that I don't mind a single Mindslaver activation but it's the Lay's Potato Chips of artifacts. You're not going to stop at one. Plus if people would do hilarious stuff with it I'd get more on the Mindslaver plan but it's always just "screw over someone" which gets old pretty quickly.
Necrotic Ooze: Another card that seems a little less impressive than it actually is. This actually happened once: I had a bunch of tokens in play (Plants I think) along with the Ooze with Bloodshot Cyclops and Eater of the Dead in the graveyard.
Nicol Bolas Planeswalker: The original is good enough but the upkeep can be a little onerous. The planeswalker is out of hand from the time it touches the table. Although Ben McDole with his Progenitus deck has gotten close once or twice I don't think I've ever seen its ultimate activated.
Phyrexian Tyranny: All I can say is ouch.
Primeval Titan: When I gets lots of questions on whether or not a card will get banned (this one won't) I know it's something that needs to be killed. I went to extraordinary lengths this week to get rid of someone's Mimic Vat that had my own Prime Time under it. Losing the Titan for the rest of the game was infinitely better than seeing an opponent have one every turn. I know since I had run out the same thing the previous game.
Sensei's Divining Top: I'm happy that most people have learned the "how to Top" tech of doing it early and reserving the right to change their mind if something significant happens later. The Top doesn't slow down games as much as Thawing Glaciers does and it doesn't slow them down nearly as much as it used to. It's still a great card difficult to get rid of and blowing up one is worth a point in the League.
Skullclamp: It seems so inoffensive but you know it's not. It's never "well I have it just in case my guy gets blown up"; it always leads to a Stalin-esque (which rolls off the tongue way better than "Pol Pot-esque") assault on your own people. Paired with the aforementioned Grave Pact it's really cheap and easy creature control.
Sorin Markov: Just because you didn't set someone to ten when it first hit play doesn't mean you won't later. In fact I think that's the Great Sorin Fake Out. Use its first ability to appear harmless and then "Welcome to Tensville Population You."
Teferi Mage of Zhalfir: Many cards that make this list are those that deny your opponents the opportunity to play their cards. I'm not saying that that's necessarily a bad idea but you still can't get upset when they make it stop.
Venser the Sojourner: I keep thinking that there's going to be something really nasty developed with this guy in Standard but haven't seen it. I've already squeezed off his ultimate a few times and it's a level of control that borders on ludicrous. Add to it a commander (like Phelddagrif) that you can bounce to your hand and you don't even care that someone gets to draw a card.
Winter Orb (and Rising Waters): If you think playing Winter Orb is a fun idea you're probably not aware that no one likes you.
These are 25 more cards that you can't get angry about when someone blows them up. There are great cards in the format and some of them are so good that you have to expect that other folks aren't going to want them to hang around. Embrace as much Chaos as you can with 'em but don't be surprised when someone else makes them go away.