Last week, we discussed the literal opposite of fun. Today, I wanted to have a little fun, and that meant pulling something enjoyable out of my pile of decks instead of the evilest thing I had lying around. Let me introduce you to my little friend: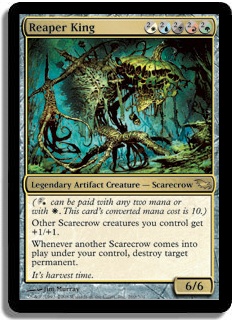 I was getting a little bored of my 'same old, same old' group of decks and decided I wanted to play an artifact-themed Commander deck for once. Sure, I had a Memnarch deck the moment that was something that actually worked, but it wasn't that interesting, even if the focus on stealing people's stuff was amusing for a while. I could build a Bosh deck, or a Karn deck, or pick an Eldrazi and just have a colorless deck, but I wanted to play Cranial Plating in my deck and still have a good time.
"Still have a good time" meant that obviously I was not playing Sen Triplets or Sharuum the Hegemon. Bored now! Bring the fun! Don't fear the Reaper!
With five colors but almost no actual color requirements, I could explore as much free space as I wanted, and get to play a five-color, mono-awesome manabase. The opportunity to explore a blank page was just what I needed, and I had some vague concepts of the kind of fun I wanted to have, and to some lesser degree after that, how I wanted to win the game. I'm still a fairly competitive guy, after all, even when I am tooling around. So I started chasing an idea to see where it pushed my whimsy. That led me to some goofy card choices I had never even been near before, and a few things I had been regretting you couldn't do easily in other artifact-based Commander decks. With all these spell-like utility lands, I'd be able to play even more mana than I usually do, since I try to cut off short of 40 lands and not run too many mana artifacts either if I don't have to... but with lethal lands that attack the opponent, add recursion effects, or just come with spells attached, I could indulge my desire to let the mana bloat for once and run with it.
Mana Makes The World Go Round:
Mox Opal, Sol Ring, Mana Crypt, Darksteel Ingot – Awesome mana acceleration that is perfectly in-theme. I originally tried out Mind Stone, since it is one of my default favorite early accelerants, then realized just how desperately I needed five-color fixing that didn't disappear in a stiff breeze the first time someone popped a sweeper spell, and the Darksteel Ingot that I usually try to keep my hands very far away from just happened to be the correct card for the deck's colored mana needs for once. I thought about not playing it still just to be ornery, but there was nothing to be gained from that.
Savage Lands, Crumbling Necropolis, Arcane Sanctum, Seaside Citadel, Jungle Shrine – Your 'basic lands' after a fashion, easy color fixing for whatever ails ye.
Shadowblood Ridge, Darkwater Catacombs, Skycloud Expanse, Sungrass Prairie, Mossfire Valley – More 'basic lands,' untapped two-color fixers that take in colorless mana happily enough and output not one but two useful mana as far as Reaper King is concerned.
Molten Slagheap, Dreadship Reef, Calciform Pools, Saltcrusted Steppe, Fungal Reaches – The first idea that drew me to playing Reaper King, since a turn-two chargeland is a powerful play in Commander, and a five-color deck would get to play all five of them. It also just so happens that drawing a chargeland, charging on turns two and three, and drawing a reasonable mix of other lands, equals turn four 6/6 Commander.
Darksteel Citadel, Great Furnace, Vault of Whispers, Seat of the Synod, Ancient Den, Tree of Tales – Actual 'basic land' for the Reaper King, I guess; we are artifact-themed enough that these provide obvious benefits. I know up-front that this is going to be a very 'artifacts matter' kind of deck, with stuff like Tezzerets and Affinity and Cranial Plating all making me want these, and I am happy to chase that idea and give it support while I'm at it with things like Trinket Mage to amp it up.
Command Tower, Rupture Spire – The best 'basic lands' we could ask for.
Cabal Coffers, Urborg, Tomb of Yawgmoth – Obviously awesome combo is obviously awesome. Note that is a Coffers with zero non-Urborg Swamps, it is there to be assembled as part of a two-part combo, one of which is commonly played in the format and doesn't need to be on my side of the board. Sure, there will be times the Coffers are stranded and doing nothing, but that didn't stop me from adding Eye of Ugin, it won't stop me from trying to capitalize here either.
Mosswort Bridge, Spinerock Knoll – The two best Hideaway lands are just free spells stapled to our mana.
Tolaria West – An Expedition Map that is also a land, and can sometimes get another interesting spell.
Bojuka Bog – A land that is itself kind of spell-like, and our main means of paying attention to the opponent's graveyards.
Inkmoth Nexus, Blinkmoth Nexus, Mishra's Factory – Artifact creatures for free in our mana is good, and these are more ways to do good things with Equipment (which happens to be a flavor of artifact...) or just get a little extra mileage out of the mana, since whether it taps for three colors or for none it still helps the Reaper. Inkmoth Nexus seems particularly nasty, with Cranial Plating around, but anyone who can't find a Maze, Strip Mine, creature removal, or Disenchant deserves this ignominious fate.
Temple of the False God – Taps for two, which is like one of any color as far as the Reaper King is concerned.
Strip Mine, Winding Canyons – For awesome value.
Academy Ruins – Another one of the benefits that pulled me in this direction, I find I keep pulling Volrath's Stronghold out of every deck I play, but a Stronghold that also worked on a lot of my spells instead of just my creatures would actually keep me highly interested.
Riptide Laboratory, Yavimaya Hollow, Kessig Wolf Run – Interesting ways to take advantage of the five-color / don't need colored mana much intersection that Reaper King invites us to. Lab will work with the Trinket/Treasure Mage package, while Yavimaya Hollow is just an excellent land in the format that can keep major threats alive and doing good work, it's a very grind-y card. The last one was another of the ideas that led me here, wanting to play Kessig Wolf Run but have it alongside Urborg/Coffers, and unfortunately you either have to commit to Jund colors or just play all five to do that. Pro tip, Wolf Run cares not who the attacker is controlled by, and any Commander can swing for 21 lethal with a little trample and a lot of help. This lets you stick your nose in where you don't belong and make friends, enemies, or just dead bodies.
Eye of Ugin – Pure card advantage for the late game grind, allowing us to tutor for the one Eldrazi, and most of our artifact creatures.
At 40 lands plus a few additional mana sources, this is more than I typically play, but since most of our lands gains value for us somehow it should not be too big of a concern to 'flood out.' The three-color lands, five chargelands and five Odyssey-block duals give a lot of basic flexibility to the mana-base, and it is in fact part all five colors and part really fancy colorless, which should be interesting to see how it plays out given how many of the cards are colorless... but care about having one, many, or even all five colors of mana available to work with. Reaper King challenges the brain with his hybrid mana scheme, that odd mix of five-color commander and colorless that gives tension and keeps me intrigued, so I moved next to work on the creature base. I figured out roughly who I wanted on the team, and also what spells I was roughly considering playing so I could filter and sort these things accordingly, and just fill the slots I allocated to creatures with the best at the job up and down the mana curve. That curve would prove very meaningful later as we got to the spell section and I realized a certain very interesting card was an artifact for me to explore around Commander with in a way I hadn't tried before, so we'll go in casting cost order as we have a look.
One Man's Scarecrow's Army:
0 Solemn Simulacrum – The first artifact creature everyone plays in their Commander decks... does not fit in our deck with zero basic lands. Welcome to sacred cows and delicious hamburgers. I tried to pare it down as much as I could, sad though it was to bench cute things like Chameleon Colossus, wave goodbye to Willbender, and forego countermagic entirely by putting Draining Whelk back in the stack of Commander cards to be used for other decks. The more I pared away at the cute things that I wanted but which weren't really doing much, like Vault Skirge, the more I honed in on the idea of what Reaper King was trying to accomplish as I worked with the clay, instead of the hundred-plus list of 'cards I was excited about and gonna totally try out!'
Stoneforge Mystic – I played other decks for that Standard season, so I am not bored of this yet. And like I said, waiting to unlock a funny achievement, surprise kill via unseen Cranial Plating... this is the easiest avenue to that. In actuality, I just want to be doing Sword of Feast and Famine whenever it makes sense to do so, and this deck does. He also does other things, some of which may get a laugh out of me, so this hard-working Squire gets past my requirement of 'being an artifact' by at least putting one in your hand.
Steel Overseer – An itty bitty Lord, but still sort of a Lord. This isn't a swarm deck, but a couple of turns with this guy not paid any respect at all means a considerably tougher board than expected, making this a hard-working little two-drop. It's not the same animal we remember from playing Tempered Steel, because we aren't going to be pushing for overwhelming force and overextending – but slowly escalating pressure over time without the expenditure of either additional cards or mana is worth playing a 1/1 for.
Trinket Mage, Treasure Mage – Both do things I appreciate in this deck, and there is even a little built-in recursion: Expedition Map is a trinket, and Riptide Laboratory a land you can get with it, plus three mana artifacts, six artifact lands, Engineered Explosives and a Sensei's Divining Top to get online as well. Treasure Mage 'only' tutors for your choice of powerful fattie in this deck, with choices like Memnarch and Sundering Titan to console us over the decision to play a Gray Ogre.
Master of Etherium – An efficient body, and helps to reward me for playing those janky artifact lands. Another card that just doesn't live up to its prior reputation, but 'Affinity' in Commander is a strange beast.
Moriok Replica – Part card drawing, part pure efficiency play, I wanted more cheap drops to help build the board up and liked the ability to turn Moriok Replica in for more cards later. The interaction with Mimic Vat is just gravy, and came up as an afterthought.
Sylvok Replica – Not so with this Replica; being able to reuse it with Mimic Vat or Academy Ruins was high on my thoughts when I reached for Sylvok Replica. This deck is going to be very light on the number of ways to interact with problem cards like Lurking Predators or Vicious Shadows, and dearly wanted more. Elf Replica is only barely not in the deck, and this one is perfect for the job.
Shimmer Myr – One of those oddball cards I've wanted to see at work for a while now. The first game I played with the deck, Shimmer Myr saved me from a nasty Hurkyl's Recall that could have been pointed my way, letting me float mana and re-deploy everything with considerable haste. I am a fan of improving the speed with which a deck is able to interact, and without any instants in this deck, Shimmer Myr and Winding Canyons are going to have to be hard workers.
Scarecrone – The lone Scarecrow in the deck, this one is included because the ability to re-buy dead artifact creatures is so very potent when that is most of what your creatures are in the first place. Another misfit I've been trying to find a home for, and which seems to enjoy a supporting role here.
Phyrexian Metamorph – Another kind of Sculpting Steel, this one is just a straight-up Clone as well as Sculpting Steel. Super-versatile and incredibly efficient, this also happens to solve a few problems in deck design as I planned them out, and is a good 'bridge' 4cc creature that works with Birthing Pod but can break the chain and jump up to the higher mana costs fairly easily.
Sanctum Gargoyle – My #1 overrated Draft pick from Shards of Alara Limited, and a card I am happy to give a try to in my artifact-themed deck. This under a Mimic Vat makes me happy, and I prefer comes-into-play abilities to dies-trigger abilities, thus this over Myr Retriever as it needs no further help alongside said Mimic Vat.
Etched Oracle – Moar card draw, and another one of the benefits to picking Reaper King as your artifact commander than one of the more traditional choices. Even the Esper commanders can't cash in Etched Oracle for profit, and there are few things I love doing more than drawing three off of an Etched Oracle.
Lodestone Golem – Originally included as a lark, but then I found that a hint of mana disruption or pressure can actually seriously mess with an opponent's draw. The first time I went to Sculpting Steel this and Copy Artifact it and hoped to draw my Phyrexian Metamorph, I realized just how solid the role he was playing was, even though I didn't really want to pursue that avenue of interaction too deeply.
Ethersworn Adjudicator – Mostly for amusement and a little bit of value, this is an efficient body with a decent ability that can go nuts a little if unchecked. It's no Visara, but there are worse friends to keep in your company than 'that guy who casts Mortify.'
Sphinx Summoner – 3/3 plus Demonic Tutor for the creature of my choice. Another key Birthing Pod target, as well as just a good bit of card advantage – I wouldn't have guessed coming into this exercise that I'd have found so much tutoring capability, and this is another way to go up the Birthing Pod chain but still jump the chain in development.
Etched Monstrosity – See also: Etched Oracle and the benefits of Reaper King as an artifact-themed Commander. Etched Monstrosity requires five colors to be used, draws three cards and leaves a 10/10 for your trouble... and is still a 5/5 for 5 before calling in for those cards.
Primeval Titan – So good that someone in the forums of last week's article about banning Ad Nauseam suggested maybe it, instead, should be banned. He's clearly awesome, but still just a creature, no matter how much it feels like he can run away with a game if left unchecked. Hint: don't leave this guy unchecked. I'm playing with him under the assumption I get two lands, he dies, and I get dirty looks for the next three or four turns. Don't blame me if three people can't kill this and I actually get to attack.
Godo, Bandit Warlord – I jam him wherever I can, and have an equipment theme to the deck, so he makes his obligatory appearance as he so often does with me around.
Wurmcoil Engine – A solid artifact body that is good at sticking around to do something despite removal, and surprisingly good as an equipment-carrier.
Steel Hellkite – The new favorite flavor to explore for me, I keep trying to jam Steel Hellkite into all sorts of Commander decks, be it aggro or control. Here, it's 'just' a Dragon with a bit of upside to help control the board, which is still highly mana-efficient and a very threatening play.
Duplicant – Super obvious inclusion. Also, about our only actual pinpoint removal spell, so he'll need to be budgeted carefully because it's hard to know when you'll actually need Duplicant to do its job and don't want to waste it just because there is something that would be convenient to see killed.
Memnarch – I don't even really like Memnarch in this deck, it's a little light on blue mana, but Memnarch is a 7cc bridge that Birthing Pod can cross. He's highly threatening, even if he isn't nearly as good here as we're used to seeing, if for no other reason than all that blue mana is a bit hard to come by. Blue chargelands are the best chargelands, though...!
Enigma Sphinx – This card keeps beating me in Commander, so I am going to turn the tables and beat others with it instead. Way more interesting than Magister Sphinx, whom you might presume is on the team but actually just bores me, and another one of those cards that just drew me towards the interesting artifact theme that selected Reaper King as my commander in the first place.
Filigree Angel – I hate lifegain, but don't mind a lot of lifegain so long as it is stapled to a creature. I want to cut it almost on stubborn principle, but having never gotten to cast it in anything but 40-card formats before, the Angel stays and I am just going to have to work on my snap reflex to cut any and all lifegain not named Batterskull from my decks.
Platinum Emperion – Not a giant fan of Platinum-things, but this one at least helps prevent you from relying on him to survive, since he forces your life total to an unchanging value, while Platinum Angel lets you get beaten up turn after turn in an increasingly awkward plan to defend a 4/4 artifact creature from spontaneously dying. All that, and a decent-sized body as well!
Sundering Titan – A little bit of a jerk card, but also the first time I'm playing it. I thought to put it in because I have no basic lands or basic land types to be destroyed in the first place, so this has broken symmetry already and deserves a shot even if he's dirty pool. It was that or Black Myojin, and this screws fewer opponents at a table while also being easier to cast.
Sphinx of the Steel Wind – Another awkward 'life-gain-y' decision I didn't like at first, but the more I gave the Sphinx a shot the more I appreciated just how many abilities there are stapled to the artifact version of Akroma. I wanted another heavy hitter, and liked this stance much better than the one down which I am ever casting Magister Sphinx, that's not what I feel up to doing.
Kozilek, Butcher of Truth – My favorite Eldrazi now that Emrakul is properly banned, affordable threat plus solid card draw, and easy to work in recursion while you're at it. Another creature card that I drop 100% exposed, expect to die, and shake my head at you for letting me attack with it, not my fault if somehow he does not get Plowed or die to Doom Blade like he's supposed to.
Mycosynth Golem – Probably too cute to be worth it, but it is damn cute how much mana you can save off this if you really try to.
Spells Supporting Scarecrows:
It was awkward to realize that Reaper King was drawing me down a path with no instant-speed interaction, or at least none from the card-type 'instant.' I could justify powerful sorceries, a couple of planeswalkers (I tend to be allergic to those in Commander...) and artifacts that stay on the board and keep doing something. Instants and enchantments were harder sells, so I focused more on building tricky instant-speed interaction into the spells and not worrying the fact that I didn't really find myself playing instant-speed Magic and was a much more sorcery-speed-based game with the deck.
Expedition Map, Sensei's Divining Top – Don't leave home without one!
Demonic Tutor – Because I'd be crazy not to.
Tezzeret the Seeker – Artifact themed without Tezzeret 1.0 would be truly sad. I can actually just use this to ramp mana by spending 0 loyalty over and over, to get six artifact lands, Mox Opal, and Mana Crypt before running dry. He does other things too, but this is a job he happens to do exceptionally well, so he is to be regarded accordingly.
Tezzeret, Agent of Bolas – Originally I gave this slot to Karn Liberated, but then I drew him and wasn't impressed, and asked myself why I wasn't playing the other Tezzeret. The answer of "because I don't own one" was not acceptable considering the high price of quite a few other additions in the deck, so I set about changing that cop-out excuse and Impulsing like mad in my basically mono-artifact deck.
Nicol Bolas, Planeswalker – Because if you can, shouldn't you?
Xenograft, Conspiracy – Welcome to the world of laughter and merriment. Name 'Scarecrow' and hilarity ensues. Staples the ability "Hi, I'm Angel of Despair!" to every creature while the Reaper King is in play, and additionally can be amusing naming Wizard (hi, Riptide Laboratory!), Samurai (Godo giggles at this one!), or Eldrazi (Eye of Ugin cuts two mana off your colorless creature spells, if Conspiracy names this!). I am always amused and intrigued to see the creature-type-shifters at work, especially when there is more than one possible creature type to benefit from naming. I keep not playing them, after all, so I wanted to pursue a line of thought where their inclusion actually made sense, which led to Reaper King artifact-centric with a slight hint of side-interest in the 'Scarecrow Tribal' aspect Reaper King can play with.
All Is Dust – Considering most of my permanents should be colorless, this is the Wrath effect for me.
Soulscour – Wrath effect #2, or as the opponents will consider it, Wrathageddon. Maybe this is in poor taste, but in Commander I would have to assume it's so infrequently pulled off that I have to try for sheer awesome value alone.
Oblivion Stone – Wrath #3, awesome card for Commander is awesome.
Austere Command – Wrath effect #4 for me, I really hope I never have to say artifacts, since this is not kind enough to miss my artifact lands like Oblivion Stone does.
Engineered Explosives – Not sure if this is good enough to count as a Wrath effect, but I have all five colors and a Trinket Mage plan, so I couldn't make myself not give it a try. There is a certain irony to this thought, given how the most likely number to use it on in a Commander game is not between one and five but is in fact zero.
This is not actually a lot of removal, and there is no pinpoint removal to gun for unless you're counting a planeswalker. So we're going to rely on sweepers, and stapling together Vindicate machines. With enough duct tape and baling wire, it might even work!
Rite of Replication – With kicker, targeting Reaper King. Potentially other targets exist as well, but in deciding to build a Reaper King deck it was obvious to me that this was the first card to put in it, because what would I rather do with that much mana: cast Time Stretch (bored already, not in the deck) or cast Vindicate twenty-five times? The answer seems pretty obvious to me.
Open the Vaults – Another benefit to playing artifact-heavy, this is our version of Living Death, and it should trend towards "profit for us, not a lot for the other guys" given how aggressively we've pointed ourselves this way.
Sword of Feast and Famine, Cranial Plating, Batterskull – The equipment package. Originally I also had Sword of the Meek as a combo with Thopter Foundry, then hated both of them – apparently an unstoppable combo in Extended is just kind of okay in Commander, and not worth warping the deck over no matter how many artifacts you already have to justify one of the two pieces. Cranial Plating coming down off Stoneforge Mystic at instant speed, then equipping at instant speed, is just a pipe dream I am hoping to live, and Shimmer Myr offers that option as well, as does Winding Canyons sneaking in Godo. I will not be content until this trick kills someone, just saying. Batterskull is just too awesome (and, again, funny with Godo) while Sword of Feast and Famine is basically all I want to be doing in Commander, all the time.
Riptide Replicator – Name 'Scarecrow.' Giggle.
Sculpting Steel – Obvious and very powerful addition for a mono-artifact deck, given that more than half our deck will be valid targets before even considering the opponent's side of the board.
Copy Artifact – Ditto, and technically breaking the 'no enchantment!' rule because this is just a 1U version of Sculpting Steel.
Courier's Capsule – Artifact-themed card drawing. Teensy tiny effect, but the possibility of going late-game with this and Academy Ruins is pleasing, and I like my small card advantage cards in Commander to begin with.
Birthing Pod – I'm not actually sure on this one. It's included mostly because it's an artifact, but I have nothing at one to get with a token creature, have the semblance of a chain from 2-6, then jump to eight, skip nine, and then ten goes to eleven. I finally own a Survival of the Fittest at long last but yawned at the idea of playing it, and wanted to give Birthing Pod a try in a deck that likes its overarching themes... incremental advantage, plus 'counts as an artifact.' There is actually a pretty decent chaining of creatures from 3-6 mana, and Memnarch as a bridge across 7 to get to 8. And the tutoring ability to find just the right creature for the job at hand keeps pulling me to pursue it, even though I don't see Birthing Pod in Commander a lot.
Dreamstone Hedron – Part 'big mana,' part card advantage, an even bigger way to go crazy with too much mana later in the game and an Academy Ruins.
Mind's Eye – Clearly awesome Commander card-draw artifact is clearly awesome.
Mimic Vat – I was actually worried I didn't have enough things to go with this, till I read my Replicas and Gargoyle and Summoners and Wizards, splashed for Primeval Titan, and decided I was crazy to even consider foregoing this one. With Conspiracy and Reaper King online, this is even an instant-speed Vindicate machine, and a more clearly playable one than the Riptide Replicator plan that is probably terrible but too fun not to chase.
With that, we reach the end of our Scarecrow shenanigans, and I found myself still smiling even though it didn't look like it was very powerful. If anything, it looked bad to me on paper because of the no-instants thing, but even at that I could have added Vedalken Orrery and stayed on-theme... and didn't feel myself being pulled that direction at all, there is still plenty of instant speed interaction and tricksiness thanks to a lot of the options the mana-base offers as well as cards like Mimic Vat or the Replica that do not suffer the same sorcery-speed restriction, and Winding Canyons is incredibly easy to access in a game if you want to find it.
This deck breaks a lot of rules to me, but it also hits the sweet spot I'd been finding lacking recently... the reminder to just have fun a little.
Creatures (29)
Planeswalkers (3)
Lands (40)
-- Sean McKeown
Want to submit a deck for consideration to Dear Azami? We're always accepting deck submission to consider for use in a future article, like Stle's Karador, Ghost Chieftan deck or Ben's Zombie-tribal Grimgrin deck. Only one deck submission will be chosen per article, but being selected for the next edition of Dear Azami includes not just deck advice but also a $20 coupon to the StarCityGames.com Store!
Email Sean a deck submission using this link here!
Like what you've seen? Feel free to explore more of "Dear Azami" here, in the Article Archives! And feel free to follow Sean on Facebook… sometimes there are extra surprises and bonus content to be found over on his Facebook Fan Page, as well as previews of the next week's column at the end of the week!