You're in the right place at the right time Padraic. You're the guest of honor for the week at "Dear Azami" because the list you've submitted is a commander choice that I've been fighting with myself for the last six or seven days. I'm dying to see this deck get off the ground and your timing couldn't be more perfect as a result.
Serendipity in a word.
(And I mean that literally. As I was sitting on my couch going through the submissions for the week my wife was flipping through the channels and mentioned that the John Cusack movie Serendipity was about to come on. I briefly considered faking a massive stomach ulcer and running out of the room.
Sorry Serendipity…you're just no Grosse Pointe Blank.)
Looking deeper at your submission you've also grabbed my attention due to your metagame description. Just in case I haven't beaten everyone over the head with it enough yet I'm really not a big fan of combo wins. Now don't get me wrong; there are plenty of positives to dealing with an overload of combo decks in the middle of your Commander metagame.
You can catch up on lost sleep for instance. Make a sandwich. Learn to knit perhaps? The possibilities are endless so long as you don't feel like actually playing Magic.
There is a solution here however. It is incredibly simple and you've already hit on it yourself:
"I hope I can make this deck into something that forces the combo players to not just ignore the board and goldfish an "answer me or die right now" kind of thing while still being fair."
Good news: you're well on the way there already with the list you provided.
. . . . .
The reason I personally latched on to Thromok was because of how elegantly the design of the card fits into the Commander equation. Initially I just wrote it off as a blunt-force instrument for token beatdown. Looking at the Planechase 2012 spoilers I had Thromok and Krond the Dawn-Clad nearly neck-in-neck for the prize of "Most Egregious 'Build-Around Me' Commander" of the set.
… And then I watched as it was cast on turn 5 with a 49/49 power and toughness and I realized that Thromok accomplishes something else entirely.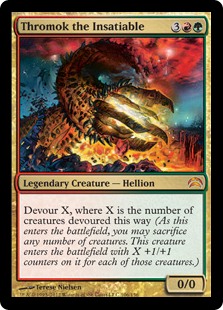 Thromok the Insatiable can generate pressure that is large enough to force a combo deck completely away from its typical game plan in a very short span of time. That's not something that comes easy to aggro decks. Being in red and green there's typically no good way to disrupt the combo player. What you can easily do is force other players to deal with the sheer threat Thromok represents within the first few turns of the game.
Alternately you can come nearly out of nowhere with a giant beater at almost any point in the game so it is simply never safe to relax around a Thromok deck. When it becomes entirely possible to represent a lethal general attack by turn 4 all but the most dedicated (read: non-interactive boredom-generating goldfish-machines…or just "Griselbrand decks" for short) combo builds will be forced to drop their plans to deal with you or else run the risk of just losing before they can manage to get going.
This all means you can essentially race combo. This is an incredibly strong tool in your arsenal and the threat alone will allow us to functionally change the way your deck works by streamlining the extraneous stuff and focusing the threat you represent. Thromok can be a lean mean fighting machine much like…er…
(looks at the television)
… Rocky IV is on. Of course. (Where's a good rolling power outage when you need one?)
Padraic your list starts in a very good place on many fronts. You've hit on a large number of the best token producers and you have most of the right supporting cards as well. (Believe me you'll love what happens when you drop Parallel Lives hit a reasonably sized artifact with Artifact Mutation for a handful of tokens and follow up the next turn with Thromok.) As such my plan of attack will be three-tiered:
Smooth out your mana base.
Focus on making Thromok more relevant on the ground.
Work on supporting the use of Thromok's size as a resource.
Let's look at each category in turn.
THE MANA BASE
Right off the bat you've only got 31 lands. That absolutely has to increase. If you're not up and running right off the bat it doesn't matter what your deck is capable of in the face of your combo-loving companions. I actually have no idea how you manage at all to begin with running such a low count. You've got a very high creature count and a huge token-producing contingent in this deck so I'll borrow from other categories a bit to fill the gaps.
I'm also a little concerned with some of the lands you didchoose to include. For an aggressive deck that needs to hit land drops every turn I see far too many instances of the words "…enters the battlefield tapped." I'm going to trim some fat in this area for sure.
OUT:
Viridian Emissary – You have a soft Elf theme that I'm going to cut. While I do appreciate the casting cost the big issue here is that mana producers should provide on the way in not on the way out.
Elvish Harbinger – I do like the synergy here. It's nice to be able to dig up Deranged Hermit. In this case though that's what Survival of the Fittest is for. Harbinger leaves you relying on a fragile body for crucial mana acceleration that doesn't last either through mass removal or being devoured.
Wren's Run Packmaster – For all intents and purposes Jade Mage is as good as Packmaster from a token-producing perspective in this deck but with less of a limitation on playability. Championing Elves just to be able to make tokens is not what you want to be doing all things considered.
Thelonite Hermit – The Saproling subtheme is also a bit fragile and again you're slightly overloaded with token producers. If you're going to be pumping up tokens let's pump them all up regardless of creature type. The other main problem I see with Thelonite Hermit is that it sits at the same converted mana cost as Thromok.
In other words you've got better things to do here.
Fierce Empath – See Elvish Harbinger. This cut is a bit harder to do but I'm going to be slotting something later on that is simply far more efficient.
Brooding Saurian – Far superior when stapled to a land that also taps for one.
Raging Ravine Tranquil Thicket Forgotten Cave Kazandu Refuge Shivan Oasis – You still have Gruul Turf Khalni Garden Hall of the Bandit Lord Mosswort Bridge Spinerock Knoll and potentially Rootbound Crag and Stomping Ground that enter the battlefield tapped. Good lord—that's almost forty percent of your mana base that you can't immediately use.
As it is a two-color deck that includes green usually has solid mana fixing and doesn't need to worry so much about maxing out on lands that produce mana of both colors. As a result I'm cutting a few of the subpar options to keep you moving in the early game. The cyclers go as well since this mana base just isn't robust enough to support trading tempo and mana production for a single drawn card.
IN:
Winding Canyons – This is "Dear Azami" after all.
… But seriously Thromok is a vanilla beater at the core and this list is lacking in ways to make creatures hit the battlefield and immediately attack. If ever there was a home for Canyons this is it.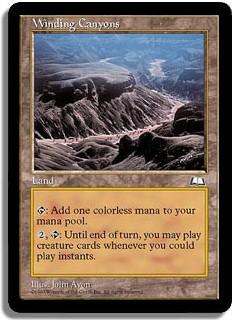 Miren the Moaning Well High Market – Before you all start throwing rotten tomatoes hear me out. I'm honestly not trying to blindly toss staples at this deck but equally important to the ability to play Thromok at instant speed is the ability to make sure that the guy playing blue in the next seat isn't going to untap play Treachery and beat you to death with your own general. These two lands need to be in your deck. (Besides responding to the player who just played Damnation with "Okay…gain 64 life in response?" is pretty sweet.)
Homeward Path – Let's face it – you're not turning Brooding Saurian sideways all that often to begin with. This slot might as well also make you mana.
Okina Temple to the Grandfathers – A little extra size never hurts right?
Oran-Rief the Vastwood – This covers more bases than Thelonite Hermit does on the creature improvement front and makes mana in the meantime.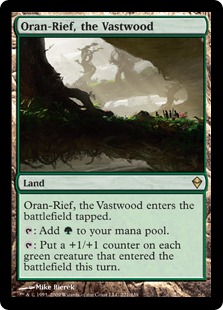 2x Mountain 3x Forest – To round the lands back out. I feel safer already.
MAKING THROMOK BETTER
And really what I mean by "better" is more haste. You're in red—the color that corners the market on haste but all I see is Anger and Hall of the Bandit Lord. I can think of three hasty inclusions (and one additional combat enhancer) that fit really well here so let's start with what's going in.
IN:
Fires of Yavimaya In the Web of War – In these colors Fires is the gold standard for haste enablers. In any deck that runs Avenger of Zendikar and red cards "super haste" is effectively Fires of Yavimaya 2.0.
Urabrask the Hidden – This covers the bases formed by the creature Tutors you've included and is also solid disruption. I'm not sure if any of the combos you face regularly involve Kiki-Jiki Mirror Breaker shenanigans but Urabrask is a great trump card in that area.
Homura Human Ascendant – This is the older brother to Anger and Brawn; tokens love Homura and Thromok loves to eat Homura. I particularly like the options this trio opens up with Tooth and Nail and Defense of the Heart. Depending on what the situation calls for you can mix and match trample haste and flying and firebreathing for maximum flexibility.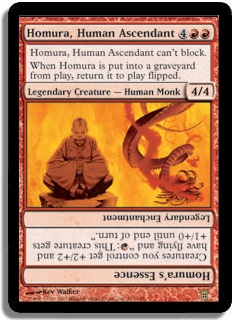 OUT:
Mimic Vat – I couldn't quite reconcile the inclusion here. I get that Vat just tends to be solid no matter where it is but the slightly misplaced utility seems to pale in comparison to making your team stronger and building synergy as a whole. Around here Mimic Vat also seems to double as the Magic card equivalent of having a "Kick Me!" sign taped to your back whereas people usually don't tend to look twice at Brawn in a graveyard.
Feed the Pack – The nut-high is probably sacrificing a gigantic Thromok to this card. I'm not sure the double downside of the forced timing and the fact that most of your deck is designed to make tokens that don't play nicely with Feed the Pack to begin with is worth the chance to live that dream.
Eldrazi Monument – This is the card that is fighting for the same space as Homura Human Ascendant. In the end I like Homura slightly more as he pumps up Thromok on the way in and makes every token twice as threatening—or better—as Monument does once he flips. The edge is admittedly razor-thin here and I understand how strong indestructibility is. If there's a cut that I wouldn't mind taking a beating for in the comments section it's this one. Please be gentle and no face shots.
(Incidentally my wife always tells me to be careful because my face is my "money maker." I always tell my wife that she needs to get her glasses prescription checked out.)
Arashi the Sky Asunder –Arashi is a middle-of-the-road removal option that is both inferior to Windstorm when channeled or inferior to Silklash Spider when played as a creature. Remember what I said about streamlining things In this case I'm essentially cutting a piece of removal in order to add Urabrask with the understanding that you don't want to be on the back foot playing control—you want to play the aggressor instead. If you're attacking with a haste-enabled commander that has a double-digit power and toughness into a tapped-down board you don't particularly care what's hanging out overhead.
SIZE MATTERS
All of these changes won't matter if you're counting on your opponents to stay honest and meet you in the red zone. If you're going toe to toe with combo decks this probably won't be the case.
Enter Warstorm Surge.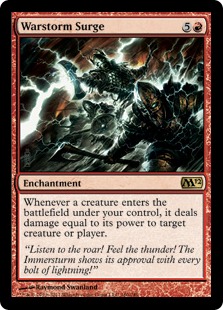 You correctly added this card to your list and it is the absolute MVP. There's nothing like playing Thromok devouring six or seven tokens and blowing the face off of one of your opponents before you even need to go anywhere near your attack step.
… Except for then tossing Thromok at a second opponent and taking a third one down on the way out with extra damage producers. With these suggestions you're going to gain a ton of horsepower based on leveraging how big your Commander can be.
IN:
Fling Grab the Reins – Good ol' instant speed direct damage for bargain-basement prices. Both are potential game ending haymakers in this deck. Don't forget that you don't have to sacrifice the creature you steal with Grab the Reins so be selective in what you take. You usually already have the second mode covered with Thromok so don't miss the opportunity to make good use of that damage if you can help it.
Stalking Vengeance – A reasonable body with a potentially backbreaking ability in this deck. Every token that Thromok devours becomes a Lava Dart (or a Lightning Bolt with Homura's Essence in play) and Fling now reads "Remove two target opponents from the game."
Pandemonium – Warstorm Surge number two. If you're worried about the balanced effect this could be Electropotence instead; in practice I've found that the extra three-mana activation cost of the latter matters quite a bit more than I thought it would.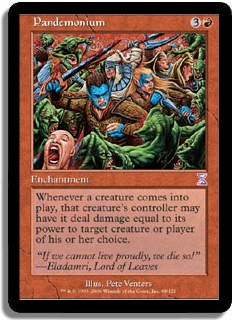 OUT:
All Is Dust – Given that most everything in this deck is colored I just can't see keeping this around.
Hull Breach – There are enough other ways to deal with artifacts and enchantments in this deck that I think this can be safely cut. Remember that this is a dedicated aggro deck; one of the ways it can deal with problem permanents is to simply run over the person playing them. Disruption doesn't always mean having removal to deal with problems. Sometimes it can just mean being the problem instead.
Noxious Revival – A free Regrowth is always good but the "on top of library" clause doesn't really do it for me. With the creature Tutor effects available Genesis and Eternal Witness create an engine that fills this role and allows me to repurpose this space.
Verdant Force – This feels wrong doesn't it? Kind of like sacrificing the grandfather of sacred cows. In fact this is one that I'd leave alone completely if it weren't for two things: finding room for Stalking Vengeance and Dragonlair Spider which is like a supercharged Verdant Force that costs three less.
Seriously—the Spider feels like the token-making version of Rhystic Study. It's that good. Verdant Force feels extremely dated in comparison. Consider the torch passed.
TYING UP LOOSE ENDS
I have one strong upgrade and a few positional substitutions to make before I'm finished.
IN:
Natural Order - This is the Fierce Empath substitution. It's nice that Empath hangs around to be eaten by Thromok but in this case the power level of Order wins out. The amount of tokens that will be present and the explosive nature of the Tutor are too good to leave off the list and the ability to find and use an early Primeval Titan immediately or grab a quick Deranged Hermit or Siege-Gang Commander to fuel your commander is well worth the price of admission.
Kodama's Reach Explosive Vegetation – The raw land search and acceleration here will easily outpace the cards they replace.
Solemn Simulacrum – The same thing goes here. Solemn is a strict upgrade in this deck to the card I cut to make space for it.
Sarkhan Vol – A fantastic source of haste and token improvement in one cheap package. The ability to steal a key creature adds value as well and the ultimate ability plays very nicely in this deck.
OUT:
Krosan Tusker – For one more mana compared to the cycling cost Solemn puts the land you find directly into play and again also sticks around to get eaten by Thromok.
Darksteel Ingot – This is an incredibly tight decklist and as a result economy is going to get the nod when looking at the mana fixers. For the same three-mana investment Kodama's reach provides two lands and a card like Wood Elves makes Thromok bigger. Both are better.
Oracle of Mul Daya – This cut is equal parts lost utility (as we pulled the Elves) and me being vindictive (as I have an unnatural hostility towards Oracle for some unexplained reason.) I'd typically lean on the fact that giving your opponents extra info is usually bad to explain this choice but in this case your list is already fairly light on lands which tarnishes the value of Oracle to begin with.
Skullmulcher – I'm always hesitant to cut draw sources but this is one that just never seems to work out in my experience. In this deck you have better things to devour creatures with including your commander itself. You want value from your tokens and consolidating them into one relatively mediocre vanilla body in exchange for a few cards is just not ideal.
Besides…there's already another card in your list that also starts with "Skull" that gives you two cards per token. It's way better.
Warp World – I love Warp World in a tokens deck nine times out of ten. This is the one time that I don't. The wording on Warp World is very subtle; while the typical shortcut is to count your permanents reveal your cards and dump everything into play it's actually a two-step solution. Artifacts creatures and lands enter the battlefield together first and then enchantments follow. Everything enters play on resolution of the spell but this timing snag effectively stops the power play of dumping the deck onto the battlefield hitting Warstorm Surge or Pandemonium in the process and instantly nuking a player or two out of the game in a landslide of damage from all of your entering creatures. You still get all of your goodies but no damage triggers.
Don't get me wrong; Warp World is still great here. However unless you're holding Fling or Grab the Reins the end result is that you're probably taking one player down while simultaneously rearming the rest of the table and ending up completely open to massive unilateral retribution.
Probably not the intended effect. Just saying.
THE FINISHED LIST
Here's where we end up:
Creatures (32)
Planeswalkers (1)
Lands (37) Taking a cue from Sean last week (imitation is the sincerest form of flattery) I wanted to use this section to look at a few other options that I did not slot that could be worth consideration.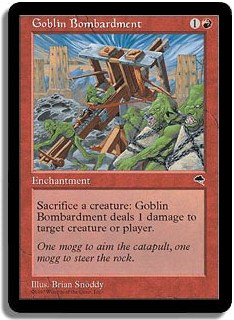 Goblin Bombardment – This is the must-have sacrifice outlet if you can support the color. In this case I chose to focus more on the ability to throw a knockout punch with Fling or Grab the Reins rather than cover the bases with Bombardment. After all devouring your team and ending up with only one damage to show for it is pretty deflating. Still this always deserves consideration.
Bloodshot Cyclops Soul's Fire Soulblast – If you want to look more in the direction of utilizing Thromok's size to deal some serious damage I'd consider looking at any or all of these three cards. I tried to balance the fact that this deck is still a token swarm deck at its core so some semblance of balance between damage components and creature improvements needed to be struck. Feel free to consider swapping in some or all of these depending on how much you want to attack or just directly punish other players.
Greater Good Momentous Fall – A few other potential card-draw contenders that play nicer with big creatures than with token hordes. You've already got the Reliquary Tower and you might consider adding Praetor's Counsel in addition if you decide to include either of these cards.
There's also the question of looking a bit harder at your token generators. Nemata Grove Guardian got an initial pass due to the ability to become an army of really large tokens with just the help of Seedborn Muse but I was a step away from giving the nod to Thromok by swapping in Symbiotic Wurm instead due to the cleaner package of consumables. Either way you won't go wrong.
Lastly you can delve a bit deeper into planeswalker options. Garruk Wildspeaker provides acceleration tokens and an Overrun effect; Garruk Primal Hunter fills in with decent draw and improved token creation. Both can go immediately ultimate if you play them with Doubling Season on the battlefield. Again if you want to focus more on token swarm tactics and less on leveraging your commander for damage keep these on the radar.
For your participation in this week's "Dear Azami" you'll receive a $20 coupon to StarCitygames.com to begin working with here. What probably comes as a shock to regular readers is that I haven't managed to suggest that you replace three-quarters of your entire deck. What can I say? You started with a strong list to begin with. Very nice work Padraic.
(Either that or I might be losing my touch…)
In all seriousness here's what you're looking at:
| | |
| --- | --- |
| CARD: | PRICE: |
| Fling | $0.15 |
| Forest | $0.25 |
| Mountain | $0.25 |
| Grab the Reins | $0.49 |
| In the Web of War | $0.75 |
| Explosive Vegetation | $0.99 |
| Homura Human Ascendant | $0.99 |
| Kodama's Reach | $0.99 |
| Pandemonium | $0.99 |
| Stalking Vengeance | $0.99 |
| Okina Temple to the Grandfathers | $1.49 |
| Fires of Yavimaya | $1.99 |
| Oran-Rief the Vastwood | $1.99 |
| Urabrask the Hidden | $2.49 |
| Homeward Path | $3.99 |
| Miren the Moaning Well | $4.99 |
| Solemn Simulacrum | $4.99 |
| Winding Canyons | $5.99 |
| High Market | $6.99 |
| Sarkhan Vol | $14.99 |
| Natural Order | $34.99 |
That's it for today folks. I hope you all enjoyed the list today; Thromok is a pretty exciting new Commander option and I'd go so far as to say there isn't a better R/G aggro choice at all from my early experiments with it. I'll personally be sleeving this exact list up for a test drive so be on the lookout for some play results in the near future.
For now I'm off. One of the movie channels is now playing Gigli and I desperately need to go smash my television.
-Cassidy McAuliffe
Want to submit a deck for consideration to Dear Azami? We're always accepting deck submissions to consider for use in a future article like Nick's Numot deck or Paul's Kamahl deck. Only one deck submission will be chosen per article but being selected for the next edition of Dear Azamiincludes not just deck advice but also a $20 coupon to the StarCityGames.com Store!
Email us a deck submission using this link here!
Like what you've seen? Feel free to explore more of "Dear Azami" here in the Article Archives!Feel free to follow Sean on Facebook... sometimes there are extra surprises and bonus content to be found over on his Facebook Fan Page as well as previews of the next week's column at the end of the week! Follow Cassidy on his Facebook page here or check out his Commander blog – GeneralDamageControl.com!