Dipping Into My Arsenal

I was as excited as anyone to get my copy of Commander's Arsenal. It showed up a day earlier than I thought it would, so I had plenty of time to consider which decks were going to get the massive pimpage upgrade and then play some of them for League. There's a hierarchy of pimping that goes in my collection of now eighteen decks (nineteen if you count the Sol'Kanar pile that I haven't played in forever, which simply needs to be cannibalized for parts).
Just in case you're not a regular reader, here's the whole list:
Animar, Soul of Elements
Adun Oakenshield (and His Beasts)
Geist of Saint Traft
Intet, the Dreamer
Jarad, Golgari Lich Lord
Karador, Ghost Chieftain
Karrthus, Tyrant of Jund (Raining Fire from the Sky)
Kresh the Bloodbraided
Lord of Tresserhorn (Zombies!!!)
Phelddagrif (Lighten Up, Francis)
Nath of the Gilt-Leaf
Oros, the Avenger
Merieke Ri Berit
The Mimeoplasm
Rith, the Awakener
Ruhan of the Fomori (You Did This to Yourself)
Thraximundar
Trostani, Selesnya's Voice (On the Backs of Angels)
While I want to foil/pimp out all of them (save for Nath, which is intentionally built to be a budget deck), there's a pecking order. The Top 4 are Intet, Kresh, Karador, and Ruhan. These are the decks that get super-special cards, like Italian foils (the only non-English that I use), alters from great artists such as Eric Klug, Ron Faris, Gus Schade, and Armada Games' own Kristy Dunn, and other special versions, such as Judge foils and now Arsenal cards. These are also the decks that get what foil full-art Zendikar Basic Lands that I have, although I'll confess that there aren't that many of them that I actually love the art on. I really like the Plains with the Pyramid and the Island with the Bucket, but I'm not particularly fond of any of the Swamp, Mountain, and especially Forest.
Eventually, I'd like to turn Kresh into an all-Italian deck where possible. I've gotten a small start, with foils of Kokusho, Tangle, Garruk Wildspeaker, Savage Lands, and Graven Cairns. The Bayou, Taiga, and Badlands are also Italian and altered. The deck definitely has my largest collection of alters, with Night Soil, Sol Ring, Demonic Tutor, Victimize, Phyrexian Tower, Strip Mine, Scavenging Ooze, Swiftfoot Boots, Spore Cloud, Lord of Extinction, Command Tower, and, of course, Kresh himself. The updated decklist is at the bottom of the article. If you want to trade away an Italian foil version of something that I don't already have (or isn't on the alters list), ping me and we'll work out something.
Sidebar: League Play of the Week
Week 1 of Armada Games EDH League 17 kicked off last week. Because the League will run through the holidays, League Chairman Michael Fortino did a quick poll of the regular players to see if we wanted to start now and skip the holiday weeks in the middle or just start after the holidays. The overwhelming answer was to start now, and the overwhelming sentiment was "we want to play as much as possible!"
I'll post frequent updates with what happens League-wise. I actually started to record a play-by-play of a game, then realized we were all already having too much fun goofing around to want to focus on recording all the plays. I do promise you at least one play-by-play from this League, though. If there's a particular general you want to see featured, let me know.
The play was in and of itself pretty simple, but it took us some time to get there. I was playing Karador with David (Sygg, River Guide), Mark (Thraximundar), and Ben (Pauper Vorosh). We were somewhere in the mid game. David had Sygg and another small creature in play. I had started with Hermit Druid and a few other small things, the Hermit Druid doing its job of getting me lands without milling too many cards. When Mark summoned Thrax for the first time and attacked David, David asked about combat step priorities.
When three people are all trying to help at the same time, things get a little confusing. We thought he was asking if he could make a token creature in order to sacrifice it, which obviously he has the opportunity to do. He asked again, and we got around to what he was asking: "Can I do something with the Thrax trigger on the stack?" The answer is clearly yes. Then what he did was cast Spinal Embrace, stealing Thraximundar then sacrificing it when the trigger resolved. Even Mark appreciated the hilarity of the play.
Back to the Arsenal, in some cases figuring out which decks would get the cards was easy. In others, it took some thinking.
Chaos Warp: I realized that I was playing Chaos Warp only in one deck despite having a few extras, that deck being Karrthus. The deck seemed to need it because it doesn't have too much targeted removal, instead relying on the raining of fire (not to mention Dragons) from the sky. I thought that it was also great in the deck to shuffle in something of my own because the ratio of permanents in the deck is pretty high, but then I looked at the decklist and realized that it's not: there are sixteen sorceries and five instants. That being a fail, I immediately thought of Animar, which has only six non-Primal Surge nonpermanents. It felt like a match made in heaven so it went in, swapping out Beast Within.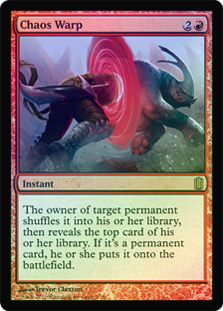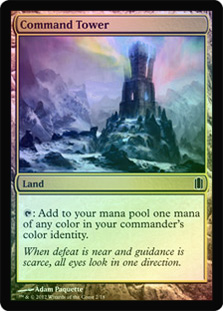 Command Tower: Between a few altered versions and Judge foils, all the "important" decks already had one. I figured out which next-most-important deck didn't have one, and it was also Karrthus. I rotated a judge foil into Karrthus and put the Arsenal one into Ruhan.
Decree of Pain: I just sprung for a few foil versions of Decree of Pain about six months ago, so I already have it in all the decks that I want it in. I put this one into Karador and put aside the other knowing that there will be another deck coming up that needs it—probably last week's awful Jarad deck, which I'm going to rebuild. That's a story for later.
Desertion: My first thought for this was Intet, but then I realized I already have a beautiful alter (Richard Kane Ferguson's art lending itself quite well to color blending in extending the borders), so this made its way directly into Ruhan.
Diaochan, Artful Beauty: This hasn't yet found a home. It feels like something that Kresh could take advantage of, but then again, Kresh himself could be on the bad end of it. I certainly can't expect anyone to go merrily along with Kresh getting giant. That said, this is an interesting political card for multiplayer games. If there's a problematic creature for the whole board, you can get someone to help out, even if you have to take one for the team and choose one of your own dudes as the first target. Note that both targets are chosen when you announce the ability, but you're always going to have to announce your target first.
Dragonlair Spider: I feel like I'm talking a lot about Karrthus, but it is a Dragon deck and this Spider lives in the Dragonlair. It might fit slightly better in Rith, but I love themes and this seems on theme since I don't have a Spider deck. It also combos nicely with Dragon Broodmother to have lots of stuff to devour.
Duplicant: This was another case of the cascades. The new Trostani deck didn't have one (although it had an original Mirrodin Japanese version), so it got the foil that was in Karador and Karador got the new one. I'm a little concerned that this card is so good in the format that it's becoming one of my auto-includes, and I don't want my decks to always have so many similar cards. I'll probably try to avoid it in upcoming decks.
Edric, Spymaster of Trest: No home for Edric yet because I'm trying to figure out the best possible current deck use for him. Color-wise, he'd go into Animar, Intet, or The Mimeoplasm. Animar, with its load of creatures and only moderately good card draw, could be quite productive. With Intet, the card draw is already top shelf, and The Mimeoplasm might not have enough guys attacking early enough to be worthwhile. My main problem, as I've mentioned repeatedly in the past, is that I don't want my opponents draw extra cards. The "don't attack Edric" idea only saves you so much damage.
Certainly I've thought to build an Edric deck as the Simic representative to the "all color combinations" project, but two things stop me. First, I'd want to build it in a fashion that it hasn't been built before. I've seen a handful of them, and I'd want to do something outside the box. Second, Simic is one of the Gatecrash guilds, so I'd really first like to see what the guild leader out of it is before building it. Not that it's stopped me from building Edric, but having Momir Vig as your Simic general just seems the way to go.
Kaalia of the Vast: Another without a current destination. She doesn't make much sense except as a build-around General. I have Oros in that wedge already, and I'm hoping to tweak it (it's the one with the Sunforger package) into being more playable. Of course the deck doesn't demand Oros at the helm, although the triggered ability is pretty nice, especially when she's equipped with Basilisk Collar. A change could be made. As with other decks, I'd really like for the deck to do stuff differently than other players are doing it—quite honestly, Kaalia into Avacyn seems overdone. Maybe I'd do it with just one creature type, like Kaalia's Demons. This demands some thought. Expect to hear about it in the future.
Loyal Retainers: At first I shrugged, thinking that I'm not playing too many legendary creatures in any deck. Then I realized Karador has Elesh Norn, Grand Cenobite, Ghost Council of Orzhova, Kokusho, the Evening Star, Saffi Eriksdotter, Sheoldred, the Whispering One, and Vish Kal, Blood Arbiter. Just Saffi/Kokusho tricks were enough to get me interested, so I put it in, swapping out Krosan Grip—I thought about Stonecloaker, but I'm quite fond of its flexibility. Then I played a game where Saffi/KK and Loyal Retainers got me out of a tight spot, and I knew I had something. That deck is looking forward to Gatecrash coming out so some sweet Orzhov creature can find its way in. Since it's one of my 'good' decks, I'm pretty sure I need to put Jarad, Golgari Lich Lord into it, so we'll see what's worth taking out.
Maelstrom Wanderer: I already have two RUG decks, so it doesn't seem like there's room for a third. I have a sweet Gus Schade alter which is in Animar. Obviously, Intet is the only other choice for the moment, but it feels like there might be too many blanks in the deck to run it—like counterspells—and cascading into Fault Line or Bonfire of the Damned would be awkward. That said, the deck does a decent job of controlling the top of the library, so I might be able to run it. I'm going to put it in and see how it goes.
The Mimeoplasm: This was an easy one. I have him as a commander. Now the deck is even more shiny.
Mind's Eye: I looked at my lists and found that Rith was the only deck in which I was playing it, which seemed a little odd. I rewarded Rith for his loyalty by putting it straight in. Now I have an extra foil, so there's definitely a deck that's weak on card draw—like maybe that Oros/Kaalia idea—that could use it.
Mirari's Wake: When I went to build the Trostani deck, which I'm having loads of fun playing, I didn't have a foil Wake—or a Wake of any kind for that matter—to put into it. Problem solved.
Rhystic Study: I started to consider violating the priority list with Rhystic Study. Animar doesn't have one at all, and Inexorable Tide has been little more than a "win more" card. Couple that with the fact that Ruhan isn't playing one at all and I had a mini-dilemma. The other decks, like Intet and Phelddagrif, already have alters or foils. Ruhan does okay at drawing cards, but in the end, I'd like to have a better chance to draw into those "You Did This to Yourself" cards so it when to the Giant, replacing Karmic Justice.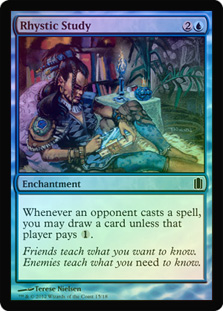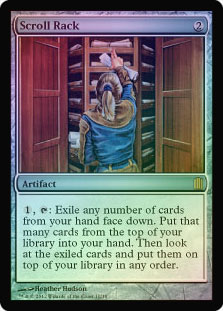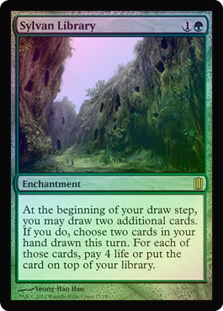 Scroll Rack: This is clearly an Intet-all-the-way card. I have an early Kristy Dunn alter, but I'm moving this up on the scale and swapping the altered Scroll Rack into Merieke, which is the reactive kind of deck that likes to take advantage of Racking.
Sylvan Library: The card draw in Trostani is weak, and with the life gain theme, this also seemed a no-brainer. "I'll lose eight, go to 109" is the kind of thing we all want to say.
Vela the Night-Clad: I like Vela as some kind of punishment against Wrath effects. Her Intimidate abilities aren't to be underestimated either. I keep thinking of her leaves play trigger in light of white cards like a bunch of Blink effects, which seems to suggest an Esper deck. She's also obviously a build-around Dimir Commander, but like Edric, I really want to first see what Gatecrash has to offer. Until that time, she's going into Thraximundar to add a little spice to the evoke creatures which are a main part of the deck.
All of my Commander's Arsenal cards either found an immediate home or there's some kind of plan for them. While I'm sure a hundred or so cards were considered for inclusion in this product, I think the fact that the ones they chose were so easy and exciting to integrate into existing decks (not to mention suggesting new ones) tells us that they did a great job of picking them.
Before signing off, I'll tell you about one Chaos-Embracing idea that we're going to try to run this week (in fact, it most likely will already have happened by the time you're reading this). Armada Games owners Aaron and Michael Fortino and Monday Night Gamer/Armada Super Employee Todd Palmer have agreed to a weekday battle of the four first-tier decks I mentioned above: Intet, Karador, Ruhan, and Kresh. We'll record the play-by-play and report it on these very pages. I'll let them choose which decks they play. Todd has played Intet a number of times, so he has familiarity with it. Aaron has a Karador deck of his own, so I suspect he'll want to play something different. Michael just loves experimenting with new stuff, so any one will do for him. It should be piles of fun, and you'll have a front row seat for all the action.
As promised earlier, here's the current Kresh list (* = already in Italian):
Artifacts (5)
Swiftfoot Boots
Mimic Vat
Skullclamp
Sol Ring
Tormod's Crypt
Creatures (28)
Acidic Slime
Anathemancer
Avalanche Riders
Big Game Hunter
Bloodshot Cyclops
Butcher of Malakir
Devouring Swarm
Disciple of Bolas
Disciple of Griselbrand
Eater of the Dead
Eternal Witness
Farhaven Elf
Flayer of the Hatebound
Greater Gargadon
Hamletback Goliath
Inferno Titan
Lord of Extinction
Malignus
Mitotic Slime
Pelakka Wurm
Rune-Scarred Demon
Scavenging Ooze
Seedguide Ash
Stalking Vengeance
Withered Wretch
Woodfall Primus
Woodripper
Yavimaya Elder
Artifact Creatures (1)
Solemn Simulacrum
Legendary Creatures (3)
Kokusho, the Evening Star *
Mikaeus, the Unhallowed
Urabrask the Hidden
Enchantments (8)
Feed the Pack
Goblin Bombardment
Greater Good
Lurking Predators
Night Soil
Pernicious Deed
Sneak Attack
Survival of the Fittest
Instants (8)
Fling
Krosan Grip
Grab the Reins
Makeshift Mannequin
Momentous Fall
Red Elemental Blast
Spore Cloud
Tangle *
Sorceries (8)
Cultivate
Demonic Tutor
Essence Harvest
Living Death
Praetor's Grasp
Regrowth
Skyshroud Claim
Victimize
Planeswalkers (1)
Garruk Wildspeaker *
Lands (18)
Badlands
Bayou *
Bojuka Bog
Command Tower
Exotic Orchard
Graven Cairns *
Grim Backwoods
Kessig Wolf Run
Overgrown Tomb
Rakdos Carnarium
Reliquary Tower
Savage Lands *
Stomping Ground
Strip Mine
Taiga *
Tainted Wood
Temple of the False God
Twilight Mire
Legendary Lands (1)
Phyrexian Tower