Welcome back cubeaholics to another edition of Cuber's Anonymous. I hope you enjoyed my three-part series about rotisserie drafting as much as I enjoyed writing it. I received lots of messages telling me that many of you had completed your first (and second and third in one case!) rotisserie draft and loved it! I can't tell you how happy that makes me to learn that my favorite format is getting some love. I am gathering more info on team rotisserie drafts (read: playing in more team rotisserie drafts) and will have an article exclusively about that later this year.
Unless you're one of my 31 regular readers (that's plus four from last time for those keeping track at home) you likely clicked the link to this article because you want to see a list of cards you love so that you can disagree with and call me an idiot. Conveniently that's exactly why I wanted you to click the link too! I just love me some hearty Cube discussion (some people call my discussions "arguments"; yeah I don't get it either).
I decided to compile this list as I continue to see these cards either underperform or be continually misevaluated. Many of these cards are Cube mainstays so go ahead and hit your caps lock because I'm not holding anything back.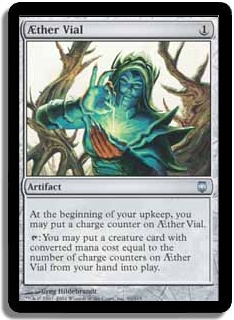 Like many of you I was tricked for a long time. I saw what the Vial could do; it could wreak havoc on blue mages and make combat tricky for opposing aggro decks. It's a monstrous card in Legacy and was banned in multiple formats for its power. So you'd think that it would be a complete powerhouse in a cube where you'd be able to be able to sneak onto the battlefield one of the best creatures in the game each turn.
The sad reality is that it's awfully tough to make Aether Vial worth a selection in a draft. You need a very creature heavy deck with a low curve and need to draw Vial early. It's uselessness in games where you draw it later than turn 3 is astounding. Even when you have the aforementioned best-case scenario most of the time you'd trade it out for something with power and toughness or a burn spell in a second.
It does get better in a rotisserie draft where it goes late enough to not have to worry about it unless you have the best deck for it (usually one with Armageddon/Ravages of War). Most people do six- or eight-man drafts at a far higher clip than rotisserie drafting (if that isn't the case then you're the man/woman) so Vial just sits in sideboards dreaming of what could have been (if you had just drafted four more creatures…at each casting cost).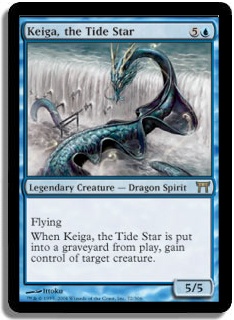 Oh Keiga. You and your brethren are the last of a dying breed. And when I say dying breed I mean you only actually do something when you're dying. I like Keiga I really do but when is the last time you've stolen a creature you wanted when you wanted to? The times that it dies most often are 1) blocking and trading with a finisher in an aggro deck and 2) when the board is wiped by any number of spells.
Other creatures have gotten too good on the front end in the last four years and removal keeps getting better as the creatures do making it too easy to have your opponent dictate when Keiga moves to the great beyond. The fact that all of these new fatties are much better reanimation targets doesn't help things either. Yosei and Kokusho are still (barely) safe but there will be a time in the very near future when these Dragons are supplanted by younger sleeker models.
My issues with these Knights are twofold. The first is that they aren't very good maindeck cards and I don't believe that a card is good enough for Cube if it can't stand on its own merits as a card that makes it into an initial 40. A first striking 2/2 that's good (not even great) only against a single color doesn't hold up by today's creature standards. These cards are far different than their Soltari brethren who can actually serve as a win condition and their upside is the protection rather than their main feature. They both have prohibitive mana costs but unlike the Knights they're good other than if you're trying to rip a blocker. Which bring me to my next point.
The double-colored costs to this trio (and most other Knights although most that find home in cubes have more useful abilities) is a huge strike against helping aggro in your cube. I think the best thing you can do to support aggro (other than black but we'll get there in a second) in your cube is ease up on double-colored aggressive spells and creatures. Only things with evasion or much higher power/damage to mana cost ratio should be able to still exist in most cubes. It's incredibly difficult to have a successful aggressive deck of more than one color when you have these color intense spells clogging your early hand and having you pray for a land just to cast your spells on time.
There are very very few situations that I'd rather have White or Silver Knight instead of a simple Stormfront Pegasus that I know will come down on turn 2 and start bashing. I understand that these guys are difficult for red- and black-based decks to beat but if you like having sideboard cards take up valuable space in your cube my friend Wes Wise has some Seedtimes that you might be interested in.
As far as Black Knight goes he gets worse as black aggro gets better. Moving on.
So you se— what that doesn't make sense? Let's dig deeper.
Black Knight like both WW knights is a bad creature for Cube. He has meh stats white-only evasion and has trouble furthering the plan of the rest of the black aggro creatures. The difference in the ideology behind white- and black-based aggro is that black aggro tends to be greedy with its colored symbols especially with the advent of monsters like Geralf's Messenger and Phyrexian Obliterator. Those men are well above the power curve for converted mana cost and make up for it by demanding only black mana. If you're jamming all Swamps do you want just a 2/2 first striker? Why not Nantuko Shade or Dauthi Slayer? Or even Highborn Ghoul or Foul Imp if you really want some black aggro support (note: those cards aren't good either but they're better than Black Knight). Don't let the fact that Black Knight was iconic fifteen years ago trick you into giving him an extended stay.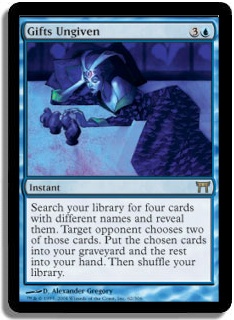 Gifts Ungiven seems like it would be an amazing card in a format where only one of each card can exist. We dream of making plays when we draft this masterpiece where every time we cast Gifts our opponent is backed into a corner and has to give you a couple of cards that doom them either way. What actually happens is Gifts often acts like Sensei's Divining Top and it's only as good as the average card in your deck and often not better.
There are of course situations where Gifts can excel like when you have a blue-based deck that interacts well with the graveyard or a green-based deck with both Eternal Witness and/or Regrowth (Izzet Chronarch is a fine man too). The reality here is you can always get the third and fourth best cards for a situation in your hand at the cost of a card and four mana at instant speed so that's what we should look at for what this card often does.
As can be argued with all of these cards the upside is there (hence the reason they're in many cubes to begin with) but the downside is what is often the case. To me that feels a little mediocre for what else we have to work with in blue. I don't believe in mediocrity over a long period of time being rewarded and it feel like Gifts is that personified.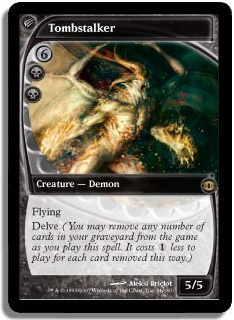 Stop me if you've heard this one before: Tombstalker is like a flying Tarmogoyf! Just two black mana! Putting aside the fact that I revealed Tombstalker Tombstalker Leyline of the Void off of Dark Confidant to take a walk through the Door of Nothingness against Lands in Legacy a few years ago Tombstalker is exactly what he looks like on the surface: a creature that attacks and blocks. Does he do both of those things well? Sure I suppose he does. Is he hard to deal with? Most often yes (outside of blue anyway).
Does he cost two black mana? Well...not really. The main upside of Tombstalker is you can play him a couple turns early and cast another spell at the same time. This does happen on a sort-of regular basis when you're in the market for such a creature. Just like everything other creature in current times you better have phenomenal stats for your cost out the gate like Tarmogoyf or do something crazy when you enter/leave the battlefield like every creature printed from 2008 forward.
Stalker is atrocious against bounce usually being uncastable the second time around. He's rarely better than a more aggressive creature in an aggro deck and usually worse than a value or hard-to-target finisher in a control deck. This leaves him as the king of the middle ground midrange decks but even those decks usually flourish from casting two-for-ones and smaller value creatures. He has no natural place even in a high-powered Limited format.
To make it in a cube what unconditional casting cost would you pay for a French vanilla 5/5 flier in black? Somewhere between 2BB and 3BB at the very most right? So 'Stalky is a full three-to-four mana above what we would accept with the tradeoff of exiling a few worthless grave-trash in what appears to be a nice discount. If you think that's a real discount I'm sure Wes Wise still has those Seedtimes.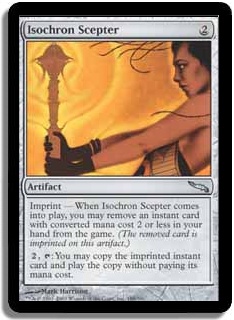 Isochron Scepter is the only card of this list that will get better with time. That being said I think for most cubes you'll find it on the outside looking in when it comes to draftability. It's a sexy card for sure and there aren't too many things that you wouldn't want to cast over and over again burying your opponent in card advantage. So what gives? The sweet Scepter has to be on this list for a reason and that reason is opportunity cost.
What ultimately happens is you draft the Scepter and look to pick up some sweet imprintable things passing on cards that aren't imprintable because OMGZ I WILL HAS THE BEST CEPTAR DECK EVAR. Then you start playing your games and draw Scepter plus the best card for whatever situation you're in exactly one time out of three matches. The rest of the time is spent trying to win games with two-mana instants or imprinting Disenchant while Kird Ape and friends beat your face in.
You have to go so far out of your way to make a deck that can use Scepter in a way that's better than simply casting the spell; in the meantime you pass cards that will actually make your deck better. That's not to say that the cards you're picking to be imprinted are bad but your deck often ends up underpowered or a glut of two-mana instants making it hard to win without the Scepter crowning some fools.
Mind you these are the scenarios where you're able to attempt to build around it. The times when you get it late? Welcome to sideboard land as your three targets surely won't afford you the space to try to jam it as your 23rd (oft-dead) card. I've been fooled by having this card in and out of my cube twice and it never fails to underwhelm. There are going to be stories of when the Scepter completely took over games and I get that. Just know that those stories are made few and far between.
Moooooooooooo.
You know what that noise is? That is the sound of a sacred cow.
Mo—
You know what that noise is? That is the sound of an old past-its-prime sacred cow getting cut. I'll leave this section short and sweet unlike the stay of these two last century powerhouses in many cubes. Do they still do something? Yes poorly but yes. Masticore was once the gold standard for what you could buy for four mana. Hard to kill controlled other creatures and a "discard outlet" all for the low low price of buckets of mana a turn and holding your draw step hostage.
Morphling is even worse than Masticore. What a bargain we have here; an amorphous six-mana 3/3 (the casting cost of 3UU isn't fooling anyone). Try casting Sphinx of Jwar Isle once and then come and talk to me. Or Consecrated Sphinx or Frost Titan or even adding a mana to cast a Sphinx of Uthuun. Just a friendly reminder that eventually we all get old and that time for Morphling was six years ago.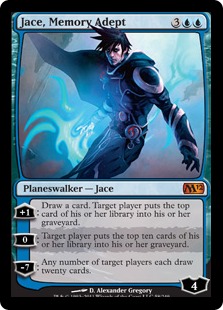 Here we have a couple of first-and-onlys. Jace Memory Adept (henceforth Jace 3) is the first and only planeswalker on this list. He's also the first and only card on this list that has never been a part of my personal cube. It's also the only card on this list that I'm not concerned about not being good enough. So what is the spikey-haired mind mage doing on this list?
Jace 3 is exactly the kind of card I don't want in a cube. It's strictly a blue win condition and is not remotely interactive for most decks. He's good if you're being completely cutthroat about your cubing but that isn't a way to get people excited about cubing with you later. In my experience playing with and against him he's been the worst kind of offender—he's not fun. Even for some sick bastard like me who wakes up every day and pours myself a glass of Mind-Twist-for-seven he just almost immediately ends the game leaving both players with a bad taste in their mouths. I feel like he's the Planeswalker Moat not remotely fun for anyone and does the exact opposite of what a Cube match should feel like. I'd go on but it would just be more ranting on the fun-sucking ability of this fun-sucking Planeswalker.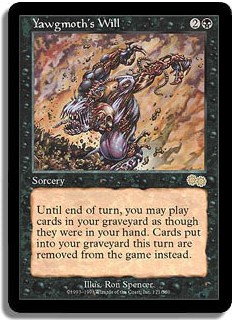 Yawgmoth's Will is in a funny place for me. I honestly don't think it's an awful card but its inclusion on this list is more based on people's expectation when drafting this card not its actual worth. I've seen people slam Yawg Will down as a first pick then go about building their deck and realize one of two things: this card probably isn't making my deck or when it does the drafter is supremely disappointed when the best they can muster is a one-shot Crucible of Worlds and Recoup. There's often a deck in most cubes that could be made to use (but often not abuse) Yawg Will in its more traditional constructed role as a game changer but it requires a forethought of how to build around it early based on what you've already drafted like tons of cantrips/Lightning Bolts.
The fact that the spell often simply grants one or two cards flashback is a perfectly reasonable late inclusion to some control decks but folks have difficulty viewing this Vintage powerhouse as an auxiliary card and complain or misuse it as such. The fact that it's rarely great limits its upside so you either have to adjust your expectations or adjust your cube list. I've found that this sucker goes pick 13+ and lean more towards the latter.
I hope you made it to the end without scrolling to the bottom and unleashing your Cube rage in the comments. If you haven't yet surely you can wait a couple more paragraphs. That will do it for today as I had to break this article up into two parts once I realized how much I'd said already. What might the second part be you're asking? Well a list of ten cards you should add of course! You'll have to look for that one next time!
In the meantime check out this sweet brew of a deck I drafted while at SCG Open Series: Baltimore featuring the Invitational while drafting Kenny Mayer's cube!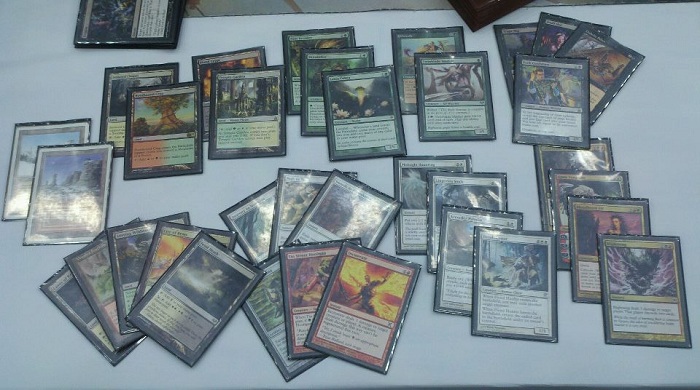 Thanks for joining me today; I hope I gave you something to think about when evaluating your cube list and maybe removing some dead-weight cards. Either way let me know what you think in the comments!
Be sure to check out our first episode in the Custom Cube Project video series done wonderfully by Mike Mirrielees over at Seems Good Radio TV. There will be more to come and let us know what questions you may want us to cover giving us a shout on the YouTube page Custom Cube Project homepage or in the comments here.
Justin Parnell
@JParnell1on Twitter
Official Facebook Cube Drafting Page
My andAli Aintrazi's Custom Cube Project Facebook Page
So…you're still here. Probably for one of two reasons: you love the sound of my voice in your head as you read or you want to see if I'm going to talk about The Incident. Option B it is.
During Grand Prix Baltimore on Sunday February 26th around 6:45 PM my backpack which contained my cube was stolen. I was in the main hall of the Baltimore Convention Center watching as friends tested the custom cube Ali and I are building. I was talking to people and walking back and forth looking at several games. I had my backpack off at this point tucked under a chair between two other bags in the middle of a group of eight or nine people that I personally know and completely trust. I had seen my bag under the chair and turned back to talk. Not wanting it to be out of my sight for long I turned back around under a minute later to find nothing there where I had previously seen it.
Confusion. Questioning. Panic. Rage. Despair. Sickness. Guilt. Some emotions more than once and some together. It's been a long month since it happened and it still makes me uneasy to think about what happened. I wrote a letter to thieves that I won't link here but wouldn't be hard to find if you were so inclined that goes a little more in depth on how I felt the week following. I don't have much more to say about the situation itself publically outside of that note.
The main reason I want to talk about this at all today is to say how wonderful amazing incredible and supportive the Magic community at large has been since that night. My story was spread around quickly with hundreds of players coming to my aid offering me their time effort personal cards and stories to support me in whatever way they could. Most are people that don't know me personally and some that haven't even heard of me at all. They just heard my story or read my letter and were moved to help someone they had a connection to; Magic players from different countries and different connections to the game that we all love. They saw someone hurt and moved quickly to help heal the wound.
I would be lying if I said that I hadn't gotten emotional talking with some of these people. The shear effort and heartfelt messages that I've heard have given me hope in this situation. Maybe not for what happened to me but going forward and fighting theft as a community. It's easier to see the bad in the world but I promise there is more good than bad if my situation can be any indication of that especially in this tight-knit community we have. I appreciate everything that everyone has done and offered to do; it has made a world of difference. I want to thank all of you for that.
I've said before that if my cube was stolen I wouldn't have any choice but to quit this game. I can say now that I'm not going anywhere. I love you guys too much. Thank you for loving me back.