Thank you guys for joining us today for a very special series. This is the first of our short series on a project we've been working on for the better part of eight months: making a cube made up almost entirely of cards we've created for play in a Cube environment. Before we get too far ahead of ourselves let's start at the beginning.
Birth of the Custom Cube
Well over a year ago while we were driving to an event we started making our ideal planeswalker cards for ourselves and our friends. We weren't concerned much with how powerful they were we just designed them to be fun for each of the people the cards were made for. It began as just something fun to pass the time in the car. And at Chick-fil-A during lunch. And that night at the hotel. And the drive home. Making cards is something every Magic player does at some point no matter if you strictly play at the kitchen table or are a Pro Tour champion. We were just having fun and had no idea what it would turn into.
Flash forward to another car ride home: this time from SCG Open Series: Baltimore last October. As usual we had Cube on the brain. We just started talking about what we loved about Cube drafting then about how powerful planeswalkers were in cubes. Just like that first trip the talk circled back around to the planeswalker cards we had made up. This time there was an idea. An idea we would never have known how crazy it would become.
Ali: "What if we just made our own cube? You know like made up every card in it?"
Parnell: (deep in thought) "I honestly can't think of a reason why not."
Out came the pen and paper as we unknowingly prepared to sacrifice sleep reasonable discourse and hundreds and hundreds of hours (and counting).
Every Card is a Powerhouse
So what were the first cards we made? All new Power cards one for each color. These cards were meant to be on the power level of the Power Nine and despite not being fast mana themselves they offered effects that would cost at least double in every single case at best. You can see the original version of these cards in Ali's articles during last December.
These cards barely lasted through a weekend of playtesting.
Our goal for the cube is a fairly simple one in theory: create the most fun cube experience for all types of players. We understand that if you don't like to play Cube already then this isn't likely to change your mind but we know that there's a huge contingent that loves to Cube draft (with lots of new Cube-lovers after last weekend's Magic Online Cube success!). We promise that once this project is done you're going to love it.
The heading of this section is a bit of a misnomer as every card is certainly not a powerhouse. The biggest difference between the CCP and a regular cube is there aren't any bad cards that simply fill a role. Without that knowledge looking at the cube for the first time makes it seem like every card is well above the curve for normalcy but that really isn't the case. Whenever we find a card through testing that isn't doing what it needs to in an archetype or just in general the card either gets upgraded or we simply make something else in its place.
Under the Hood
The CCP is 360 cards and we've made well over 400 in total. That doesn't mean that every card we made is completely new though; we very quickly knew that there would be cards that already existed that were absolutely perfect as they were. These "reprints" span right around 50 cards and include the original ten dual lands Lighting Bolt Oblivion Ring Counterspell and more. These cards represented the exact effect for the exact cost we wanted so why try and reinvent the perfectly rounded wheel? We also made use of some of the best already-designed mechanics that Magic has to offer like flashback and scry. A mechanic you won't find is kicker as that has ruined naming many future mechanics. Sorry kicker you make life miserable for other mechanics.
What you won't find in the CCP is a strict adherence to what you think you know about archetypes in cubes. There may not be quite enough creatures to have full-on green aggro support in other cubes but that isn't the case here. What that also means is we've moved some things around in the color pie to where we think they make sense. In some cases it's part of that color's identity like giving green some reach into the graveyard to reuse nature (especially when it's paired with black) and in other cases it just appears on a very archetype functional design flavorful single card.
What you will also find is an accurate representation of how a normal cube would be broken up between colors creatures instants artifacts etc. We spent a lot of time crunching numbers from many different cubes to come up with a master list of effects we needed as well as how many of each card type we would design initially. Like every awesome cube we let the numbers of each type flow naturally once we got into the testing phase. With a very discerning eye we made sure the current form of the cube never strayed too far from our plan numbers-wise.
Does that mean that we stopped designing cards once we got to the magic number of 310 (plus 30 reprints)? Of course not. We probably cut or radically change three or four cards a week and keep those in that are doing what we want them to.
So did we push the envelope some? Of course we did. Let us show you an example.
There was once a time when Mogg Fanatic was a perfectly reasonable creature. Too bad for him since that time passed long ago. What you see beside him is a simple almost identical creature made for the CCP. We're not showing you this to tell you about how great we are as designers as anyone could've simply added a point of power and called it a day. The thing is this project has enabled us to make that distinction and have a perfectly reasonable card that might not be printed in a 4x environment. (Though in this case it totally could.)
Admittedly this cube wouldn't be very exciting if we just jammed a bunch of boring but effective cards in a file and called it a day. But we didn't do that. How about some sweet new mechanics?
It's Raining Mechanics Hallelujah
The CCP features ten brand new mechanics. Each mechanics is only represented by cards across three colors with no new mechanic appearing in more than five cards. One of these mechanics is so unique that you wouldn't even see it outside the cube! Let's go over some that have already been spoiled on our Facebook page.
Concentrate: Concentrate is only a mechanic only found in black blue and white. You will only see this keyword in those colors. Spells with concentrate have an optional cost that you may pay as you cast the card to enhance the spell's effect in some way. This mechanic is similar to buyback in that you have to choose if you want to concentrate the spell or not before passing priority. Here is how concentrate reads: "As you cast this spell you may exile a card that shares a color with it from your hand." So if you concentrated your card and it gets countered you will lose both of your cards. Here's a look at a simple card with concentrate!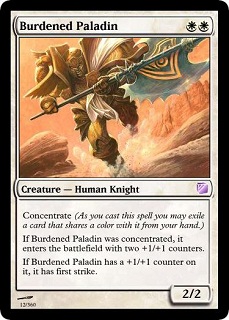 Burdened Paladin is just a vanilla 2/2 if not concentrated. Creatures have come much further than just a 2/2 for two but if you concentrate him he will become a 4/4 with first strike. That's huge beating on turn 2!
Disrupt: Disrupt is only a blue black and green mechanic. So again you will only see this mechanic in those colors. Disrupt is a mechanic where any player may discard a certain amount of cards in order to counter the spell while it's on the stack. Currently all the cards with disrupt have disrupt 2 making each card read like this: "When you cast this any player may discard two cards. If a player does counter this spell." That doesn't mean that a spell with disrupt couldn't have a number other than two; it just happened to be the number that was right for each spell that has it. For the most part spells with disrupt have stronger abilities for their mana costs. Take Commune with Gaea for example.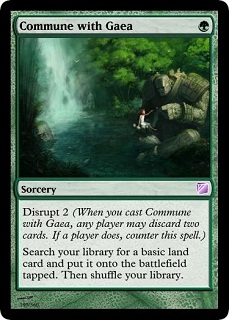 Commune with Gaea costs less than Rampant Growth but having the disrupt mechanic is still a plus for this card overall since when you ramp you want to be ramping early. However your opponent can choose to counter it if they have the resources to do so or you know...if they're playing Reanimator. Be careful!
Foreshadow: This mechanic reads exactly like its name implies. "During an opponent's upkeep you may reveal this card from your hand and pay its foreshadow cost. If you do this spell's mana cost is reduced by its foreshadow cost during your next turn." Cards with foreshadow have been some of the most fun in the cube! You will only find this mechanic on white black and green cards. Just because the spell costs less doesn't mean that you will have to cast it on your next turn. For example: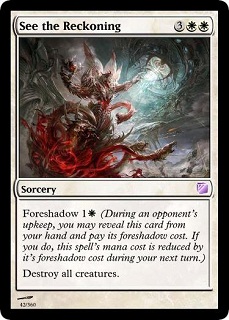 You know if you foreshadow See the Reckoning your aggro opponent will most likely not play any more creature cards since you'll probably Wrath the board. Maybe you just want to wait till turn 5 and catch them by surprise! But hold on a second we could play some mind games with foreshadow. What if you foreshadow this card on turn 2 just to pseudo Silence your opponent and on your turn you continue about your business? You play your land and foreshadow See the Reckoning again. What will your opponent do now? How many creatures does he need to play for you to pull the trigger? Cards with foreshadow can have a lot of interaction with your opponent if you want them too. The choice is up to you!
Compound: Compound can seem a little wordy the first time you read it but after you've read it and understand it you'll never have to read it again. Here is what a spell with compound would say: "When this spell resolves exile it with age counters equal to the number of times you paid its compound cost. At the beginning of your upkeep remove an age counter from it and put a copy of the spell onto the stack. When the last age counter is removed put it into its owner's graveyard."
So it's basically like suspend but instead when you take off a counter you put a copy of the spell onto the stack. Then when the last counter comes off it goes into its owner's graveyard in addition tobeing cast. Only blue red and green cards will have the keyword compound on them. Here's an example of a spell with compound: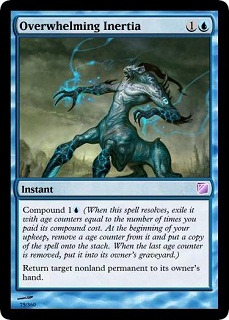 All spells with compound are simple spells to understand and Overwhelming Inertia is no different.It's a very good catchall card for blue decks especially against planeswalkers which you normally can't deal with.
Backburner: Backburner is a very simple mechanic.If you know what cycling is it will probably be the first thing to pop into your head. Each backburner card reads "Cost: reveal this card from your hand: Draw a card then shuffle this card into its owner's library." Backburner was an idea David Heilker had when we were just making up some mechanics and it ended up sticking with us the whole time. Cards with backburner typically have a tough mana cost or are cards you don't want to typically cast early on in the game. So they have a backburner cost that you can pay in order to replace it and draw it at a hopefully more opportune time. Backburner only exists on black red and green cards. Here's an example of a spell you may not want to cast right away but would like it at a more convenient time.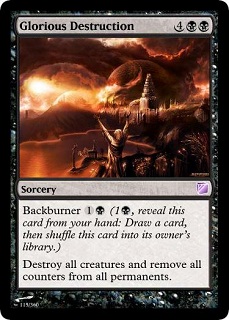 This card may not be good early on in the game but is it worth the risk of backburning it in hopes you draw it later? You might not draw it when you need it so backburn with care!
That's five mechanics so far; so where are the rest? All these mechanics have already been spoiled on our Facebook page but for those of you who have been following us on Facebook and know all these cards and mechanics we have something for you too!
Rebirth: We want our followers to continue reading our articles so we'll show you a mechanic that hasn't been spoiled yet! Rebirth is a value mechanic that rewards you making the game go a little longer. Rebirth is a white red and green mechanic and reads "When this card would be put into a graveyard from anywhere if you didn't discard it instead remove it from the game with X ash counters on it. During your upkeep remove an ash counter. When you remove the last counter put the card into your hand."
Rebirth is another mechanic that has some resemblance to buyback in that the card will eventually come back to you as long as you tried to cast it (or milled it!) but that's where the similarities end. You can Entomb a card with rebirth and if you manage to stall the game long enough you will be rewarded with said card. Here's a card with rebirth.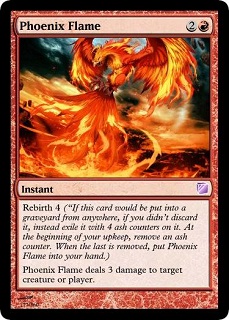 This card is a ticking time bomb for any deck with red mana threatening to knock off a creature every few turns or eventually burning your opponent's face off. Other cards with rebirth are just as sweet including a build-around-me card that interacts with our favorite card type!
That leaves four mechanics shrouded in mystery. We can't show them to you right now but we can give you a little teaser with their names: surge latent obliterate and archive. You'll just have to tune in to other Custom Cube articles to see what they do!
Absence Makes the Heart Grow Fonder
But it doesn't have to! You can find even more info about the CCP over at our Facebook page.
You can also follow us on our Twitter handles @AliEldrazi and @JParnell1.
Check out this short introduction video by Michael Mirrielees here.
The next event the Custom Cube will be at is SCG Open Series: Nashville in Tennessee. If you're attending find Ali Aintrazi or Justin Parnell to jam some games!
Thanks for reading! We hope you've enjoyed reading this article and hopefully we've caught your interest. Please Please PLEASE ask us questions in the comments sections about anything you've seen or read about the CCP. We've been working on this project for a while so it stands to reason we very well have missed something we shouldn't have! Most questions will be answered in future installments of the CCP Report here on StarCityGames.com.
We do want to remind you that no cards in the CCP are final until we release the finalized list. We're still testing our butts off to make this as perfect as possible! Before we head out here are a couple new cards from the custom cube that we haven't yet featured on our facebook page. Discuss and have fun!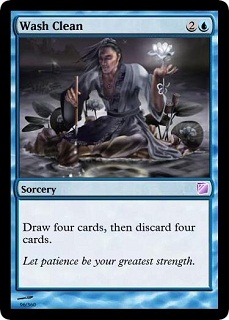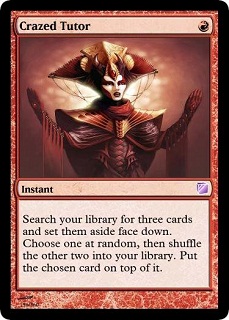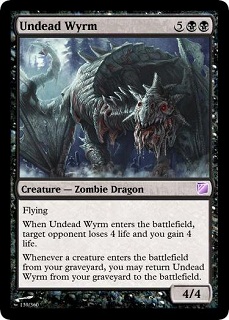 Ali Aintrazi and Justin Parnell
P.S.: Please ask questions!