Thanks for joining me again for what is sure to be a controversial entry of Cubers Anonymous. Today's topic is one that affects just about every person with a cube and likely evokes strong opinions even if you don't. In my column
Ten Cards To Cut
a lot of fantastic discussion was cultivated in the comments over why people agreed and disagreed with my choices. There was some discussion over the relative crappiness/excellence of each card I suggested but much of it came down to the fact that people had such fond memories of casting those cards in cubes or otherwise that they couldn't bear to take them out.
This isn't the first time this conversation had come up either.
Anthony Avitollo
(of the Third Power a podcast with
Usman Jamil
) and I had a conversation about this exact subject about six months ago on Twitter. At that time he said his cube was "...like a museum [of MTG history] you can touch." While a great tip-of-the-iceberg statement I knew there was more to it. After all this is a pretty hefty subject and in no way could 140 characters—no matter the number of tweets—really give a feel for its context.
I'm never shy about sharing my opinions on anything when prompted especially Cube related but showing only one side of the coin would not only be pretty damn hollow but disingenuous considering cube construction practically gives you the widest range of choice in all of Magic. A single opinion would definitely not give the full range of emotion and passion that goes into this question so how about two? How about twelve?

So I decided to ask not only Mr. Avitollo but all of the names in Cube that you know and love. I presented them with a single question chock full of gray area.

Nostalgia versus power. Tell me how you really feel!

I expected a wide range of answers and I wasn't the least bit disappointed. There isn't a person among those who answered whose opinion I don't respect so trust me when I say that it's all coming from people who know what they're talking about. We have quite a few dedicated cubers to hear from but why don't we start with one you all know?

Evan Erwin is a man of passion (surprise!) and didn't hold back from placing himself in one camp.
I vote in favor of power. I feel nostalgia can be both a crutch and a speed bump to what would normally be very interesting cubes. For me the cube is about crafting experiences and the ones we create can harken back to the days of yore but not do so in a suffocating way. Cubes are also defined in style and substance by their themes. So you can have "nostalgic" cards in themed cubes but having them for the sake of having them seems silly to me. Cards should always -do- something and "making me remember that one awesome event/moment" is not something I consider 'accomplished' in a cube draft design.
Power lets me use any card at any time to fill any hole or define any color/archetype to my choosing. If it hits that nostalgic mark great. But the card still did its job which was to make the cube fun as I define it. I get more of a kick out of gameplay than pure emotional response when cubing—that is a more powerful card gets me way more excited than say the Squire pass-out that was attained from my first booster pack. And ultimately I think it makes cubes look really weird. "Why is there a Steamflogger Boss in there?" "Well this one time…"

Adam Styborski of the mothership and Gathering Magic felt similar enough that he simply wholeheartedly agreed with him. Evan wasn't the only one that felt power strictly trumped nostalgia however.

Andrew Cooperfauss of Channel Fireball had this to say:
Cube has never been about nostalgia for me—from the first draft I did I appreciated the format as a skill-testing competitive draft environment. I've never had any trouble cutting cards I love though I still appreciate the chance to cast old cards you don't see anywhere else. When the two overlap I'm happy; when I have to choose I cut bad cards and add good ones.

As well as fellow SCG man Usman Jamil:
The main issue with nostalgia is that nostalgia itself is a highly personal experience as nostalgic feelings come from a person's own experiences which vary from person to person. When cards are added/kept in a cube not on their own merits but for personal reasons (like with pet cards) they're done to appeal to a designer's own personal sense of nostalgic experiences. With these types of cards designers who choose to add those cards attempt to justify their personal like of the card by saying that the personal like is more an afterthought when in reality it is the main reason for the card's inclusion.
For example if I was nostalgic about Order of Leitbur and wanted to use it in my own cube I'd justify it by saying how it was [a fine two-drop]. But that wouldn't be why the card would be in my cube using the nostalgic argument—it'd be in because it's a non-terrible card that I personally like that decks can run. Let's say that a [drafter] was to ask me why the card was in even if I was to explain how it was in one of my favorite decks. Even after doing so the person probably is going to think "Why isn't this something better than it like Kor Skyfisher or Knight of Meadowgrain?" The person isn't going to share the same personal experience that you do and isn't going to have those same attachments to the card that you do.
This isn't the same as using cards that have unique effects...like people underestimating Primeval Titan and Life from the Loam in a cube because they don't perform the same as a person fondly remembers [and] can be hard to convey [its functional use]. [Cards like] Primeval Titan are objectively very powerful in a cube whereas a pet card like Order of Leitbur isn't objectively powerful. It's important to not lose sight of your own personal attachments to a card because even though you have them seven other people in a draft won't have those same attachments.

Of course that only shows one side of the equation. Professional owl wrangler and hair product aficionado Kenny Mayer pushed his chips in the opposite direction.
When talking about Cube I have to admit right off the bat that I'm looking for an experience that differs from anything else currently available to me or my friends in regards to Magic formats. [All formats] have their specific defining characteristics that help differentiate them from one another. Cubes function as a carefully crafted and designed experience that seeks to tap into that part of a Magic player looking to play with cards that span from the game's beginning all the way to proxies of a set not even available to buy yet.
It's this mix of history and fresh blood that really makes Cube what it is and keeps the players coming back for more. I'm of the opinion that if certain cards hold fond memories or represent positive experiences for [the cube owner] then they should be given a greater weight/value than those cards that merit inclusion simply on power level alone. My own cube as a whole entity actually encapsulates this concept perfectly. While I was strong and able to maintain a constant cube size for a number of years (720) I finally broke down starting roughly a year ago with slowly increasing the number of cards every few months.
While I'm well aware that it decreases the focus and overall power level of the cube due to diluting the concentration of the very best cards I simply cannot help it. I LIKE TOO MANY MAGIC CARDS. I'm simply not willing to cut some of these cards so I do my best to maintain a stable environment that is able to capitalize upon this increased diversity brought about by the large cube size (810). If that doesn't tell you how much I value nostalgia versus power I don't know what will.

The aforementioned Anthony Avitollo added this to his previous museum statement:
I don't include pet cards that suck just because they were in my first deck and had some historical importance. Ivory Gargoyle for example isn't going in. The only 'bad' card I include is Door to Nothingness for reasons of fun/embarrassment/achievements.
Given two similarly powered cards I'm going with the card that has had some impact in the history of Magic. Rorix Bladewing over Hellkite Charger. One attacks for more and the other allows some insanity the following turn if conditions are met. I have found most decks win just fine if you attack twice with a Dragon so the extra attack phase is a bit overkill to me.
Also Basking Rootwalla over Twinblade Slasher is another good example. One was a pivotal card in not one but TWO 'best decks' in formats YEARS apart and another is Twinblade Slasher. I want players (including myself) to experience the cards that have been printed and been important over the years not cards that have had close to zero impact on Magic in general. I want older cards to interact with newer cards in new and interesting ways [like Maze of Ith + Knight of the Reliquary].
Due to power creep you can make a cube entirely out of recently made cards and not have an incredible power drop from an unpowered cube from all cards with a few exceptions that have no close replacements (Geddons come to mind). I don't want a cube with almost all newer cards. I did a breakdown of cards per set inclusion and there are WAY more recent sets with double-digit cards than there are older sets (new/old border being the split) outside of ABU. And that is WITH ME choosing more nostalgia!
I don't feel the need to make the cube as high-powered as possible; I want it to be as high-fun as possible with a variety of supported archetypes available to draft and for people to go away telling stories about plays that were made. Not many people go away telling how much fun they had getting Mind Twisted for their hand or how their opponent played turn 1 Sol Ring/Library every game.

(I always love a Mind Twist for seven myself.)

Avy Jonsay Bay Area cuber:
I'm a big fan of nostalgia in terms of Cube. I've been stubborn enough to keep certain cards in even if they are worse than a newer card. [Going as far as] trying to not cut cards because i know they will boot out older cards. In general Cube for me is about fun...always has been always will be.
Playing with power is exciting and great but bashing in with a Spiritmonger or reanimating a Spirit of the Night will always bring back a feeling of awesomeness that [newer cards] will never allow you to feel. [Of course] trying out new cards will continue to happen but I always try to keep old cards in. No matter if you are in a new relationship or married there will always be a piece of your heart [that'll smile] thinking about your first girlfriend ever...

Tristan Shaun Gregson of Channel Fireball:
I definitely started playing Cube for nostalgia. I never thought during the initial construction of my cube "Hey won't this be powerful!" or "When I think the BEST in Magic I only think the most powerful." To me the BEST of Magic definitely includes Beta hits like Shivan Dragon Vesuvan Doppelganger Fireball and cards like Morphling.
It's just hard when people are so critical of your card choices saying "Shivan Dragon is strictly inferior to XYZ. How is it in your cube!?!" Well obviously my feelings about Cube are different from those people voicing these opinions. Playing games of Magic today with friends and casting cards like Shivan Dragon are some of the most fun times there are. I still smile every time it hits the battlefield.

Adam Prosak sums it up pretty well.
Nostalgia for me. Rorix > Hellkite Charger all day. I will take Merfolk Looter over literally everything because I like Merfolk Looter. I would say that the more experienced a player is the more likely they are to lean on nostalgia. Newer players are just used to having the most powerful midrange cards in the history of the game.

Not everyone is on a single side. Matt Kranstuber Cube writer for Gathering Magic was torn.
I didn't realize how important nostalgia was for me in Cube until fairly recently. I've always been a big fan of old Extended when dual lands Survivals Brainstorms and Necros were commonplace. This appetite for cool and powerful cards created an easy transition for me to Legacy and eventually Cube. I have since grown to realize that much of what makes me enjoy Cube so much is being able to create new stories with these cards. I also get to brew with the same cards I was brewing with nearly 15 years ago that might not otherwise be playable in other formats.
Do I think we should all have a big stack of cards in our cube that have the 'cool factor' but are otherwise unplayable? Certainly not. But every cube should have its own Shivan Dragons like TSG or random old cards that add character. Maybe that doesn't mean adding all the Rasputin Dreamweavers or whatever other awful cards were in that set but maybe you play a less powerful card like Juzam Serendib Djinn Drop of Honey Preacher or even Tawnos's Coffin.
Every cube needs its own identity and whatever definition of old or nostalgic or cool you have should come through in your cube design. Even if it just means you have a custom cube box or sleeves. Remember it's not just about the draft. It's about the whole experience. You want to create stories and those off-the-wall pet cards help give depth to those stories.

Northern Virginia cuber Justin LaRose was similarly in the gray area.
I think my playgroup has had an interested effect on how I've handled the balance between power and nostalgia. Since both Kenny and I have large unpowered cubes it's been pretty important for me to make sure there is a distinctly different feel for the way each one plays. At some points it's been sweet nostalgia cards like Thrashing Wumpus and Ritual of the Machine which are both serviceable unique cards you can justify running in a fair number of decks.
The problem I've found with nostalgia is that it's very personal. If I'm the only one who harkens back to the great memory of the card that's 5-7 people who don't care when they open it (and often don't have the great memory of what deck it's supposed to shine in) so I've pared down those cards a lot. Fortunately most of the nostalgia in our group as a whole is around powerful cards that are Cube staples so we get the best of both worlds. I like nostalgia cards in small doses but I don't like forcing my friends to play with my quirky memory cards too often.

Tim Pskowski of Heavenlumps fame feels similarly about nostalgic cards:
I view nostalgia as a subset of pet cards. I'm okay with pet cards under two conditions: one they are not that much worse than the other cards. Don't run Raging Goblin in a cube [when you could have] Goblin Guide. Two there are not too many—I don't want picks 12-15 each pack to be cute nostalgic cards.
This seems like a good time to fill you in on how I feel about those two words.

As I'm sure most everyone has surmised from my previous articles I lean towards power for my ideal cubing experience. I like cubing to be a skill-testing experience and I don't think that just because you have powerful cards that may not mean as much historically that memories won't be created during their stay in the cube. Just like people in your life some cards are only going to stay for a season or so. It's just natural selection for me; the strong survive and the weak ride the pine. I don't lose memories of cards I cut and they don't get replaced when I make new ones later. I don't want to lose sight of the environment I'm striving to create with each iteration of my cube. Which is why Lightning Angel is still in my cube.
Uhh that just contradicted everything you just said about power.
Actually your judgmental thought that appeared in the italics above interrupted me so shhhh while I finish my thought. Yes Lightning Angel is in my cube. No I do not think Lightning Angel is near good enough for today's standards or power creatures. I just really really love to play with Lightning Angel. So am I saying that I strongly prefer power but with tints of nostalgia sprinkled in? Well I guess so.
I choose to have Darksteel Colossus in my cube rather than Blightsteel Colossus despite BSC being "better" as well as leave Mana Leak out entirely despite it being a very powerful (and too splashable) counterspell. These are all choices that fly in the face of all power all the time and yet I like it that way. This game is twenty years old now and there is far too much to it to ever have a "consensus" way to build a cube. If I happen to accidentally sprinkle some nostalgia-flavored chips in with my power cake I'm still going to bake the cake then take the cake and eat it too (with my crew while we head state to state in fact.)
My final comment echoes much of what Pskowski and LaRose said: it's fine to have some nostalgia but make sure that the people who draft with you feel the same way or their love of cubing and your frequency of drafting may begin to dwindle.
I brought you this article today for a couple of reasons. The first and most obvious was to show you a wide range of opinions on where people's loyalties fell in a mostly internal debate every cube owner has or will eventually had. Everyone whose comments you've read today know what they're doing and will firmly stand behind the comments they've made.
The second tougher to see reason is that I want everyone to come to an understanding on how they feel about this subject. Everyone knows that cube building will always be a highly personal experience arguably more than any single deck you'll ever build. Knowledge emotion and experience help shape our cubes over the months and years. Everyone should feel differently because no one has the exact same experience with cubing and certainly Magic as a whole. With apologies to you folks who clicked the link looking for an answer to the question the difficult thing to hear is that there isn't an answer to the question of nostalgia versus power. I don't want anyone to take anything away from this article other than the fact that you don't have to fall in one camp.
No matter how many people like that comment on Facebook that decrees nostalgia is all that is pure in cubing or that guy in the forums that keeps telling you in all caps that you're an idiot for not taking out your favorite creature ever for one that is identical but gains you one life when you cast it don't cave. Some people were upset that I told them to take out their favorite cards a couple months ago because they read it as an order. My intent was (and will always be) to present my argument with conviction rather than self-doubt. But by all means if you know what I'm saying is wrong for your cube please don't listen.
You know who knows your cube and the cards you love more than anyone else? You do. Don't let me or any other writer or forum troll tell you what your opinion is. Granted those of us on a platform tend to have more informed opinions but at the end of the day they're opinions nonetheless.
Nostalgia versus power? Why not both?
(Just something to chew on: the Power 8 and friends are at the extreme ends of both sides…)
Before we go here's a look at a recent deck I drafted in a ten-man draft no less! (3-0)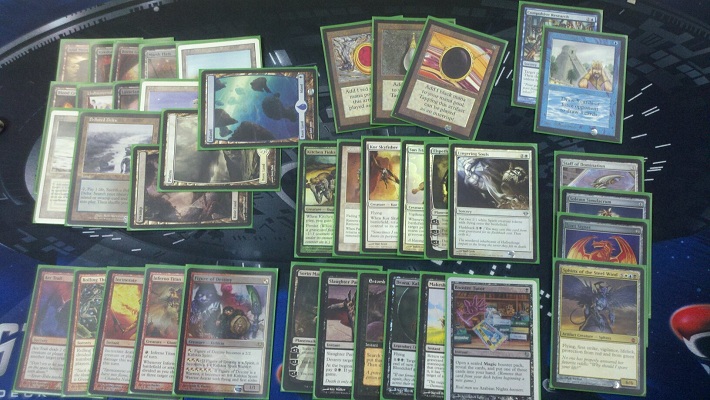 Special thanks to Chad Himes for having a card-for-card copy of my cube.
Thanks everyone for reading and let me know where you stand in the comments! I know you have an opinion!
Justin Parnell
@JParnell1on Twitter
Official Facebook Cube Drafting Page
My and Ali Aintrazi's Custom Cube ProjectFacebook Page
MY CUBE HOME