Welcome back to the second part of my Return to Ravnica Cube review. In case you missed the first part check it out here. I go over all of the single colored cards as well as artifacts. Today we'll tackle the normally tiny section of a new set multicolor! Unless you've been living under a rock that's under a rock you know that the multicolored section of this set plus each of the next two are whoa crazy crazy deep. So buckle up (or buckle down whichever you prefer) because we're just starting the second part of our journey.
But before we jump in the deep end (with no floaties) I do want to share a couple thoughts on the set as it pertains to multicolor in your cube my cube his cube or her cube. In the next 3000+ words there are going to be a ton of awesome cards that at the very least deserve your attention. This second part of the review is going to be the ultimate Your Mileage May Vary (YMMV) column.
Set reviews for cube can get tough because we try to cover ground for tons of types of cubes: small ones big ones rare ones common ones powered ones casual ones and ones I can't even think of right now. As such I know that multicolored sections of cubes are some of the most widely different even when we're talking cubes of the same size and power level.
For example John and Jane may both have unpowered 720-card cubes but John loves multicolor and Jane doesn't care for it as much. So John has twice the number of multicolor cards than Jane has. I want both of them to get something out of what they're going to read so it causes me to be a little more general in my comments than some would like. If you want me to go a little more in depth on what I think of a card in a certain cube please feel free to comment and let me know. I honestly try to respond to them all and it'll be doubly important here. So speak up!
I'm going to be breaking things up by guild for your reading pleasure. So without further ado...
Return to Ravnica: I Hope You Like Cutting Cards!
Azorius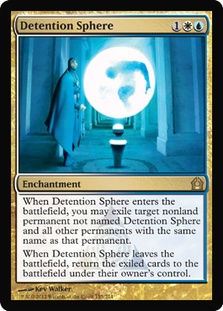 Is Detention Sphere better or worse than Oblivion Ring? The answer to that question doesn't actually matter in the slightest since the cards don't fit into the same category. Oblivion Ring is so powerful and perfect that the fact there is another version of it with a different name and very similar cost should make everyone stand up and take notice. White-blue as a combination is often hurting for playable removal so this is just what the doctor ordered. The fact that it can randomly take out a row or Squirrel or Spirit tokens is just gravy.
Verdict: This is one of the easiest adds. It isn't flashy but will do its job every time. This should be in every cube it can be.
For each of the five Charms two of the three modes need to be relevant often. Azorius Charm makes that tough having only two real modes and cycling. The fact that both modes are creature-centric doesn't help matters. Even though we were just talking about much needed W/U removal it seems like that is the only mode on this card you're going to be casting often enough to warrant its inclusion. Drawing a card when you can't use it is always nice to have tacked on but not as a main feature. Cycling 2 is pretty different from Cycling WU.
Verdict: Only in cubes with larger multicolor sections. Too narrow for most.
Another big expensive creature. The ability is for sure but you do have to attack with it first and the body it brings to the table isn't imposing for seven mana. Just like all creatures that cost above six to cast you better be damn good to make the cut at all times when on the battlefield. The Archon fails that initial turn test.
Verdict: Just don't see a cube that would really want this.
The cost evasion and power/toughness is right for cube. This is the best attacking creature we've ever seen for the WU combination so that's something to not be taken lightly. The fact that this air enforcer can lock up things other than just creatures for a turn is enticing as well. Awesome in a tempo-oriented color pairing as swinging for three in the air is a lot for three mana—don't sleep on it.
Verdict: An easy include in common/common (C/U) cubes I think the Skyknight can find success in cubes that have midsized-plus multi sections. I'll be adding it in my 540-sized cube.
The targeted flying activation is a nice bonus but the detain ability is where this card will make its bread. Five is a bunch but it does have take-over ability.
Verdict: Only in big C/U cubes—even then just maybe.
This is another interesting fellow for C/U cubes. The body is not super aggressively costed but still serviceable and the ability is nice but not game breaking. It does make it tough to chump.
Verdict: Same as the W/U Guildmage only in larger C/U cubes.
I'm a little disappointed that the two best cards for cubes in W/U are Oblivion Ring and Day of Judgment but there you have it. That still makes them good cards even though it also makes them harder to cast. Four mana sweepers are at a premium and this is going to fall right in with DoJ and Wrath of God as the best of the bunch. If you're in W/U you can cast this almost as easily as the other two. The uncounterable tack-on won't be irrelevant but won't matter more times than it will. It is incredibly boring but does the job well.
Verdict: I would imagine all but the smallest multi sections will want this. I'm not super excited about it but it does exactly what W/U wants 75% of the time which is going to be good enough for me and most other cubes.
Golgari
If I saddened the mood too much with my hardly passionate call for Supreme Verdict let me switch the game up. This card is everything B/G has ever wanted in a card. Kills tons of stuff is instant speed and is uncounterable (and it's relevant)! This card is simply amazing and I'm happy to say will help revitalize (along with several cards below) a downtrodden B/G section of many a cube.
Verdict: In your cube. Now.
A 4/4 for four just ain't want it used to be folks. I'm afraid the doubling counters ability isn't going to affect the vast vast majority of games played with him so a vanilla two-colored beater doesn't do it.
Verdict: Yawn. Even in big cubes he just doesn't get me excited.
If things going to the graveyard is wrong I don't wanna be right. Unless I'm Rite in which case would mean I control a Deathrite Shaman and am going to value town every turn. I assure you that this guy racks up incremental advantage at a breakneck pace even though he doesn't look like much. It would of course be better if his second and third ability didn't require specific mana colors to activate. But really I'm nitpicking. The important thing to note is that he doesn't limit himself to your graveyard only.
Verdict: I'm even sure this guy is even better than I'm giving him credit for. Should be able to fit into all but the smallest multicolored sections.
Putrid Leech into this guy is a terrifying proposition. I don't think there is much of a question whether or not this guy is good enough (note: he is) but rather if there are enough tools around to maximize his value.
Verdict: If you support aggro in one of the two colors in his mana cost he should come in handy in a midsized BG section. If you support both he's an ultra-easy include. If you support neither he's probably the last among cards to add from B/G. I like him quite a bit in general regardless.
The B/G charm suffers from a lot of the same issues as the W/U one does in that two of three modes require creatures to be in play to be effective either yours or your opponents. -1/-1 does make for screwy math for your opponent but is still just half a Zealous Persecution. The other two modes are better for common use especially being able to destroy an enchantment when present but never having a dead card when you can't. Despite that I think the effects are too minimal to be able to get play in too many cubes.
Verdict: This will be one to watch but I would err on the side of C/U (where the first and third ability matter more) and larger multicolored sections for now.
This card digs pretty deep into a 40-card deck. It should be damn near impossible to miss a land AND a creature so that isn't even worth discussing. I do like the effect for the CMC but the power level on this card is ultimately low for a two-colored card unfortunately which will keep it out of many cubes.
Verdict: A nice effect for peasant but not quite where you want be in a cube environment for multicolored cards where space is super limited. If you have a huge multicolored section or cube itself then you should be able to find room for sure.
Dear lord that is a monster of a two-drop. This dude is certifiably insane. No better than that. Even if you don't really have much else in the way of aggro in black and green this guy can slowly take grind out your opponent's resources. The fact that he has no cost associated with his discard ability is no joke whether you're filling your graveyard or stacking your Troll. Trample plus a single B to regenerate means this guy attacks or blocks forever. Lotleth Troll is what cube dreams nightmares dreams are made of.
Verdict: While you're making room for Abrupt Decay shave an extra card for the undead Troll.
Verdict: Replacing a colorless mana on Regrowth for a black doesn't help it make the cut.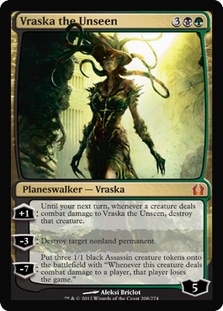 Don't worry home girl it's tough to miss a much-needed B/G planeswalker. The state of black-green as a pair was loose before this set so she doesn't have much competition at the cost and obviously effect (don't talk to me about Spiritmonger).
That being said...she is good but not great. Clearly double Maelstrom Pulse is nothing to sneeze at but this isn't the second coming of Gideon. She doesn't need to be though and a healthy diet of +1s and -3s will be enough to control the flow of most games. Throw in a couple of Assassin one shots every now and then to get a well-rounded B/G five-drop.
Verdict: As Kyle Engleson (@Kengy5 on Twitter) said "Congratulations everyone on their entirely new Golgari section of cube." He's spot on and Vraska is the icing on the cake. You probably know how I feel about Vraska; unless you're limiting planeswalkers she should be in your cube.
Izzet
Remember what I said about the other two Charms? Not the case here. Izzet Charm is on for two of three abilities at worst at all times and most of the time will have three for three active.
Verdict: Simply an excellent card all around and fits in every single cube it can.
Will put in work if he comes down on turn 2 but gets much worse as the games goes on.
Verdict: Likely only in larger Pauper cubes.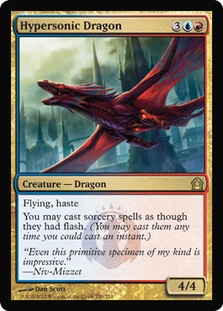 I've come around on this guy since I first saw him spoiled. I actually like him better than Niv-Mizzet(s) as he dramatically changed the game plan while giving you a legit win condition. A very strong card with a powerful effect that makes him much easier to protect when you untap.
Verdict: Though many folk won't I'd swap him for Niv-Mizzet. Should be able to fit into mid to large sized multicolored sections.
Verdict: Sweet abilities but the cost of five is a killer. Leave him on the bench.
I at first thought he drew you a card whenever you dealt damage with him so upon finding out you can't mow down an opponent's army I don't feel the same. He's still a little better than the original Niv but I think I still prefer Hypersonic Dragon if there is only room for one. It is important to note that both Nivs work well with each other in play so if you're feeling froggy...
Verdict: Swapping old Niv for new is easy so that'll likely be the route that most people go. If you don't have the first Niv this one isn't such a huge upgrade that you just have to add him.
Verdict: If you have a super heavy slant of both his colors in instants and sorceries or a huge multicolor section he might be a nice Tarmogoyf-esque threat for a control deck. Still you'd have to have quite a bit of cuttable cards.
This a great top end for C/U cubes like Prophetic Bolt in rare cubes. Drawing four cards for five at instant speed is something I'm very interested in doing in a control deck.
Verdict: Seems like a great add for C/U cubes. Just what control decks need.
Rakdos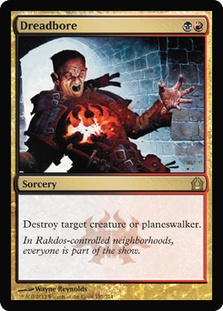 This card isn't difficult in the least bit to evaluate: it kills two important cards types for very little mana. The only downside and this definitely matters when it comes to dealing with creatures is the speed of this card versus its closest cousin Terminate. While this is a fairly big factor I think the added flexibility of taking out a permanent that black in particular has trouble dealing with pushes it over the top.
Verdict: Most people will straight up swap the two cards mentioned which makes sense for such a deep color combination. If you have a very big multicolored section and can afford to run both congratulations on all your dead creatures.
Back to the well with the Charms for cubes. Although I always enjoy more destroying of artifact effects the other two options are super situational. The last ability is able to deal some massive damage but not often enough to matter.
Verdict: Regardless of the size or power level the vast majority of cubes won't have room for this.
Haste and lifelink is a nice combination. Not costed aggressively enough for powered cubes the Ragemutt is still a fine man Hound in C/U cubes. He's obviously great in racing situations but is easy to block and kill.
Verdict: C/U cubes with mid to larger multi sections should give him a try.
Oh Rakdos I see you trying to appeal to my fondness for Mind Twist. But this is not Mind Twist not by a mile. Only at five mana have you barely increased the effectiveness of a Blightning. Of course the effect is nice but again you have to be something special to make the cut in such a deep section.
Verdict: Return this back to your trade binder unless you have a massive multicolored section. I know some people will try this card and when it's action it'll look awesome and you'll tell your friends how dumb I was. Take note all the times it's swimming around in a pack around the 15th pick too.
Well then. This card is going to be hitting lots of people early and often. Not much else to say: aggro thrives off of two-power one-drops. The fact that this guy can be cast so easily is just a feather in the cap.
Verdict: Make room for this guy whether it is in black red or B/R. You'll be seeing a lot of him on turn 1 in the very near future.
The Freak falls into the same camp as the Cackler above: find where these guys can fit into your cube. If you don't have room in your B/R section as I'm sure many people won't treat this as a creature that costs RR with the ability to soak up any extra black mana you have laying around too. Don't let his mana cost scare you away from an awesome creature.
Verdict: He isn't auto-include like the Cackler but he should be next in line. Stick him somewhere even if it isn't in your B/R section and let the pain begin.
Selesnya
Go back a reread all those words about Rakdos Cackler and replace black and red with green and white. Find room. The graveyard hosing is just bonus.
Verdict: This is a Naya deck's dream card. If this isn't in your cube you must hate aggro. And even then come on dude.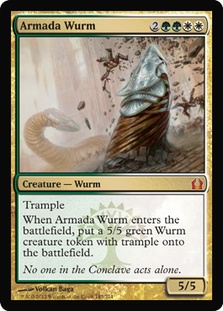 I know ten power for six mana is nothing new these days but that doesn't stop this guy from feeling any less like Grave Daddy. The mana cost is certainly tougher but this is a game ending threat at six mana which is the sweet spot for castable finishers. The trample on both Wurms is an important feature and one that moves Armada Wurm from chump blockee to curb stomper.
Verdict: I think this card is super powerful but like B/R G/W is a tough combo for new cards to crack into. Mid to large multicolor sections should give him a try for the top end. Maybe Mirari's Wake's time has passed us by...
This is a card Pauper and C/U cubes have been waiting for—Loxodon Hierarch's little buddy. If G/W wasn't so stacked he'd make it in more cubes but since it is he'll shine quite brightly in lower powered cubes.
Verdict: Auto-include in non-rare cubes and may be able to sneak in cubes with very large multi sections.
Just a big dumb Elephant. Even with the anti-discard and counter clause this is still just a card with power and toughness. I'd rather have Centaur Healer than this guy even.
Verdict: There will be cubes that have enough room for another generic beater but you'd have to have a very large multi section to fit him in.
Yet another Charm that depends on creatures being on the battlefield. Moving on—wait a second this puts a creature on the battlefield? At instant speed? That changes everything. I view this card as a 2/2 for G/W with flash than can turn itself into a removal spell or combat trick when it is drawn later in the game. Wouldn't we all play that card?
Verdict: Of course we would. Only cubes with small multicolored sections won't be able to find room for this charm.
I love a good Disenchant effect and this is a good one. It would be a tough sell if it always required both colors of mana but it does not so this is a card that can be maindecked in lots of situations. The value of this goes up the more token generators you have but I think most cubes have enough to make this do some damage.
Verdict: Like a few other hybrid cards we've discussed today I'd fit this in anywhere in green or white and least likely a G/W section of a cube. The competition is too great for most owners to fit it in their G/W section so if you want this effect treat it like the Shred-Freak and stick it in the color that cares about tokens more. This is still a borderline card but if you like the effect like I do you can creatively find a way for it to work.
…
Whew. That is a massive amount of cube-able cards for one set! I know that the cuts won't be easy but please consider them carefully before you make a dramatic decision like increasing the size of your cube. Remember there was probably a good reason you have it where it is now! I hope my thoughts helped point you in the right directions and again if you want me to go more in depth on a card in your cube please comment below. I don't want anyone to be left without an answer!
Thanks again for joining me guys and we'll get back on our regularly scheduled Cubers Anonymous next week. Before we go how about some Naya aggro? As always here is another sweet deck.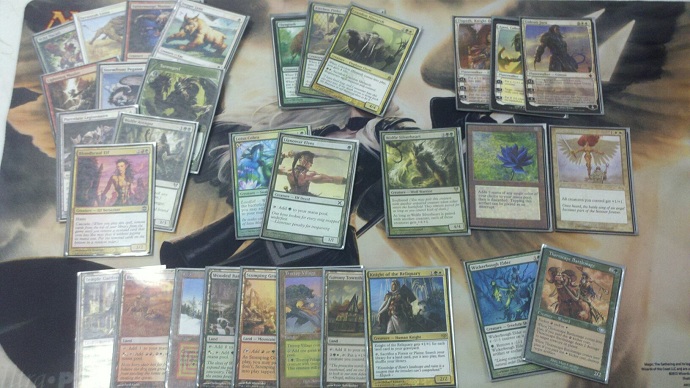 Deck drafted by Michael Byrd-Smith at my LGS Cape Fear Games in our Cube League!
A play that happened was T1 Temple Garden Wild Nacatl. T2 Mountain Black Lotus Wolfir Silverheart pair swing for seven. T3 dead. Oh Black Lotus…
Thanks again for reading this massive review!
@JParnell1 on Twitter
Official Facebook Cube Drafting Page
My and Ali Aintrazi's Custom Cube Project Facebook Page
| | |
| --- | --- |
| | I'm with the Orzhov Syndicate. Not only do I love playing the color pair more than any other their ideology makes the most sense to me. Just like anyone who owns a cube the Orzhov want things done their way--and convincing others that their way is best. Everything is up for debate and nothing is set in stone just like a cube list. In my everyday--and yet again cubing--life I have an obsessive need for things to be an exact way even if it only makes sense to me. Orzhov and I both do whatever we need to do to get the job done. If you love controlling every aspect of a cube you might be aligned with Orzhov as well! |