Constructed Criticism - Drafting With Todd

Hello everyone and welcome back to "Drafting with Todd." Today we're going to do something a little different than usual which I haven't done in quite a while: a draft walkthrough. With so much Constructed upheaval over the last few days I didn't want to write more about The Super Friends or Jund and figured this would be a nice change of pace. For the first time in a long time I think I have a really solid grasp on this Limited format. From listening to Ben Stark talk about limited for the better part of an hour at the StarCityGames.com Atlanta Open and doing a team draft with him I decided that my favorite color was going to be Green. With Green you got to play a multitude of color combinations since you had so much manafixing. In addition to that you could play a ton of defensive creatures and build up to an ultimate threat like a large Eldrazi or one of the Invokers. Even Gigantomancer will do since he is just absurd if he lives past the first turn.
Over the last few drafts I've done I've drafted UW Levelers GUr control and GUw control. I was happy with all three decks and went 3-0 in all of the 8-4's that I played. I feel like these two strategies of UW Levelers and Gx control are by far the strongest combinations you can play. Levelers can be very fast when combined with Time of Heroes and some Venerated teachers pushing the envelope before most people even put a creature into play. One problem the Green decks have is that they have very little to do before turn 3 that is relevant other than Overgrown Battlement (which I've really grown to respect). There are plenty of cards that "do" things but they usually aren't what Green is trying to do. With 1/5 spiders 2/4 accelerators and cards like Pelakkia Wurm why would you ever try to be a small aggro deck? You don't have the tools and the format just can't justify it (usually). Sure you can draft a few Prey's Vengeance or Might of the Masses and get in there with some fancy combat tricks but your opponent could easily just blow you out of the water with a Vendetta while he sits behind his walls.
These are just some of my early thoughts on the format but that isn't what this column is about. Limited has never really been my favorite topic to write about but that is usually because I think that Limited should be a combination of your initial thoughts combined with the thoughts of others in order to form a conglomerated opinion about it. In the beginning of Zendikar Limited not everyone and their brother thought RB Aggro was by far the best strategy. Sure it was powerful but people weren't quite used to the fact that Sphinx of Jwar Isle was worse than Vampire Nighthawk because of its cost and color. Eventually people figured out just what made Zendikar tick and hopefully I'll be able to figure out just what makes Rise of the Eldrazi tick before Pro Tour: San Juan. With all of that said let's begin!
Now remember earlier when I said that Green was my favorite color? Well here we have a few options for picks but there is only one Green card and it is quite good. Blue is just flooded in the pack so taking Domestication or Narcolepsy would just be incorrect. Sure both of those cards are better in a vacuum than Ondu Giant but I think that cutting off Green early will ensure that we get plenty of Green goodies in the second pack. Forked Bolt is also a possiblity but I'm not the hugest fan of removal in this format that can't kill an X/3. While all removal is potentially valuable I think that cutting off Green will be more beneficial to us in the long run.
Pack 1 pick 2: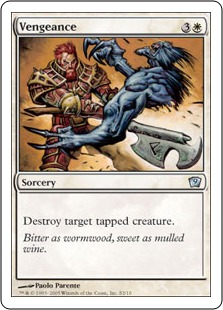 " tooltip="Vengeance">Vengeance " "ROE");'>

My Pick:




This pack was full of dudders and I really like Growth Spasm so I took it without even thinking. There is no card here that makes me want to indulge in a second color yet.


Pack 1 pick 3:


My Pick:




I'm pretty sure I just picked incorrectly here. Evolving Wilds helps with the theme of drafting "safely" as well as the G/x strategy but Puncturing Light is a great card and I probably should have picked it up here. I haven't passed too much White so shipping that card gives my friend to the left a signal that White is open when I'm not exactly sure where I'm at. I take the land which could be better in theory but is probably wrong in practice.


Pack 1 pick 4:


My Pick:




After passing the previous Puncturing Light I take another Wilds over it because I'm still not sure what my second color is going to be. Nothing has really been standing out but I should have hopped on White already having two Puncturing Lights instead of a total of 4 manafixers. Honestly I'm not sure what the "correct" pick here is but I continued with my strategy of not taking a second color until I was absolutely sure what it would be.


Pack 1 pick 5:


My Pick:




This pack was full of bland so I took the card most likely to make my sideboard. Wrap in Flames is good against a variety of decks and can help you punch through that last bit of damage but I would never maindeck it in a G/x strategy where you are not trying to punch through damage early on. Dealing one damage to three different creatures can be key since lots of Black strategies play tons of X/1's letting you effectively 2-or-3-for-1 your opponent. Bloodthrone Vampire could also have been a candidate but I don't think he fits in the Green theme unless you are planning on making a ton of Eldrazi Spawn. But if you are doing that you should probably be using those spawn to cast large monsters.


Pack 1 pick 6:


My Pick:




An Ondu Giant this late makes me very happy and should just not happen. The guy is just a house and lets you play pretty much whatever you want. Seeing Totem-Guide Hartebeest and Frostwind Invoker make me wish I was in a second color already but there are plenty of playables still in this pack so I'm content sticking to the original plan.


Pack 1 pick 7:


My Pick:




Here was a pretty huge signal. I am a pretty big fan of this card since it kills small creatures and gives you a free card in the process. It is also a reason to jump into a second color since the only other playable for me is the Daggerback Basilisk. Might of the Masses doesn't really fit this style of deck and I think I have passed too much White at this point to take Guard Duty as solid as it might be in the deck.


Pack 1 pick 8:


My Pick:




At this point getting this quality of Green this late in the pack is just absurd. None of the other cards are even close and the only thing I can imagine is that very few players at the table are in Green or are using Green to fix their mana (which is probably incorrect).


Pack 1 pick 9:


My Pick:




Not really sure what to take here but Guard Duty would have been a better option. I could still potentially be Green/Black so I took the imp as a bit of card advantage for Ondu Giants and the like. Prophetic Prism and Guard duty are both fine options though.


Pack 1 pick 10: