Someone played Ichorid in an Extended tourney. Because I am an amazingly humble person, I will talk briefly on the subject, though only to the hand girlfriend.
Ichorid doesn't suck, therefore, I do not suck. Wee! You gotta hand it to Paul Sottosanti. Well, actually only I do, even if he wasn't National Champ in 2003 like I predicted.
While Teddy was re-acclimating himself to jetlag and The International Taxi Festival, Ben emailed and asked "writing an article this week, d*ckhead?" I fired back: "I have nothing to say, no ideas, nor the desire okay you pushy bastard I'll write a crappy freakin' article!" Two hours later I sent over The Vase and figured "there, that oughtta shut him up for a while."
And then promptly forgot all about it.
Until santi to the Sotto got all militant up on da' World via Osyp via Randy via B to the D to the M. I rolfd for about an hour, and so did you. Still, I debated: should I write a "n'yah, n'yah" or simply punch myself in the arm ala Brian Johnson and let this one slide, making sure to say bye to Carl on the way out...?
I still have no idea why Mr. Not National Champ '03 would physically build a deck that used Ichorid, much less bring it to a foreign country, much less actually goldfish it, much less give it to someone else to actually play in a real event. Even though I kinda asked for that last part.
I was telling Berto about Worlds - the best on the planet going head to head and whatnot, when we clicked onto the coverage. We read some of this and some of that, and then we scrolled onto the day four blog archive.
Berto: Look, Ichorid...
Me: Uh...?
Osyp Lebedowicz - Ich Bedoel (Dutch for "I mean") (I don't get it either unless it's a foreign language play on Ichorid)
Top 8 at Grand Prix Trial
4 Polluted Delta
4 Cephalid Coliseum
1 Bloodstained Mire
2 Overgrown Tomb
4 Watery Grave
2 Swamp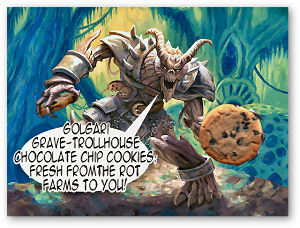 If I had the fetchlands and the shockies, this is about what I would do/would have done. I like the Coliseum set: kudos for having the balls that I didn't, not to mention all those special land cards that I don't either!
4 Ichorid, The Blood-soaked Soul Kiss
4 Psychatog
4 Golgari Grave-Trollhouse
4 Stinkweed Imp
1 Filth
1 Wonder
4 Mesmeric Fiend
2 Putrid Imp
1 Dimir Infiltrator
I tried to get Filth, Crossroads didn't have any, and the idea of getting one from Da' City apparently didn't dawn on me. If it did, I probably ignored it because Johnny Dial Up = pushing a shopping cart with a wobbly wheel and three flat tires while schlepping a box of tampons.
Since I had only one Island in the deck, Wonder became a non-issue, and since I also couldn't find one of him either, that's two issues. One Infiltrator seems about right: he's techy about once every ten games, the rest of the time he's half a zombie token and Ichy fodder. Big props to keeping in Putrid Imp - he can be so house-like at times.
Since I posted my list, I discarded 2 Bob, because boy isn't it fun to hit a Grave-Troll. Gee, hard to believe that pros would have figured that out too.
4 Zombie Infestation
4 Cabal Therapy
4 Deep Analysis
1 Life from the Loam
1 Ray of Revelation
4 Chrome Mox

I wonder if Osyp got a chubby every time he sacced Ichy to Therapy and raped hands. I bet he did, 'cause the look on most of my opponent's faces when they realized just how tight of a play that is was priceless. This is much like the face I made when I read Shante's article in which he describes Survival of the Fittest with...
Once I got that, I smacked myself in the head, jaw seriously agape, much like everyone else. So freakin' obvious, and yet, so secretively brilliant.
The Ray is also tech, what with Suppression Field and CAL starting to make headway, one in the main is sexy. It's still a White card you can cast with Green mana! Fits!
The moxen, however... I had four of them in my hand at Da' Roads and started debating:
Gee, turn 2 'TOG!, turn 3 win seems good.
Golly, turn 1 Infestation ain't too shabby either.
At the time, I was thinking Infestation and Ichy were more important win conditions, and losing four cards from your opening hand to cast Infestation seemed quite excessive - this leaves the ability to make one zombie e.o.t and one card in hand. That just wanted to not be a good thing. In retrospect, it is likely less bad than I originally thought.
Depending on which cards get pitched to make the single zombie, you can start going to town immediately. With Wonder and Filth, the likelihood of getting a lethal 'TOG! on turn 3 increases exponentially, or, well, by two more cards.
The possibility of slow stuff gave me pause, hence Paulie's exclusion of Golgari Thug, which seems less a matter of taste than a matter of testicular fortitude, and my lack thereof:
We understand Rizzo's Thug Life Plan, but cannot endorse it. The deck does three things well, and right quick at that: 1) make dudes, 2) turn them at a ninety, 3) deduct life. Take a breather Thug, we'll call you if we get into some kind of weird control match where we need to recur guys at less than sorcery speed, thanks.
4 Smother
3 Oxidize
1 Naturalize
1 Pithing Needle
1 Coffin Purge
2 Darkblast
3 Duress
Much less random than my board = where's Legacy Weapon?! Ro. Ful. Nevertheless...
Me: You're the first person in the world to ever play against that deck.
Berto: Holy Keanu! Mages! Fits!
Maybe some coffee table fellers or random playtest groups did, but hey, give an egg who inadvertently helped to tweak it a little love, will ya?
Still, if you're thinking of net decking, I would be remiss if I didn't offer two words of counter-technology. You already know what they are, don't you...?
Crypt.
KEEPER.
"Horvath and several other players were talking about bringing the deck to Grand Prix-Charlotte and wanted it to be a surprise."
-B to the D unto thy M
I spent two months wanting to tell the world about my cool new deck, but preferred the surprise factor, which begat a 3-4 record, thanks for the memories. But hey, I got to play it at one whole event. No, I didn't really want to make those two PTQs on back-to-back weekends in Brighton. It's so wacky ass that I actually Mapquested directions to Montreal, Rochester and some place in Connecticut, just to see how close, yet oh so far...
Someone just pick me up.
Sigh, shrug, hrmph, if I can't make the events, better my billion hours of labor not go to complete waste; at least, for one brief shining moment, I managed a mere glimpse of the unthinkable, albeit vicariously, in the third person, on the 'net.
Alas, I'll take my fifteen minutes... Actually, this is about my third fifteen, it's almost a complete hour now. For my final quad, I'd like to beat Jamie C. Doeshereallyexistfield in the finals of a PTQ, in the fifth game, on the fifth extra turn, with Golgari Grave-Troll.
Then he can write "Searching For Frigginrizzo" and become a well-known net writer guy just like me!
Time to move on. Dot org.
Many of you know of my Pittsburgh connection, and how I invented most, if not all of Team CMU, not to mention Wizards' R&D team, and Dr. Richard Garfield himself, but how about Latrobe...?
Adam Klein, the winner of the "Go to Worlds" fiesta courtesy of Magic Online, calls Latrobe, Pennsylvania his home. Known for Rolling Rock beer, Saint Vincent College - the Steelers' training camp, and even The Hub, a.k.a. Western PA's Paul's Boutique, Latrobe also used to house a shexy lil' establishment called "Danceland."
I used to dj there back when I was in high school, back before Adam's folks even bothered to meet, much less discuss how to create a future Worlds attendee. I spent most of my high school years in Derry, right down the road from Lah-trobe (for you frenchies) or Lay-trobe (for you hicks). This means that not only did I invent Adam Klein, but could possibly have gone to school with one or both of his parents rofl heh lol.
I could have invented Adam Klein's parents. I am Kevin Bacon.
Quick note: I think his name is "Klein," but I'm too lazy and dial-uppish. For this fact-finding mission, I entrust the Ballgame (or the Bengame) to make me look oh so goodly. Research is best left to editors, who, really, have nothing better to do than check facts - this is why they make the big bucks (LOL!) and get the fancy hi-speed connections.
Randomness: Rocky Bleier came to dinner at my grandfather's house. To this day, I still have no idea why, and mostly regret not asking him if Franco was really Italian. And why did he have his own army. I was ten, you'll have to forgive me, but if he ever comes to dinner at your grandfather's house, ask him for me, k?
You remember Stacy Q, don't you? If you don't, she sounded like equal parts Brittany giving birth and Pam after Tommy put the gloves to her. But oh, how those wacky kids loved "Two of Hearts." Every time I gave it a spin, fifteen year-old chicks would threaten to come up behind the wheels of steel and do me like they needed knocked up in a hurry.
Speaking of which: bonus points to anyone who saw Brittany and Kevin splitting.
Shock us all for two.
After rebuffing hot chicks who likely reside in trailer parks with at least one of they baby daddy, I'd bust out the James Brown and promptly clear the floor. Can you imagine: spinning "Sex Machine" cleared the floor. [No comment. - Knut]
Alas, "You Spin Me 'Round" would soon follow, "Mony, Mony" and "Melt With You" shortly thereafter, and maybe, if you're good... "We gonna slow things down a little, so grab that special someone..." I never said that, for my utter gayness has limits. Kinda wish I did, though.
Alas, the wuv muffins would again be my skeezers, and I know they were all very impressed by the fact that I had two copies of the most popular jamz, back when they came on 12" records - a dj's wet dream: filled with dub versions, instrumentals, acapellas, etc - better for a little icky-icky sumthin' sumthin' on both platters.
Chick: You're gonna scratch all your records, you sexy mack do me!
Me: I wish I knew how to make out.
Not only did I introduce all of greater Latrobe to cut-cut-cuttin' and scratchin', but I would often breakdance all up on them like I was indeed having a seizure.
Tip: when peeps tell you to stop spinning on your head or you'll go bald, listen.
But mess with my windmill, dawg. Just try.
A few years back, I tried a windmill and hurt myself so badly I had to call off work for three days. How embarrassing, being paid for unsuccessful windmill navigation.
Segue on, Segue Segue Sputnik.
Derry Area High - alienation central to those keeping score at home - was populated by a total of four black peeps spread one per each grade level, which made my brother and I somewhat outcastish because we were about the only two kids who were into rap. Not even the four black kids were, so we had absolutely no support system, nor anyone to blame it on. We were on our own.
Did you ever try being white in a nearly all-white school and having the "cool kids," those who affectionately termed the phrase "wigger," laff at you for daring to like something different? Substitute "Magic" for "rap," and yep, maybe you have.
If not, try moving to Pittsburgh and attending Oliver High, a mostly black city-league high school. Somehow, I managed to attend for half a year and not get beaten by vendetta-laden whites or gang-affiliated blacks. It probably helped that I talked to a grand total of four peeps the entire time - talk about "no man's land:" I was a fake wannabee to the black kids and a wigger to the white kids.
I imagine it's much the same for black kids who like country, or classical, or anything but rap and R&B. You wanna be white! Sell out! It's probably much easier for a white kid to shrug off the label "wigger" than for a black kid to ignore "Uncle Tom." Look at any blacks with conservative views for evidence.
The white chicks mostly shunned me, most likely because some black chicks didn't, probably because I was the only white guy who knew "Genius of Love," could help them with their homework, and didn't use phrases like "yo, baby, what's up?" and "day-um, girl!" Sometimes you don't have to be Bad Ass Rapper; you can actually smile/laugh when it doesn't involve someone else's humiliation.
Tip: when someone asks "what size you wear, yo" in re: your Adidas Superstars, it's not because they're taking a random poll. They do intend to beat you up and steal your shoes, so long as you let them know they'll fit. Guess I just wore the wrong size.
After high school, I was still into rap, which was still not called "hip hop," but interest was waning. This was mostly due to guys like Schoolly D slinging lines like "Black is beautiful, brown is it/yellow's okay, but white ain't s***." Add Public Enemy to the mix, and you start to lean towards: "gee, these guys think white peeps are the devil. I wonder if I should continue to give my hard earned cash to these guys so they can further their agenda, which may or may not involve stabbing me to death."
It was about that time rap started to get huge MTV play and platinum records and Sinead O'Connor fawned over guys that said killing cops was cool - they're just like MLK, Jr. marching for civil rights! The thing is: MLK didn't advocate violence, and I'm quite sure he never said, at least publicly, "f*** tha' police!" Now, twenty years later, Ice Cube is starring in "family films," with nary a reference to his gat, and how he'd like to unload it into someone's face.
A long time ago, I remember being the only white guy in a black nightclub in downtown Pittsburgh. Three hundred to one, and I didn't even feel out of place. Should I have? I know that if you took me, today, and put me in that same nightclub with that same three-hundred-to-one, I wouldn't feel as secure as I did back then. Is that because I changed, or has my perception of society?
Then again, I look at Magic, where there are perhaps ten black players that I can think of. Put one of them at a Grand Prix in White City, USA, where they're the one to three-hundred and nothing even seems out of place. Now switch it around: actually, I can't think of a comparable analogy where there would be three hundred blacks and only one white. Well, maybe a Willie Nelson concert, but other than that...
Yet, everyone who doesn't act the way others expect them to faces a certain amount of scrutiny. Whether it's a white kid who likes rap, a black kid who loves Beethoven, or a white kid who likes rap playing Magic with a black kid who loves Beethoven, when you're out of your "acceptable" element, things tend to get silly in a hurry.
This has nothing to do with nothing at all, except that if ever there was a group that understood "alienated," welcome to the fold, freaks. And if any of you Magic nerds are into rap, or have earrings, know that as tough as you may think you have it, it could've been worse.
My senior year book is littered with references to how queer I must be because I had, gasp!, earrings in both ears! I can only imagine what it would have been like had I played Magic back then, for I remember there were a few D&D types, and boy, weren't they just embraced by the entire school. Is it still like that - it can't be, can it? Jocks, heads, cheerleaders, brains, and band geeks are still subsets of humanity, but isn't there a little more intermixing of, ahem, "classes?"
It's as if peeps like me, or you, understand alienation at an early age - and do we ever really learn to "fit in?" Depending on the cost of "fitting in," do we ever really want to? Then again, I don't know if some of you nerds are friends with the quarterback or the metalhead, or some of the cheerleaders actually know you exist on more than an ephemeral-sits-next-to-me-in-Biology-level. I'd like to think the "outcast" of today isn't so far cast out, unless it's by choice, but I don't know.
What I do know, is that someone played Ichorid after I suggested someone do just that. It doesn't mean anything. But it kinda does.
Speaking of using the word "gay" a lot...
My brother and I used to watch Star Trek reruns with the zeal of kids who were almost like zealots, and yes, we did notice, even at age six or seven or so, that the redshirts tended to well, die a lot.
About this time, we first heard the word "gay." I'm not sure what the context was, but we immediately took a liking to the word, and quickly determined that "gay guys" was a fantastic phrase to describe the redshirts who would beam down with the crew, knowing full well their mission was to die so Kirk would have something to do in this episode.
This term also applied to any army movie in which multiple guys existed in the story for the sole purpose of getting killed. Gay guys, they were.
Actor: My first big break!
Pal: How many lines do you have?
Actor: Just one: "Arrghhh..."
Pal: Oh, you get to be a gay guy!
As far as I can tell, we were on the forefront of homophobia, even if we had no idea what "gay" would come to mean in later years. Thus, when you hear someone declare "that's so gay," remember the genesis: lil' John and Vinnie eating Count Chocula in 1975 and watching the redshirts boldly go where no man had gone before and dying immediately thereafter.
I think that's one of the cooler things about Magic: the gay guy factor:
You can be a jock, like Kibler, a fat nerd, like Finkel used to be, a super-intellectual, like OMC, a nefarious and cantankerous bastard, like The Ferrett, or somewhere in between, like most of you, and none of those differences matter when you shuffle up and draw seven.
Many of us have been "the gay guys" - bit players in the lives of those much more significant; mere plot points that exist simply to further the story of the "important" characters. But in a world entirely populated by gay guys, the hero must be culled from a selection of redshirts, thereby destroying the gay guy theory at its core.
I've played against twelve year-olds, forty year-old blue collar guys still in their work clothes, teens who are obviously tremendously confused about their sexuality, chicks that abuse the power of being the only "object" in the room, super-cool chicks who seem like kindred spirits that just happen to have a vagina, and even the one black person in a room of three hundred. Gay guys everywhere!
But we're all gay guys in other people's lives, except for those closest to us. And even then, we're still pretty dang fruity. When you get right down to it (or "At the end of the day," yet another phrase I invented), darn it, we're just a bunch of gay guys.
I also choose to believe, that even if you are a homosexual, you're not offended at a term like "gay guy," at least when taken in the context that I just described. Of course, people are apt to get offended at much less these days, so maybe I'm just wacky to think that.
frigginrizzo: <-patently offensive and irrationally defensive.
This brings me to my point, convoluted beyond repair by now:
For a long time, I was a gay guy in so many different aspects, not the least of which was Magic. Sure, I wrote stuff that sometimes made sense, although often it really didn't, but rarely did I offer much technology, and certainly even less that would be worthy of "premium."
But then Sotto to the santi did a "Kirk to Enterprise" and requested Scotty beam down another shirt. When the blue shirt arrived, he stripped me down, slowly as to maximize the sensuality, and then tossed me the newly arrived garment.
It didn't fit very well, but that red shirt, while faded and itchy, didn't either, although it did make me instantly identifiable, particularly to the aliens, who knew right away that they could indiscriminately aim their futuristic weapons at me, so long as Kirk, Bones or Spock wasn't nearby.
So he took both shirts, threw them in the washer and added some bleach. Out came a bright pinkish shirt, and surprise: it fits. Thus, I am no longer a complete Magic gay guy, though you'd be hard pressed to not describe me as such, what with jumpin' 'round in my hot pink shirt, thumbing my nose at that green bitch that Kirk got to mack.
This is relevant because...?
If you take a very small country, say Lichtenstein, only because it's the smallest country I can think of, and put them at Worlds, they're the white kid in the black school; they're the gay guys looking up at dozens of Captain Kirks, represented by the USA and Japan and France and other big countries with blue shirts - gold even!- who have an established track record of not sucking at Magic.
And here come the Lichs; not a Magic powerhouse by any stretch. They're the quiet kids in the corner, intimidated by the sheer monumentality of their task, realizing that yep, we got red shirts, which means we're predetermined to bite the dust so Kirk, Bones and Spock can take on the bad guys and mack chicks from other planets.
>this is where I would put a disclaimer about merely using Lichtenstein as an example if I wanted to insult the intelligence of all y'all who already figured that out<
Japan was Lichtenstein at one point, theoretically. Now I can't think of too many peeps who would consider Japan likely to remain happy about being second best at anything for long, and they sure didn't. Oh, and by the way, English isn't their native tongue. Gasp.
Talk about being the white kids who like rap... Try being a Japanese kid who flies to America to play in a Magic tournament, circa 1996. Hello, I'm one of three Japanese peeps here, and the other two are American citizens.
Talk about the black kid who likes Beethoven... Here's a game invented in America, written in English (yes, translated, but chill), and mastered from very early on mostly by Americans. It took something like forty-seven Pro Tours until a Japanese player got the big check, but I wouldn't bet it'll take another forty-seven for one to do it again.
They used to be Lichtenstein, strutting 'round in their red shirts aiming Kirk's hand-me-down phasers that probably didn't even work. See, even gay guys can sometimes rise from the nether.
Still, when you reach the top of your chosen endeavor, something you may not have anticipated rears its ugly dome: the obligation to keep on proving it. Finkel did it, when he felt like it, Kai did it for much longer than anyone could have felt like, the USA did it time and time again with teams that were far from "optimal," and now Japan gets to try.
Japan = James T. Kirk of the starship Enterprise
Everyone else = redshirts who wandered a little too far and got killed
How long will they be the man? A year, two, five? Who can knock them off? The USA? France? Germany? Canada? How long until someone with ideas above their station, perhaps Lichtenstein?, gets too big for their britches and stomps a mudhole in everyone's mudhole? Perhaps Japan will remain the team to beat well into the next decade, and the second-best list will be populated with dozens of almost-yet-still-a-bridesmaid countries stuck in their tight and itchy redshirts.
That's part of the fun, of the drama, and we eat it all up 'cause we're silly like that. Sometimes we're Sulu like that as well, though mostly we're a bunch of Chekhovs.
Good luck to Japan in retaining the captain's seat, but if I had to guess, I'd say every one of the hundred other countries is planning a Fletcher Christian gank move as we speak.
Speaking of gank moves, what happens when [unfriendly countries] send teams to Worlds? By "unfriendly," understand that I mean "a country currently at odds/war with [another country] also attending Worlds."
Since I'm too lazy to research any of this, I'll just assume that Team Palestine didn't play Team Israel, or Team USA didn't face off against Team Pro-Saddam Iraq.
I can't recall what the situation was two years ago when (or if) Team USA and Team France played. Talk about two countries with a whole bunch of animosity - "Freedom fries" anyone? Again, I'd be willing to bet that neither "we saved you in WWII," or "America is the world's dirty cop" were topics of discussion.
Ain't that weird?
Pearl Harbor, Hiroshima, Nagasaki... Did any of this come up during this year's team finals? Probably not, for spells were in the process of being slung! "Smash face" took on an entirely different meaning when your best and our best fought it out...
What kind of event can pit competitors from rival nations (some with serious bad history), with the title of "World Champion" at stake...sounds like the Olympics, huh? But instead of a month every four years, it's three days every few months, with a serious grand finale at the end of the year.
There were no casualties.
No one got hurt.
Lots of people smiled afterwards.
Pretty much everyone involved.
Interesting.
Huh.
I had a point, I think. Oh yeah:
Adam Klein is from Latrobe. Please understand that I currently am at the age where retrospection for introspection starts to kick in - all of the above is one possible result, whereas the other is buy a 'Vette and start banging college chicks.
Which leads me to my next point, which cannot possibly be any more pointless:
The fori brought up a few good points about movies, good, bad and otherwise. Some films were mentioned that I hadn't seen, and while I don't think I'm going to rush out and rent Serenity or Dark City, it did get me to thinking:
Having been the perfect age when Star Wars was initially released, and seeing it well over a dozen times in the theater, I found it odd that I have no desire to see the last (first?) two episodes. I did manage to suffer through the Jar-Jar one, thanks. What changed in the many years since Episodes III, II and I rocked my world? Oh, I grew up.
I realized that when I made a list of my favorite films of all times, Star Wars wasn't in the top hundred, and The Breakfast Club, despite being the quintessential film of my generation, wasn't much farther up the list. Funny how things look after a few years.
Peter Jahn reviewed a few movies last week, and when he chose one of those Tim Burton animated weird things, I had an instantaneous epiphany: I hate everything Tim Burton has ever done. Not strongly dislike, but abhor. I think it has to do with an endless parade of scenes shot in low light. Blade Runner was like that, and I still can't watch more than ten minutes of that without wanting to puke.
I thought it would be interesting to see what Magic nerds listed as their top tens - knowing full well that some would drop Tim Burton up in here. If you feel froggy, drop a list in the forum (and maybe a little blurb as to why) which will ensure I won't lose them due to a computer crash that seemed to happen about every three months back in the day. As I recall, Fight Club was well represented in that survey deal from way back that got sucked into oblivion.
Nowadays, of course, I'm older and wiser, more computer-literate, and even invested in a (semi) crash-proof ThinkPad - this is a sexy ass machine, mostly because it still has the tiny little trackball mouse. I am not, nor will I ever be a fan of the touchpad, although I can't help but think that those slow and sexy movements will improve your clitoral manipulation and sensitivity.
touchpads: <- invented to improve clitoral understanding.
Go ahead, scroll on your touchpad right now and tell me I'm wrong.
Anyway, I'm sure my list in no particular order will make you go "dude, you like some gay ass movies." Well, so do you.
True Romance
Early Quentin that ranks up there with his best. Even Tony Scott's annoying direction and Christian Slater's annoying Slaterness couldn't kill this kick ass flick. The Walken/Hopper scene in the trailer is one of the best ever filmed, ever. Then again, so is the Slater/Oldman dealio at Drexl's. Nothing to dislike here, ever.
Eternal Sunshine of the Spotless Mind
Charlie Kaufman is the kind of guy that makes other writers question their worth, not only as writers, but as human beans. Charlie is like the Zvi of screenwriters: he reaches a depth most of us never can, but if we do, we'll like, win a Pro Tour or something. And Kirstin Dunst dancing in her sexy lil' undergutchies.
Clockwork Orange
If the nadsat language doesn't give you a chub, and the Ninth doesn't either, the nudity might. This is the first movie featuring British accents I actually liked, and the fact that you can spend years discussing its worth, message, or relevance proves that it transcends generations: it's as significant today as it was back in the early seventies. Look for David Prowse - Darth Vadar under the suit with James Earl Jones' voice - in a very tiny pair of short shorts.
The Good, The Bad and The Ugly
Clint when he was the baddest mofo to ever walk the earth. This is the epic western template everyone imitates, but no one can even touch. The best scenes in Tombstone, namely Val Kilmer, can't hold a candle to one look from Clint. Particularly fun is the fact that most of the actors spoke Italian and had those fake sounding Japanese/Godzilla/Anime voices dubbed in later, while Clint just got to be Clint.
Forrest Gump
The good guy, despite losing everything, wins. One of the few films that actually emphasizes real, ahem, "values," while exploring the possibility that the sex, drugs and rock and roll mentality of the sixties, and a little of our "me, me, me" generation, just may not be the cat's ass after all. Robin Wright = so hot in this, even if she epitomized everything that was wrong with an entire generation.
Oleanna
The most disturbing film I have ever seen because it can, has, and will happen again. There is a reason that audience members would stand up and scream at the actors about how wrong/right/sickening-this-is when it was on Broadway. I'd be one of those peeps, which is why I won't ever see it if it returns to the stage.
American Buffalo
Yet another Mamet classic that ages so much better than the Olsen twins, who come to think of it, didn't age that well at all. This was staged in Portland a couple years back, and the director took it upon himself to actually rewrite some of it so it could be a happier story. American Buffalo is one of the best stage plays in history, and this random rewrote it, telling the local paper: "[Mamet] must learn to see the future."
Dear Zvi,
Your deck (The Solution) is full of problems!
Love,
Anonymous random who almost made T8 at Friday Night Magic
P.S. Turbo Land suxxors!
The Princess Bride
Like this isn't on your top ten? About as perfect as a film can possibly be, and then a little more perfect just because. There is not one single pointless scene, camera angle or line of throwaway dialogue, except some of Billy Crystal's not-very-funny stuff, which I'd guess he ad-libbed because he's such a rofl. Robin Wright = so hot in this, even if she married Sean Freakin' Penn Are You Freakin' Kidding Me?
The Usual Suspects
I know people who say "I knew it all along - that ending was so obvious." I want to punch these people in the teeth, because, no, you didn't, and no it wasn't. Every film since that's had a "whoa!" ending, including The Sixth Sense and Memento, owes a debt of gratitude to this bad boy. Peter Greene actually hit The Bad Boy Reality Show Baldwin Brother in the eye with that lit cigarette, which is probably why it looked so real.
Rocky/The Godfather
There is one perfect Rocky film divided among the five. The first three kicked ass, but then preachiness started to creep in. Still, IV is decent and V is, well, supposed to be the one where Rocky died! Likewise, the three Godfathers (even parts of III, though not many) could combine to make the ultimate four hour flick. Brando, Pacino, Deniro, Mantegna and a bunch of other wops with guns and pasta - what's not to love?
These are the ten films I would take with me on a desert island. Of course, said island would likely be lacking electricity, not to mention a tv with a cozy couch and a bag of chips, but I could pretend that Brooke Shields was stranded here too, sans Chris Atkins.
And now to sum up:
From the days of Rick Rubin being an actual member of the Beastie Boys, to Vanilla Ice everywhere at once, to Eminem releasing a greatest hits compilation after three whole records, Johnny outcast hit a nail close enough to a head to matter, at least for a day, panacea be damned.
And while the world loves white rappers because they have "white problems," such as divorced parents, getting picked on by jocks, bad grades, too little allowance, sucking at little league, what have you, I won't insist that you call me by my mic-in-my-hand-up-on-da'-stage name, even though I can and have been rapping your entire lives.
Add that to the idea that if I'm not the weirdest guy to ever fall victim to the Magic web, then you are, or you over there, in fact, we're all weird. But unlike most of you weirdos, I'm granted some dispensation from fetching wood and carrying water, which is why my weirdness, while just as weird as yours, seems weirder, even sans pictures.
Speaking of pictures, here's one from deep in the vault, no, deeper: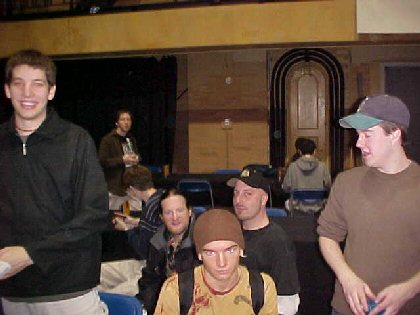 (Taken at GP: Boston a couple years back, where so many things were going on I can't believe it. First off, you got Sottosanti smiling like a son-of-a-bitch, for he knows what the future holds for Ichorid, though I doubt he was aware he being primed for the Wizards' Promised Land. Second, you got the back of Andrew Cuneo's head - yes, the guy who was Magic Online's first "go to Worlds" qualifier (Adam Klein is from Latrobe!). Third, that's Nick Eisel, smoldering like a love machine, but still hurting from his PTQ loss to yours truly, and mere hours from getting his sabbatical. Fourth, behind Nick you have edt, no, not the other edt, but the one who is very incorrect on 23/17 mulligans - he's smiling because he knows that sexy bastard beside him (um, me) is about to go 0-3 drop after an equally enjoyable 0-3 drop in the trial, then drive three hours home. And what a drive it was.)
Things to keep in mind regardless of the complete suitability of the above pic:
You can like rap and not be a wigger.
You can like Ichorid and not be a gay guy.
You can hate rap.
But you can't hate Ichorid.
And never, even under duress during therapy, divulge your true shoe size.
John Friggin' Rizzo