People—especially Magic players—love to express themselves.
Some people do it on the tournament floor sporting a custom playmat a unique way of recording life totals weird sleeves or a colorful deck box. Others like to display their collection in an interesting way filing cards away in classic binders and deckboxes or accenting their game room with posters uncut sheets or original Magic art.
Over Magic's nineteen-year history a number of products and collectibles were made in order to take advantage of people who love the game so much that they want to own more than just the cards. This week we will begin tackling that array of flotsam so that you can identify a valuable find when you see it. Getting a rare life counter or a handful of valuable dice as a throw-in when you buy a collection can turn a good day into a great one but only if you know what to look for.
While anyone can look up the price of a card on StarCityGames.com most of the things I'm going to cover here only show up for sale once or twice a month and they rarely sell on the major retail sites. The prices I've added are as accurate as I can find and often there is huge variance between sales. When in doubt err on the side of being conservative in your pickups and never forget that making any sale online leaves you open to tons of hidden fees risks and shipping costs.
While this list is nowhere near complete—no one out there has a complete list of these things after all—I'm going to talk about as many of the highest value items I can. If you own a cool Magic collectible that I didn't get to drop a note in the comments section. If there is enough interest I might do a follow-up article at some point to talk about the rest.
For now let's start at the very beginning.
The Alpha/Beta Poster Set - $150-$350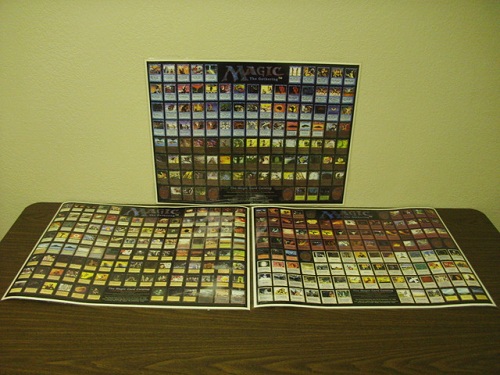 This set of three posters was the very first licensed Magic: The Gathering collectible. Released after Beta and before Arabian Nights this set of prints was limited to 1000 and originally sold for an MSRP of $39.99. The posters depict what was at the time a 'complete set' of Magic cards. This meant every card in Beta plus all of the Alpha cards that were printed or templated differently. Back then there was actually a practical use to owning one of these since official checklists were unavailable.
All of these posters were professionally laminated before being sold meaning a good deal of them have probably survived. They turn up every few months on eBay and there is often a huge gap between sales prices due to very little awareness of the item. I believe the card images came from a complete set that Wizards provided themselves so that the scans were nice and clean giving the product a nice crisp look. Unfortunately the images were scaled to about 2/3rd size meaning this doesn't look quite as nice as an uncut sheet. Even still this is a great little accent piece for a classic Magic collection—I have one hanging in my bedroom myself. I can't imagine it will ever drop in value and I expect the price to eventually trend toward $500 for a set in good condition.
Ultra Pro Mox Mat - $120-$500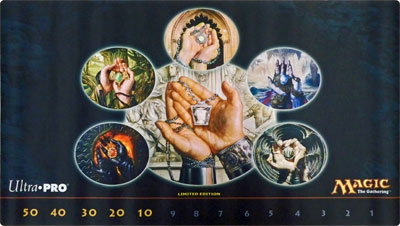 In May 2010 Ultra Pro ran a sweepstakes where 250 lucky winners got a limited edition Mox-themed play mat along with a plaque and a certificate. The art is amazing and they were never put up for sale but very few people actually want to shell out for these. You can buy one in mint condition with the plaque and certificate here for $500 but I've seen them close without a buyer on eBay for $300. The last one I saw actually sell was for a mere $120.
Luckily for you if you're drooling over this but can't afford it Ultra Pro did put out a similar version that is much easier to find: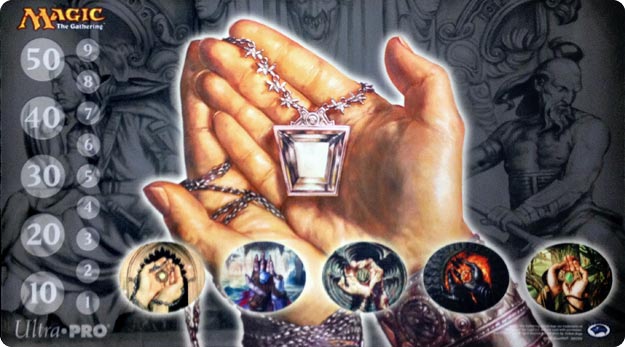 I don't find it quite as elegant but you can find them for sale between $40 and $60.
Original Spellground Playmats - $50-$200 (Single Player) $200-$350 (Two Player)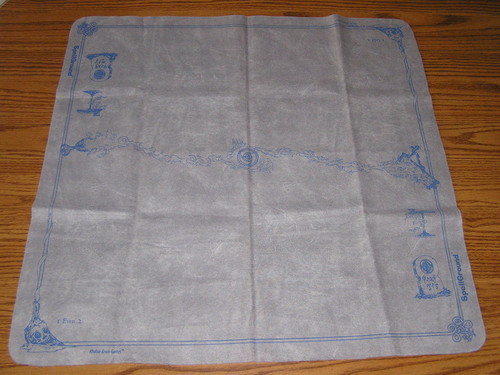 While most players know playmats as a recent phenomenon—you didn't see them much before Lorwyn/Shadowmoor block or so—the Khalsa Brain Company had been making them as far back as 1994.
The pictured mat is from one of the earliest Spellground print runs even before they had the official license to use Magic branding and iconography. You can see a headstone depicted for example which is where your graveyard was supposed to go. Starting in 1995 or 1996 Khalsa Brain reached a legal agreement with Wizards and began making a small number of official playmats. You see Mirage block ones pop up from time to time as well as the official mats of the first few World Championships and Pro Tours.
There are dozens of different variants of these floating around and condition seems to matter more than content. Some of the more ordinary models will sell higher than a World Champs edition if it's in better shape and mats without Magic content printed on them sell just as well as branded models. The big price difference is between single player mats and two player ones. The latter are so big that they sit across the table and allow both players to use the same play space. These are the most coveted—and most valuable—of all.
Keep in mind however that only the original Spellground mats command value in the hundreds of dollars. These mats were individually silkscreened and are prized by collectors and pros—especially in the Vintage community—for being of the highest possible quality. You can buy reproductions of these for $25-$50 very easily but they are of lower quality and aren't nearly as desirable. The best way to tell the difference is in the color of the printed graphics. The originals come in blue silver and several other colors while the new mats are only available in tan.
Grand Prix Lincoln Squirrel Themed Playmat - $75-$100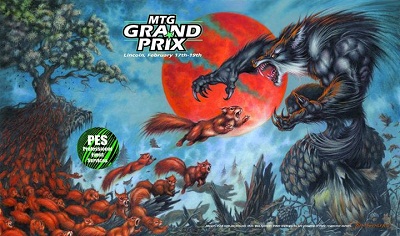 In recent years all of Magic's Grand Prix have offered a unique playmat to all participants. For a while they had actual Magic art on them but recently they have been original pieces often commissioned from artists who have done work on Magic in the past.
While most of these playmats end up settling in the $20-$40 range this particular playmat is worth twice that. Not only was this Grand Prix event sparsely attended due to the location and weather but a certain subsection of casual players love Squirrels with a passion that no one else can hope to understand. For a while this playmat was causing an even bigger stir—just after release it was hitting $350 on multiple eBay auctions! While things have calmed down since then this is still a very hot mat that will break $100 in auction on the right day.
1995 & 1996 Three-Ring Binders - $40-$60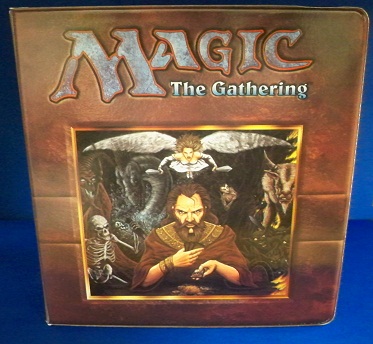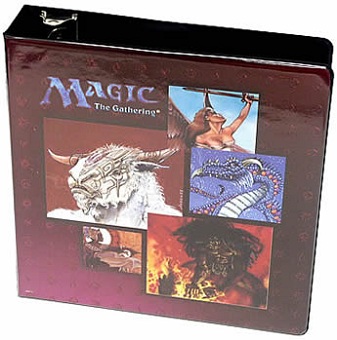 There are a few other old binders of note also made by Ultra Pro encompassing sets from I believe the Rath cycle Urza's Block Masques block and Invasion block. It's hard to find data on how many of these there are but I think there was a binder put out for each set during that four-year period.
Before that there were these two beauties put out in 1995 and 1996 respectively. While I've seen plenty of them in my collection buying travels finding them in good condition is much harder. As anyone who used a three-ring binder in elementary school knows the rings on these break after just a few months of use. Constant maneuvering in and out of backpacks doesn't help either. If you can find either book in near mint condition asking $60 or so for it isn't out of the question.
Duelist Life Counters - $50-$100
Starting in 1995 the Duelist Magazine ran an ad where you could purchase your own official Duelist life counters:

Made to fit inside a tournament pack (and scuff up your Underground Seas) these life counters were both portable and cool. They were made for about four years running and each year the style was slightly different.
Here's the green counter from 1995: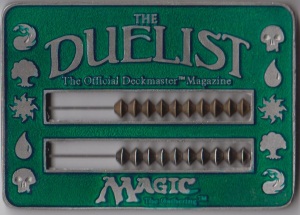 And here's the version from 1998: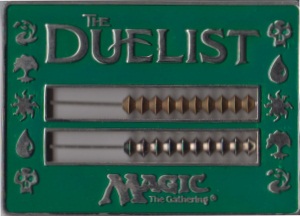 Age isn't as important to these as condition is. Very few people care about the difference between the editions so you can probably pick which year you want to get your counter from without too much of a price issue. In fact you can pick up the 1995 version for $10 less than the 1998 model here on StarCityGames.com!
The eBay cost of these has started to catch up to the retail cost and really nice examples of these sell between $80 and $100 all the time on the secondary market. If you want one picking it up here before the price goes up more seems like a reasonable idea.
15th Anniversary Life Counter - $45-$80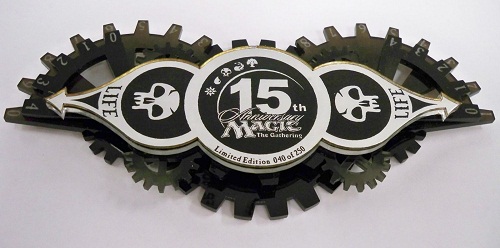 These life counters were produced for Magic's 15th anniversary and released (I believe) as promotional items during Gen Con 2008. While they are much much rarer than the Duelist life counters above they generally sell for a bit less since they're made of plastic and aren't quite as iconic. They're still pretty cool looking though.
There were only 250 of these made in each color and they are all individually numbered. While I don't see the price on these moving all that much the fact that they are actually pretty rare means you should try and snag one soon if you are interested.
Scrye/Reaper Miniatures Life Counters - $35-$80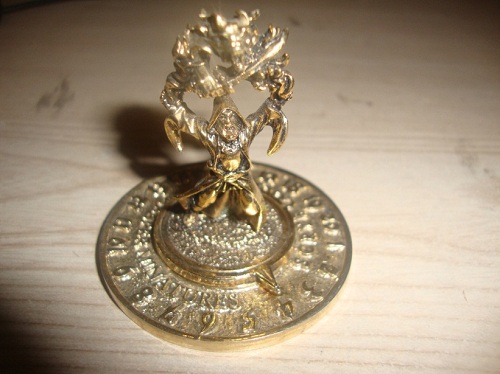 If you play enough Dungeons and Dragons you probably know Reaper Miniatures as the company that puts out some of the coolest looking pewter models on the market. For a while they teamed up with card gaming magazine/price guide Scrye to put out a series of little models that sat on top of life counters. Not only were there versions for each of the colors of Magic (with appropriate colored bases) but there were bronze silver and gold editions as well. In fact some of the gold miniatures were actually 18k gold plated!
There were a ton of different figures produced too ranging from wizards casting spells to a disembodied hand holding an orb. They all seem to be worth roughly the same and condition is the biggest indicator of value. They're hard to sell though so make sure you have a home in mind before picking one up in trade.
Jones Planeswalker Sodas - $60-70/set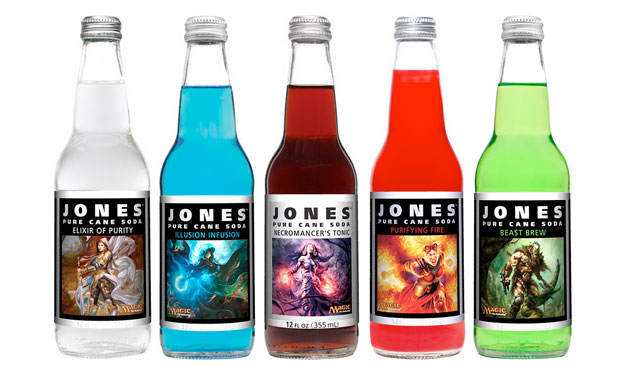 These Jones sodas featuring the Lorwyn planeswalkers were done up for the M10 Prerelease and were given to some stores in limited quantities. They were pretty tasty—Elspeth's was the best in my opinion—but now they're out of print. The last two sets sold on eBay for a whopping $70.
I guess these bottles would look pretty in a window but keeping old soda around just seems weird to me. If you still have yours though you should probably sell them—I can't imagine this stuff will keep well for years to come and I don't think the empty bottles will ever have much value.
Innistrad FNM&M's - $0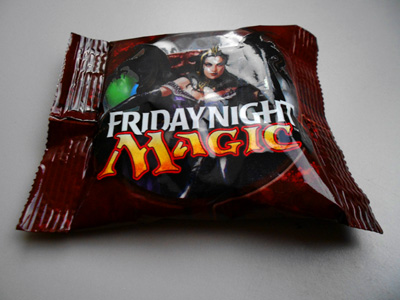 Dear Chas
You are an idiot. You should have eaten your bag of these at FNM like everyone else did. Now they're old and probably full of mold and spiders. Great job you!
Best wishes
Chas
Spindown Dice - $2-$30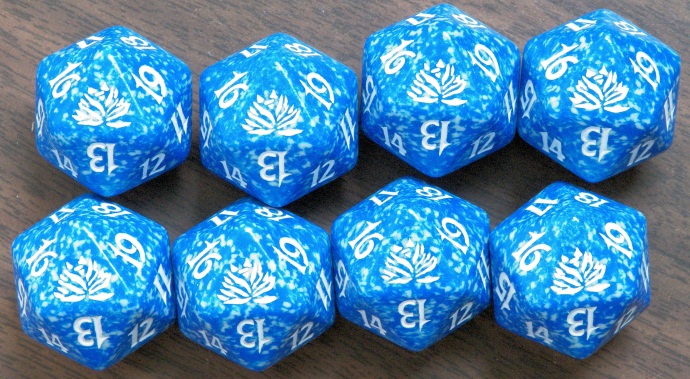 Very few people seem to know that these actually have value! It's not just theoretical value either—they're all on SCG's buylist so they're a very low risk pickup. Not sure which dice are worth the most? Here's a quick summary of SCG's sale prices:
Base Sets
9th Edition - $7
10th Edition - $7
M10 - $4
M11 - $2
M12 - $2
M13 - $2
Expansions
Apocalypse - $20
Odyssey - $25
Torment - $15
Judgment - $20
Onslaught - $30
Legions - $12
Scourge - $20
Mirrodin - $15
Darksteel - $8
Fifth Dawn - $8
Champions of Kamigawa - $8
Betrayers of Kamigawa - $10
Saviors of Kamigawa - $6
Time Spiral - $6
Planar Chaos - $5
Future Sight - $6
Coldsnap - $6
Lorwyn - $8
Morningtide -$6
Shadowmoor - $6
Eventide - $5
Shards of Alara - $6
Conflux - $5
Alara Reborn - $5
Zendikar - $4
Worldwake - $4
Rise of the Eldrazi - $4
Scars of Mirrodin - $2
New Phyrexia - $2
Innistrad - $2
Dark Ascension - $2
Avacyn Restored - $2
Special Releases
15th Anniversary Die - $30
Black Lotus (Black Green Red White) - $10
Black Lotus (Blue) - $5
Deckmasters - $10
From the Vault: Dragons - $15
From the Vault: Exiled - $10
From the Vault: Relics - $10
From the Vault: Legends - $6
Planeswalker Symbol - $6
Helvault - $3
Premium Deck Series: Slivers - $4
Premium Deck Series: Fire and Lightning - $2
Premium Deck Series: Graveborn - $4
Until SCG started buying and selling these earlier this year there was really no good place to get pricing data. In fact these were rarely put up for sale at all. I have a good friend whose favorite set is Scourge and he collects spindowns from that set. Several years ago he promised to throw a party for anyone who brought him a Scourge die. This seemed like sweet value so I spent a few weeks tracking one down. I was able to but it wasn't easy.
Because of that the prices of these are still pretty malleable. I don't know how well they sell but they certainly have their market. Picking up any from Mirrodin or earlier seems like a very safe bet and I'd imagine some of these values will shift over time—probably toward the more popular sets. It's too bad there weren't any for Ravnica block—if there were I'd expect them to be very hot over the next few months. As is Helvault dice seem like good pickups as well as Rise of the Eldrazi and Innistrad two recent beloved sets.
Uncut Sheets -$150-$1000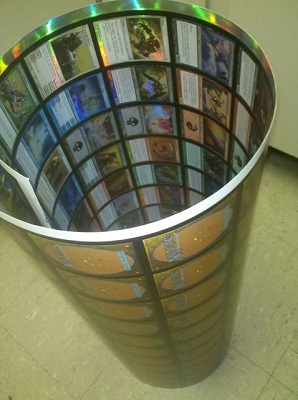 Looking up the price of these was easily the biggest shock of writing this article.
One of my good friends has a foil sheet of M11 rares that he won at a tournament. He had it professionally framed and hangs it over his dining room table where it looks down at us every time we cube draft. It is single-handedly the coolest looking Magic collectible I have seen and I've been known to spend long tracts of time in between rounds just sort of…staring at it. Uncut sheets are straight up amazing. I thought it was likely worth more than any card I own.
I was wrong.
A quick look at eBay completed listings shows one seller trying to sell his uncut sheet of M13 uncommons. Here's where he started:

Yeah ok that's probably too high. But he probably sold it once he wised up and dropped it by a few bucks right?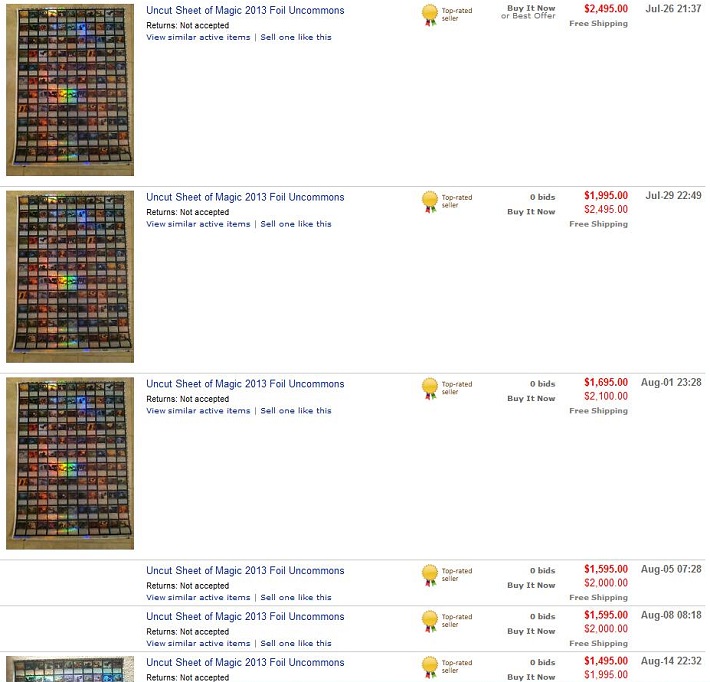 Not so much. It's still being listed at the ludicrous price of almost $1500 with nary a bid in sight.
Looking at some auctions that actually did find a buyer I was shocked to find that two amazing uncut sheets—Antiquities U1 (with Mishra's Workshop and Candelabra) as well as Italian Legends Rare (with Tabernacle Moat etc.) both sold in the $700-$750 range. That had to be a mistake right? Aren't the individual cards worth more than that on their own?
Scrolling down the page it also looks as if uncut foil sheets of recent sets (in this case M12) are worth between $200 and $300. While you might expect foil sheets to be worth significantly more than non-foil sheets the fact is that Wizards generally just gives out foil sheets as tournament prizes these days. And not only have they started doing this a lot but apparently very few Magic players are willing to make the investment in getting one of these properly framed.
In truth these sheets can be worth less than the cards printed on them. Getting them professionally cut so that the cards would be tournament legal would be cost prohibitive so they truly are just display pieces. While this might be distressing news to those of you who have won these sheets in tournaments it's awesome news for those of us who might want to buy up a bunch of these someday to display all over my house. Uh I mean your house.
Original Art -$125-$3500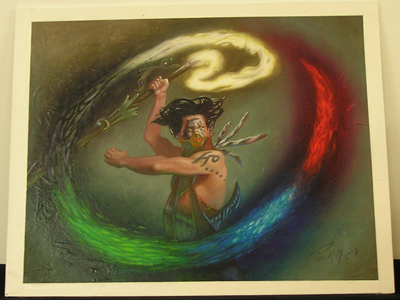 I'm going to end this week with the most high variance item of all: original Magic art.
Everything else on this list has been mass-produced. Even the items that have were released in limited quantities had been made for the consumer market and thus aren't truly unique. Every piece of Magic art on the other hand is one of a kind.
There's no better argument for saying that a thing is worth what someone will pay for it than the art world. We've left the realm of card collecting entirely now and prices depend more on how nice the art is—and how respected the artist—than on rarity of the card they depict.
Of course iconic art is generally going to be worth more than art for cards that no one played. The most expensive piece on eBay right now is the original painting for Mox Pearl which is being listed for a whopping $112000! The least expensive? Claws of Wirewood sold for a mere $130. That's almost as low as some of the My Little Pony fan sketches that accidentally showed up in my eBay search for Magic art!
But recognition isn't everything. For example SCG has this amazing Rob Alexander Portal 2 I version of Wildfire available for $1400: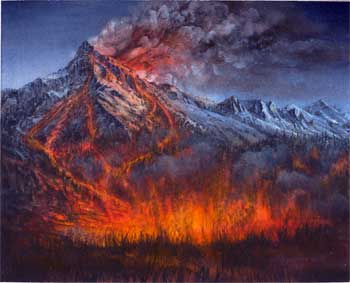 It's jaw-dropping but chances are you didn't even know this was a piece of Magic card art unless you are a walking encyclopedia of card knowledge or one of the ten kids who actually bought a pack of that set.
Meanwhile I'm sure you all recognize this one: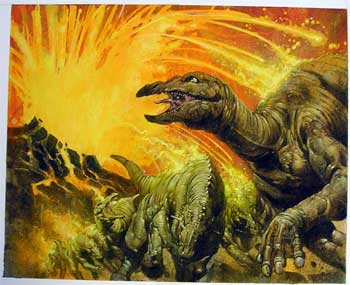 This is Carl Crichlow's Wildfire that made it into Urza's Saga which is easily the most well-known version of the card. Even though most old school Magic players could pick it out from across the room this one is available for only $800—almost half the price of Rob's painting.
There are exceptions for things like Mox Pearl but by and large you can expect that a 'lesser' piece of Magic art will run between $150-$400 and a 'nicer' one between $700-$3000. For example Keldon Warlord recently sold for $2300 and the Ice Age Icy Manipulator was bought for three grand. I'd imagine some nice stuff by Rebecca Guay rk post or other iconic artists would go even higher. And I shudder to think how much the original Serra Angel or Shivan Dragon pieces would be worth.
If you just want to own a piece of Magic art and don't care which one though you can generally pick it up for the price of a couple booster boxes. Not a bad price to own a unique piece of Magic history.
Until next time–
–Chas Andres