Imagine for a moment that you're out for a nice evening stroll. Suddenly you're knocked to the ground by a flash of blue light and a sonic boom. After getting up and dusting yourself off you look around and notice a familiar face staring back at you from a scorched patch of earth where your neighbor's tulip bed used to be. It's you. From the future.
Without a word your future self hands you a charred scrap of paper. It's a graph showing the progress of a stock index over the next six months. Over that time the index drops in value by almost half. "There are a couple of winners" he tells you "but 95% of the stocks in this index will lose value over the next few months."
"Why are you here?" you ask. "What should I do? Where did you get a time machine? Does future me have an awesome girlfriend yet? Which of the stocks are going to go up?"
Before he can answer any of your questions though the blue light swallows him up and he disappears. All you are left with is the scrap of paper showing that 50% decline in the stock index's price.
Would you buy any stocks from that index?
…
The overall price of Return to Ravnica singles is going to decline by around 50% over the next six months. I don't need a time machine to tell you this just a reasonable knowledge of economics.
Consider that Magic prices are largely driven by supply and demand. As of right now Return to Ravnica supply is at its lowest point ever. We've got five straight months of drafting ahead of us large retail stores are going to be cracking boxes and Magic Online set redemptions will help fill market demands. Right now people are limited to online preorders and whatever was opened at the prerelease. There just aren't many of these cards available yet. That will change soon.
Also the overall supply of this set is going to be higher than average. If you look back you'll notice that most cards it would have made sense to preorder have come from short printed sets. Winter and spring sets have considerably smaller print runs than fall sets—they're drafted less and people are less likely to randomly buy packs because the block concept isn't as fresh. Couple that general trend to the massive hype surrounding Return to Ravnica and you've got a solid recipe for prices dropping across the board.
Remember—this will almost assuredly be the best-selling Magic set of all time. Millions of these cards will be out there. You know how many crappy Ice Age rares there are? More than that.
If you've been following Ben Bleiweiss' unprecedented coverage of Return to Ravnica pricing over the past few weeks you already know that the prices on many of these cards has doubled or tripled since their initial listing. StarCityGames.com didn't set a high value on these cards—Ben simply reacted to massive demand and raised the prices according to what the market bore out. So far demand has been through the roof.
Gold sets like Return to Ravnica are uniquely susceptible to inflated hype during the preorder period. When analyzing a card in a vacuum people tend to go straight to the best-case scenario. Because gold cards are able to have a lower overall casting cost in exchange for a heftier color requirement it's far easier to 'wish cast' them into Standard powerhouses.
Unfortunately these Magical Christmasland scenarios rarely pan out in Standard. If you're buying a card right now you're paying almost entirely for its possible upside. The excitement surrounding this set has also made it harder for cards to slip in under the radar meaning it is less likely that a major sleeper will be discovered in the next few weeks. At this point there have been articles written about almost every rare in the set.
The sheer power of Avacyn Restored is also raising the price of cards in Return to Ravnica. We haven't had a $50 mythic rare for a while and Bonfire of the Damned has reminded people that sometimes you can preorder a card for $5 and increase your money tenfold. Whenever a card breaks out like that people go a little silly the next time around. Remember Jace the Mind Sculptor is why Koth of the Hammer presold for a solid $50 and stayed there for a few months when Scars hit shelves.
Avacyn Restored was a short-printed third set that was also an unpopular draft format and contained a mechanic that turned out to be more powerful than Wizards' R&D had anticipated. Much like New Phyrexia before it Avacyn Restored was a perfect storm of value. I don't think Return to Ravnica will be the same.
The bottom line is that the average retail value of the rare/mythic slot in Return to Ravnica—not counting foils—is almost $5 right now. Considering packs will still be available between $3 and $4 that will change rapidly as more product is opened.
If you use Magic purely as a means of speculation then Return to Ravnica is an awful set to buy into right now. Even if you think you have a good sleeper target your chances of getting a good return on investment is minimal considering how many hot rares are in this set vying for the limited amount of available value.
If you have money burning a hole in your pocket I'd consider the following cards long before shelling out for Golgari staples or the new planeswalkers:
Elspeth Tirel - $5 (up to $6 since this was written). A very popular casual/token generating planeswalker. Look at the price of Sarkhan Vol right now. She'll be back up to $10/$12 within a year or two. One of the safest investments you'll find anywhere.
The Scars of Mirrodin Fastlands - $2-$5. These lands are still being played in Modern and Legacy. They'll be back into the $7-$10 range soon enough.
Consecrated Sphinx - $5. Another casual all-star that should settle in the $7-$10 range.
Green Sun's Zenith - $8. A Legacy staple that will eventually hit $15-$18.
Elesh Norn Grand Cenobite - $10. One of the best fatties ever. This is her rock bottom.
Cavern of Souls - $28. This will probably trade at $35+ during Standard season and will be stable in the $30 range in Modern/Legacy for years. You might have a shot to pick these up cheaper a year from now but they won't drop by much.
There are lots of other Scars block goodies—Blightsteel Colossus Sword of Feast and Famine Mox Opal Asceticism and more—that make great pickups right now. If you've ever wanted any of these for Legacy Modern Commander or Cube this is your chance.
Of course Magic goes far beyond the dollar signs. Most of you probably aren't disciplined enough to stay away from Return to Ravnica singles for the next few months. Heck I sure wasn't. The day SCG put their foils on sale I blew through all of my store credit picking things up for my cube. Even though the prices will come down I couldn't wait to get my hands on the latest goodies from Wizards. Many of you probably play Standard and you have no choice but to get some of the cards now if you want to compete. Telling you not to buy in just sucks—the set is awesome and we all want to play it. There's more to this game than making bank.
In most of my set reviews I go through each card and give you my take on where that price will go. This time I'm not going to do that—the answer for the vast vast majority of cards is 'down.' Instead I'm going to attempt to evaluate which cards have the best chance to hold most of their value and which are likely to enter free fall. Even though you're losing value both times the difference is huge.
Consider Liliana of the Veil: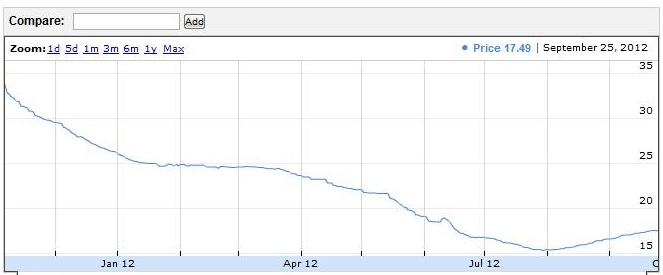 If you bought your Lilianas at $30 when they came out you likely aren't all that disappointed about your return on investment. You could have played with her for about five months before selling and losing only $5 per card or you could have held onto her for a full year and lost only about $12 per card.
If she rebounds a bit this year—and I suspect she will—you'll still probably only have to pay about $8 per card for the pleasure of having access to her for a full season. That's pretty good for a Standard card.
On the other hand here's Warren Instigator: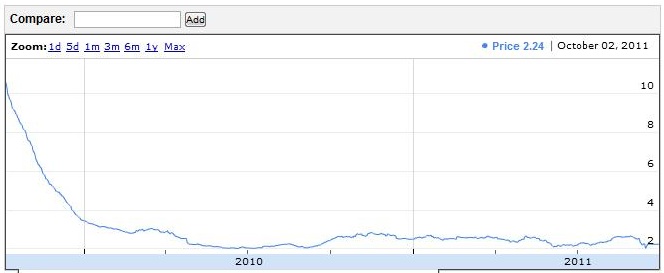 This one tanked almost immediately and never recovered. If you bought in at $10 you likely never even had a chance to play it in Standard before it cratered.
Preorders are often about minimizing risk. Warren Instigator had a shot to be a $50 mythic but it also had a high probability of busting out entirely. Liliana was more expensive to start with but she was very unlikely to bust. Since we already know that the price of most of these cards are going down the trick is in identifying which cards will go down the least. That way you won't feel as if your purchase was a waste.
Obvious Staples
These are cards that are likely to maintain a good portion of their value over the next two years and possibly beyond. I expect that demand for them will always be relatively high.
All of these cards compare very favorably to cards that are already successful. This version of Jace actually flew under the radar for a while but like most Jaces he is deceptively good. Considering the vastly inferior Memory Adept version still sells for $10 I have a hard time seeing this one falling below $20. He's comparable to Jace Beleren in Standard and that card was $10-$12 for a long time even though it was reprinted in several sets.
Abrupt Decay Detention Sphere Dreadbore and Mizzium Mortars are all top quality removal spells. Abrupt Decay is the best of them and will make an immediate impact in Legacy as well. The rest of them will likely be three or four-ofs in their respective decks in Standard and possibly Modern. Mizzium Mortars has the most room to grow and it does a reasonably good Bonfire impression. Cyclonic Rift much like Mizzium Mortars has value at all points during a game. If there is a blue-based control deck this card will see play in it.
The shocklands have already proven their worth multiple times in multiple formats. I suspect they will settle in the $8-$12 range but you could do worse than picking them up now if you feel that you must. They will never go lower than $8 so the risk of you losing out entirely is close to zero.
Bets I Like
Cards on this list are risker than the above staples but I still think they will make an impact in Constructed and will retain a good portion of their value.
I've already spoken a lot about Angel of Serenity so I don't have much more to say. She was the only card I preordered at $8 and I'm very happy with that decision.
Trostani does a lot for a four-drop though she's held back a lot by her casting cost. Even still I think she's one of the better mythics.
Niv-Mizzet's color requirements are very steep but it's basically game over when you untap with him. My instincts tell me he is a little overrated at $10 but several players and analysts I've talked to have told me that he is one of the most powerful cards in the set and will likely see Constructed play. Regardless he'll be massively popular with the casual crowd much like the older Niv-Mizzet. You could make a worse gamble.
Chromatic Lantern is one of the best casual cards in the set and will remain so for years. Pick up foils when you can.
Lotleth Troll will likely be the heart of any aggressive/midrange/tempo Golgari deck. He's outstanding on the curve and amazingly efficient. I expect he'll be a four-of in one of the tier 1 decks right out of the game.
Supreme Verdict is a nifty sweeper that should stay in the $3-$6 range simply because it's the best 'Block Wrath' in a while and Day of Judgment likely won't be back this season. Loxodon Smiter isn't quite what Selesnya wants to be doing but it's very powerful and has a chance of impacting Eternal formats as well.
Bets I Dislike
I want to be clear here—putting a card on this list doesn't mean I don't personally like it. In fact a bunch of my favorite cards in the set are on this list. I also wouldn't be shocked if any one or two of the above cards breaks out and goes up in value.
The cards on this list are here simply due to variance. Many of them are situationally amazing or have a drawback that is still very uncertain. Call them the Skaab Ruinator all-stars—they could be amazing but also have a decent shot of busting out.
Vraska will likely come down quite a bit from her $40 price tag but I do think she will always be one of the most valuable cards in the set probably settling in the $20-$25 range. She is one of the only cards in Return to Ravnica that doesn't have a really good historical comparison so there's a shot she could be more powerful than we think. The fact that she can protect herself destroy anything and win the game is huge. Early testing with her has been mixed at best though so sell accordingly.
Of the cards on this list the most likely to pay off are Armada Wurm Rakdos's Return and Deathrite Shaman. If Armada Wurm is the finisher of choice in Selesnya decks he'll be worth his $15 price tag. If not this is a $4-$6 casual mythic. Rakdos's Return might end up being too slow and situational. Deathrite Shaman might not be reliable enough as a mana producer to see play over the more stable Arbor Elf.
Rest in Peace is one of the best graveyard hosers ever. A few years from now it'll likely settle at $5+ thanks to demand in Eternal formats. This type of card usually doesn't do well while it's in Standard though and I wouldn't be shocked if it drops to $1 before long.
Epic Experiment is one of my favorite cards in the set and it should see play in Modern. Unfortunately Modern isn't a very popular format. Cards from recent sets that are only good in Modern don't tend to be worth all that much. This is the Past in Flames of Ravnica—a very good combo card that won't have enough of a home to hold its value.
I would bet against the other cards on this list seeing much tournament play. Casual value should keep them propped up for a while (and pick them back up again post-rotation) but they'll probably fall sharply from their current high. A card like Rakdos Lord of Riots for example might have the chops to be a $10 card a few years from now but you'll have plenty of chances to pick him up for $5 well before that happens. The drawbacks on Desecration Demon and Underworld Connections are too large for me to suggest buying in yet.
I suggest keeping this list close while watching coverage of the next few SCG Standard Opens. If any of these cards starts breaking out buy in accordingly.
Casual/Commander Cards to Pick Up As Bulk
All of these cards should be available for close to bulk (or bulk mythic) prices over the next couple of years and I like them to do well in the long term. All of these cards will see play in Commander—heck even the worst two mythics in this set are a good deal better than Eternity Vessel Malignus or any number of unplayable mythics from recent years.
If you can pick these up in trade as throw-ins or under retail just put them in a box for a couple of years and forget about them. You'll be able to pull them out and trade them for the hottest Standard tech of spring 2015.
Possible Sleepers
There aren't too many near-bulk rares in this set that have the potential to pull a Spellskite and jump from $1 to $10. These are the best of the bunch.
Mana Bloom's 'once per turn' clause probably just makes it a worse Rampant Growth in the early game and a worse Gilded Lotus in the late game but I can still see some decks wanting to make use of this in Constructed. Something needs to fill the Birds of Paradise slot and this might end up being the best option for now.
Pack Rat is actually kind of insane. The ability works at instant speed so attacking into or blocking a Rat is really obnoxious since the new Rat(s) will pump your old one. Because of the 'copy' ability killing a Pack Rat with a removal spell is kind of useless if they have mana up—they'll just make another one and go off later.
This card really shines in attrition-based control matchups. Late game this card allows you to turn every draw into another creature that also pumps the creatures you've got on the table. Turning one Pack Rat and two useless lands in your hand into a trio of 3/3s is really sweet.
Of course this sort of strategy worked better many years ago than it does now. It's kind of a Meloku-esque throwback to another era which is probably why I like it so much.
With Armada Wurm selling at $15 I just have to ask—what if that isn't the token you're looking for? What if Grove of the Guardian is? If populate is a good Constructed mechanic I feel like this card might be the best way to speed up your early game without clogging your hand while still allowing you to do some absurd populating later on.
Four mana is a lot for a removal spell but it's one that can hit a different creature each turn. Getting out a couple of these and then wrathing is going to make it impossible for an aggro or midrange deck to ever catch up. It might be a win more card but at $0.50 it's your best chance to gain value anywhere in the set. I picked up several sets myself at this can't-lose price.
Commons/Uncommons to Pick Up in Foil – Cube Staples
All of the above cards are brand new staples that should be added to most large cubes. They've all made the cut of my 720 and I suspect other cubists will be heavily trading for them early on. I don't think they have much more room to grow but they'll all hold their value since foils are so much scarcer than non-foils. Try and pick these up before people realize that they're brand new Cube staples.
Commons/Uncommons to Pick Up in Foil – Other Constructed Cards
I expect all of these cards will see a decent amount of play in one format or another. Pick them up when applicable.
Return to Ravnica Cards Currently Out of Stock on SCG (09/25/12)
Sometimes checking to see which cards are out of stock can indicate where certain prices are heading. Being sold out doesn't always mean something—I don't set prices or have any inside information so I can't tell you what was just restocked or how quickly a card sold out. I do think it bears a moment of reflection though.
As of now these are the only sold out cards in the set. Supreme Verdict Overgrown Tomb Pack Rat Mizzium Mortars Lotleth Troll and Abrupt Decay are close. Take that for what you will.
Editor's Note: Since this writing Lotleth Troll has also sold out.
Overall I think this set is very strong. There are going to be a lot of happy people opening packs over the next few weeks because there are very few cards in this set that are truly bad to open. This unprecedented depth and popularity is going to hurt the overall value of the set though and I expect prices to go down across the board over the next six months.
If you're going to buy Return to Ravnica cards do it because you're excited about Magic and you can't wait to play them. Not every card purchased needs to be a speculation nor should it. Pick a guild and start brewing!
| | |
| --- | --- |
| | I am Simic. When it comes to playing Magic the blue/green color combination appeals to my desire to have both the best creatures and the most versatile spells. I always feel like I'm somehow handicapped when I don't have access to Islands but I still like ending games by throwing giant monsters at my opponents. From a philosophical standpoint I feel as if the Simic represent humanity's best possible future. Our species has been in conflict with nature for far too long and that divide threatens to become our ultimate downfall. By combining the best of advanced science with a respect and understanding of nature we humans can transcend our evolutionarylimitationsand become trulywondrouscreatures. |