With an even 200 players for the StarCityGames.com Legacy Open in Atlanta Legacy is showing that it can bring consistently large numbers out for events. The release of Rise of the Eldrazi caused a big shake-up the day before in the Standard Open but the higher power level of Legacy makes cracking into the top decks much harder. Only two cards from the new set - Emrakul the Aeons Torn and Inquisition of Kozilek - showed up in the Top 16 deck lists. Rise has already showed that it is a powerful set and I expect to see more integration in the future. However it may take a while to figure out where the cards will fit in a powerful format such as Legacy.
As I alluded to in the Teaser the two decks in the finals did not put up the numbers that you might expect from tournament winners. Ad Nauseam was at best disappointing on the day and Reanimator was the big dog that everyone was ready for. I saw many a Gilded Drake stealing an Iona Shield of Emeria set to Black; that ends games pretty quickly.
Let's look at the field: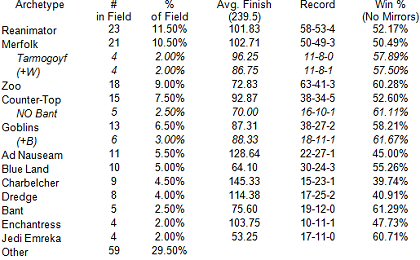 The field was similar to most Legacy metagames: very diverse with many of the usual suspects comprising between 5% and 10% of the field. Zoo had a good day as did newcomer Jedi Emreka and Blue Land continued the strong run that began with Chris Woltereck's win in Indianapolis.
Check out the Full Spreadsheet for more info.
Reanimator – 11.50% of the Field – Won 52.17% of Matches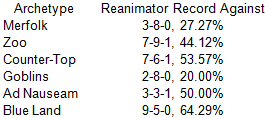 For putting two decks in the Top 8 and three in the Top 16 Reanimator did not have an impressive day. Weak showings against all of the major Aggro decks are a cause for concern and it may be more of a numbers game and top flight players that made for such strong representation of this deck in the money finishes.
Merfolk – 10.50% of the Field – Won 50.49% of Matches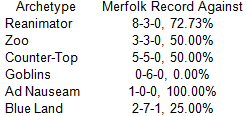 Merfolk is definitely one of the weapons of choice against Reanimator as the combination of quick pressure and free counter-magic make for a potent recipe. Once again the numbers back up adding Tarmogoyf to the fish and in Atlanta the White splash saw similar results to adding the best Blue card ever printed in another color. In Atlanta the major match-ups fell into three distinct categories: Auto-Win 50-50 and Unwinnable. By the time your opponent plays their second spell it should be pretty easy to figure out how the round is going to go.
Zoo – 9.00% of the Field – Won 60.28% of Matches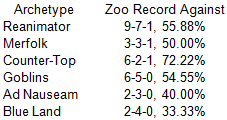 While Zoo put up strong overall numbers its performance against the top of the field was lackluster. Against decks that comprised less than five percent of the field Zoo won more than two thirds of its matches. (35-17-0 67.31%) This type of dominance of Rogue strategies is all well and good but I would like to see a bit more game against the big leagues.
Counter-Top – 7.50% of the Field – Won 52.60% of Matches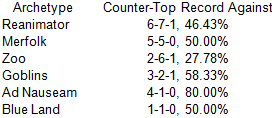 Natural Order Bant continues to be the best performing sub-archetype of the Counter-Top decks. Without its strong performance the other Counter-Top decks post a weak 22-24-4 (48.00%) record.
Goblins – 6.50% of the Field – Won 58.21% of Matches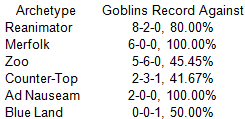 After strong performances in Orlando and Indianapolis Goblins have again posted a very good day. Holding very strong match-ups against the two most numerous decks in the field is a good place to be in the metagame.
Ad Nauseam – 5.50% of the Field – Won 45.00% of Matches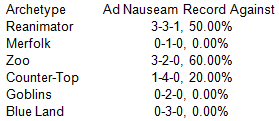 For the winning deck to be the only major archetype to fail to win 50% of its matches is quite surprising. I spotlighted this deck in my Orlando article due to its strong performance in that event and while it took home the trophy this was a disappointing follow up to such a strong event.
Blue Land – 5.00% of the Field – Won 55.26% of Matches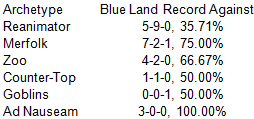 This archetype has put up some very strong numbers since its emergence in Indianapolis. It managed to avoid Reanimator in any real numbers at the last two events but that looks to be its only major issue among the top decks.
Under the Radar
Ian Ellis came to Atlanta armed with a staple archetype throughout every format: G/W/B Rock. It seems that whatever cards are available these three colors fit together in some way to form a midrange deck strong enough to be competitive.
Creatures (12)
Lands (23) Ian brings full sets of tournament powerhouses Thoughtseize Dark Confidant Vindicate and of course Tarmogoyf to the table. The combination of Exploration and Crucible of Worlds means that he can abuse Knight of the Reliquary Wasteland and Horizon Canopy all worthy of inclusion in their own right but capable of taking over games when combined with a recursion engine. The Crucible also allows Ian to recover from his two Armageddons and his Ravages of War.
The focus turns back to Standard this weekend for National Qualifiers but with Rise of the Eldrazi having minimal impact on Legacy I'm working on a compiled results spreadsheet to help you guys prep for a very full June!