The nice thing about Legacy is that it seems that by the time something becomes "common knowledge" it is already out dated. When I was in San Juan all I kept hearing was that Reanimator was THE deck to beat in Legacy. In Philadelphia the powerhouse showed up in force but failed to earn anyone an extra Open Series point with a lackluster performance. For a format filled with insanely powerful spells and degenerate combos Legacy has an excellent metagame that ebbs and flows and where many different decks are capable of a breakout performance any given week.
Let's look at the field: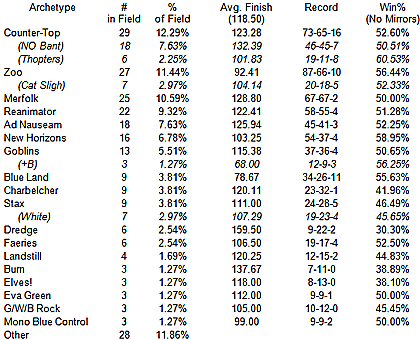 One striking thing about this breakdown is that there don't seem to be many gems hiding at the bottom of the table. Most of the high Win Percentages went to the popular Archetypes although there were some individuals and rogue decks that broke that trend.
15th - Louis Gentile – Scapeshift Land
20th – Lewis Laskin – Landstill
25th – Sam Roukas – U/W Aggro
32nd – Michael Pozsgay – Imperial Painter
The major players remain the same except for one new entry: New Horizons. This deck is based around the powerful creatures Tarmogoyf Knight of the Reliquary and Terravore and backs them up with countermagic and card draw. New Horizons posted the highest Win Percentage of any full Archetype (edged by Sub-Archetype Counter-Top Thopters) and constituted half of the Top 4. Zoo and Merfolk continue to be the most popular Aggro decks and recent finalists Reanimator and Ad Nauseam remain the major Combo decks.
Check out the Full Spreadsheet for more info.
Counter-Top – 12.29% of the Field – Won 52.60% of Matches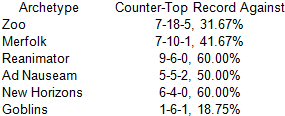 Counter-Top decks made up the largest chunk of the field and are differentiating enough that I may split them in later articles. Natural Order Bant and Thopter Toolbox have little in common except the combo and probably deserve to be their own Archetypes. Please feel free to add your two cents in the forums!
Zoo – 11.44% of the Field – Won 56.44% of Matches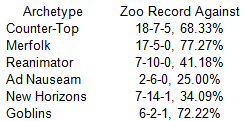 Zoo continues to be an excellent and popular metagame choice for a field filled with Counter-Top and Merfolk. It's weakness to combo makes it a bit risky and leaves you open to having your day ruined by a couple bad pairings. A lot of builds are moving towards a traditional rush and burn Sligh strategy and the seemingly innocuous Steppe Lynx is finding a place in this new breed of "Cat Sligh" Zoo decks.
Merfolk – 10.59% of the Field – Won 50.00% of Matches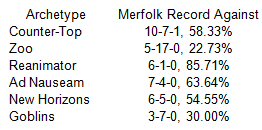 With 25 Merfolk decks in the field I was astounded that 22 of them were Mono Blue. Whenever I have looked at the breakdown of Sub-Archetypes it has been clear that the deck benefits from a splash of either White (Path to Exile Meddling Mage Swords to Plowshares) or Green for Tarmogoyf. Many of the Merfolk decks in Philadelphia utilized Back to Basics but a 50% Win Percentage should be a flag that it is time to go back to non-basics and start splashing again.
Reanimator – 9.32% of the Field – Won 51.28% of Matches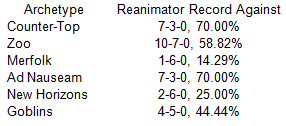 So much for the THE best deck theory. Reanimator is certainly powerful and it put up some impressive numbers as it has for the past few events. However it still clearly has some terrible match-ups against decks packing countermagic. It's tough to make a case for a best deck that fails to Top 16 at an event where it is almost 10% of the field.
Ad Nauseam – 7.63% of the Field – Won 52.25% of Matches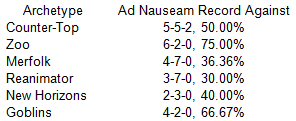 Atlanta's winning Archetype showed up in Philadelphia with one Top 8 performance but not much else. (2nd Highest Finish – 35th) The match-up that is interesting to me is the Finals showdown from Atlanta against Reanimator. While Ad Nauseam came out on top in Atlanta it had a rough day against Reanimator in Philadelphia.
New Horizons – 6.78% of the Field – Won 58.95% of Matches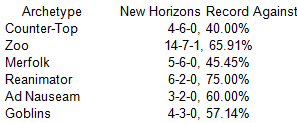 The new kid on the block takes the "Best Archetype" award for its 58.95% Winning Percentage on the day. Strong match-ups across the board and no major deck that looks like a big problem have me excited to see what this Archetype can do for the rest of the month.
Under the Radar
We are taking a trip a bit further down the leader board than usual today for a special request. Lots of you have asked me to feature Chris Woltereck's new take on the deck that he has been innovating since his win in Indianapolis: Blue Land. Many of the Star City Games crew have been running versions of this deck including Ken Adams at 16th place but let's look at the originator's list.
Blue Land – 3.81% of the Field – Won 55.63% of Matches
Spells (24)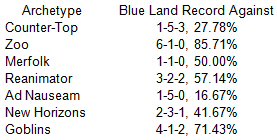 Now that's what I call a tough day. When over 75% of your opponents finish in the top ¼ of the field and 1/3 finish in the top 10% that is a pretty rough draw for someone finishing in 60th place. Chris saw only Tier 1 decks all day which is a surprise since you can usually count on a couple of rogue decks during a large legacy event. Jumping right in with two Reanimator match-ups is a harsh welcome even with main deck Tormod's Crypt and three Faerie Macabre in your sideboard.
Blue Land posted the best average finish of any Archetype but it has been running into one major challenge: Draws. The Archetype averaged more than one Draw per player in Philadelphia which is simply crazy. The deck is very good at locking up the game and essentially winning but it is not great at actually closing the deal. Players find themselves in many game 3s where they are firmly in control only to watch turns expire without being able to finish off their opponent. If you are going to play Blue Land it is very important to be aware of your own pace of play as well as your opponent's. If you feel that your opponent is playing too slowly do not hesitate to call a judge those draws can be killers.
Thanks go out to everyone for a great event in Philadelphia and I hope that many of you are planning to attend our upcoming StarCityGames.com Open Weekends in Seattle this weekend and in St. Louis at the end of the month. See you in the forums!