It dominated the world of Extended during the most recent Pro Tour Qualifier season, but the Sword of the Meek/Thopter Foundry combo remains a powerful part of Legacy as well. Or at least it does for Seattle player Paul Waite.
The combo is simple: Cast Thopter Foundry, cast Sword of the Meek, sacrifice the Sword for a Thopter token, and the Sword returns from the graveyard equipped to the token. Repeat ad infinitum. Essentially you turn any spare mana you have into a 1/1 flyer and a free life. Paul simply inserted the combo into his blue-white control strategy.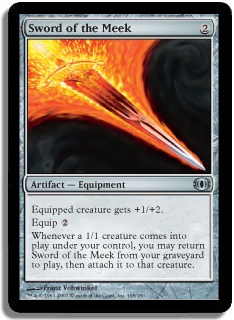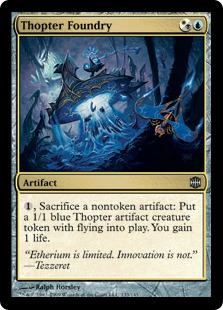 The deck, which relies on a classic tradition of mixing counterspells, removal, and card draw, is all the more powerful with the addition of the combo. He occasionally wins with Vendilion Clique and Jace, the Mind Sculptor as well. How does he make sure he has the combo when he needs it? Enlightened Tutor. The Tutor engine even allows him to abuse Sensei's Divining Top and a one-of package that features Moat, Ensnaring Bridge, Seat of the Synod, and Pithing Needle (amongst others). Get a load of his deck:
Creatures (2)
Planeswalkers (2)
Lands (21)
Spells (35) Paul Waite
The Tutor engine becomes even more powerful when you consider sideboard applications. Wheel of Sun and Moon can be utilized to shut down an opponent's graveyard strategy, affecting decks like Dredge, Lands, and Reanimator and strategies reliant on Tarmogoyf, Knight of the Reliquary, and Terravore. Humility puts a real hurt on decks like Zoo, and is particularly key at shutting off Qasali Pridemage, an otherwise powerful anti-artifact, anti-enchantment card from the beatdown powerhouse.
The reality of a deck like Paul's, of course, is that it's challenging to play it without making mistakes. After all, it inherently creates many, many decisions, each a unique opportunity to throw the game away. So is it the right call for you at the next StarCityGames.com Legacy Open (like the one in St. Louis June 26-27)? That all depends on how much time you can get in practicing with it. So put the list together and get working on it now and we'll see you in the bright lights of the feature match stage in St. Louis!