I was sad to miss the StarCityGames.com Open Weekend in Seattle and it definitely did not disappoint.
Luis Scott-Vargas
showed why he is considered one of the best if not the best player in the world with two Top 8 showings and even some judges got into the fun with William Laycraft wearing the SCG Blue on Day 1 then sleeving up and piloting his
Goblins build
all the way to 10th place in the Legacy Open.
Let's look at the field: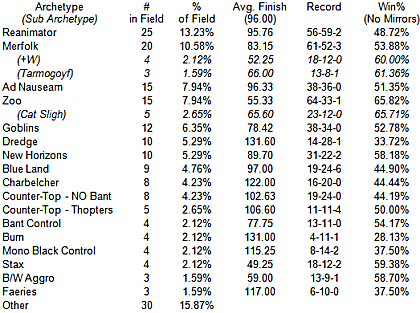 Stax builds have been making some noise recently showing up in greater numbers and grabbing a Top 16 spot (Alex Kenny – 11th) in Seattle. It is also worth noting that Chris Woltereck's build of Blue Land uses Smokestack out of the board so being prepared for the grinding lock out strategy is important even if you don't face a dedicated Stax deck. Counter-Top decks had a rough time of it in the first event that I split them up by Sub Archetype and Blue Land had a rough event with poster boy Chris Woltereck staying on the other coast.
Check out the Full Spreadsheet for more info.
Reanimator – 13.23% of the Field – Won 48.72% of Matches
Example:
Luis Scott-Vargas 5th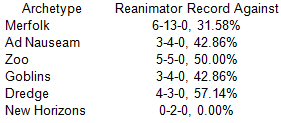 So much for the run as the best deck; you can't claim that title while losing more than you win. With the banning of Mystical Tutor weakening the deck as of July 1st it looks like Reanimator will be falling back to Tier 1.5 until something can bring it a bit more consistency. I still expect the deck to come out in force as many people have it built and it will still be one of the most powerful decks in the format but I expect to see more weekends like Seattle where it comes up short of the 50% mark.
Merfolk – 10.58% of the Field – Won 53.88% of Matches
Example:
Standard Build: Daniel Nguyen 25th
Tarmogoyf Sub-Archetype: Kevin Ambler 4th
+W Sub-Archetype: Brett Baugh 9th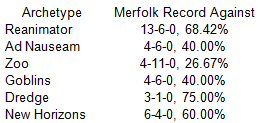 Once again stop playing Mono Blue Merfolk; it is just not as good as either of the alternatives. Seriously Tarmogoyf just took a big price hit with the change to Extended and now is the time to go pick up your set to upgrade your build. Merfolk is one of the decks that will take some collateral damage from the banning of Mystical Tutor. The deck historically feasts on Reanimator and Ad Nauseam which are the two decks that suffer most from the loss of the Mystical Tutor. Expect the field to become less kind to this metagame monster.
Zoo – 7.94% of the Field – Won 65.82% of Matches
Example:
Standard Build: John McFadden 3rd
Cat Sligh Sub Archetype: Matt Smith 2nd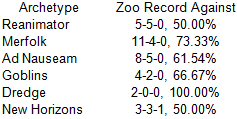 Zoo had one of the best days that we have seen at any Legacy Open. Winning almost 2/3 of its matches Zoo continues to dominate Merfolk and also managed to keep the rest of its major match-ups at or above the 50% mark. With three representatives in the Top 8 and the highest Win Percentage Zoo was a win in the finals away from the elusive Triple Crown. That said it certainly did enough to earn the title of "Best Archetype."
Ad Nauseam – 7.94% of the Field – Won 51.35% of Matches
Example:
Kade Simonson 15th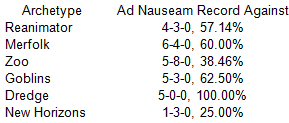 It is worth noting that Ad Nauseam outperformed its overall record when pitted against the most popular decks in the field winning 55% (26-21) of its matches against decks with 10 or more representatives. Ad Nauseam will be hurt pretty badly by the banning of Mystical Tutor and may need to change the ratios of some of its important cards to compensate for the loss. I expect to see a lot of people bringing Ad Nauseam to St. Louis for a last run with Mystical Tutors.
New Horizons – 5.29% of the Field – Won 58.18% of Matches
Example:
Kyle Boddy 1st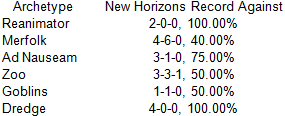 Following up its breakout performance in Philadelphia New Horizons took home the title and kept its Win Percentage over 58%. Only Zoo's spectacular day keeps it from claiming the "Best Archetype" award again. Unfortunately like Merfolk New Horizons may not be ideally situated in the post-bannings metagame. Strong match-ups with Reanimator and Ad Nauseam will hold less weight once those two decks are weakened and lose some market share.
Under the Radar
Let's take a trip back to early this year before Ad Nauseam became the combo deck of choice; there was another combo deck going off on the tables of the StarCityGames.com Legacy Opens: Charbelcher. One of the devotees of this archetype is StarCityGames.com writer Cedric Phillips.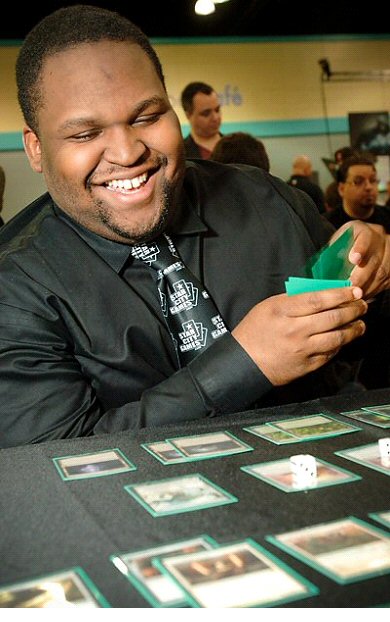 I feel somewhat silly calling anyone who can pull off that tie Under the Radar but here goes. If you sit down across from him at one of our Legacy Events you should expect a quick game with lots of fireworks.
Creatures (12)
Lands (2) Charbelcher is an extremely powerful deck that may be poised for a comeback in the post Mystical Tutor Legacy Metagame. As another deck that requires the pilot to figure out whether or not he or she can 'go off' it requires a lot of practice to play well. Mulligan decisions are very hard as you have a lot of calculations to do while figuring out it the hand has what it takes to win. This is not a deck to pick up lightly but if you are willing to put in the time it will reward you.
If you get an opportunity to talk to Cedric about his Legacy choice you will find that he has definitely put in the work and has an excellent feel for the deck. Cedric is well known for sticking with one archetype and leaning on familiarity with his weapon of choice and metagame knowledge to give him the edge rather than jumping from "Best Deck" to "Best Deck." His consistently strong finishes at the Legacy Opens speak for themselves: Indianapolis - 11th Atlanta – 18th Seattle – 21st.
A Few Words on the Recent Banned List Changes
The banning of Mystical Tutor rings out a death knell for Reanimator and Ad Nauseam. I'll admit that the lackluster recent performances from the two decks left me scratching my head as to why the Tutor needed to get the axe. Maybe there is something that we don't know in M11? Just looking at the Seattle results Reanimator and Ad Nauseam were almost the definition of mediocrity with both of their average finishes (95.76 96.33) within half a place of the median. (96)
As for the unbannings Illusionary Mask is a fun card but it just provides some redundancy for the StifleNought decks that are already around. That and a lot of judge headaches. While the card has received enough errata so that it finally works it is still a greatly misunderstood card. Grim Monolith is an interesting card to add back into the mix. Mono Brown or Mud has popped up from time to time and feels like it may be one or two cards away from making a big impact. Monolith is definitely the caliber of card that could fill the gap and one can't help but look toward Scars of Mirrodin in the fall expecting some additional goodies.