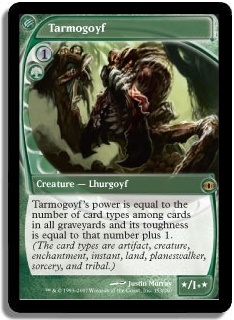 "This is the best audible I've ever made" Lewis decided. "It's so sick against the expected metagame." Lewis had come to this tournament planning to play the Painter's Servant build that he worked on with Nick Spagnolo and Caleb Durward but he found himself falling in love at first sight with this G/W build. "I was playing the Welder deck and we were looking through online decklists for sample lists of U/W to help pick silver bullets for Pozsgay's sideboard" Lewis said. "I've always thought the deck was sweet but I just couldn't bring myself to play something so inconsistent. Then I saw this deck with Jotun Grunts Tarmogoyfs and a full set of Qasali Pridemages in the main." Lewis was immediately hooked.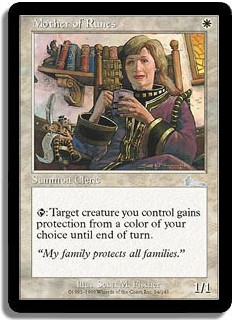 The list features a number of cards people aren't really paying much attention to. "Stone no one is prepared to beat this card" Lewis said dropping a playset of Mother of Runes onto the table. "And no one can beat this card!" he exclaimed pointing to Mangara of Corondor. After talking about the format yesterday Lewis knew he could make this deck work. "We're in the Midwest—that means lots of aggro Goblins and Zoo. Zoo is actually cold to a Jotun Grunt" he said. "As an Aether Vial deck with Mangara you just cold Counterbalance. I talked to twelve people about decks yesterday—eight of them were playing Counterbalance."
Lewis got off to a weird start with a Round 2 draw against a Bant creature deck. A surprise Ensnare stole a game he thought he'd won and then they were forced to draw due to their mutual plethora of removal. Lewis didn't mind much however. "Now with a draw I can avoid aggro decks and just beat up on Counterbalance. Knight plus Wasteland is obscene—my first Legacy Top 8 was with a Bant deck that ran that." Naturally his build is well-equipped to abuse Karakas and Aether Vial in conjunction with Mangara and gain inevitability—but that board can be difficult to assemble.
Naturally one of the troubles with switching decks in Legacy is actually acquiring the cards you need. Lewis had a very special friend and benefactor to thank for most of his seventy-five—John Donovan. Of course John's collection is pretty sweet—the deck featured Beta Savannahs and Asian foil Tarmogoyfs among other absurdities. "This deck is worth more than my life and I value myself highly" Lewis laughed. He still couldn't believe his own bravado. "I've never played a creature deck in my life. I don't think I've ever played a Constructed tournament in my life without Islands—and I just snap-audibled."
Will it pay off with a Top 8 berth? We'll see in just a few rounds!
Creatures (28)
Lands (22)
Spells (10)