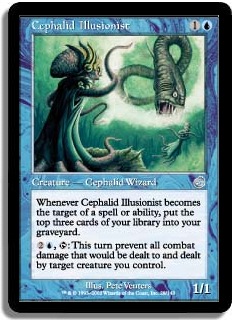 Most players have at least a passing familiarity with Cephalid Breakfast and Cephalid Life. For those that don't allow me to offer a brief explanation. The deck uses Cephalid Illusionist Nomads en-Kor and occasionally Shuko to trigger the Illusionist as many times as you want. From there you can use Narcomoebas for a Dread Return on Karmic Guide for Kiki-Jiki Mirror Breaker followed by a token Karmic Guide for Sky Hussar generating an infinite number of 4/3 fliers and bashing the opponent to death. If that's not going to work out Daru Spiritualist and Starlit Sanctum can gain you infinite life and prevent Tarmogoyf from ever killing you. The combo is very consistent thanks to Worldly Tutor and Living Wish offering redundant copies of the primary pieces in addition to a Wish board that offers a number of other answers.
Plus you get to play Aether Vial.
In Washington D.C. combo experienced a surge in popularity clinching a number of Top 8 berths and rewarding the most disruptive strategy with a trophy. The metagame vulnerability had been exploited however and now combo is ready to become king. Mike Flores is excited to be piloting one such strategy and is confident that someone will be posting a significant finish with it over the next several rounds. So how did Flores wind up choosing Cephalid Life? AS he began to study Legacy Mike gave his buddy Patrick Chapin a call. Patrick told Mike that Legacy wasn't really about card advantage or grinding momentum in your favor—it was about creating a fundamental turn and seizing control of the game. "At the time I was working on Pyromancer Ascension" Mike recalled. "I looked at Top 8 lists and thought I might just play Dredge but this combo's faster than Dredge. If you get the combo off they're just dead and you can triple Therapy them."

Testing the deck was another matter. In order to gain further insight into the format Mike recruited a Legacy fanatic. "I had Drew Levin 'on the stack'" Mike said "and after I called Patrick Chapin I summoned him. We cut lands and added Ponders." Drew pointed out that there weren't enough blue cards to justify Force of Will so they added in the cantrip. Drew also helped to streamline the deck "Originally I was playing a Tarmogyof/Sutured Ghoul combo also" Mike said. "In theory we could summon Tarmogoyfs and try to battle people but that's just not good enough." Once he'd begun testing the deck on MTGO he quickly stopped—there was no need to give the deck away through replays right before Edison. "It seemed blatantly better than every deck that makes the Top 8 of these events" he said. "Since Survival was banned I looked at the top decks and it is way faster. The terrible draws win on turn 3 and there's not nearly enough graveyard hate."
Mike's Cephalid Life deck is powerful capable of killing as early as turn 3 with significant disruption.
The lack of hate is the primary incentive as Legacy is so diverse that players can't prepare for everything. Lately they certainly have not prepared for Cephalid Life. "You win game 1 almost 100% of the time regardless of what your opponent is playing. You just kill them on the second turn" Mike said. "You have Force of Will backup and Cabal Therapy—they're playing steam engines and locomotives and you're playing starships." Even in the sideboard most opponents are real soft to the strategy. "There's an inefficiency in the format where in order to compete with a deck like this opponents have to have something like eight sideboard cards in order to have a reasonable chance of winning the match" Mike explained. "They just don't have them."
The deck's power has presented itself already and Mike is happy with the choice even after losing his feature match on SCGLive against Lewis Laskin. "I mulliganed to 3 and against a regular Zoo deck I still would've just won . . . but Lewis had Swords to Plowshares." The key is that all of the combo pieces are cheap and so are all of its tutor effects. "The thing that's really good is that we have 11 pieces of every combo piece" Mike said. "You always have enough mana to just kill them. A lot of the time they just can't kill a Daru Spiritualist." Effects like Lightning Bolt and Umezawa's Jitte will not get it done against the cleric and it combines with Nomads en-Kor to create a brick wall. "The draws are always the same pretty much. It's super-consistent thanks to the number of tutors you can play."
This deck seems pretty sweet and capable of some truly degenerate things. Behold!
Creatures (15)
Lands (18)
Spells (27)