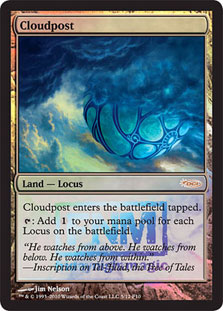 One of the most popular Legacy decks on Magic Online has been the 12-Post deck. Thanks to Glimmerpost Cloudpost and Vesuva have become an even more potent mana engine. The deck isn't especially cheap to build but it is a blast to play and features some very bizarre interactions. Casting spells like All is Dust in Legacy is a very peculiar feeling but casting Emrakul is sheer joy. Michael Pozsgay decided to sleeve up the deck this weekend. "Conrad Kolos wrote an article about it this past week" Mike said. "Lewis Nick and I were talking about the deck as we thought it was good in theory. The actual list I ran today is Josh Guibault's." Josh finished in the Top 4 of our Indianapolis Legacy Open and won a Legacy Open in 2010—the man knows Legacy. "Josh's list seemed better against combo and combo is the worst matchup for the deck."
The obvious mana interactions are the lands and Candelabra of Tawnos creating a ton of mana not unlike the High Tide deck we saw in Edison. The similarities end there however as 12-Post's mana gets pumped into its silly wrath effect an Eldrazi creature or a Primeval Titan. In addition to the primary engine for casting large spells Show and Tell offers an alternate Eldrazi route—even a Primeval Titan will be good enough most of the time. The awkward little Expedition Map is an important cog in the machine providing shuffles for Top and searching up Locus lands. Crop Rotation is a staple providing the same effects at the cost of a land you've already played.
When you're not hitting the nuts you're staying alive. "All is Dust is basically a catch-all" Mike said "but it's quite terrible against combo." Combined with Moment's Peace it's not hard to buy a ton of turns and survive until you cast a real bomb. "You can also just Show and Tell to play Primeval Titan or any of the Eldrazi" Mike added as few aggressive decks can race an early Titan's effect on the game. The most dangerous one is Affinity. "Affinity can put pressure on you and get around your Moment's Peace" Mike said referring to Disciple of the Vault and burn.
"Against control they can't deal with your big spells and inevitability" Mike said. "Combo is the deck's real bad matchup though there will be others." A few of the less popular decks and cards in Legacy are actually powerhouses against 12-Post. "Not many people are playing 43 Land or Blood Moon—no one is playing cards that just blank all your lands." Mike put some time into figuring out how he would beat combo but didn't come up with a solid solution. "The problem with beating combo in Legacy is that there are so many combo decks" he said. "Even the combo hate I have isn't enough. I focused on Ad Nauseam and just hoped to beat other Show and Tell decks."
To that end he spent sideboard slots on Chalice of the Void and Mindbreak Trap with Bojuka Bog acting as an instant-speed answer to Dredge via Crop Rotation. "I never brought in the Wasteland I had in my board but that's really just for the decks trying to win with Doomsday and hideaway lands" he said. Having dodged them he just didn't need the card thus far. "This round I faced Painter which is a bad matchup because it's combo and immune to All is Dust."
"I think the deck is pretty favored against the Merfolk/Zoo/Counterbalance/Goblins metagame which statistically takes up 50% of the field" Mike said. "The other 45% are Stifle decks and combo decks . . . One of the best ways to beat a Show and Tell deck is to just be a Show and Tell deck."
Creatures (6)
Lands (25)