A few months ago I sold off a good portion of my paper cards and invested them in Magic Online (MODO). It wasn't that I didn't enjoy paper Magic or that it was drying up in my area (both are far from the truth) but I found that I have less and less time to dedicate to a night of gaming and two or three hours here or there was much easier to come by. After all it's hard to get in some games at the local card shop if I don't get done with work and everything else that I need to do until 10 pm. But I can always put in a few hours on MODO.
I started off with Extended but sold off the majority of my collection around the middle of the season right when prices began to drop. Turns out people were far more risk-adverse than I thought in regards to Extended and with a month or so left in the season even the Faeries staples had halved in price. I put together Caw-Blade and had a lot of fun battling at least for a little while.
On the paper front since I plan on going to the next SCG Open in my area – Louisville in May – I started picking up a few Legacy cards. I still don't have enough to build a deck but close enough to beg borrow and steal my way into one. I sold some of my extra online Standard stuff and put together a fairly cheap Legacy deck on MODO – Intuition Elves. It was a lot of fun and even fairly successful but it didn't give me the same feeling that I got when I played something like Counterbalance or the Flash deck at GP: Columbus a few years ago.
Around the same time my podcasting partner Matt Kranstuber aka Kranny was doing something similar. He put together a Junk deck on MODO and was grinding 1v1 queues. When I talked to him about my Legacy acquisition he scolded me a bit. His big thing was the importance of buying staples and explained to me the concept of the Venn diagram of the cards I'd need for Legacy and not a single thing on the Intuition Elves list was there save the Intuitions themselves. His suggestion was to get rid of that deck and move into something a bit more substantial.
I started pondering moving more into Legacy on Magic Online when in the midst of my seventh Caw-Blade mirror in a row I decided to just go for it. I sold the majority of my Standard stuff on MODO and bought into Legacy and I've been much happier for it.
Legacy is an interesting format. The mix of powerful cards is far more diverse than in Vintage and the number of unique decks is really staggering. But at the same time that was refreshing. Because the number of decks was so high I didn't have to test exact matchups over and over again. There were a few big targets I knew to worry about but there was also a lot of excitement at seeing my opponents do something really absurd that I wasn't expecting. Hard-casting Emrakul on turn 4? Sure. Turn 2 Grapeshot for 30? Okay. Unending legion of hate bears? Bring it.
My first deck I brewed up was a B/W 12 Post deck based around Candelabra of Tawnos and casting Emrakul. It had white for Enlightened Tutor such bullets as Moat and Humility. The black added Nether Void and Leyline of the Void for an alternate kill condition of Leyline/Helm of Obedience.
The deck was fun though not particularly good. I had no problem beating other decks in the tournament practice room but it was pretty weak against decks with Wasteland and I can't even begin to stress just how badly Price of Progress demolished the deck. So it was back to the drawing board and on to a series of new decks both brewed and taken from SCG Legacy Opens and the Legacy Daily Events. I was hooked.
If nothing else Legacy awakens in me a kind of nostalgic feeling towards Constructed Magic that I haven't had in a while. I get to play with a lot of cards that I haven't touched (metaphorically) outside of Cube in a dozen years and it just genuinely reminds me of playing back when I first started. For me at least that was enough to go all in on the format.
The nice side benefit of Legacy is that it more closely matches what I want to do with Magic now that the constant PTQ grind is mostly out of the picture. I get to stay competitive but play in a format that I enjoy rather than tolerate. The biggest benefits for me are:
1) Nothing rotates so I don't have to worry about micromanaging my collection to sell as many cards as possible before the bottom falls out forever.
2) While decks do evolve less work is needed to constantly tweak them to even try and stay competitive.
3) I can brew up a deck that does something powerful and at least have moderate success with it.
4) Have you ever cast a turn 1 Thoughtseize then turn 2 Hymn? Seriously it makes you feel powerful.
I wish now that I'd gotten into paper Legacy four years ago when some of my friends were pushing it on me. Or at least hadn't sold my Force of Wills back to the vendors at GP: Columbus for about $15 in 2007. I still plan on acquiring a full paper deck but that's going to take a while. For now I'm going to enjoy the format digitally where a substantial but reasonable investment has given me a huge swath of the format to play with.
Before I get started on everything else I want to say something about online Legacy. It's probably not a format you want to get into if you're just looking for a way to make tickets. The cost to entry is fairly significant and the events don't fire at the same regularity as Standard or even Block. If you're just looking for a way to grind tickets start playing Block. Most of the good decks are well under 200 tickets and their PEs actually fire. You should get into Legacy because you want to enjoy opportunities the card pool offers and to play interesting decks for significantly less than it would cost you in paper and you can play 24 hours a day 7 days a week.
The Differences between Online and Paper Legacy
I knew coming into it that online Legacy was not the same as paper Legacy. Online Legacy is still missing some sets. Urza's Destiny is slated for an April release but it's unclear exactly when we'll see the Masques block finish up the Magic Online card pool. It's been about nine months since Urza's Legacy was released but that came only three months after Urza's Saga which was only four months after Exodus. So really it's anyone's guess.
Here's a rundown of the notable cards not yet available on Magic Online or ones that were only released in Duel Decks or boxed sets:
Urza's Destiny
Academy Rector
Aura Thief
Body Snatcher
Bubbling Muck
Covetous Dragon
Donate
False Prophet
Gamekeeper
Iridescent Drake
Junk Diver
Masticore (Appears in FTV: Relics)
Metalworker
Opalescence
Pattern of Rebirth
Phyrexian Negator (Appears in Phyrexia vs. Coalition Duel Deck)
Replenish
Rofellos Llanowar Emissary
Thran Dynamo
Treachery
Mercadian Masques
Cave-In
Crumbling Sanctuary
Dust Bowl
Food Chain
Hickory Woodlot
Invigorate (in Garruk vs. Liliana so currently 4 tickets)
Land Grant
Misdirection
Parallax Wave
Peat Bog
Ramosian Lieutenant
Ramosian Sergeant
Rishadan Port
Sandstone Needle
Saprazzan Skerry
Snuff Out (in Garruk vs. Liliana)
Unmask
Waterfront Bouncer
Nemesis
Accumulated Knowledge
Blastoderm (in Garruk vs. Liliana)
Daze (in Jace vs. Chandra)
Defiant Falcon
Ensnare
Flame Rift
Lin Sivvi Defiant Hero
Reverent Silence
Rootwater Thief
Saproling Burst
Seal of Cleansing
Seal of Removal
Skyshroud Poacher
Submerge
Tangle Wire
Trickster Mage
Prophecy
Abolish
Chimeric Idol
Withdraw
That may seem like a lot but it's much less damaging than it looks. The vast majority of those cards haven't impacted the Legacy metagame for quite a while. Some of them have never really seen the light of day since their days in Standard and Extended. If we narrow down the list to only cards that can be reasonably expected to have an effect on the top-tier decks we end up with this list:
Urza's Destiny
Metalworker
Replenish
Rofellos Llanowar Emissary
Mercadian Masques
Land Grant
Misdirection
Rishadan Port
Unmask
Nemesis
Ensnare
Flame Rift
Reverent Silence
Submerge
Tangle Wire
Prophecy
None. Zero. Nada. Nice set.
And truthfully we haven't seen much of Rofellos Misdirection Tangle Wire or Unmask in a little while. April's release of Urza's Destiny will mostly finish off WelderMud and Enchantress. The only deck totally left out of the Online metagame then is 2-Land Belcher which kind of needs Land Grant to operate. You could try zero-land Belcher but I feel like just waiting until the inevitable release of Masques to pick that one up is probably a better idea though you might be advised to just stick to the far more successful Ad Nauseam/Tendrils deck instead.
The effects the remaining missing cards have on the format are pretty minimal. The most major holes are Port Ensnare and Reverent Silence. Lands takes a hit from the lack of Port but can still be played though with a major disadvantage. Merfolk and Goblins are slightly worse online than they would normally be. The loss of Ensnare does hurt the Doomsday deck but that deck has yet to really show itself as a true player in the metagame.
Because of set redemption the prices of Standard cards on Magic Online tend to very closely mirror real-life pricing. After all if you could assemble a Mirrodin Besieged set for $100 online redeem it then sell it for $200 in paper a gigantic number of cards would quickly be removed from the system as power buyers did just that causing the card values to rise until it was no longer profitable.
Because there isn't redemption Legacy doesn't have that same issue though it does have some issues of its own. Invasion block was available to draft when Magic Online was released but Onslaught was the most recent set. As a result the majority of drafters gravitated towards that set and very little was opened. For a time cards like Pernicious Deed and Reya Dawnbringer commanded upwards of 100 tickets. As they left Extended and promos were released their prices dropped to far more reasonable levels.
Even though Wizards decided to release Mirage block forward online for drafting the card prices on singles were fairly low and made drafting the set fun but not profitable. As a result not many cards entered the system. As more and more sets released and online Classic became a more popular format drafting Tempest and Saga became a better proposition but still lagged far behind new sets in terms of popularity.
Masters Edition I gave people hope for having Legacy and Vintage online but the set was miserable for Limited and only really had Force of Will as a money rare. Combine that with a failing Version 2.5 architecture and it was hard to get too excited about spending $14 to draft a set when the best you could hope for was 1/20 chance of opening a 10-20 ticket Force of Will. These old sets also didn't stay in the stores for long and once Masters Edition I stopped going on sale the drafts stopped firing. All of this led to a much lower supply of the set as a whole and Force of Will in particular and has fueled the card's dramatic increase in price once a demand for it appeared.
These problems have been largely fixed with new ability to pay in tickets instead of just packs making it much easier to draft things like TE-ST-EX when they do come up in the draft room but it will be a long time before the amount of cards available ever comes close to the demand if it ever does.
This doesn't mean Legacy is out of the question though. In fact with the upswing in popularity of Legacy and Commander and the resulting increase in the prices of these cards drafting the older sets especially Masters III and IV became a much more profitable endeavor. Because these sets include so many cards that have incredible scarcity problems in real life their costs on Magic Online are dramatically less. This is especially evident when you look at the cards from MEDIII and IV and even the Saga block.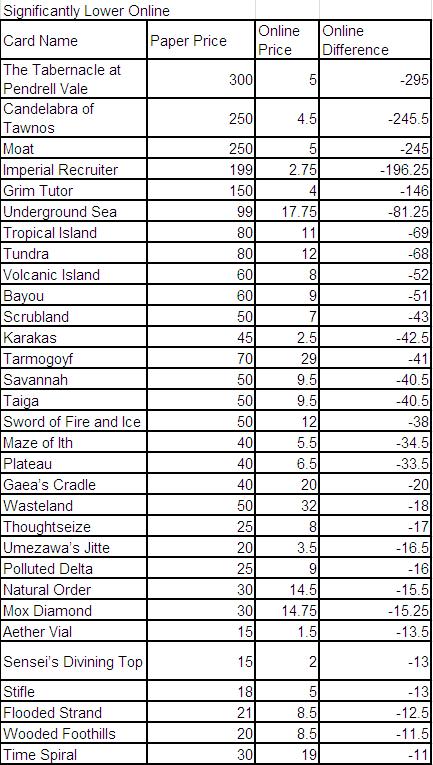 As you can see the few items for which you'll pay more are dwarfed in both number and magnitude by cards that are a fraction of their paper price. Let's see how this plays out when we start looking at the prices of decks. Each of these is a deck that recently Top 8ed or Top16ed a recent StarCityGames.com Legacy Open. For reference a Standard Caw-Go deck like the one Gerry Thompson used to win SCG Open at Dallas/Fort Worth is currently valued at around 680 tickets.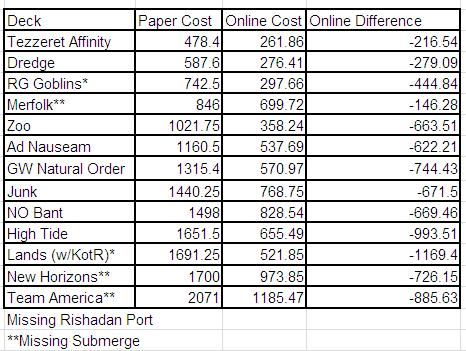 All of these prices are based one of the largest bot's sell prices so your mileage may vary. If you wanted to put up ads on the Classifieds you could easily knock a ticket or two off of a lot of items even more on the higher ticket ones. You may also be able to find bots selling cards for less. In any case the above prices are the most you should have to pay and could be quite a bit less.
For the full decklists and data tables showing the price comparisons between each card in these decks go to the bottom of the article.
Grouping each deck into their respective price categories let's call Dredge Affinity and Goblins the budget decks; Zoo Lands Ad Nauseam G/W Natural Order High Tide and Merfolk the mid-range decks; and Junk NO Bant New Horizons and Team America the high-end decks. Several of these decks could be built with significantly less. The Dredge deck for instance has three Null Rods in the board which could be replaced and would place the deck at the sub-200 range. R/G Goblins if built as Mono-Red will also save about 100 tickets. Tezzeret is currently 36 tickets could be replaced with Ravager which is currently 10.50 tickets again saving you about 100 tickets.
Beyond just the total cost the makeup of where that cost is allocated online is very different from in paper. While the good cards are generally fairly expensive in each the differences in prices can be quite dramatic.
Less Hyper-Scarcity
One of the things Legacy is most known for is its selection of cards that can cost more than an entire Standard deck. The incredibly low print runs of Arabian Nights Antiquities Legends and the Portals have caused the few rares that appear as top-tier cards in those decks to reach astronomical prices. Even beyond the pricing issue the sheer scarcity of the cards could easily keep even the most cash-laden player from sleeving the cards up. After all only around 30000 Candelabra of Tawnos were ever printed and a good deal of those has to have been lost to wear tear and mothers cleaning out closets by now. Who knows what percentage of those still exist to even be purchased? A card like Jace may cost a lot but you can pretty much always find one somewhere. It's just not the case for paper Legacy. This is one problem Magic Online doesn't have. All of the over-$200 cards appear for a fraction of their cost in Magic Online. If you've ever wanted to play Painter/Stone Aluren or High Tide then you can now do so without selling off your less-vital organs.
Cheaper Mana Bases
The most difficult thing about paper Legacy by far is the mana base. The fact that dual lands have been out of print for over fifteen years and Onslaught fetchlands for almost ten years generally causes them to be the majority of your cost when building a Legacy deck. If you manage to put together a mana base that more than almost anything else will lock you into a set of decks. In fact the reserved list represents the biggest threat to the long-term expansion and viability of Legacy as a format. Not so on Magic Online. Just a few months ago Masters Edition IV rereleased the duals after the allied ones were released in Masters Edition II and the enemy colored ones in Masters Edition III. Wizards clearly wants to keep them from acting as a bottleneck for online Legacy.
As a result of this reprinting the price of duals online is about as low as it has ever been. Underground Sea for instance lost nearly half of its value when it came back in Masters IV. This influx of reasonably priced duals in fact is what spurned my interest as well as countless other players in getting into online Legacy. In fact if you look at the decks that rely heavily on fetchlands/duals the average price of their mana base (as a percentage of the total price) not including Wasteland goes from 50% in paper to 20-30% online. That should be a refreshing change for everyone who has spent days weeks or months looking for Underground Seas.
By far the deck that gains the most by this change is Zoo clocking in at about a third of its original value but even the tri-color hungry decks like Team America NO Bant and New Horizons see dramatic decreases in their prices mostly for this reason. Merfolk on the other hand has no dual lands and sees the smallest price difference between the two formats.
The end result of this is that switching between decks if you have the staples is less difficult but picking up a new staple is going to be comparatively costly.
The Major Online Staples
What do the mid-range and higher decks have in common? A huge part of their price is tied into the few expensive Legacy staples on MODO – Force of Will Wasteland Tarmogoyf and Lion's Eye Diamond. When building a deck you have to ask yourself – are you going to embrace these or avoid them? Obviously avoiding them will save you some money but it will limit your future ability to build other decks. If you are fine playing turn 1 Vault of Whispers from now until the end of time then that might not be an issue. But if you're looking at building a collection then you're going to have to tackle the staples at some point. Let's look at them again and show which cards are in which decks:
1) Force of Will (109 tix) – High Tide Merfolk NO Bant New Horizons Team America.
2) Wasteland (32 tickets) – Goblins Lands G/W Natural Order Merfolk Junk New Horizons Team America
3) Tarmogoyf (29 tickets) – Zoo G/W Natural Order Junk NO Bant New Horizons Team America
4) Lion's Eye Diamond (77 tickets) – Ad Nauseam some Dredge builds (though not the one listed above).
Just for fun (and to appease Kranny) let's look at a Venn diagram of these decks: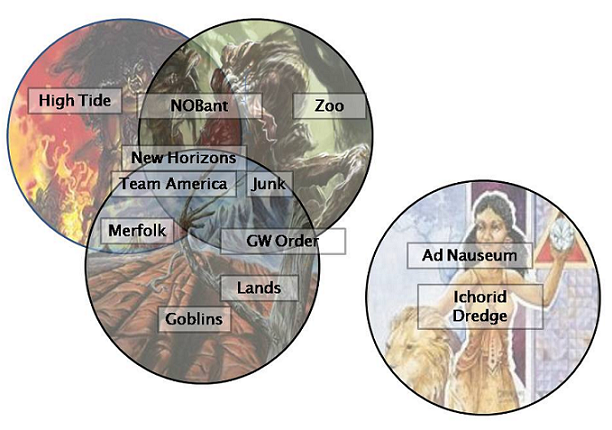 Notice something here? The intersection between Force of Will Wasteland and Tarmogoyf is huge. We're missing part of the format – the Stax decks for instance – but the illustration should be enough to make the point that simply avoiding the staples is going to push you out of a huge number of deck options. If you want to play a lot of Legacy online having these three cards will dramatically reduce your end cost to building new decks.
An aside note on Force of Will: Besides being the most expensive card on Magic Online Force of Will holds the distinction of being the only card on the MODO pseudo-reserved list. Worth Wollpert mentions it here on the Wizards forums on January 4 2008 in reference to some forum posters talking about his original post that Force of Will would not be put in another MED set (which I could not find):
rob_writer wrote:
I don't disagree with you but if this were my format of choice (and I'm really weighing up if I should finish my playset of FoW now or wait to see what happens) then I'd be a little worried that the people in charge want to create the same situation that holds back the comparable format in paper. Sure there will always be something that costs more than people would like to pay but creating such a thing so early in the life of the format when it is clearly avoidable doesn't seem like the best thing to do.
WotC_WorthW
The only way it is "clearly avoidable" at this point is to reprint FoW something I will not do mostly because I said at the outset of MED that I wouldn't and people have since (I'm sure) made purchasing decisions based on that statement. It's not like I'm springing this on people. I've said this stuff from the very beginning.
And as far as forum goers having insider info there are or have been recently multiple clickable links *within the client itself* that show people the messageboards annoncements on MED issues blogs etc. If folks choose not to click them I can't force them to come here. Judging by our web traffic on these forums I'd suspect there are loads of folks who come and read and never post a thing though.
The real question is are we going to have this same conversation on January 8th 2009 when I'm taking MED2 off sale and stuff like Underground Sea is going with it?
On a side note if you guys think that Classic is going to be so popular that FoW is going to be 100 tickets a piece should you buy a bunch of packs or trade for FoW's right now?
Later on in the thread he also goes on to mention other ways of getting new Force of Wills in the system if the price got too high and that was in 2008 when Force of Will was only just hitting 60 tickets. The seeming inability to print Force in MEDV doesn't mean we couldn't see it in a From the Vaults Duel Deck or Legacy deck. In fact we're going to have to see it in print somehow sooner rather than later. It seems to me that for Legacy to continue to thrive online we need more copies of Force of Will and possibly Wasteland LED and Goyf eventually. I have to believe that Wizards is working on a way to get some more in the system.
If you buy in now you have to understand the risks/rewards that Force of Will's current price tag affords. It's possible that your investment now will double in a year. It's also possible that Force will be mass-printed in a product that costs between $30 and $40 and we'll see the price plummet to those levels. Or it's possible that they'll release them from time to time as prizes in events keeping just enough in the system to keep the card in its current price range. We just don't know. I took the plunge myself but I'd still like to see Force enter the marketplace in some manner that cuts the price in half. It's the best way to encourage people to get into online Legacy and the key to the health in the format. If I lose some money so be it I'd rather lose $200 of a $400 investment than see the rest of my cards lose the majority of their value due to the format dying due to inaccessibility. That's not even getting into my loss of enjoyment if I weren't able to play the format.
Truth be told it would probably be best for everyone if it was to be printed in an MEDV instead of in a promo just so that the price goes down but not too far. I'd imagine if it was the main draw for MEDV it would still stay in the 50-75 range as long as the set was being drafted then go back up when the drafts slow down.
Force of Will should be expensive in the same way that cards like Jace Tarmogoyf and Primeval Titan should be. These are format-defining cards and in a collectible card game there is a feeling of accomplishment when you manage to acquire expensive cards and that's all the more heightened when dealing with Eternal formats since you get to play with them forever. Force of Will should stay fairly expensive as it adds a level of weight to the card that it deserves. This isn't a niche card like Tabernacle or Recruiter whose price is almost solely tied to its scarcity. A huge percentage of Legacy decks run the card. If it were a two-ticket card and everyone who wanted one had four then it would feel like playing Magic Workstation not Magic Online. 100 tickets for a card that can't be redeemed is just a bit much. It acts as a barrier to entry into the format.
I have some trust that after all of these years Wizards knows what they are doing and I don't think that Force of Will will be the death of online Legacy. I'm sure they have the best interests of the format at heart and they will figure out a way to allow people to play the card without resorting to the aforementioned black market organ donation.
After all we already have a nearly 100-ticket card in Standard and that hasn't kept people from playing the format. Yes many people may have acquired Jace when he was only 30 40 or 50 tickets but that's still a huge investment in a card that will in all likelihood lose a great deal of value in a few months as people play chicken and try to dump him right before everyone else does. Before the end of the Standard PTQ season the bots will be flush with Jaces as people scramble to not lose a good portion of their MODO collection's worth for the sake of playing Caw-Blade in one more tournament. People have to know this and they have put the tickets into him anyway. Clearly there is something more than just value going on here. People want to game and they will invest money if the enjoyment of it all is worth it for them especially if they believe the cards will hold a good portion of that value.
Okay enough with that rant.
Building Legacy Online
The first question you need to ask yourself is whether you plan on building a deck or a collection. The more you want to explore the format the more I would ape Kranny's advice and gravitate towards spending money heavily on duals fetches and other staples that you can use in multiple decks. Over time you'll find yourself able to build more and more decks and when it gets to the point that you really want to brew you'll have most of the expensive cards you need to build a deck. This probably means you won't be able to have as competitive of a deck in the short run but you'll be rewarded over time.
If you don't want to spend a large amount of time and money gradually building up a collection or if you already have a lot invested in paper and are just looking for a deck to have fun with online then avoiding the staples is fine. On Twitter I asked how much people would be willing to invest in a deck online. The general consensus was 200-300 tickets. So let's see what we have to work with.
Aluren
Obviously Affinity Dredge and Goblins are top-tier options at that price point. All three can be built with a few cuts for around 200 tickets. Goblins even gets you a set of Wastelands though you will have to wait a bit for Port. If you want to try something different though you can always pick up Aluren. This list was played by gotsjo to a 3-1 in a daily: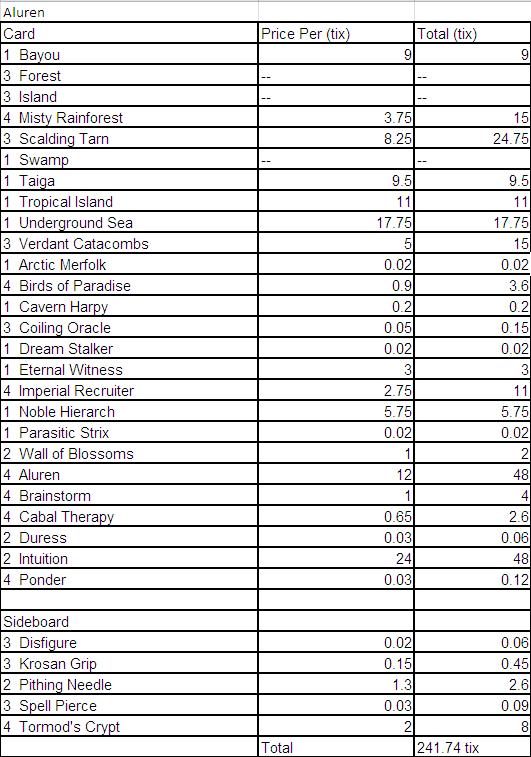 Any time you have a two-card combo that can win at instant speed and fit in a reasonable amount of disruption you have a deck that is a contender. This deck doesn't have the raw power of Tendrils and you can be disrupted if your opponent has multiple removal spells but it should be much more fun than making robots.
12 Post
In addition anyone who already has Primeval Titans can put together the 12-Post list for well within this price point as well. The following list was played by Mage_Slayer.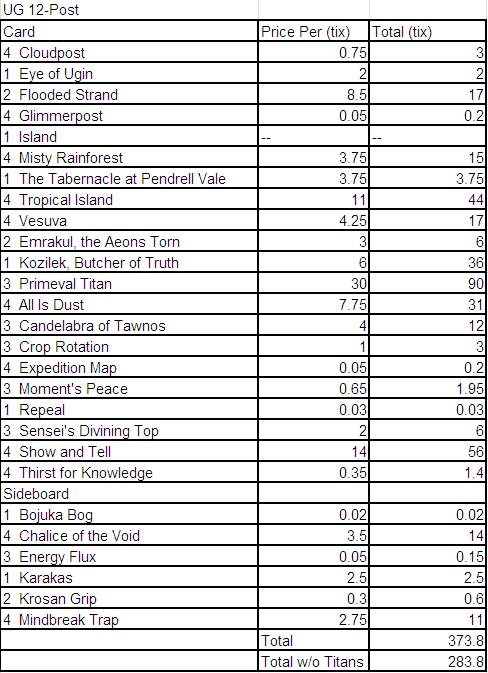 These are fine options if you just want a deck to play but they don't get you any closer to a collection. The problem with these decks is that most of them are terminal. Most of the costs you're incurring aren't going to reduce the costs of other decks. If you really want to get into online Legacy you're going to need to figure out a way to pick up the staples which will reduce your costs in the long run.
Other than Goblins the next option on that route is to pick up Zoo which can be found at the end of this article. Zoo is a deck that hasn't been putting up the results it did in its heyday but it's still a solid player in the field. Plus for the relatively modest 358-ticket investment you get a set of Goyfs and a handful of duals (even if they aren't blue) and fetches. Also if you have a decent collection of Standard or Extended cards you may be able to get into this for significantly less.
If you don't already have Stoneforge Mystics a good way to go is to pick up the Exiler Legacy deck before they stop selling them. Seriously. It's a great investment towards the second tier of Legacy staples (cards like Top Aether Vial Jitte Mishra's Factory). Even if you don't care about that getting three Stoneforge Mystics for $30 will just about pay for the deck itself.
The deck looks like this:
Creatures (26)
Lands (22) The important cards notably Flagstones Karakas Mangara Serra Avenger Stoneforge Mystics Jitte and Swords would run you about 56 tickets by themselves. You probably don't want to run this deck as is (it's a bit underpowered) but it gives you a good base to work with.
Junk and Taxes
About a month ago Brian Fisher made the Top 8 of SCG Open: Indy with a Junk and Taxes list that looked like this:
Creatures (24)
Lands (22)
Spells (14) Let's look at converting the Exiler deck into this for now. It involves a pretty significant 485-ticket investment but we also end up with a number of the staples in the format as well as a handful of duals.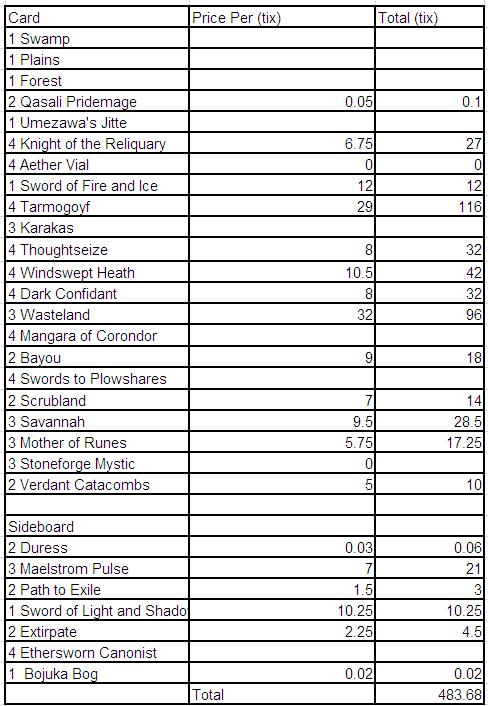 If you later on decided you wanted to instead play the G/W Natural Order deck your investment would go down by quite a bit. Instead of paying 570 you end up closer to 200 tickets. In this way the more you spend on cards that overlap the cheaper it is to expand into new decks.
How you want to get into online Legacy is all up to you. The fact that cards never rotate though means that unless you're waiting for prices to drop significantly if you want to play with the cards eventually and have the means getting them sooner rather than later isn't a terrible idea.
Playing Online Legacy
As I mentioned before the differences between online and paper Legacy are fairly minimal at this point and will be even smaller when Urza's Destiny is released in April. The card pool just doesn't change the selection of decks much. The big difference like most Magic Online formats is that the budget decks are far more prevalent. After playing 27 1v1 queues over about a week with Team America I faced the following decks: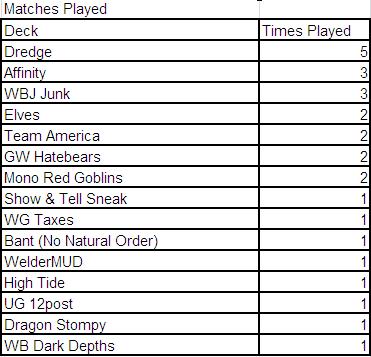 Notice the much smaller number of Force of Will decks than say the Top 8 of your usual SCG event. I will say though that before I was keeping records there were more Force decks so that could just be variance. At the very least I can say it's far more diverse than Standard and I had a lot of fun playing most of these matches even if there were a good number of budget decks.
In terms of actual game play the instantaneous shuffling and random discard speeds the games up considerably. If playing in paper I could probably get in a game every fifteen minutes or so; online it's much closer to seven minutes. Plus all of the cards work like they're supposed to (how many people would realize that Dryad Arbor is still a 1/1 under Blood Moon?) and they have the most modern wording which when dealing with some of the more obscure cards is much appreciated. Nobody wants to call a judge whenever Chains of Mephistopheles hits the table.
In general one or two Legacy Dailies fire a day. That's a good number and far more than Extended was getting before its PTQ season. 1v1s fire in somewhere between two and five minutes. Tournament Practice games a little faster. Legacy is just getting started online and I expect to see it increase in the future as more people pick up decks in order to play with all the old cards they remember owning or maybe were never able to afford in their earlier days.
I'd expect as more and more people get into the format we'll see more Dailies available and more firing. We may even start to see PEs fire on a regular basis though that requires people to get involved in the format. With any luck the slow and steady influx of cards that the rotating classic draft formats add to the system will keep the prices in check long enough for the people who want to get in to get in. I don't see the format as replacing paper Legacy but it should give people some options who want a more varied experience than what their own collections can supply.
Certainly releasing the Exiler and Boltslinger decks was a great start to increasing the awareness and popularity of the format; I just hope to see more in the near future. Keeping them in them range of 50-75 of secondary market cards (mostly low value) is probably a good idea. It gives you a nice foothold but doesn't decimate the value of someone's collection like printing a Show and Tell or Dredge deck would. I hope to see more of these in the future.
So in closing if you've been looking at Legacy and considering a foray into it online hopefully this was helpful. Even if you have no plans I hope this was at least informative and gives you a better idea of what the Magic Online ecosystem looks like outside of just Standard.
I hope to eventually do more forays into Legacy maybe even some videos. If there's anything I missed or anything else you'd like to know just post it in the forums and I'll try to get to everything.
Sam Stoddard
Samstoddard at gmail dot com
@Samstod on Twitter


As promised here is a list of a number of top decks along with the comparison between MODO pricing and paper pricing. Warning: Data dump something FIERCE.