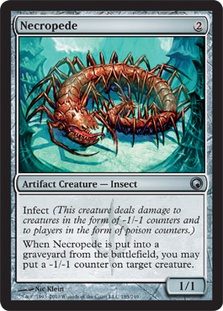 If you were watching SCGLive during Round 1 of the Legacy Open—and why wouldn't you be—you might have thought we'd switched in a match from the Draft Open. Conley Woods did in fact sleeve up Plague Myrs and Necropedes this weekend but alongside them he's packing a lot of artifact disruption! Tangle Wire and Crucible of Worlds plus Wasteland have given Conley a mono-artifact infect deck that he's named "The Brown Recluse."
"I was pretty desperate for a Legacy brew because I was focusing so much on Standard for this and GP Dallas" Conley explained. "This had come up but I kind of dismissed it right away." The idea does seem a little laughable at first but as our Round 1 feature showed it's anything but. A good friend convinced Conley to give the deck another try. "Lou Christopher told me that Meandeck had been working on a mono-brown poison deck. The ideas he had from his forums kind of melded together with mine and we ended up with this" he said. "It looked fun and I wanted to play something fun."
Conley chillaxing in the booth.
The deck is very straight-forward and the play isn't very difficult. "You really want a two-mana land or a Mox of some sort in your opening hand and then to play a two-drop on turn 1—either Chalice of the Void to protect you or a poison guy or a Ravager." Chalice on one is very effective on the play protecting you from Sensei's Divining Top and Aether Vial. Its primary purpose is to shut down ways your opponent can fight back such as Swords to Plowshares Thoughtseize and so on. "From there you have seven equipment in the deck and four Ravager" Conley said. "Between those you're just looking to kill them as fast as possible."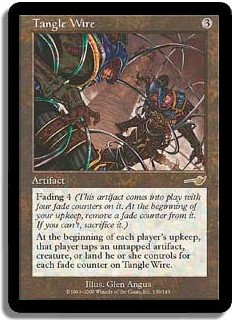 Fast is fast. "You can kill on turn 3 pretty regularly but turn 4 most of the time" Conley said. If the opponent can stabilize or shut you down then the deck has other avenues of attack. "Crucible Tangle Wire and Throne of Geth all give you incremental advantages over the long game. Throne of Geth is almost like a Sulfuric Vortex—except your Jittes are getting better and your Tangle Wires are staying at four!" The premise is simple; you either smash them to death or ground them into the dust. "Crucible is probably your best grind-out card."
Conley thinks that his worst matchup by far is a deck with larger creatures and removal—basically decks like the Junk deck he just defeated. "It's strongest against control decks" he said. "Something like Firespout is just not that exciting. Swords is probably their best removal but you have four Chalices specifically for that." Against combo decks Conley believes he maintains an edge post-board on account of his speed and Thorn of Amethysts backed by Tangle Wire and Wasteland. "Merfolk I thought was going to be tough but I do have two Jittes and Sword of Fire and Ice in the main while their Submerges are dead against me" he added. "Show and Tell-Emrakul can be tough. I have Tangle Wire but beyond that I have to race it." The deck at least can race Emrakul and taking 15 does not always close out the game. "The best card against me is Pernicious Deed—luckily it doesn't hit any of the lands unless you activate them." Unfortunately for Conley Deed is on an upswing since Blake McCracken's victory in Fort Worth.
Just this morning Conley was running around the room looking for Corpse Curs making it odd to not see them on this list. "I had Corpse Curs in the sideboard for a while but I had to put in the Pithing Needles for Deeds" he said. "They were to grind out aggro decks. I wanted four but I couldn't fit four and went down to two before cutting them." If you'd like to get down with the sickness in Legacy Conley may just have the brew for you.
Creatures (16)
Lands (20)
Spells (24)