C'mon baby light my fire.
Adam Prosak is probably best known for sticking to Counterbalance in Legacy. It may surprise you to hear that he came packing a variety of cards with the word "Lightning" written on them in Los Angeles. Legacy guru Adam Prosak is playing Burn with a twist but the story begins at the San Jose Open Series. "In San Jose a friend of mine—Bel—had never played Legacy before" Adam said. "He's a red deck guy so I told him 'Dude if you get four Fire and Lightning decks you're there.'" Bel hunted down the decks put them together and lost playing for Top 8 en route to a Top 32 finish in the Legacy Open. And they say Legacy isn't affordable? "He's been playing ever since and once he got back to our Legacy scene he became kind of a cult hero" Adam said laughing. "He's been called the best player in Arizona a couple of times."
Ever since then it's been a good story to tell at a tournament or on the road. Of course the story had a chance to get even better. "We were sitting around one day at the shop and someone said 'You know what would be sweet? If we all played burn in LA!'" Adam recalled. Thus began a pact among the Arizona players. Adam ran point gathering as many cards as he could. "I built a bunch of the decks for a bunch of people—there's probably 12 of us playing it" he said. "Give a shout-out to Doug Coats and Anthony Avitollo. They loaned me a metric ton of burn cards."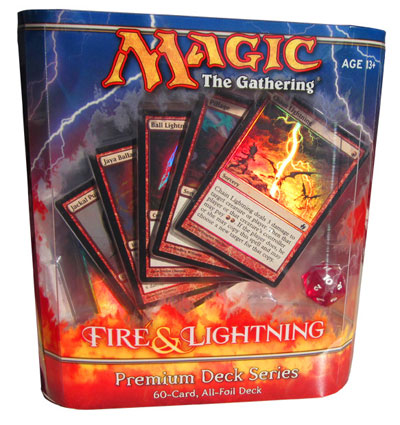 Adam isn't playing traditional burn of course. "I've been trying to play good decks" Adam said. "A while ago I promised myself that I would play Brainstorm in every Legacy deck I played so I'm forcing myself to play Brainstorm. It's the best card in Legacy!" Adam isn't the only player here holding that belief and his Brainstorms have been great value alongside the fetchlands he'd be running anyway. Turning land clumps into burn spells is a huge edge and he sacrifices very little to run blue.
Matchups are for people who don't play Lightning Bolts but Adam had a few tips to offer. "I have played three rounds of burn now" he said. "I'd like to play against creature decks or decks with slow clocks—theoretically of course. I never actually tested." That said he knows what he can't defeat. "I can't beat an Iona a white Leyline or a Solitary Confinement" Adam said. "There are a ton of fringe cards people play that we can't beat." Kor Firewalker won't be making his presence known at least. An onlooker pointed out that Patrick Sullivan had in fact managed to best an Enchantress player and his Confinement a round prior to everyone's surprise!
With the deck being almost completely available via the Premium Deck Series: Fire and Lightning one has to ask: how many Fire & Lightning cards are the guys playing? "I have some but not very many" Adam admitted. "Most people have more—we have more Fire and Lightning cards than not!" One guy is still carrying a torch for the deck of course. "Bel's deck is (still) all Fire & Lightning."
Creatures (12)
Lands (20)