Alexander Lapping is 4-0 with an unexpected tribe at the Legacy Open!
A number of players came up to me during Round 4 to point out that Azorius Guildmage was in play at table 2. Adam Prosak just shrugged and said "Patron Wizard's going to land next." After Alexander Lapping won the match with a Mirror Entity-fueled Wizard assault and advanced to 4-0 a Deck Tech was decided upon. Alexander sat down to explain the Wizards deck that had carried him to an undefeated record thus far.
"This is my first legacy event so I'm not super-experienced" Alexander said. "But I've always been a Wizards fan. I had a casual Patron Wizard deck and I built and EDH before trying to build a Legacy version." As illustrated above Mirror Entity tends to deliver the knockout punch but the real trick to the deck is actually getting there. To that end the deck is built to engineer a lockdown with Patron Wizard and the rest of the sorcery squad.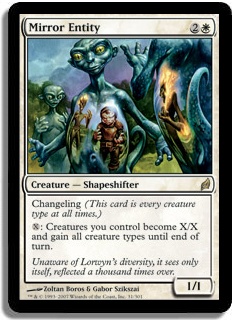 The deck may appear to share a lot of strategic similarities with Merfolk and that's very true. "It's a lot of the same cards and even a similar concept" Alexander said. "But it's a much more powerful lockout. Merfolk tries to soft-lock and then finish you off before you can recover. This deck will lock them out all the way and hit them harder with the Mirror Entity." In fact Alexander had bested a Merfolk opponent already mostly thanks to his oddball Azorius Guildmages. "I completely locked down a Merfolk player after they resolved turn 1 Aether Vial in all 3 games" he said. "The Guildmage locked out the Vial while Patron Wizard locked out their hand. The fact that Guildmage doesn't tap is crucial—with Patron Wizard you can't have your wizards tapping."
Alexander has gone to great lengths to streamline his engine and Sage of Epityr is the living proof. "In this deck he's a huge power card almost on the same level of Brainstorm" Alexander said—that's how strong a one-drop can be. "He represents another Wizard to combo off with Mirror Entity and Patron Wizard and in certain circumstances he combines with Spellstutter Sprite." Alexander needs to achieve a critical mass of drops that cost one and two mana and Sage sets up the game for him.
"The biggest weakness of this deck is the lack of card advantage" Alexander said noting that the lack has often tempted him to try and make Silvergill Adept work. That has led to the exclusion of one of the most common blue cards in the format. "Force of Will is sideboarded due to the lack of card advantage" he said. "On the draw it's fine against most decks and there are certain decks where you just need Force of Will to not die on turn 1." Another vulnerability is the deck's heavy reliance on tempo to keep ahead. "The die-roll dependency depends on the matchup" Alexander said. "Against control the draw can be superior. The only reason I would take the play against a control deck is to deny them the play."
With four rounds under his belt Alexander has his sights set on the rest of the field. "Any control deck is favorable" he said. "Merfolk in particular is very good and also any combo deck." The combo matchups largely depend on the speed of the opponent and how much they respect his disruption or lack thereof. "Zoo is probably the biggest weakness" he said. "We're maining four Burrenton Forge-tenders just to deal with the amount of burn they can provide and also for the Goblin matchup." There's actually a lot of burn in the room and the Forge-tender shines there as well.
Will we see Alexander take someone else to the School of the Unseen or will the Wizards trip on their own robes? Watch SCGLive to find out!
Creatures (26)
Lands (20)