It began with a Facebook group—and a challenge.
"The recent banning of powerhouse enchantment Survival of the Fittest in Legacy has left a giant void in the metagame. I can only anticipate this void will be filled by what is surely the next most powerful enchantment available: Battle of Wits.

JOIN THIS GROUP IF YOU ARE UP TO THE CHALLENGE!"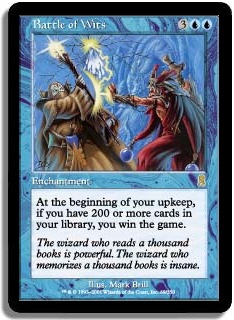 With those words Ken Adams threw down the gauntlet. For months prior to the Charlotte Open Series Ken has been soliciting friends and regional rivals alike to compete in the most cutthroat of competitions—the Battle of Wits challenge. The rules are simple: build the best Battle of Wits deck that you can and outperform all of the other challengers.
The idea for the challenge came to Ken in a vivid dream filled with prophesies and pomegranates. Well not really. "It was a while back when I was at Star City" Ken said having once worked for us as a buyer. "I talked about it with Googs and Woltereck and we always wanted to do it." Given the inherent power of byes Ken has had to outlaw players ranked Level 4 or higher in the Player's Club from the event which he regrets. That said the challenge has earned plenty of interest and action but nearly everyone spent the last minute chickening out. That left just Ken Adams and Kenny Mayer.
Given a minimum of some 200 cards there are an incredibly diverse number of directions to go with a Battle of Wits strategy. A combo kill with the enchantment tastes sweeter than any other but you don't have to restrict yourself to winning with an upkeep trigger. Plenty of other combinations are strong enough and there are plenty of slots in the deck. Thopter/Sword Show and Tell Natural Order Hexmage/Depths—these are only a few of the choices available.
There are plenty of amusing interaction available in Legacy and Ken Adams just jammed on combo-kills in the deck. "I run a lot of tutors" he said. "I wanted to include Academy Rector at first but it turned out really awkward to have to play High Markets and the other land Phyrexian Tower to sacrifice it. That's a lot of junky cards." Oh irony—thy name is Ken Adams. "I just included a lot of tutors and Scapeshift for the alternate win but it hasn't been very good."
Ken Adams and Kenny Mayer are engaged in a Battle of Wits this weekend!
Kenny Mayer's deck is something completely different. Kenny loves to play Zoo and actually constructed his Battle of Wits deck with the goal of being a powerful aggressive deck while simultaneously threatening the enchantment. There are a ton of different ways to go. "I think there's actually a way to build the deck to make it somewhat competent" Ken said. "Gerry Thompson claims he has a list that he would be able to Top 8 with but that he would not be able to shuffle."
Ken counts two of Legacy's more popular decks among his reasonable matchups. "I can draw Moats against Goblins and I think I have enough removal to get a Moat down" he said. "I want to be playing creature decks not combo decks or Counterbalance; they can't really lock me out. I have so many fours."
Naturally Battle of Wits isn't normally a part of the metagame and none of the players believe themselves capable of winning the tournament and Top 32 is optimistic at best. Trophies are trifles to these guys—they want the pride of being found most witting. The real question is how many wins will they need. The line seems to exist around 2.5 in my head and Ken agrees. "I want to say 3 wins will do it" he said. "Once you get to the 0-3 or 0-4 bracket it might not matter who you're really playing against." Kenny has the lead at 1-1 but Ken's not out yet—he has 8 rounds. If they have a mirror match I'm featuring it!
Last but not least...decklists. Time to start typing! I just hope they all manage to dodge a deck check.
Creatures (24)
Lands (88) As an additional treat compatriot Kenny Mayer as featured on SCGLive in Round 2!
Creatures (105)
Planeswalkers (8)
Lands (92)
Spells (45)