Alexander Lapping and Michael Joy registered no lands in their Dredge decks today!
We've all heard of Nine-Land Stompy and One-Land Belcher. But No-Land Dredge? As I walked by Michael Joy in Round 3 and saw Nether Shadow swinging alongside Narcomoeba and a Chancellor of the Forge's Goblin token, I knew I had to figure out what was going on. After sending Michael up on SCGLive, I sat down to talk with one of the deck's creators: brewmaster Alexander Lapping.
Every deck begins somewhere, but this one originated in a truly odd place. "Originally, it started with a Dredge build running Foil and 14 Islands to be able to counter back," Alexander said. "We realized the issue was control, not combo." The deck really hit a sweet spot with the release of New Phyrexia. "When I saw the New Phyrexia Chancellors, I realized that you could push and fill the deck without needing lands while using the Chancellors to draw the necessary tempo."
That led to both Alexander and Michael registering a decklist devoid of mana sources with some particularly interesting quirks. First off, you always draw—that way you can discard a dredge card in order to go to seven cards during cleanup. Second? "Never mulligan," Alexander said. "The one exception is in the mirror match, to hit a Leyline of the Void. You're running sixteen dredgers in the deck, and you're far more likely to win trying to hit a dredger on the eighth or ninth card than on mulliganing to six and missing the first discard." Ironically, that makes this version of Dredge far more vulnerable to Thoughtseize than most!
The deck wasn't looking for tournament glory initially. "When I first made it, we expected it to be an interesting deck—then we saw it kill on turn 2," he said. "The Chancellor of the Forge actually provides raw card advantage, but it's not a blank in the opening hand." That's a stark contrast to most Dredge cards, which tend to have a very one-sided functionality.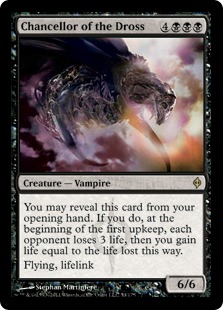 "The bad matchup is combo," Alexander admitted, as most of those matchups tended to be unwinnable. "As we've been watching the Top 8s of the Star City events, there have been like three combo decks—that's just how these events go." Thus he didn't expect to see much combo here today. "We did lots of playtesting against Zoo and Merfolk—they're very much a walk." Other decks in the format, such as Landstill, also represent very little threat. "There are entire decks in this format that just do nothing to you."
Surprisingly, the deck is weak to significantly fewer cards than many Dredge strategies. "The deck is resilient to Tormod's Crypt, because you can always just draw and discard a new card," he said. "It does have an impact and it does slow you down, but that's all it does. Because we have Ichorids, we usually have a shrunken graveyard anyway." Of course, Leyline of the Void and the like are major players, and pretty much unbeatable.
In addition to Dredge combo, the deck can go beats with Narcomoebas and Ichorids, with a couple of Zombie tokens joining in too. "When I see Islands, that's usually the thing," Alexander said. "Unless they know to keep an all-Lords hand, Merfolk is really on the backfoot."

"If you have three Cabal Therapies, you can brute force anyone's hand. We're slower than normal Dredge, but with normal Dredge you can just counter the draw spells and they're dead on the board," Alexander explained. If you'd like to walk a little on the wild side, give this brew a shuffle!
Creatures (48)
Spells (12)