Kenny Mayer is showing Legacy a new kind of combo deck with Junk Depths!
Kenny Mayer has brought some unconventional decks to our Legacy events—many of you may remember the Battle of Wits Zoo deck he found himself playing for Top 16 with several months ago. Master that he is, Kenny still likes to play competitive when he's having a good time. This weekend, he's packing a new weapon: Junk Depths.
"I was going to play Junk," Kenny said, "but Gerry said that deck is terrible and that I should play this thing that a guy has been playing in the dailies." Kenny's list is a copy of the one he saw from MTGO, piloted by MtgCollector. The deck appealed to Kenny's Junk instincts, but has a lot more power to it. "It's just like Junk, but with 20/20s. It's got the disruption in Wasteland and Hymn and it's just a bunch of ridiculous cards."
Among the most ridiculous elements of Kenny's deck is his mana base. To say these lands are interesting would be a gross understatement. Perhaps moreso than any deck I've ever seen, Kenny's deck uses its lands like spells. "I was thinking the opening hands would be hideous because of the land base—you have six lands that don't actually tap for mana, but you can Crop Rotation for Riftstone Portal and Urborg." In addition to functioning as a mana fixer and a tutor for Dark Depths, it's also a powerful trick. Bojuka Bog and Tabernacle at Pendrell Vale are just a few of the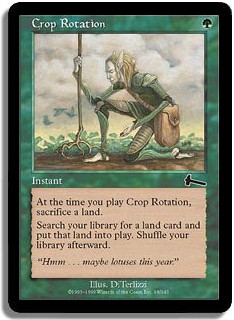 deck's cooler plays. "You can Crop Rotation for Sejiri Steppe to protect your guy from Swords, and I've even already used Cabal Pit," he said. "There are all sorts of tricks I haven't even recognized yet, I'm sure. You've got outs to most everything."
Amusingly enough, Kenny has also already paid the price for his sweet land base. "My last round opponent cast Path to Exile on me, and I realized I didn't have a basic!" But what about Blood Moon?!
The deck may have a mean Junk impression, but the combo-kill is its most effective route to victory. "I'm pretty sure it's just find Hexmage-Depths and win, but Dark Confidant and Knight of the Reliquary are like lightning rods—they can win games on their own," he said. Going long, the deck's plan is obvious—it's the same plan Micah Greenbaum used to win Baltimore. "Once you have Life from the Loam, it's hard for any deck to grind you out, with Volrath's Stronghold and Dark Depths to keep the combo."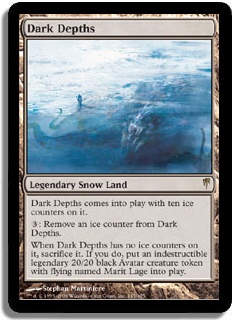 The matchups seemed straightforward to Kenny. "The good matchups are any kind of aggro or control deck, I'm pretty sure…the deck is a little weak to combo," Kenny decided. "The sideboard seems to have a little bit for Storm and three Angel's Grace for Hive Mind, but Mental Misstep has suppressed some of those decks." The deck in fact looks a lot like another Legacy favorite, and plays weirdly similar. "It's like Lands, only you don't have to grind it out. You can just make a 20/20."
One vulnerability worth watching out for is Crop Rotation—you need to avoid getting it countered, especially in the world with Mental Misstep. "You have your own Missteps to protect it, but yeah. It's an additional cost to sac the land so it could be a dagger, but this deck doesn't resolve around having a full grip already," Kenny explained. "I'm already two-for-one'ing myself a whole lot." On the plus side, Crop Rotation is an excellent answer to Legacy's most ubiquitous land. "It's pretty sweet when people Wasteland and you have Crop Rotation."
Plot your course carefully, if you're thinking about giving
Junk
Depth a try. "You have to look into the person to figure out if they're going to Swords your guy or
Wasteland
you," Kenny said. "You might have to jump through a few hoops, which is a pain." It'll all be worth it when they take 20, of course!
Creatures (11)
Lands (27)
Spells (22)