I was on the fence about attending the Legacy GP this past weekend simply on account of having to find a week off somewhere. On Wednesday I checked flights only to discover they were surprisingly cheap. Drew Levin offering to produce an entire 75 for me (including four Griselbrands and four Entombs) sealed the deal and I booked the flight.
Of course I have brain damage.
Before I get to that however let's take a look at the results from the event and see what we can glean about current Legacy. This is the first weekend Land Tax has been legal in eight years. Additionally Griselbrand miracles Delver of Secrets and Cavern of Souls all have implications that are not yet fully understood.
Going into the weekend the talk of the tournament was definitely Griselbrand. The general consensus was that players weren't really worried about Land Tax as the format has gained a lot of extremely powerful cards in the past eight years. As you have no doubt heard Griselbrand's dominance in Legacy was somewhat overstated.
Now to be fair Griselbrand has already had a lot of Legacy success and has single-handedly thrust Reanimator up to tier 1 joining RUG Delver Stoneblade and Maverick decks. Additionally despite an entire field dedicated to combating Reanimator the archetype did put up a reasonable showing. While it did not put any copies in the Top 8 it does appear to have had a reasonable win percentage on the weekend.
Interestingly this win percentage appears to have been highest early on dropping as rounds went on. In fact it appears that Reanimator may have been a great Day 1 deck but a below average Day 2 deck.
Another factor to consider regarding Griselbrand in Legacy is the use of him outside of traditional Reanimator. Sure he has already made his way into Sneak and Show Hypergenesis and some Storm decks. Still I can't help but wonder when someone will build the true Griselbrand deck built to maximize Griselbrand rather than just inserting him into an existing strategy.
Ok here is a breakdown of the Grand Prix Atlanta results. This is the first week of the "new format" so it will be interesting to see where the field goes from here. The GP Top 32 results are weighted by finish with first place receiving 6 points second 5 third/fourth 4 fifth through eight 3 top sixteen 2 and top thirty-two 1. The total column averages the Day 2 metagame data with the Top 32 weighted data giving us a blend of success and popularity (suggesting how much we need to test against each deck).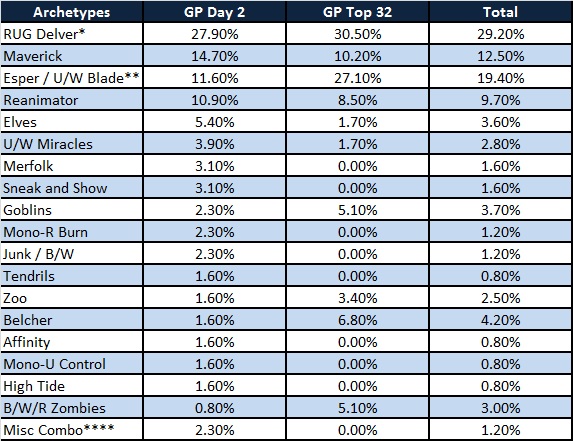 *RUG Delver also includes U/R Delver and a single BUG Delver.
**Mostly Esper with some U/W Blade.
***Misc Combo = Cloudpost Forgemaster and Dredge.
As always Legacy delivers an extremely rich and diverse field. This tournament in particular seems to be extremely deep in playable archetypes that are not just different versions of each other. Combo control aggro and aggro-control all have a variety of different decks represented. The combo decks attack from a variety of angles and you don't need to play blue to compete with them.
It is interesting that both RUG Delver and the Stoneblade decks improved on Day 2 whereas both Maverick and Reanimator struggled a little bit at the top tables. Belcher's recent success both in this event and a number of SCG Open Series is interesting as well. What does it say about the format? Will Belcher continue to succeed?
Spells (47)
Gerardo's Belcher list is totally pure with every number taken to the extreme. The deck itself is just 49 mana and eleven kill cards. The sideboard is split half anti-Force of Will cards and half Burning Wish targets (not finding room for fifteen Islands...).
Sam Black's Zombie Bombardment deck was definitely the breakout deck of the weekend. It is definitely "sweet" "fun" and "clever." Will it turn out to be another "one-week special" or will it become a regular fixture of the metagame?
Creatures (18)
Lands (20)
Sam's deck is definitely very outside the box with more similarities to tokens decks than anything else. The deck is able to abuse sacrifice outlets like Goblin Bombardment Carrion Feeder and Cabal Therapy with Gravecrawler Bloodghast and Lingering Souls. Blood Artist rewards you for doing this and Faithless Looting lets you do more of it faster. A reasonable discard suite rounds out the deck giving you game against the unfair decks.
Looking at the data another way here is a list of the decks that this weekend's event suggests you want to prepare for if you have a Legacy event coming up.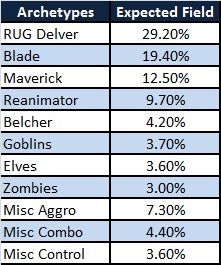 While Sam's deck only has a 3% position in the metagame on tournament success he is a high profile player that made Top 8 of a major tournament with a very cool and very unusual rogue deck meaning there is a good chance it will be slightly overrepresented in the next two weeks. That said Legacy is a format where that phenomenon occurs less powerfully as many Legacy players have "their deck."
Legacy has been a format with a big three for a long time with RUG Delver Stoneblade and Maverick regularly accounting for over 60% of the field. This weekend was no different though it does appear Reanimator is joining their ranks (greatly reducing the number of fringe combo decks seeing play).
Another consequence of the rise of Reanimator has been the decline of Dredge. When everyone in the room is playing 3-5 graveyard hate cards it is not a great time to be Grave-Trolling. In fact perhaps this is at the heart of the recent trend towards Belcher and Elves two fast combo decks that don't use the graveyard. Even the next most popular combo decks after that Sneak and Show Tendrils and High Tide don't rely on the graveyard either. Where are the Painter/Welder/Intuition decks? What about Cephalid Breakfast? Victims of splash damage.
What I find more curious is the lack of Natural Order (into Progenitus). That combination has been a popular fixture of Legacy for years. Where did it go? Does the popularity of Griselbrand (a creature that wins the race against Progenitus) explain it? Without question Show and Tell is worse than it was or at least riskier. Maybe the massive increase in Perish's popularity is the real reason not to mention way more Wrath of Gods and Humilities than there has been. Even Meekstone is seeing a reasonable amount of play!
Here are the RUG Delver Stoneblade and Maverick decks I would recommend testing against this week. The five decks to test against this week seem to be the same big three as always then Reanimator and Sam's deck (though if you have lots of experience with your deck against any of these gaining experience against any of the medium-popularity archetypes is valuable).
Up first the champ (for the third time!):
Creatures (12)
Lands (18)
Spells (30)
This RUG Delver list is as straightforward as they come with the boldest card choices being Fire / Ice over Forked Bolt cutting the fourth Goyf and fourth Lightning Bolt and the use of two Spell Snares (a card that has recently dipped in popularity). Fire / Ice being an instant cycling and being pitchable to Force of Will would be enough but tapping Griselbrand is such a big game that it is just much better than Forked Bolt at the moment. Elves is where you want Forked Bolt most and Fire / Ice is better there as they often don't have more than one Elf in play until the turn they kill you.
The Snares are particularly valuable against the Blade and Maverick decks as they have so many crucial two-drops and the tempo is so important.
This deck is very strong very consistent and will continue to be the deck to beat particularly as long as people keep aiming for the boogeymen like Griselbrand.
Creatures (9)
Planeswalkers (3)
Lands (23)
Spells (25)
Geist of Saint Traft has become a regular fixture in Legacy fighting back against Swords to Plowshares Lightning Bolt and the like. Caw-Blade was one of the best decks of all-time and moving the Legacy Stoneblade decks into a more Caw-Blade type direction seems like a step forward.
The biggest thing holding back Esper Caw-Blade decks was the mana a problem that does not carry over to Legacy. While we have the mana I do think it is better to go the Tom Martell route of employing Lingering Souls. The card is so overpowered protects Jace very well and gives you surprising counter-play against a lot of strategies.
The main advantages offered by adding black to Blade decks are mainly discard (Inquisition of Kozilek or Thoughtseize) and removal the most important of which is Perish but Vindicate is also nice. Splashing red for Pyroblast is just less valuable when so many of the blue decks have so many key cards that are non-blue. Perish on the other hand is often game winning against Maverick and Elves not to mention being good against RUG Delver and a few other popular strategies.
Creatures (25)
Lands (22)
Spells (13)
Maverick seems to have moved squarely away from Punishing Fires now that it is so important to beat Reanimator. That said the rise of Elves along with the return of Goblins and Merfolk has Punishing Fires looking better. No Chokes in the sideboard is a little bit of a surprise but maybe the games just aren't going long enough and everyone's Dazes are making them not worth it.
Karakas being everywhere (and in multiples) is no surprise. The ability to bounce Griselbrand Emrakul Iona Thalia Teeg Linvala and more has the card showing up in multiples in non-white decks. This past weekend I played a Reanimator deck that used two despite having very few uses for colorless mana (maindeck) since your own Karakas is often the best answer to an opposing Karakas.
For reference here is the list I played (full credit to Drew Levin):
Creatures (7)
Lands (17)
Spells (36)
Overall I was fairly happy with the deck though I would make a few changes. I finished 6-2-1 with a loss and a draw coming at the hands of tons of Grafdigger's Cages (Sneak and Show and Enchantress) and the other loss coming from Tormod's Crypt and Surgical Extraction out of RUG Delver. I defeated Maverick High Tide and Stoneblade (aka three opponents that didn't play Cages or Crypts against me).
None of this is surprising but it does tell me that the deck wants to be better at doing something else after boarding. Jace was particularly amazing winning games through hate nearly by himself while still helping my Plan A. In fact I am actually starting to think that we might want Jace maindeck. I boarded him in against everyone and he was always A+. Bouncing creatures is huge drawing extra cards is obviously great and being a legit victory condition through graveyard hate is priceless.
Not of This World was cute but the wrong way. The idea is that it protects your Griselbrand from Karakas but the way the games really play out you often need two Not of this Worlds just to get one attack in to say nothing of if they have Maze of Ith. Obviously it is much better against Plow but even Plow isn't so bad since you draw seven extra cards.
I am not actually sure I love Reanimate so much. Yes it is cheap but that is a lot of extra cards I am not drawing. Reanimating Griselbrand is far from game over. I think I'd actually like to play less Reanimation spells total (maybe six or seven?) and have only two of them be Reanimate itself. This could be totally wrong but my intuition is to start looking there.
Lotus Petal was surprisingly good. When the important fights are so important the ability to surprise people by a turn is invaluable. I am not sure how much of this type of business you can play before it catches up to you (after all Dark Ritual + Jace the Mind Sculptor is a bit odd); however some amount of it makes you much harder to play against.
Out of the sideboard I'd like to see at least one Engineered Explosives and one Echoing Truth. Not having answers to tough problems is just not worth it when so many of them cost one or less. We have a ton of looks at cards so finding one-ofs is not that hard.
I'd also like to see at least one fatty in the sideboard maybe two. Against opponents that don't have creatures we have a severe shortage of real threats. The first creature I'd like to see is Iona but if we have room for two Sphinx of the Steelwind is a nice threat to get against Maverick that doesn't lose to Karakas.
For what it's worth we can definitely trim at least one Coffin Purge (maybe two) as Entomb can find it in a hurry and there just isn't enough Reanimator to justify the space.
Before we go one more deck I'd like to take a look at today is the return of Goblins:
Creatures (34)
Lands (20)
Spells (6)
Lucy abandoned the black sideboard cards (and Warren Weirding) for Thalias in the maindeck and Gilded Drakes in the side. Sulfur Elemental is a cute new twist to attack Mother of Runes (and opposing Thalias since yours come out against Maverick).
What is most interesting about this Goblins list is the total absence of Wastelands or Rishadan Ports with more of a focus on the Goblin Lords and Cavern of Souls.
I did not include the SCG Legacy Open in Seattle results in the above graph as it is mostly the result of the moment from the previous lame-duck format. Still it is interesting to consider just how different the results were from the GP (outside of the field being diverse).
Top 16 of SCG Legacy Open Seattle:
Merfolk: 1st and 3rd
U/W Miracles: 2nd
Team Italia: 3rd
Sneak and Show: Top 8
RUG Delver: Top 8
Aluren: Top 8
Maverick: Top 8
People often make claims about how broken Legacy is and how it would fall apart if played all the time. Well it has been a couple years of nearly weekly major play due to the SCG Open series and this weekend the GP had tons of pros with Griselbrand Land Tax miracles and Delver of Secrets all legal. Somehow despite Brainstorm and Force of Will being legal we saw a rich diverse field with a metagame that is alive and well. It is mind-blowing to even think about how one would go about creating a field this diverse in both archetype and fundamental gameplay. Yet somehow Legacy has grown into this beautiful creature on its own.
Ban something? I can't wait for them to unban Black Vise!
Next Week: M13 Set Review! It starts Monday; see you then!
Patrick Chapin
"The Innovator"
P.S. Still breaking Griselbrand eventually...