When I travel to Constructed events I try to bring as many cards as possible because I almost never know what I'm playing and even when I'm pretty confident there's a chance I'll change my mind at the last minute. I usually leave a day or two before the event but I'll still bring a few thousand cards.
I brought a single deck box with my Legacy Zombies deck and no other cards to GP Atlanta. I was as committed as I could be.
For those of you who haven't been following my progress with Zombies in Legacy or don't remember I started working on and streaming with the deck before Grand Prix Indianapolis. I almost played it there but the day before the Grand Prix Marijn Lybaert posted an Esper list on his Facebook wall that I thought looked great. I told Tom Martell that we should play that so we changed a couple cards around and played the same 75 and Tom won the Grand Prix.
The SCG Invitational in Baltimore happened shortly after and I played Esper again. But I felt like people had found ways to prepare for Esper for that tournament and it no longer felt like what I wanted to be doing in the format so the next day I played Zombies in the SCG Legacy Open and finished 11th.
The next time I played Legacy was at the SCG Invitational in Indianapolis and I played it in both the Invitational finishing 5-3 in Legacy and the Open where I did poorly. But it was clear that the Open was just the kind of day where I wouldn't have won with anything based on my opponents' draws. Legacy is a difficult format.
Aside on Legacy:
What I mean when I say that it's a difficult format is that you can always lose. There are so many different decks that you can't be ready for all of them and some decks have such unfair draws that they can always beat you no matter what you're playing. Really that's only the beginning of the difficulties of Legacy.
We rarely see radical innovation in Legacy; we mostly see subtle metagame shifts minor tweaks on existing archetypes and existing strategies warped to take advantage of new cards sometimes getting pushed from unplayable to very good when cards like Griselbrand are printed.
There are a lot of reasons we rarely see new archetypes emerge. First of all most players only know what a very small portion of the cards that are legal in the format do. That's a very strange constraint on building in the format at least to me. Second the barrier to entry in terms of strength of a deck is very high. The decks people play in Legacy use exceptionally powerful cards and often have years of tuning by hundreds of players behind them.
Finally even if you do find a powerful new deck it's very challenging to test. Events on Magic Online rarely fire outside of two-player queues and there are too many different strategies to realistically build them all to playtest against. Even if you could your results probably wouldn't be very good because it's unlikely that you know anyone who can play every deck in Legacy well enough to give you relevant results.
The specific interactions in Legacy make testing even more difficult particularly the amount of play in the format. All the best decks are the best decks because they have the most options. That doesn't lend itself to easy testing. I tried testing my Zombies deck against Reanimator by myself once to see if that matchup was good. I quickly decided there was no possible way I could figure out how the game would play out when one player had Brainstorm and the other had Cabal Therapy—it was hard enough to figure out how Cabal Therapy by itself would really play out when I knew both players' hands.
As far as I can tell the only legitimate way to test for Legacy is to play in Legacy tournaments. So if you want to innovate you have to be willing to lose some tournaments while you figure out what your deck has to do. There aren't a lot of people who are in a position to play enough Legacy tournaments in a short enough period of time that they're incentivized to worry about the potential long term gains from building something new compared to the higher short term expectation of playing a known deck.
After Grand Prix Atlanta I asked Dave Shiels and Matt Costa if they wanted to help me build a new Legacy deck. Despite the fact that I'd just successfully done that they couldn't really understand why I'd want to bother when it's so much easier to just outplay people with existing decks. After all as I said there's lot of play to decks in Legacy anyway so there are plenty of other ways to get an edge. I don't think it's a coincidence that Legacy Grand Prix are usually won by people you've heard of like Tom Martell Gaudenis Vidugiris and Tomoharu Saito.
Due to this incentive structure I've found working on Legacy decks to be a solitary endeavor. Very few people are really capable of or interested in helping me. With Zombies I quickly got to the point where I didn't feel like there was anyone I knew who I could trust to have useful advice on my last few cards (like how many Blood Artists and how many Bitterblossoms I wanted given that I was pretty sure I wanted both) and I know a lot of very good deckbuilders. I couldn't even get to the point where it mattered that I couldn't trust their results because they'd never played the deck since I couldn't convince them that Blood Artist was a playable card or that my deck had a playable strategy in the format to begin with.
I've written pretty extensively about the deck and its evolution here and here. Between the SCG Legacy Open in Indianapolis and Grand Prix Atlanta my only changes were -1 Swamp +1 Marsh Flats in the maindeck (which now that I think about it might have cost me my match in the Top 8) and -1 Dark Confidant -1 Vindicate +1 Pithing Needle +1 Surgical Extraction in the sideboard. Here's the list I played:
Creatures (18)
Lands (20) Before the tournament Gaudenis and Tom both considered playing my deck but I told both of them that they shouldn't. I didn't want to be responsible for them doing badly and I still wasn't completely confident. Also a lot of why I want to play this deck at this point is familiarity. I've been working on it enough that I know what I'm trying to do against basically everyone and it's taken me a long time to get to this point. I wasn't sure how well they knew the deck though they both had tested with it some in the week before the GP.
Several people tried to convince me not to play it or asked me what decks I was good against or how I beat some particular deck they thought was good. All of my sample sizes are very small so I don't really know my percentages and there's so much play to all the games that it really depends. I just knew that my deck gave me the tools to do what I wanted to do.
As for the actual tournament in round 4 (after my three byes) I played against Mono-Red Painter. In game 1 he got his combo together and killed me. Between Goblin Welder and Sensei's Diving Top it can be pretty hard to stop him from doing this eventually with only discard spells and Goblin Bombardment to disrupt him. I basically just had to race which I was not well set up to do.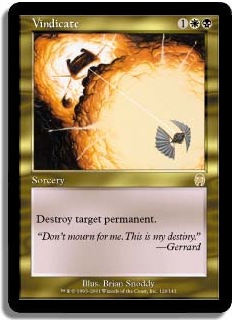 My sideboard was very good against him though. I got Disenchant and Vindicate to interact with his cards after he played them Surgical Extraction to make it so he could never combo me Pithing Needle to disrupt his combo and Dark Confidant to help find answers. I basically won game 2 on turn 1 when I Thoughtseized his Painter's Servant and used Surgical Extraction in his draw step to remove them all from his deck forcing him to try to beat me the hard way with Grindstone (which would really never work since it gives me too many resources) or kill me with manlands while having several dead Red Elemental Blasts and Pyroblasts in his deck.
Game 3 was interesting. He led with Grindstone and two Tormod's Crypts an Ensnaring Bridge and played out his hand and I had to decide if I wanted to Pithing Needle his Grindstone so that he couldn't kill me or if I wanted to name his Tormod's Crypts so that I could kill him with my Goblin Bombardment and two Gravecrawlers. I decided to go for the Tormod's Crypts because he didn't have enough mana to play Painter's Servant and activate Grindstone in a single turn and I had Cabal Therapy to potentially stop him from holding a Painter in his hand until he had enough mana. If he played it I could kill it with the Goblin Bombardment. He failed to find a Painter in time.
In round 5 I played against RUG. Game 1 I got him down to two with a Bloodghast in play and another in my graveyard to his Tarmogoyf and I couldn't find another land to kill him. Eventually I drew a Blood Artist and played it. As soon as it entered play I sacrificed my Bloodghast to Cabal Therapy him and he Lightning Bolted my Blood Artist in response. I thought I'd won the game but he had a Stifle for the trigger and drew a maindeck Scavenging Ooze.
Game 2 I think he just had a more aggressive draw than me and killed me pretty easily.
The next round I played against Maverick. In the first game I eventually got two Blood Artists in play and once I started playing lots of Lingering Souls he couldn't really do anything without losing to them. Game 2 was a long drawn out topdecking affair where I had very little life and a Goblin Bombardment but no recursive creature and had to kill everything he played. He drew a creature and I didn't draw an answer eventually so I died.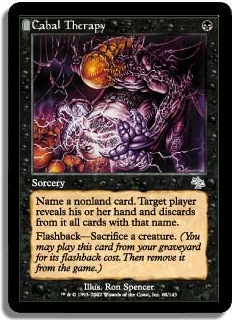 I used to side out my Cabal Therapies against most fair decks. I felt like they weren't good enough if I didn't have Thoughtseize and I didn't want a ton of discard against decks that are just trying to play the board. Eventually I realized that discard was my best way to fight against Green Sun's Zenith / Scavenging Ooze and even Knight of the Reliquary and that Cabal Therapy is just one of the strongest things my deck does so I almost never board out any discard.
In game 3 I had two Cabal Therapies so I just played one on turn 1 and guessed Noble Hierarch since I'd have time to get one of the 2+ mana spells I was worried about next turn and that was his best turn 1 play. He happened to have two of them and I was able to take his Scavenging Ooze on my next turn. That set him back far enough that I had time to get Goblin Bombardment going.
In round 7 I played a written feature match against Ian Duke. I correctly assumed that Ian would be playing the same deck as Reid but I mistakenly assumed that it would be Reanimator when really Reid had built a Land Tax deck. For game 1 I kept a hand that was a little soft against Reanimator because it didn't have a one-mana discard spell but was perfect against almost anything else because I wasn't confident enough in my guess about what he was playing and that worked out well. For the most part the match was pretty uneventful. My draws were good and his were bad and I won 2-0. Details are here.
In round 8 I played against Conley playing Reanimator on camera archived here. In game 1 his Brainstorms kept his hand safe from my discard and he was able to get a Griselbrand into play on turn 3 despite the fact that I played discard spells on turns 1 and 2. But after he Reanimated Griselbrand on turn 3 I played Carrion Feeder and Bitterblossom. I took one hit from Griselbrand but the combination of Carrion Feeder and Bitterblossom shut it down and when I Cabal Therapied him to see that he didn't have anything I knew I would win if he couldn't find an Animate Dead with no library manipulation. Unfortunately he did.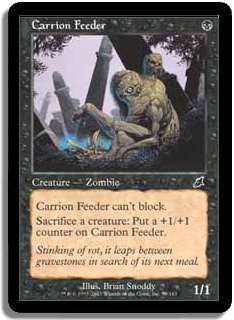 The highlight of the match for me was game 2 when I kept a hand that didn't have disruption but had two Bloodghasts and Faithless Looting and just accepted that I was the beatdown deck. This hand forced him to chump block my Carrion Feeder with his turn 3 Griselbrand.
Game 3 was more of a grind where my Surgical Extractions and discard actually stopped him from getting a creature into play while Bloodghast and Dark Confidant killed him.
This locked me for Day 2 but I still had round 9 to play. In game 1 he stuck on one or two lands and I saw and Underground Sea and some blue cards including Jace the Mind Sculptor (pitched to Force of Will I think) so I had no idea what he was playing.
Game 2 I didn't sideboard optimally and his Esper deck beat me with Batterskull and friends.
In game 3 I had the awesome start of turn 1 Faithless Looting discarding Bloodghast turn 2 Cabal Therapy naming Swords to Plowshares and hitting then playing a fetch land to flash my Cabal Therapy back on with my Bloodghast hitting another card fetching to return Bloodghast using the mana to Cabal Therapy him again and then Sacrificing the Bloodghast to flash it back and pull a fourth card from his hand.
Despite that he drew very well to make the game go long but Goblin Bombardment was able to overpower his Batterskull to win the match. This put me into Day 2 at 8-1
In the first round of Day 2 I played against another Esper deck and a Goblin Bombardment that I drew at the end of game 1 after he had already missed twice with Cabal Therapy trying to hit Goblin Bombardment was able to win the game. I don't remember much of the next game but I won the match 2-0.
In the eleventh round I had another written feature match covered here. In game 1 he kept a hand that was entirely dependent on his Brainstorm which I hit on turn 1 on the play with Thoughtseize. Then I won the game easily since he basically didn't have any cards. In game 2 I found Goblin Bombardment and Blood Artist and he didn't have an answer for Blood Artist.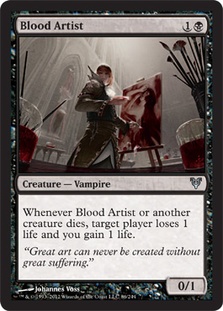 In round 12 I played against Daryl Ayers playing RUG. I don't remember much of this match beyond hitting thee Brainstorms with Cabal Therapy and losing anyway because he drew two Tarmogoyfs and a Lightning Bolt for the Blood Artists that would have otherwise let me hold them off with two Bitterblossoms. Now I couldn't lose again.
The next round I had another video feature match against another member of CFB playing another Reanimator deck. This time it was David Ochoa. You can watch it here.
Game 1 he just couldn't find a Reanimation spell and I was able to beat him without any disruption or any particularly impressive interactions just by attacking with cheap two-power creatures.
In game 2 he Thoughtseized and Reanimated my Dark Confidant but Dark Confidant eventually betrayed him revealing Griselbrand which let me kill him the next turn.
And that was the last match I won.
In the fourteenth round I played against Belcher a deck I never really want to play against because neither player usually has much control over how the games play out. In game 1 he kept a speculative hand and didn't kill me before I was able to strip his hand enough that he couldn't draw anything to kill me. Game 2 I conceded to a large number of Goblins and in game 3 when he was almost certainly going to win I offered a draw. I'd been paired up and he only had one loss. He only needed a draw to lock himself in the Top 8 and I needed a win and a draw because my tiebreakers were very good. He accepted because it was good enough and he wanted to see me in the Top 8 anyway.
In the last round I got paired down. I was a lock to Top 8 with a win and Alex Hon my opponent almost certainly couldn't Top 8 because if he beat me other players with more points could draw with each other to lock him out so he conceded to me.
My match in the Top 8 was also on video but isn't up on YouTube yet at the time of writing this article. Game 1 I kept two fetchlands on the draw and basically just lost to Stifle and game 2 he killed me very quickly with Nimble Mongoose.
The most important lesson I learned about myself from the tournament is yet another reason that I should try to play my own decks whenever possible. I'm not very competitive unlike most pros. I play competitive Magic because I love games and figuring out games and competing is the best way to test my theories. This means that I often have less "fire" than my opponents. The best way to really motivate myself to win is to put myself in a position to have something to prove as I first really saw in Honolulu after my 0-3 start with a deck I believed to be very good.
I knew everyone doubted my deck for this tournament and I had to prove them wrong.
Thanks for reading
Sam
@samuelhblack on Twitter