[Author's note: Matt and I have been delinquent in putting out fresh content for you guys and this article was left hanging about 2/3 complete since I got back from GP Boston-Worcester and immediately started school. Please forgive us; I'll be back with regularly scheduled stuff now!]
Greetings from sunny Cape Cod Massachusetts! Matt Costa and I have gotten to hang out for a week at his place while testing for Grand Prix Boston-Worcester and we have had an absolute blast with awesome people. Since even Magic Online drafts get boring after a while Matt and I decided that we wanted to make a joint article for you guys. So we played our favorite Legacy decks against each other to see what we could learn!
Now we don't have any fancy video production equipment just a pair of Legacy decks and a sturdy kitchen table so we'll mostly be discussing the dynamics of this matchup that I think is extraordinarily skill-testing and enjoyable. The results are a little bit bland but some of the conclusions I've reached are quite unusual so hopefully you all will learn a lot about the best Brainstorm decks in the best Brainstorm format.
Before I get into the data and the nuances of the matchup I want to take a moment to thank everyone who read my article "Magic 2030" from a few weeks ago. Whether you commented shared it with a friend or let me know personally that you liked my writing it was really rewarding to see such a strong response to the article and I look forward to writing another creative piece sometime in the future.
Here is the Esper Stoneblade list I used:
Creatures (11)
Planeswalkers (3)
Lands (23)
Spells (23)
I really like the Engineered Explosives and the Sensei's Divining Top was a replacement for the Ponder or Ponders that have been floating around other Esper lists as pseudo Brainstorms. I think that having Top instead of Ponder gives you a huge amount of consistency in the midgame and can help find one and two-ofs in the list that you will need in specific situations. I had never played with the little artifact before but I am starting to see its subtle effect on the game: improving my card quality a LOT. It also opens up the possibility of playing some number of Counterbalance in the sideboard which could be very powerful in the right metagame.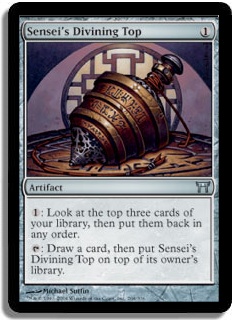 I would consider playing an Engineered Explosives in the sideboard as it's very very powerful in the current metagame. It might merit a spot over Vindicate which I mainly played because it's so flexible against a wide variety of decks. It could also replace the second Sensei's Divining Top which is there because it can come in against all non-aggro decks to improve my card quality going long and helps set up Terminus against Maverick and RUG. I wasn't sure so I played this sideboard.
Here's how I sideboarded against Matt with RUG Delver: -2 Thoughtseize -1 Inquisition of Kozilek -4 Force of Will -1 Jace the Mind Sculptor +1 Sensei's Divining Top +2 Terminus +3 Lingering Souls +1 Intuition +1 Vindicate. If I had replaced the Vindicate or the Top with an Explosives I would have sideboarded that instead. Additionally at the end of the set Matt suggested that Jace was not as good in this matchup as I wished he were and that I should have cut another Jace for the final Spell Pierce. I think he's right as his list had multiple Pyroblasts as well as several Lightning Bolts and the omnipresent Spell Pierce / Daze package.
As for the results we played ten pre-board and ten post-board games alternating who was on the play and who was on the draw. Stoneblade went 6-4 pre-board and 5-5 post-board with 3-2 records on the play and on the draw in the first set. Post-board however Stoneblade won more games on the draw than on the play. I went 3-2 on the draw but only 2-3 on the play after sideboarding.
Of course this sample size is tiny in relation to a true measurement of a deck's win percentage in a matchup. Additionally it's important to remember that both I and Matt made mistakes in our testing (though I made a few more in my estimation) and that human error makes it very difficult to get a read on a deck's true win percentage. After all how can you measure a true win percentage in a matchup when a better or worse player will see totally different results?
From my feeling about the matchup I've come to a really radical conclusion about what I want to do to maximize my win percentage in tournaments. Don't judge me but I want to be on the draw with Stoneblade against RUG (and even more so against Maverick!). That goes against all common sense and proper intuition about the matchup. After all RUG Delver is an aggressive deck with loads of Lightning Bolts Dazes and Spell Pierces to put me in a lot of trouble if I'm trying to resolve Stoneforge Mystic Swords to Plowshares or Jace the Mind Sculptor.
The thing is though that RUG Delver doesn't win all of its games with an early couple of Delvers and Tarmogoyfs. Frequently the RUG deck grinds out its opponents with Wastelands Nimble Mongoose and Tarmogoyfs. It does this by Brainstorming away its Dazes and excess lands as the game shifts to a longer grindier game. With such a low land count it's as if the RUG deck starts out a virtual four cards up on Stoneblade because they function as well on two lands as we do on six.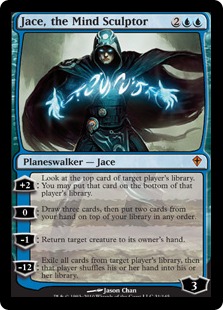 What this means is that the opening sequence of a game will often involve a Delver of Secrets getting hit with Swords to Plowshares or a Nimble Mongoose getting blown up by Engineered Explosives and the RUG player can shift gears stressing our Engineered Explosives with the hard-to-answer Nimble Mongoose. What usually happens in the end though is that if the RUG player doesn't manage to stick a Mongoose for enough turns to put us in burn range on turn 8-12 we take over the game with a Batterskull or a Jace.
Our job therefore is to use Stoneforge Mystic Snapcaster Mage Jace the Mind Sculptor and Engineered Explosives to make up the inherent card difference as the game progresses. Additionally as we make even more land drops the value of their Spell Pierces and Dazes diminishes which decreases the average value of their draw step. If they choose to play Stifle in their deck this phenomenon is even more exacerbated. Stifle RUG decks are much more able to end a game before it ever starts but they lose out on some of the mid game resilience of the traditional RUG Delver lists.
Once we make up the card advantage we've already ceded to their mana base then our top end can take over the game which doesn't happen until we've answered every threat and gotten several two-for-ones along the way.
Additionally this is why every (non-Wasteland) land drop for the RUG player past the third is basically a dead draw. If they start making land drops number four or five you can rest assured that they are going to run out of gas soon and if you can just answer the current salvo of creatures you're going to win the game.
Another key element of RUG Delver is the fact that every one of their cards is basically interchangeable. Of course Delver of Secrets and Daze are different but what I'm getting at here is the fact that a Thoughtseize or an Inquisition of Kozilek is not particularly powerful against RUG Delver because they don't often rely on a key card to enact their game plan. With ten or more cantrips they have an unbelievable amount of redundancy in their deck and nabbing a Tarmogoyf with a timely Inquisition of Kozilek is not going to guarantee that they don't simply find another equally potent threat within two turns. The Pierces and Dazes are going to trade for your removal spells just as playing another threat would essentially trade for your removal spell.
It always seems like the RUG player has a hand full of Nimble Mongeese and Spell Pierces until the last turn of the game when they suddenly have a hand of three burn spells. I know that feeling is extremely irritating and that's part of what makes RUG so powerful—that it's always drawing action. Just remember that because of their card selection RUG players will often be able to have the perfect mix of threats and disruption even going long.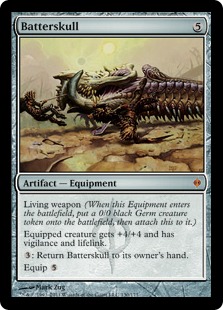 So how are we beating this ever-shifting untouchable opponent that always has the right cards? Well first off a Batterskull blanks their deck pre-board once it connects. Second of all we have all the two-for-ones. I will frequently play a Stoneforge Mystic with one land untapped on turn 3 and one of two things happens. Either the opponent bricks on a Force of Will or Lightning Bolt and we win the game on the spot or we get a two-for-one. This works best with a Brainstorm to put away the Batterskull but it's acceptable to hold the artifact to play it on turn 7 or 8 if you think that you can afford to have it sit in your hand for that long. Simply by not dying you're going to eventually draw another Stoneforge and get the Batterskull back and the game will end.
Let's sum up the game 1 rules for you the Stoneblade player.
They are the beatdown. You have inevitability.
If you don't die you will win with Batterskull. Keep that in mind.
Two-for-one them with Stoneforge Mystic and Snapcaster Mage.
Nimble Mongoose is the best threat against you since you can only answer it with Engineered Explosives (coincidentally your best card against RUG) or Vendilion Clique blocking (unreliable).
If you Spell Pierce a Ponder or Brainstorm on turn 1 or 2 you're stunting their ability to change their cards around at will and forcing them to play with the cards they've naturally drawn!
Being on the draw is just peachy because you get a free card in exchange for needing cheap answers for their threats (which you would need anyway!)
Here's Matt's RUG Delver list and keep in mind that sideboard games are quite different from pre-board games because of the existence of a few hard-to-answer threats in both sideboards. That's part of what makes the matchup so damn intriguing!
Creatures (12)
Lands (18)
Spells (30)
Take note of some of the all-stars against us in Matt's sideboard. Not only can he recur Wastelands if he hits Life from the Loam but he gets Ancient Grudges to make Batterskull and Umezawa's Jitte awkward as well as Sulfuric Vortex which often just ruins us if we don't have an immediate answer. Remember how I said that I wanted to be on the draw and that I enjoyed getting into grindy games pre-board? Things don't work that way after these cards come in. Not only does Matt gain a wide variety of answers to our supposed trumps of Batterskull and Jace but he gets to trump us with a tough-to-answer time bomb in Sulfuric Vortex and can always put us away with Life from the Loam. It sure does seem like we've been cornered from owning either the early game or the late game doesn't it?
What's an enterprising Stoneblade player to do then? Well we gain a card called Lingering Souls which allows us to actually put hard-to-answer pressure on the RUG player if we need to do that. We can also use it to play pretty good defense against a marauding Insectile Aberration or Nimble Mongoose and it can buy us time to get our Snapcaster beatdown on. We also gain another Sensei's Divining Top which is nice in that it allows us higher quality draws as the game progresses and can help get us a Terminus at a miraculous time.
I found myself winning games in odd ways post-sideboard and I think that's just par for the course since you will often find yourself hard-pressed to win a game in the traditional sense if you try to play around RUG's cards and just answer their threats into the late game. The fact of the matter is that you have to get a little aggressive in spots. Don't become a Reckless Brute for sure but there will be times that you will have to hope that your opponent has bricked on an artifact removal spell and jam that Batterskull at them.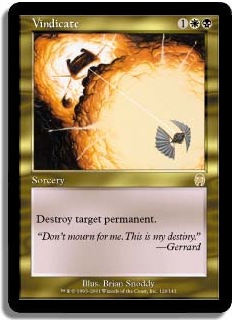 I remember Matt trying to get Life from the Loam going in one game but I managed to beat him down with Snapcaster Mage and Vendilion Clique while he was spinning his wheels trying to put together a Wasteland lock and answer my threats. Another game was an overload of Spirit tokens and Engineered Explosives for the Nimble Mongeese.
I think that I got a bit lucky in spots (especially the one game where I peeled a Vindicate for his Vortex immediately) because strategically RUG seems like it should be advantaged in the post-board configurations. But many RUG players won't be ready to see your motley crew of 3/1s 2/1s and 1/1 tokens actually race a Mongoose and a Tarmogoyf. I wouldn't exactly call you the beatdown in this matchup because you certainly can win the long game if you are able to land a Batterskull and they have no Ancient Grudge or Sulfuric Vortex. You also have Engineered Explosives Spell Pierce and Vindicate to answer the Vortex but in general that pesky Life from the Loam means your residual creatures are going to have to show you why they were printed with power and toughness.
Basically I don't think you can reasonably answer every angle of attack the RUG player may present post-board. I do however think that you have a good number of cards that match up well to interact with RUG in general and that you can leverage that into putting them on the defensive which is exactly how you beat Sulfuric Vortex and Life from the Loam. Think of it this way: they have to cut something for these sweet Red Elemental Blasts and Vortexes and the natural cards to cut are the removal spells. So when they trim down to two Bolts and maybe two Force of Wills how ready will the RUG player really be for a curve of Stoneforge Mystic into Lingering Souls?
I rarely find myself playing a deck that tries to grind out advantage over time while still trying to turn the corner and put the game away quickly but post-board games against RUG is one of those matchups. Hopefully RUG recedes a bit in the metagame for the SCG Invitational in Atlanta because I'm ready to put up another big finish with my good friend Stoneforge Mystic and don't relish playing against skilled opponents with Legacy's take on the Delver menace.
I know in the past I said that I'd never write about Stoneblade again but since this matchup analysis is a bit different from a simple decklist update and metagame report I think it might be a worthwhile exception. Good luck to those of you playing in the SCG Open Series in Los Angeles this weekend and I'll see you all in Atlanta!
Best wishes
Ben Friedman