Ninth Edition: Somewhere Over the Rainbow, Part 2 - Red, Green, Artifacts, and Lands
From Yesterday:
Star Ratings this time mean things that are a little different. There's now a fifth rating, because with greater knowledge comes the ability to call a spade a spade.
Constructed Stars:
****: A staple card that has proven its worth and will be in many decks, doing something that would otherwise have to be done by a worse card or not at all. This card matters.
***: A solid card that has proven its worth and will be in decks if the right deck type is worthwhile and the expansion sets don't provide a superior alternative. This card is part of the constructed puzzle.
**: An acceptable constructed card if you need it, or one that fills a role, but one that Standard likely would not miss if it was absent... unless there are gaps in the next two blocks.
*: A card no Standard deck should ever need to play, but in a strange world it's not unthinkable.
0: A card that is strictly for limited and/or casual. Note that many of them didn't start out that way, but times have changed. For example, check out Dingus Egg.
Limited Stars:
****: Windmill slam! This card is a bomb.
***: This card is a credit to your deck.
**: Nothing wrong with putting this card in your deck.
*: Do I really have to put this card in my deck?
0: I'll play another land, thanks.
Cards will be rated in the form: Constructed Rating/Limited Rating
Let's jump straight into Red today, shall we?
Red Commons:
Anaba Shaman 0/**
Balduvian Barbarians 0/***
Firebreathing 0/0
Flowstone Shambler 0/**
Goblin Brigand 0/*
Goblin Chariot 0/**
Goblin Mountaineer */**
Goblin Piker 0/**
Goblin Raider */**
Goblin Sky Raider 0/0
Hill Giant 0/**
Lava Axe 0/**
Lightning Elemental 0/**
Panic Attack 0/*
Raging Goblin **/*
Reflexes 0/0
Rogue Kavu 0/**
Sandstone Warrior 0/**
Seething Song **/*
Shatter **/**
Shock ****/***
Stone Rain ***/*
Volcanic Hammer ****/****
Total Rating: 18/39
Mean Rating:0.78/1.71
Red's commons are rescued by two staple burn spells, Shock and Volcanic Hammer, that have been with us for years and will likely be around for a long, long time. Shatter is a strange card, because it's a fine card if there is nothing better available but Wizards has demonstrated the ability to pull out anything from the more efficient like Rack and Ruin to precise cards like Overload up to strictly superior cards like Shattering Pulse. Stone Rain meanwhile remains an orphan that we keep around hoping it will never go into anyone's deck because people don't like being without their lands, you know?
Red Uncommons:
Kird Ape ***/***
Goblin Balloon Brigade **/**
Whip Sergeant 0/**
Orcish Artillery */***
Viashino Sandstalker ***/**
Ogre Taskmaster 0/***
Anarchist */**
Flowstone Crusher */****
Guerrilla Tactics **/***
Pyroclasm ****/***
Threaten **/**
Flashfires ***/**
Boiling Seas ***/**
Sudden Impact */0
Demolish **/**
Flame Wave 0/***
Blaze */****
Enrage 0/*
Total Rating: 29/43
Mean Rating:1.61/2.39
Hey there, Kird Ape. Welcome back. Otherwise the other big change is that Boil is out and replaced by the strictly inferior Boiling Seas. A large portion of Boil's strength was that it could be cast at unexpected moments, so Boiling Seas will not be able to fill the same role with anything like the same level of effectiveness.
Red Rares:
Blood Moon ***/0
Bloodfire Colossus 0/***
Flowstone Slide */****
Form of the Dragon ***/****
Furnace of Rath **/**
Goblin King */***
Karplusan Yeti 0/****
Magnivore ***/**
Mana Clash 0/0
Mogg Sentry */*
Rathi Dragon ***/****
Relentless Assault **/**
Rukh Egg */**
Shard Phoenix ***/****
Shivan Dragon **/****
Thundermare */****
Wildfire ***/****
Total Rating: 29/47
Mean Rating:1.71/2.76
The only Red rare that doesn't at least potentially do something interesting in Limited, Constructed or both is Mana Clash. I've never understood why anyone likes to play Mana Clash, but people keep using it and having fun with it so I say let them keep enjoying themselves. The odd part of this list is that there seem to be some rares that are there for Limited purposes, but they should also be good for players that are caught midway between Limited and Constructed. It's good to give people a choice of Dragons and an even bigger selection of large men and I have a particular soft spot for Rathi Dragon. It was my main weapon in my first Pro Tour and it served me well.
Red lost:
Common:
Canyon Wildcat */***
Cinder Wall */**
Lightning Blast */****
Orcish Spy 0/*
Ridgeline Raider 0/**
Sabertooth Tiger 0/**
Shock Troops 0/***
Sizzle 0/0
Tremor 0/*
Uncommon:
Boil ****/**
Dwarven Demolition Team 0/**
Enrage 0/*
Goblin Glider 0/*
Hulking Cyclops 0/***
Lesser Gargadon 0/**
Pyrotechnics */****
Wall of Stone */***
Rare:
Bloodshot Cyclops 0/****
Hammer of Bogardan ***/****
Inferno */***
Lava Hounds **/****
Obliterate ***/**
Okk 0/0
Searing Wind 0/**
Thieves' Auction 0/*
Two-Headed Dragon ***/****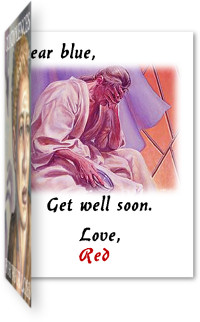 There's a pattern here. The cards that have been cut that mattered for Constructed purposes are almost all weapons to be used against Blue: Boil, Hammer of Bogardan and Obliterate are three of the four. Two-Headed Dragon is the other, but I can't complain about getting Rathi Dragon in return with Shivan Dragon still in the mix along with everything in Kamigawa Block. Boil became Boiling Seas, and the other two cards have no real replacements. There are some other minor casualties, but none that seem like they should make a difference. It seems only sporting. If you're going to take away all of Blue's toys at least force people to make an effort to hit it while it is down.
Green Commons:
Llanowar Elves ****/***
Craw Wurm 0/***
Elvish Berserker 0/0
Elvish Warrior */***
Giant Growth **/****
Giant Spider 0/***
Grizzly Bears 0/**
Kavu Climber 0/***
Natural Spring 0/*
Naturalize ****/***
Norwood Ranger 0/0
Order of the Sacred Bell 0/***
Overgrowth **/0
Rampant Growth ***/***
Reclaim **/*
Rootwalla 0/***
Scaled Wurm 0/***
Spined Wurm 0/***
Trained Armodon */***
Tree Monkey 0/*
Treetop Bracers 0/***
Wood Elves **/**
Zodiac Monkey */**
Total Rating: 22/52
Mean Rating:0.95/2.26
Green is still the king of core set Limited and that is unlikely to change. It has a ton of solid creatures and they're bigger than everyone else's. To make matters worse, this is a Limited world where tempo is not especially important. It can be, but it matters far less than in expert formats. As long as you don't completely give up on the first three or four turns you will be fine and you have both Rampant Growth and the returned Llanowar Elves at common. There is room for three happy Green drafters and even with four the color is solid. Llanowar Elves is so good that if you toss in Naturalize the rest of Green's commons don't have to do much of anything to be a good deal.
Green Uncommons:
Anaconda 0/***
Blanchwood Armor */****
Creeping Mold ***/***
Elvish Bard 0/***
Enormous Baloth 0/***
Groundskeeper */0
Hunted Wumpus ***/****
King Cheetah 0/*
Ley Druid */*
Llanowar Behemoth 0/****
Needle Storm 0/**
Regeneration 0/*
River Bear 0/***
Rootbreaker Wurm 0/***
Stream of Life 0/0
Summer Bloom */0
Viridian Shaman ****/***
Web 0/0
Yavimaya Enchantress **/***
Total Rating: 22/52
Mean Rating:0.95/2.26
Green's one track mind has made it through the rotation from 8th to 9th fully intact. You get lots of fat creatures and little else. You need to keep a close eye on that mana curve, although not as close an eye as you might think. In terms of Constructed, the big change is the inclusion of Viridian Shaman. Otherwise you would have missed him when he was gone.
Ancient Silverback 0/***
Biorhythm **/**
Early Harvest ***/0
Elvish Champion **/**
Elvish Piper */**
Emperor Crocodile */***
Force of Nature */****
Greater Good */0
Maro ***/***
Might of Oaks **/****
Natural Affinity **/0
Seedborn Muse **/***
Silklash Spider **/****
Utopia Tree */***
Verdant Force ***/***
Verduran Enchantress **/*
Weird Harvest */0
Total Rating: 29/37
Mean Rating:1.71/2.18
Green's rares could be called the "so close" list. There's nothing especially wrong with many of these cards, and I'm glad to have them in my back pocket but the competition from two different blocks will keep them from being used by serious players. Kamigawa especially shines a harsh light on many of Green's core set cards. Utopia Tree is always going to be one step behind and the big boys are a little too expensive and would have been more useful as either the lost Fertile Ground or the lost Vine Trellis. Green also has a bunch of combo oriented rares that maintain the potential to do certain ugly things if the right cards are around but that make it less likely to pull a top limited rare. Even when you do, it will often feel a lot like your commons and uncommons.
Green lost:
Common:
Canopy Spider */***
Elvish Pioneer 0/0
Fertile Ground **/***
Giant Badger 0/***
Horned Troll 0/***
Lone Wolf 0/**
Monstrous Growth 0/0
Moss Monster 0/**
Nantuko Disciple 0/****
Rushwood Dryad */***
Vine Trellis ***/***
Uncommon:
Choke ***/**
Elvish Lyrist **/***
Elvish Scrapper */**
Fecundity **/*
Foratog 0/**
Fyndhorn Elder 0/**
Living Terrain 0/***
Lure 0/**
Revive */**
Silverback Ape 0/***
Spreading Algae */0
Wing Snare */***
Rare:
Birds of Paradise ****/***
Call of the Wild 0/***
Collective Unconscious */***
Fungusaur 0/*
Gaea's Herald 0/0
Lhurgoyf **/****
Plow Under ****/***
Primevil Force 0/***
Rhox 0/****
Thorn Elemental */****
Vernal Bloom ***/0

Plow Under and Birds of Paradise were Green's two strongest rares and now they're gone. Llanowar Elves is here to take Birds' place as long as it needs to, but Magic has never had another card like Plow Under. The Eternal Witness lock has been broken, or more accurately made non-trivial to pull off in its full form. Vernal Bloom and Vine Trellis are also being removed, but right now you won't miss them. Green has plenty of mana and it hardly needs the help. The recent trend of sticking close to the color pie has left Green with all the pretty toys it could ever want and the other colors with nothing.
Artifacts
Uncommon:
Angel's Feather 0/0
Bottle Gnomes **/*
Dancing Scimitar 0/***
Demon's Horn 0/0
Dragon's Claw 0/0
Fellwar Stone **/**
Icy Manipulator */****
Kraken's Eye 0/0
Ornithopter **/*
Phyrexian Hulk 0/***
Rod of Ruin 0/***
Spellbook */0
Tanglebloom 0/0
Ur-Golem's Eye 0/0
Vulshok Morningstar 0/****
Wurm's Tooth 0/0
A large chunk of the uncommon artifact slots are given over to a cycle of cards that has been with us in one form or another since Alpha, started out worthless and has only gotten worse as the game has changed around it even if the cards involved have been upgraded slightly. We all went through a period where we didn't realize those cards were awful, but the only thing that made them thinkable was the slow pace of games and that pace is gone. Either way, none of these artifacts are important for constructed.
Rares:
Aladdin's Ring */***
Beast of Burden 0/**
Booby Trap 0/0
Coat of Arms **/*
Defense Grid ***/0
Disrupting Scepter **/***
Howling Mine ***/*
Jade Statue */***
Jester's Cap **/*
Loxodon Warhammer 0/****
Millstone ***/***
Slate of Ancestry **/****
Storage Matrix */0
Teferi's Puzzle Box */*
Thran Golem 0/**
Jade Statue is back! I remember when that card mattered, but it had a lot to do with pesky cards like Balance. They've done a good job creating a fun mix of rare artifacts even if there's one lost card I think should have been saved. Most of the old staples are still around, now joined by Slate of Ancestry. I know it's better now than the card it is replacing, but somehow it doesn't feel right. The Slate may or may not make much difference, depending on what is out there. My guess is it won't be fast enough. Jester's Cap being around helps keep players honest with the kill spells and several other cards here give us the power to do things if want to do them: Howling Mine, Disrupting Scepter, Millstone, in a way even Aladdin's Ring. You might not love the price, but the option is there.
Lost Artifacts:
Brass Herald 0/*
Dingus Egg 0/0 (previously restricted!)
Distorting Lens **/**
Ensnaring Bridge ***/***
Flying Carpet 0/**
Fodder Cannon 0/****
Iron Star, Crystal Rod, Throne of Bone, Wooden Sphere and Ivory Cup: Good/Riddance
Jayemdae Tomb */***
Patagia Golem 0/**
Phyrexian Colossus */***
Planar Portal **/***
Skull of Orm 0/**
Star Compass */**
Urza's Armor 0/**
Vexing Arcanix 0/**
Wall of Spears 0/**
Even before I confirmed that Ensnaring Bridge wasn't in the set, I figured it out. The set follows a pattern. Seventh Edition draft stalemated absurdly often, which is a problem even if I kind of liked it. Eighth Edition was a large step towards solving that problem and Ninth removes even more of the cards that make games go long. It's not just for Limited either, it has to do with cards that prolong games. If they don't have a vital role to play, they go. But how I will miss good old Jayemdae Tomb, at least for a month or two. Sure, I don't use it anymore, but it's a part of Magic history and it offers a great, simple introduction to the principles of continuous card drawing. The problem with it is that the bar has been raised, and this is not the four star card it used to be.
Ship Ahoy:
City of Brass
Coastal Tower
Elfhame Palace
Salt Marsh
Shivan Oasis
Urborg Volcano

Land Ho:
Urza's Tower
Urza's Power Plant
Urza's Mine
Quicksand
Adarkar Wastes
Yavimaya Coast
Shivan Reef
Caves of Koilos
Underground River
Battlefield Forge
Llanowar Wastes
Brushland
Sulfurous Springs
Karplusan Forest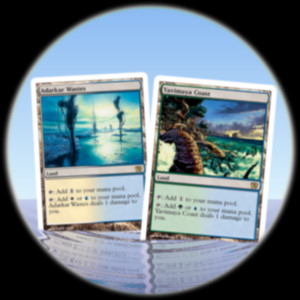 Ring the merry bells on board ship! It's the painlands, captain! Every time I see one of my old favorites bite the dust in this set, I just repeat to myself: It's okay. That's a price I'm willing to pay. And I'm happy to pay it, because I get ten of my favorite cards back. When I was asked what card I wanted in 8th, I said Yavimaya Coast. When I went to my last invitational, I almost submitted Adarkar Wastes. Magic has suffered for the length of the Kamigawa/8th era because playing multicolor decks that were not based in Green was rendered virtually impossible. You had to struggle to get two allied colors working even when your requirements were light and anything more was all but out of the question. With these lands, you can now get a good foundation. It is not enough on its own, because you can only use so many painlands and without the tapped lands it is very hard to see where you're going to get the extra help, but the complementary cards don't have to be amazing. They just have to be adequate. Talismans would work fine if they didn't also operate on the same principle as painlands, giving them the same primary weakness as painlands.
How should you approach 9th Edition draft? It is similar to 8th Edition draft but with less things to worry about. Sideboards have been radically devalued now that it is far less likely that you'll need to play question and answer with either hoser cards or otherwise specialized cards, often selective creature removal. The colors are all very good at doing a few things and have little they can do otherwise. Make sure you know what types of cards you'll have access to in abundance and which you'll have to work for. Here's a list of what is likely to be important for each combination:
White/Black:
Your plan is to use evasion in the form of flying and fear backed up by the threat of White abilities to get in damage, using removal to deal with the few creatures that could get in your way while using removal, regeneration and creature abilities to stall any conventional assaults. Getting enough removal will be your biggest concern and you also need to make sure your deck can operate efficiently so that Green decks don't have time to overpower you. Don't try to attack on the ground, drafting only creatures that can add to the "complex" that stops them from attacking or creatures that can use evasion.
White/Blue:
This is the traditional White/Blue draft position, only more so. Your flyers will be your route to victory and you need to bring a lot of them at every point on your curve. Like White/Black, you'll be trying to create a defensive complex on the ground while putting them on a clock, but in your case you have counters and bounce rather than pure removal. Again, don't be aggressive on the ground. Pacifism is a unique card that you can't replace, and needs to be taken over anything pedestrian. This combination is weaker than it looks because you have a serious "last fatty" problem: When they turn enough of them sideways at once, your little tricks will no longer work. If other players are letting the mana acceleration slip through the cracks, you might want to consider counterdrafting some of it when you get the chance.
White/Red:
You need to come out of the gate swinging, put your opponent in a hole early and then get in the last few points. Think jank, and think speed. Your long game is unlikely to be able to win you many games, but having one can buy you time to burn opponents out or get the last bit of flying damage in.
White/Green:
White is the auxiliary forces, Green is the army. Don't go for attacking White creatures, go for White creatures that help you attack with green creatures and those that can help you with the sky. Don't worry about getting removal, because you won't be needing it, but do make sure that you have ways to make it living hell on someone trying to block. Your game plan is to pose a puzzle on the ground that your opponents cannot solve, and to remind those trying to manufacture blockers that the last fatty is still going to kill them. Don't be stingy with the beef.
Green/Black:
You have large men and Black will help cure you of the need to deal with any competition. Black creatures will generally end up being inferior to your alternatives, so don't play more of them than you have to. Hollow Dogs can't stand up to Spined Wurm, even if it is a fine card overall. A few well-placed removal cards will hopefully let the large men carry the day, but remember how much you have. With a lot, use it aggressively. With only a little, you need to save it for something problematic even if it means sacrificing tempo.
Green/Red:
The situation is similar to Green/Black, with red providing support cards for Green. Remember that your red cards will be drafted quickly but even with a bunch of green mages the Green cards can be replaced. You are playing a more tempo based game than Green/Black and need to be looser with your removal, but you also have better reach and your cards will have better synergy. The danger is that in a Green on Green fight they might have all the important ammunition.
Green/Blue:
This is the strongest color combination if handled properly. You want to use the early turns to accelerate your mana and use Blue counters to buy time into your Green creatures, which most of the time won't need all that much help. You'll have a lot of solid cards, good attacks on the air and on the ground and counters that can hopefully be used to stop the few cards that threaten you. Against other green decks you will often attempt to generate a ground stalemate, or at least be happy with one while you win in the air. Sleight of Hand and Llanowar Elves can combine to let you have sixteen lands and still have a solid mana base with large creatures, which is huge.
Black/Red:
You have the most removal of any color combination, and you want to use it to overwhelm your opponent. Remove early, remove often. You have two variations, the speed model that uses lots of fast attacking creatures that are lousy but never get into fights, and you have the long-term deck that removes every worthwhile creature your opponent plays. Know which one you're drafting.
Black/Blue:
You end up fighting a strange combination of a tempo battle and an attempt to line up your answers to the cards you can't answer. Like many non-Green decks you will often not have much to fight with if they penetrate your defenses and force you to duke it out with their men, so don't let that happen. In general you hope to use your Black removal and bounce to buy time against decks trying to win on the ground, and against flying decks to choose either to try and win the air war with them or to win the ground war that way and more than make up for losing in the air.
Red/Blue:
My draft at the Invitational gives a good idea of what a Red/Blue deck should be. You want to stay on tempo and have lots of tools to control what does and does not hit or stay on the table. If you don't have a strong late game, you want to play this as a tempo deck, using both Blue bounce/counters and Red burn to clear a path for aggressive men and using burn and flyers for reach. If you do have the bombs, you want to be more defensive, using your control to pick off the cards that threaten you until you can deploy the big boys and protect them. This is an especially good color combination if you have the bombs and want to build a deck around them, because you maximize their uniqueness and give them protection.
One other note: Draw first. There are exceptions, but only against strong players where both players have good decks.
All right, that's about it. There's more to say about 9th and its impact, but it would be beyond the scope of what I am doing here.