Official Planar Chaos Preview - Timbermare!
Hey everyone, and welcome to the StarCityGames.com Planar Chaos preview article! This set's preview card is one that is very special for a personal reason, so instead of my usual preview, I'm turning over the reigns to Jamie Wakefield, king of all fatties. Before I turn over the article to Jamie, let me run down a few tidbits about Planar Chaos that I learned from Mark Rosewater.
Planar Chaos deals with the "What could have been?" of Magic. The Timeshifted cards in this set, instead of being strict reprints from Magic's past, are cards moved, functionally intact (except for minor modifications for land types and colors) from one color to another. For instance, most of you have seen Damnation by now — BB2 Sorcery for Wrath of God. There are 45 Timeshifted cards in Time Spiral (9 in each color — no gold cards, artifacts, or lands). Booster packs will contain 8 Commons, 2 Uncommons, a Rare, 3 Timeshifted Commons, and 1 Timeshifted Rare/Uncommon (3 out of every 4 packs will have an Uncommon, and 1 out of every 4 packs will have a rare). There are no new mechanics in Planar Chaos, although several mechanics make a return — Kicker, Echo, Split Second, Suspend, and many others. Don't worry — if you're looking for a set that has the radically new, all you have to do is hold your breath for a few months....
And with that said... Jamie, all yours. Take care everyone, and I'll see you in a couple of weeks with my "Cards to Trade for at the Planar Chaos Prerelease" article!
...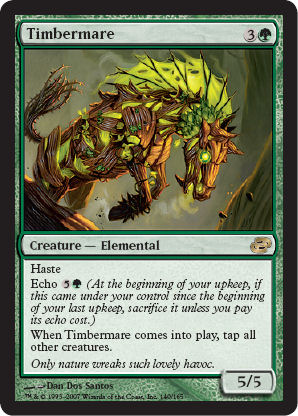 This card has a secret.
I'd be curious to know how many people can figure it out and how difficult it was. I would imagine Wizards R&D would be curious too. Study the card and then before reading the article, post your guess on what the secret is in the forums. I'll be providing clues throughout the article, and you can tell what clue you guessed it on if you don't see it right away.
Clue number one — Why is a mare Green? Aren't horses usually White?
It's a nice Green fatty with a low enough cost to be played in competitive Magic. The advantages and drawbacks of the card bring up some interesting tricks you can play. Of course, the card could be played just as a four-mana Ball Lightning-like creature on turn 3 or 4 in a purely aggressive Green deck. The tapping ability of the mare being a huge benefit. Green has always been able to beat someone down rather rapidly, then stall and be unable to get the last few points of damage through. Think of Timbermare plus Might of Old Krosa on turn 4. Or you could think about how you love to have all your creatures Wrathed away and then draw creature enhancers and know you'll probably never get a chance to play them before the creature is eliminated or can be easily blocked. Out comes the mare, and it doesn't matter if your opponent has held back a blocker or has another Wrath. Very dangerous in just a simple beatdown deck.
Clue number two — Notice the color of the "hair" on Timbermare. Particularly the mane. It's a nice golden color. Some would even say blond.
Green usually pairs very well with White. Momentary Blink has already shown its usefulness with Loxodon Hierarch and Wood Elves. During your opponents beginning of combat step you can Momentary Blink your Timbermare and now your opponent has no attackers. You can do a more limited version of the same trick with Ghostway at the end of your opponent's turn to make sure he has no blockers. You can untap and swing with everyone, unopposed.
Clue number three — Look at the flavor text. Lovely isn't it?
One of the drawbacks of the Timbermare is that it taps all your creatures as well as your opponents. So you get to attack for at least five free damage, but now you don't have any blockers. Luckily, Green currently has a way to untap creatures with the mighty Scryb Ranger, who has already shown her value in constructed Standard. Green has also consistently been given the Fog effect so you don't need to worry about blocking on your next turn anyway.
Another drawback is, of course, the echo. Not really any way around that. You'll have to make smart choices on when to play the Timbermare. The bright side of this is that if someone takes the mare away from you, they have to have access to Green mana to keep her. She won't be attacking you back unless controlled by a partial Green mage.
I'm pleased to say that Wizards seems to be doing a good job of upping the ante on Green's creatures, like they promised us. The Timbermare isn't just a good Green fatty... it addresses a number of problems that Green consistently has. A way to get those last few points of damage in that has always frustrated beatdown players. A way to use those creature pump spells you've been hoarding after the last Wrath. And some new tricks you can play with the mare's tapping ability. It's going to be a great creature to play in both the pure aggro or even mid-range control decks. I really think it's a fantastic addition to Green's arsenal.
So, did you figure out the secret yet? Because I'm about to reveal it.
For one thing, some people won't know the secret unless they are familiar with my writing about this game. So don't beat yourself up if you didn't get it because you don't know who I am. A second thing is if you are not aware that my wife, The Lovely Mare, passed away from Ovarian Cancer on May 23rd 2006.
In an extremely rare move for Wizards of the Coast, they made a tribute card to her.
I heard the news Thursday from Ben Bleiweiss.
Hey Jamie:
I just got off the phone with Mark Rosewater, and he would like to know if you'd like to write the preview for the StarCityGames.com Planar Chaos card. The reason he (and I) am asking is because the card is a tribute to Mare (albeit you wouldn't see the tribute unless you were looking for it), and he didn't know if you wanted that fact to be public knowledge.
...
...
...
As you can imagine, I was stunned.
I sat open mouthed. What an honor. What a tribute. What a wonderful gesture of kindness and sympathy from Mark and the others at Wizards of the Coast R&D.
I finally gathered my jaw up off the floor and wrote that I would love to write the article. And that yes, I wanted it to be public knowledge. I want everyone to think of The Lovely Mare whenever they open one. Whenever they play one. Whenever they just happen to see it in their collection.
A small slice of immortality for a courageous soul.
What could be better?
After getting my agreement for the article, Ben sent the card. As you can imagine, opening the picture of the card was like I was five years old opening a Christmas present. And again I was blown away.
What a great picture. What a great line at the bottom. It was Green, so I could play it. It was a fattie. And it was a mare. One thing you might not know is how much Marilyn loved horses in the games we played. She has screenshots galore of her characters standing with beautiful horses. There was a valley of giants in Dark Age of Camelot that had wild horses in vast herds throughout. If you attacked the wrong giant, he would call them to help him, and a dozen horses would attack you.
I wasn't allowed to fight back.
If we messed up, Mare insisted that we let the horses kill us because she wouldn't raise a hand against them. Not even kidding. So it's not only that a Magic card mare is a tribute to her... it's the fact that she is immortalized in horse form.
I wrote to Mark Rosewater to tell him it was amazing. That it was a perfect card for her. As you can imagine, I was pretty excited and grateful.
He wrote back, and there are a couple lines I have to share with you —
By the way, development made sure the card was good because we knew you'd have to play it. :)
Which is why the first clue was "Why is this card Green?"
And...
I'm glad you liked the flavor text. The rules text only left one line (and a short one at that due to the power/toughness box) and I probably wrote fifty plus lines trying to fine one that I felt was worthy of the card. Getting the word "lovely" in was definitely a challenge."
Marilyn's memory and I are extremely honored by this card. I know Mare is weeping with happiness in Heaven over this wonderful tribute to her.
Now go serve some beats with it!
Jamie Wakefield