Sullivan Library - Data Mining the 'Lulu (and Other Pleasantries)

I'm sure that any of you who have known me or read my articles for any length of time know just how much I like sifting through the data of events. It's interesting getting a feel for the power of decks in a format. Sometimes we get clear indications of how an archetype is doing beyond the mere anecdote ("Boat Brew is doing horribly" even when it is clearly the best deck in the format or "Boat Brew is doing horribly" when it is right at the bottom of the heap).
Getting to the meat of this data is valuable in herding off misinformation about a format. One of my favorite bits off misinformation along these lines was Mark Rosewater's contention about poor Limited mana-fixing in full Invasion Block draft. It's a nice comment to make looking at a format in retrospect. Too bad it is a completely false assertion. At the end of one of my articles I rebutted it pretty fully but my favorite bit of re-researching the format turned up one of my favorite Finkel gems in the Sideboard coverage:
When asked about his rumored shaky manabase Finkel replied "People say that only because they don't understand the format."
So good!
For me one of the things I want to know about the format is the truth of it. What is the best archetype in Shards limited? For now I'm inclined to believe it is either Esper-Aggro or Two-Color-Five-Color but I could be wrong. I do know that in my last drafts since I wrote my long archetype guide to 2C5C I've only lost to other 2C5C decks and once an incredible Naya deck and then only barely.
I felt deeply excited about Honolulu and I'm sad that I wasn't able to go; I think I would have done very well. I had a Five-Color deck that I was excited about for the format. It was initially honed to beat Esper Control early early early in the format. As things changed it morphed to deal with the new big deck on campus: various Elspeth-based aggro decks (typically Naya beatdown). The most recent change to the metagame obviously was the emergence of Jund-Cascade as the de facto best deck. I had moved on to Standard by that point so I hadn't re-adapted my deck to deal with Jund. I'm sure that it could easily have been done though. If there's one thing about a deck like this it is that it can be set up to deal with anything. You just have to choose the right opponent you want to beat.
Here is my pre-'Lulu anti-Naya build of Five-Color Five-Color Sully:
Five-Color Sully
4 Goblin Outlander
4 Tidehollow Strix
4 Rhox War Monk
4 Ethersworn Adjudicator
4 Wretched Banquet
4 Maelstrom Pulse
3 Ajani Vengeant
1 Naya Charm
4 Cruel Ultimatum
3 Rupture Spire
4 Exotic Orchard
4 Arcane Sanctum
4 Crumbling Necropolis
4 Savage Lands
2 Seaside Citadel
2 Jungle Shrine
4 Swamp
1 Mountain
Sideboard
2 Nicol Bolas Planeswalker
4 Sedraxis Specter
3 Celestial Purge
4 Battlegrace Angel
1 Necrogenesis
1 Ajani Vengeant
Madisonian Gaudenis Vidugiris said in playtesting that the Naya matchup was "hopeless" for the Thoctar-driven deck. "Everything they do just gets constantly trumped." Sadly Jund in my initial testing would prove too difficult for this particular build and I know that I'd have to make massive modifications to the deck to make it work out. Much like Brad Nelson pointed out while it was possible to get really hurt by an opposing Anathemancer you almost just had to ignore it. No amount of basic lands could be shoehorned into your deck to make Anathemancer not horrible for you so you might as well just ignore it.
This deck would not have been the deck I played at Pro Tour. It simply wasn't ready. The metagame had changed and with it so had the utility of this deck.
What was good though? That's the question.
There were 396 players at the Pro Tour but only 84 of them went 6-4 or better in the Constructed portion. 6-4 is not that hot but it is still a winning record to be fair.
It took a bit of work to track down the missing archetypes from Wizards's coverage pages but eventually I managed to get all of them. Obviously categorizing them is difficult but here is the category breakdown primarily using Bill Stark's naming convention:
Naya Jund Control – All the varieties of Naya/Jund that typically were Jund-heavy and ran cards like Enlisted Worm Uril Naya Charm and Ajani Vengeant
Jund Control – The more Controlling varieties of Jund not running a low curve (like the varieties running Oozes and Goblins and Hellsparks oh my!).
Five Color Control – Multi-color decks that ended their curve at Cruel Ultimatum and Nicol Bolas.
Green-White Aggro – Typified by the Japanese build.
Sphinx Control – Sphinx-based deck that can win off of the Glassdust Hulk / Sharuum the Hegemon combo.
Sedraxis Aggro – Aggressive creature decks sporting Sedraxis Specter
Bant Aggro – Rafiq the Many and friends.
Naya Aggro – Woolly Thoctar and friends.
Esper Aggro – "Esper Stoneblade" the Neil Reeves deck piloted by Kibler and Rietzl.
There were 77 people who did not play any of these archetypes but none made Top 32 or better including the 31 people who chose to play Jund Aggro.
Here is the full breakdown: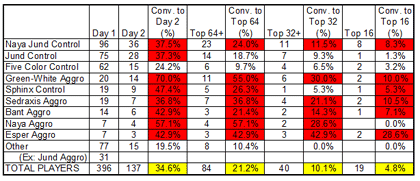 The reddened data shows when a deck outperforms the expected finish for any random deck in the tournament. With 396 players for example since 137 made Day 2 we would expect about 35% of players to make Day 2. Thus the reddened decks outperformed that measure.
The first huge shock is that Naya Aggro was the most successful deck at making Top 64. For the most part this archetype was largely abandoned before the Pro Tour in favor of Jund Cascade of various build (the more common name for various builds of Jund Control/Jund Aggro). It also kept pace with the hyped deck of the tournament Green-White for Top 32. It did fall out in the end failing to garner a single spot in the Top 16. My gut on this is that it benefited greatly from being out of the crosshairs. Much like Faeries it is a deck that can absolutely succeed well if people haven't decided that they want to address it. It doesn't have the absolutely insane raw power of Faeries but it is still a deck that is likely to be worthy of being respected. That said it definitely seemed to lag behind at the top.
The next big surprise almost certainly has to be from the main deck of the event: Naya Jund Control. These decks were easily the most popular deck of the event and yet still managed to outperform the average deck. Typically the most popular deck does at or below pace on the average largely because metagamed decks or teched out decks push the deck down and the poor performers with the deck (which will always happen for even the best archetype) drag it down further. This largely suggests that there were very few things happening at the event in terms of innovation. Given many peoples' view of the event this isn't so surprising.
After all there were really only two break out decks of the event: Green-White Beatdown and "Esper Stoneblade." The hype that these two received definitely seems well worth it. Across the board these decks are so far above the baseline it is honestly quite incredible. Esper did better at the top end of the field but Green-White in retrospect was the safer bet. A 70% conversion from Day 1 to Day 2 is nothing short of insane. Conversely an almost 30% conversion from Day 1 to Top 16 is also insane. Kudos to the people being given the most credit for these decks Tomoharu Saito and Neil Reeves (who also incidentally built a Naya Jund deck that Mike Hron would take to the Top 16).
The other deeply notable thing is the underperformance of Jund Control and Five Color Control. Staying loyal to Jund didn't mean your deck was bad necessarily but it did seem to be coupled with less success. In general it was only slightly below average but even so it is wildly underperforming compared to its Naya-touched counterparts. Five Color on the other hand underperformed throughout the event. There might be an excellent Five Color control deck archetypically speaking (Patrick Chapin's list piloted by Zac Hill to Top 8 comes to mind) but overall the archetype largely failed.
When we break down the results to attempt to acquire the "Constructed Top 8" we are again hit by the problem that hit the last Pro Tour. The solution of course is to check for opponent's match win percentage counting only the Constructed portion. The flaws to this are real of course; some people are going to have a path that is as a result of a poor showing in limited potentially much less challenging than another player on a different path.
Still we have to work with what we have.
This gives us the following "Top 8":
1st – Jim Davis Naya Jund Control 27 points
2nd – Zac Hill Five Color Control 25 points
3rd – Brian Kibler Esper Stoneblade 25 points
4th – Osamu Fujita Green-White Aggro 24 points (modified average opposition [MOA]: 16.2 points)
5th – Yoshitaka Nakano Sedraxis Aggro 24 points (MOA: 15.9 points)
6th – Marc Mhlbck Naya Jund Control 24 points (MOA: 15.9 points)
7th – Koutarou Ootsuka Sphinx Control 24 points (MOA: 15.5 points)
8th – Eric Deluca Naya Jund Control 24 points (MOA: 15.4 points)
9th-13th – Adam Boyd (Sedraxis Aggro MOA 15.3) Taufik Indrakesuma (Naya Jund Control MOA 15.1) Tomoharu Saitou (Green-White Aggro MOA 15.1) Mike Hron (Naya Jund Control MOA 14.8) Per Nystrm (Bant Aggro MOA 14.8)
Here then are the lists:
8th - Eric Deluca Naya Jund Control
1 Arcane Sanctum
4 Exotic Orchard
3 Forest
4 Jungle Shrine
2 Mountain
2 Plains
2 Rupture Spire
4 Savage Lands
4 Swamp
4 Bloodbraid Elf
3 Broodmate Dragon
2 Enlisted Wurm
4 Sprouting Thrinax
3 Uril the Miststalker
1 Behemoth Sledge
3 Bituminous Blast
4 Blightning
2 Captured Sunlight
2 Celestial Purge
3 Maelstrom Pulse
3 Terminate
Sideboard:
2 Ajani Vengeant
4 Anathemancer
2 Celestial Purge
2 Fleshbag Marauder
2 Thought Hemorrhage
3 Vithian Renegades
7th - Koutarou Ootsuka Sphinx Control
4 Arcane Sanctum
2 Crumbling Necropolis
2 Esper Panorama
6 Island
5 Plains
2 Seaside Citadel
5 Swamp
3 Architects of Will
4 Glassdust Hulk
4 Sharuum the Hegemon
1 Sphinx of the Steel Wind
3 Wall of Denial
2 Agony Warp
2 Celestial Purge
1 Courier's Capsule
4 Esper Charm
2 Identity Crisis
2 Path to Exile
2 Scourglass
4 Soul Manipulation
Sideboard
1 Agony Warp
2 Celestial Purge
4 Countersquall
2 Hindering Light
1 Identity Crisis
3 Infest
1 Path to Exile
1 Sphinx of the Steel Wind
6th - Marc Mhlbck Naya Jund Control
4 Arcane Sanctum
3 Exotic Orchard
2 Forest
4 Jungle Shrine
4 Mountain
4 Savage Lands
2 Seaside Citadel
4 Swamp
2 Anathemancer
4 Bloodbraid Elf
3 Broodmate Dragon
4 Sprouting Thrinax
2 Uril the Miststalker
2 Ajani Vengeant
3 Bituminous Blast
4 Blightning
1 Celestial Purge
3 Maelstrom Pulse
2 Naya Charm
1 Path to Exile
1 Resounding Thunder
1 Terminate

Sideboard
2 Anathemancer
4 Captured Sunlight
3 Celestial Purge
1 Maelstrom Pulse
2 Oblivion Ring
3 Thought Hemorrhage
5th - Yoshitaka Nakano Sedraxis Aggro
4 Ancient Ziggurat
3 Crumbling Necropolis
3 Exotic Orchard
4 Forest
3 Mountain
4 Savage Lands
3 Swamp
4 Bloodbraid Elf
4 Broodmate Dragon
4 Noble Hierarch
4 Putrid Leech
4 Sedraxis Specter
4 Sprouting Thrinax
4 Blightning
4 Maelstrom Pulse
4 Terminate
Sideboard
4 Anathemancer
2 Bituminous Blast
3 Caldera Hellion
2 Fleshbag Marauder
2 Magma Spray
2 Vithian Renegades
4th - Osamu Fujita Green-White Aggro
(note: this is reportedly the deck he played but this data is not currently confirmed)
9 Forest
8 Plains
4 Seaside Citadel
3 Battlegrace Angel
4 Noble Hierarch
4 Ranger of Eos
4 Rhox Meditant
4 Steward of Valeron
4 Thornling
4 Valeron Outlander
2 Behemoth Sledge
4 Celestial Purge
3 Oblivion Ring
3 Wildfield Borderpost
Sideboard
2 Bant Charm
1 Battlegrace Angel
1 Behemoth Sledge
3 Elspeth Knight-Errant
3 Martial Coup
1 Oblivion Ring
4 Qasali Pridemage
3rd - Brian Kibler Esper Stoneblade
4 Arcane Sanctum
3 Island
6 Plains
4 Swamp
2 Court Homunculus
4 Esper Stormblade
2 Esperzoa
4 Ethersworn Canonist
3 Ethersworn Shieldmage
4 Glaze Fiend
4 Master of Etherium
4 Tidehollow Sculler
4 Vedalken Outlander
4 Fieldmist Borderpost
4 Mistvein Borderpost
4 Thopter Foundry
Sideboard
3 Countersquall
4 Path to Exile
3 Sanctum Gargoyle
2 Soul Manipulation
3 Zombie Outlander
2nd - Zac Hill Five Color Control
3 Arcane Sanctum
4 Exotic Orchard
1 Forest
3 Island
2 Jungle Shrine
2 Mountain
4 Rupture Spire
3 Seaside Citadel
4 Swamp
4 Bloodbraid Elf
2 Caldera Hellion
2 Kathari Remnant
4 Wall of Denial
2 Ajani Vengeant
3 Bituminous Blast
3 Cruel Ultimatum
4 Esper Charm
4 Maelstrom Pulse
1 Nicol Bolas Planeswalker
1 Obelisk of Alara
4 Traumatic Visions
Sideboard
1 Ajani Vengeant
4 Blightning
4 Celestial Purge
3 Deny Reality
2 Qasali Pridemage
1 Scepter of Fugue
1st - Jim Davis Naya Jund Control
4 Exotic Orchard
2 Forest
1 Jund Panorama
4 Jungle Shrine
2 Mountain
2 Plains
3 Rupture Spire
4 Savage Lands
3 Swamp
4 Bloodbraid Elf
3 Enlisted Wurm
4 Sprouting Thrinax
3 Uril the Miststalker
2 Ajani Vengeant
4 Bituminous Blast
4 Blightning
2 Celestial Purge
2 Jund Charm
4 Maelstrom Pulse
3 Path to Exile
Sideboard
1 Ajani Vengeant
1 Celestial Purge
2 Elspeth Knight-Errant
2 Fleshbag Marauder
3 Infest
2 Realm Razer
1 Vengeful Rebirth
3 Vithian Renegades
This is fairly different than the "Competitor's Top 8."
"Constructed Top 8"
Naya Jund Control: 3 (and the top competitor)
Five Color Control: 1
Esper Stoneblade: 1
Green-White Beatdown: 1
Sedraxis Aggro: 1
Sphinx Control: 1
As compared to only one Naya Jund Control and two Esper Stoneblade and Five-Color Control. If you were to just use those decklists you'd actually have a pretty skewed view of what had happened at the event. As it stands though there seems to be a pretty clear picture of the format with the Naya Jund Control deck as the best performing common deck but many archetypes actually quite viable.
I'm hoping that after this year we'll go back to a single-format Pro Tour. I know that a thing that I've always really loved was the ability to look at a format and say that I definitively know something about it. I'm pretty sure that if this format were simply Constructed a lot of people would have put a large amount more work into it rather than the way that many seem to have handled the format not giving it a full consideration because of the weight that the draft will impact on the event.
I understand that they need to keep this splitting for now. From my own selfish desire to have a sense of Constructed though I hope that it doesn't last past this year.
Good luck to everyone working on Standard. I'm still not sure what to do with Standard; so many decks seem to be good and it seems to be a format of metagame prediction. Let's see if I'm up to it!
P.S. I'm sure if you're like me you have some strong opinions on what is going to be happening to Magic's core rules. The announcement is here if you're not aware of the changes.
I have some thoughts on what might be better of course. I look forward to hearing your opinions on the matter…