The Magic Show #156 - Zendikar Maintenance

Hello everybody, and welcome to another edition of the Magic Show. This week we've got a ton of Zendikar spoilers to go over, including my exclusive preview Electropotence, my jaw-dropping unveiling of Warren Instigator, and many more. We will also take another look at Planechase as it's going to be released this weekend. Let's go!
(Note: You can see Kelly's segment over at QuietSpeculation.com)
Warren Instigator
Okay ladies and gentlemen, this is it. This past Monday I waited with bated breath as Wizards of the Coast shipped me the final segment of Warren Instigator. In the past few weeks we've went over his name, cost, type, first line, rarity and flavor text. But his second ability was a mystery.
Was it a Landfall ability? Was it a power and toughness pump for a cheap double striker? Was it more?
Oh yeah, it's more.
I emailed Aaron Forsythe on Monday, chomping at the bit. "C'mon, let me have it!" I screamed. And so he did. Check this guy out: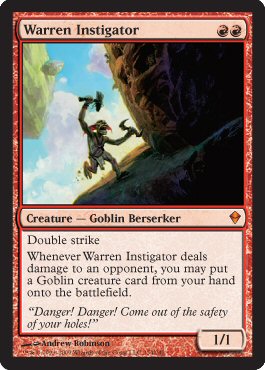 Warren Instigator
RR
Mythic
Creature - Goblin Berserker
Double Strike
Whenever Warren Instigator deals damage to an opponent, you may put a Goblin creature card from your hand onto the battlefield.
1/1
Oh my god! Oh my god! That's right Magic players, a double-freakin-striking Goblin Lackey! Yes, the creature that has been banned in Extended and almost banned in Legacy is now twice as expensive but twice as powerful! And yes, that IS Siege-Gang Commander in Magic 2010! And yes, this IS the biggest gift Wizards of the Coast has given Legacy players in years. Just when you thought Goblins weren't good enough, they give you a double-striking ass whooping to beat up your opponent's with. Can you say eight Goblin Lackeys in your Legacy Goblin deck? I knew ya could! Lackey! Instigator! Asses to the red zone, on the double!
This guy will be insane not only because he's Goblin Lackey, which we all know is ridiculously awesome and able to do absurdly unfair things with creatures like Goblin Warchief and the new Goblin Chieftan from Magic 2010, but he's also a very efficient double striker in his own right, fitting right into an aggressive red deck with ease.
My smile is permanent and my jaw is dropped and I don't know what to say. Some suspected that Warren Instigator would be Goblin Lackey 2.0, a.k.a. Bigger, Badder, and Uncut, but hot damn! This is ridiculous! Over these past weeks I've underestimated this guy time and time again, not imagining for a second thinking that it would actually be able to put two Siege-Gang Commanders onto the battlefield with just one swing. But I was wrong, and this will be straight up dumb in Legacy, where you have access to all of the awesome Goblins that made Onslaught standard so warped, but don't underestimate the power of free Changelings and powerful Lorwyn block Goblins in Extended either. Goblin Lackey was seen as overpowered because of the speed you could pump Goblins out on the field, and Warren Instigator will be revered not only for his blowout potential, but also his ability to be awesome in Legacy Goblins and R/G aggro decks. When a single Giant Growth becomes 8 damage on Turn 3, you best watch your back!
Thanks again to Wizards of the Coast for this incredibly awesome slow-roll of one of the most powerful Goblins ever printed. I for one thing it's a killer Mythic rare that will be a chase card for some time, and there ain't nothing wrong with that.
Electropotence
So what about my exclusive spoiler this go around, no slow-rolling involved? Well this go around I've got a tasty enchantment that has one of the best namesakes in Magic. Check out Electropotence: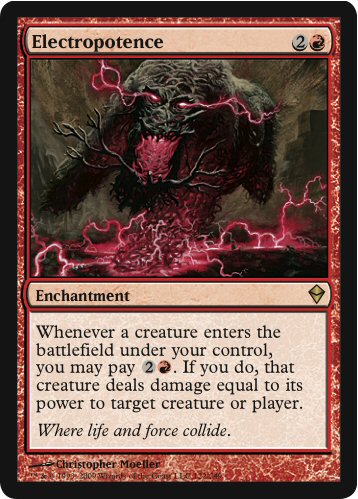 Electropotence
2R
Enchantment
Rare
Whenever a creature enters the battlefield under your control, you may pay 2R. If you do, that creature deals damage equal to its power to target creature or player.
Where life and force collide.
Okay, it's no Warren Instigator, but it's probably a hell of a lot better than you think it is right now.
Before we start with the upside, let's talk about downside. The downside to this card is that it takes six mana to do anything. That's a lot of investment for what may be as little as three or four extra damage. When a pro looks at investment versus payoff, they normally want their goodies immediately, and don't want to "waste a turn" investing in something for the long haul, so most PTQers and pros will dismiss it.
Okay, what about the positive aspects? This card is chock full. First of all, yes, there is a mana investment. But it makes every creature you play essentially have a awesome kicker of 2R to kill another creature or even another player. It also gets better because of its wording. Note that the creature doesn't have to be cast from your hand. What does that mean? It means Unearth creatures got really good, and for five mana your Hellspark Elemental could be a pseudo Ball Lightning. Hell's Thunder could be more deadly than its rival Demigod of Revenge, and Sedraxis Specter could deal a whopping six while making them discard a card to boot. Hell, for as little as six mana your Ball Lightnings could be rocking twelve damage! Wow!
Take a look at this recently spoiled Zendikar card, Bloodghast:
Bloodghast
BB
Creature - Vampire Sprit (R)
~ can't block.
~ has haste if an opponent has 10 life or less.
Landfall - Return ~ from the graveyard to the battlefield.
See how well this would work with Electropotence? You kill it, you play a land, then pay 2R to deal an additional two damage. I love it when a plan comes together.
But what about damage triggers? Note that Electropotence has the creature itself dealing the damage, meaning cards like, say, Warren Instigator could be "kicked" by Electropotence and then allow you to drop a Siege-Gang Commander into play. Hypnotic Specter will make them discard at random immediately, Lightning Reaver will immediately begin to build charge counters, and so on. Keep a lookout for creatures in Zendikar who have effects that occur when that creature deals damage to an opponent, such as Vedalken Heretic in Conflux, and how Electropotence can make them even more powerful.
This is a fantastic card for the kitchen table, has potential for impacting tournament tables, and besides, making your monsters even scarier is never a bad thing. I look forward to reading your reactions in the feedback.
Zendikar Maintenance
Okay, so let's go over some more delicious spoilers from this awesome new set. Up first is Valakut, the Molten Pinnacle:
Valakut, the Molten Pinnacle
Land
Rare
Valakut, the Molten Pinnacle enters the battlefield tapped.
Whenever a Mountain enters the battlefield under your control, if you control at least five other Mountains, you may have Valakut, the Molten Pinnacle deal 3 damage to target creature or player.
T: Add R to your mana pool.
With such powerhouses as Demigod of Revenge, Flame Javelin, and Boggart Ram-Gang leaving the format, new and crazy Red Deck Wins cards must emerge, and Valakut is there to pick up the slack. The issue with any aggro or burn based deck has always been running out of gas. Valakut bypasses silly things like Protection from Red by having the land itself deal the damage, as well as making you smile with each Mountain you topdeck. No longer will you be cursing your land draws, and in many instances will be hoping for a Mountain on top. That is a very different way of thinking about a red deck moving forward, and I like it a lot.
Lastly, I want to mention Patrick Chapin's awesome idea to use Scapeshift as a way to instantly kill your opponent from nowhere. If you play Scapeshift and sacrifice seven lands, get one Valakut and six mountains, all of the "Whenever a mountain enters the battlefield" triggers from Valakut stack simultaneously after Scapeshift resolves, so suddenly you deal 18 damage out of nowhere to win the game. Too cool!
Moving on, how about an incredible two-drop common? Have you seen Plated Geopede?
Plated Geopede
1R
Common
Creature - Insect
First strike
Landfall - Whenever a land enters the battlefield under you control, Plated Geopede gets +2/+2 until end of turn.
1/1
I don't know if you realize it, but this is nuts. I look at this guy much like I looked at Putrid Leech, another incredible common that was underestimated on release. Both look fairly innocuous, but upon closer inspection you realize that they are powerhouses. Particularly in a land-based block, Plated Geopede rewards you for simply playing Magic, and that's never a bad thing. I mean, think about playing Terramorphic Expanse on Turn 3 and using it just made Plated Geopede a 5/5 first striker. Add in Rampant Growth? He's a 7/7. This is Turn 3 folks, using cards that aren't "fringe" or "out there", but those that could realistically be in a ramp-style or Landfall-based deck. Scary stuff.
But who plays with Terramophic Expanse at the tournament tables? I think you'd much rather play with Teetering Peaks:
Teetering Peaks
Land
Common
Teetering Peaks enters the battlefield tapped.
When Teetering Peaks enters the battlefield, target creature gets +2/+0 until end of turn.
This means your turn 3 Teetering Peaks made your Plated Geopede a 5/3 first striker charging into the red zone. And hell, if we're going to dream big, let's just say they blocked it with a 1/1 and you crushed it using Colossal Might. Now that's a whoopin.
So we've talked about some really cool commons and rares...what about Mythics? Wasn't I going nuts over Sorin last week? Let's take a look at the final card:
Sorin Markov
3BBB
Mythic
Planeswalker - Sorin
+2 Sorin Markov deals 2 damage to target creature or player and you gain 2 life.
-3 Target Opponent's life total becomes 10.
-7 You control target player's next turn.
4
Okay, so the second ability has been revealed and, believe it or not, I think this is just the ability needed to deal with Baneslayer Angel. The key to Baneslayer Angel is that the lifegain is what makes it so powerful and gets you away from death's door. Sorin hits the Battlefield, says your life total is what I say it is, Doom Blades Baneslayer Angel and moves on from there. While I recognize this isn't Innocent Blood or Barter in Blood or Side of Fries with Blood, which is ah...kinda gross, I understand how this combats powerful strategies, particularly those built around the most insane white 5-drop in Standard, and shows how manipulative a powerful vampire can be.
I'm hoping Wizards loves Mono Black Control as much as I do, as they are trying their best to give it to the tools to succeed. Note that Mind Sludge also fits perfectly into the Orb of Insight, another powerful Mono Black Control card that could further this archetype everyone loves to throw together, though it hasn't worked in years.
But what about Chandra? Last week we learned she was a whopping six mana and had five loyalty. Now we can see her first two abilities!
Chandra Ablaze
4RR
Mythic
Planeswalker - Chandra
+1: Discard a card. If a red card is discarded this way, Chandra Ablaze deals 4 damage to target creature or player.
-2: Each player discards his or her hand, then draws three cards
-X: ?
5
Okay, so these aren't smack-you-upside-the-head awesome abilities like, say, Garruk Wildspeaker's are, but hell, even Garruk was shunned at first like all of the Planeswalkers when they debuted. Anyway, her first ability is simply ripe for Unearth creatures, whether those be Sedraxis Specter, Hellspark Elemental, Hell's Thunder, and so on, and even really good with second ability as well. Speaking of, that ability is absolutely awesome when Chandra is the last card in your hand and you're playing against a slow, grinding control deck. Control decks value card advantage higher than anything else, and robbing them of this is probably the most powerful thing you can do to them. Sure you both get to draw three, but who runs better on fewer cards than a red deck?
Lastly, this really powers up Megrim-based strategies in casual decks, and I see all sorts of fun being had with Underworld Dreams and Kederekt Parasite as well.
All I know is, I hope her ultimate ability has something to do with playing spells for free from your graveyard, something scary enough that you would never ever want it firing off. Fingers crossed.
As the first of three spoiler weeks officially begin next week on MagicTheGathering.com you can rest assured you'll hear more about the awesomeness of Zendikar right here on the Show.
Planechased Outta Town
The big release this weekend however isn't Zendikar, it's Planechase! The planes have been fully spoiled at this point, and I want to spend a few moments talking about my favorite planes and how they work.
First let's quickly go over the Planechase rules one more time: Planes are revealed at the beginning of the game, a Planes owner is whose turn it is, and you can roll the Planar die at sorcery speed each turn, paying a colorless mana payment for each roll beyond the first. On the Chaos symbol you trigger the Chaos ability on a plane, and on the Planewalker symbol you reveal a new Plane and trigger any "When you planeswalk to..." or "When you planeswalk away from..." abilities. Got that? Okay, first let's take a look at my favorite art from the set, Immersturm.
My second favorite piece of artwork is Otaria. Just beautiful.
These planes add a whole new aspect to multiplayer Magic, whether they're killing creatures with Immersturm or giving your spells Flashback with Otaria. I love how the Chaos abilities are sometimes huge, like Otaria providing you an extra turn, or how about Raven's Run, where you get a free copy of Incremental Blight?
The artwork on these pieces, as I've said, is just so wonderful and evocative. Raven's Run provides you the dark, lurking horror of Shadowmoor, while Sokenzan takes you right back to the snowy mountains of Kamigawa, where the bandit warlord Godo resides along with the Akki goblins. Izzet Steam Maze takes us back to the wonderful world of Ravnica, and the insane Izzet who muddle in dangerous red and blue Magic and whose spells often go awry.
But you know what I really love about Planechase? The grief planes. And I'm not talking about the loss of someone you love, I'm talking about the suffering of your fellow players. I'm a guy who can really appreciate a good grief card, one that makes others "suffer" but in that suffering you too can find joy.
Look at The Eon Fog. This Stasis-based plane is just gorgeous, like all the rest, but lets you know that not all Planechase cards are happy-go-lucky-lets-go-nuts cards. Some of them you don't want to planeswalk to, such as Naar Isle...or the cool creepiness of Lethe Lake, which I could imagine Millstone or Grindstone originating from, as well as Skybreen...and The Fourth Sphere. It's not always a happy place in the realms of existence for our planeswalkers, and I definitely appreciate the ying to the rest of the planes' yang as it were.
Note that Planechase release events are happening this weekend, so get yourself to your local store and check em out. The more I've learned about Planechase the more I like it, and I can't wait to get my hands on a few of the Planechase packs myself.
So that's another week in the world of Magic folks. Until next time Magic players, this is Evan Erwin. Tapping the cards...so you don't have to.
Evan "misterorange" Erwin
twitter.com/misterorange
eerwin +at+ gmail +dot+ com