Exclusive Planechase Previews: Illusory Angel And Quicksilver Sea!

June 1st.
That's right. The next Magic set containing new tournament legal cards drops June 1st!
Yes Avacyn Restored just went on sale and no this isn't M13. June 1st Planechase 2012 will go on sale. While there are many exciting new planes to explore in casual play unlike the original Planechase this set also contains some new cards that will be legal in Legacy Vintage and Commander (similar to the Commander set).
Today I have the privilege to share not one but two exclusive previews for Planechase 2012. One is a creature that will be legal in powered formats; the other a new plane for casual play. Let's get to it!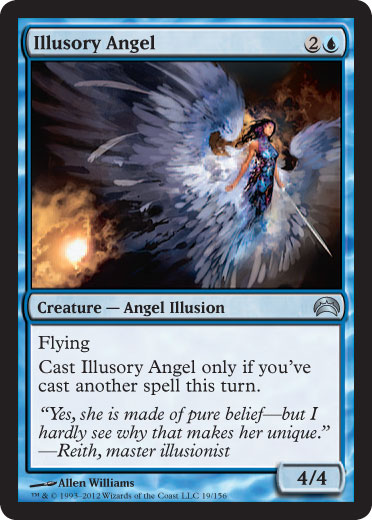 Wow. I can see why they might not want this one to be Standard legal!
Can you imagine if Delver had access to this beast? Even if you don't try particularly hard it is trivial to play a Ponder or Thought Scour first letting Illusory Angel be a four-mana 4/4 that untaps a land. These days a four-mana 4/4 flier is not terrible but isn't going to break any records but it didn't really cost four since you also got to play the Ponder or Thought Scour which was going to cost you a mana anyway.
A three-mana 4/4? Now you are talking seriously Legacy power (and certainly beyond what is ok in Standard). Is it really a three-mana 4/4 flier if you have to play another spell first? What if that spell costs zero...?
What about Gitaxian Probe?
Are you kidding? It would be totally busted for Delver to have access to this. Probe alone is too much; there is also Gut Shot Memnite Mox Opal and so on. No question: this card is not balanced for Standard but since it isn't legal in Standard and everything is playable in Commander the real question is "Is it playable in Legacy?"
Sea Drake is a three-mana 4/3 flier that bounces two of your lands to your hand when it enters the battlefield. Sea Drake sees Legacy play from time to time. Just think about how much stronger Illusory Angel is. To begin with the difference between a 4/3 and a 4/4 is huge in a format with Lightning Bolt Chain Lightning and Delver of Secrets. Then when you consider that this drawback is less costly than Sea Drake's it becomes clear it is not close. It even has the creature type Illusion which has multiple Legacy legal Lords (Lord of the Unreal and Krovikan Mists).
Isn't this just another Talara's Battalion that costs more?
Even if we set aside the flying and extra toughness there is a crucial difference between them that makes all the difference in the world. Talara's Battalion requires you to play a green spell whereas Illusory Angel triggers off of zero cost artifacts and any free spell (not just Manamorphose).
Just how many good ways are there to get around Illusory Angel's drawback? Well playing a spell for one mana happens all the time over and over so worst case scenario when things don't work out you still get a 4/4 flier for four. That isn't the worst plus you got to cast your spell "for free." Now let's factor in Lotus Petal Mox Diamond Chrome Mox Mox Opal Lion's Eye Diamond Manamorphose Cloud of Fairies Snap Tormod's Crypt Snuff Out Fireblast Pyrokinesis Mishra's Bauble Urza's Bauble Dark Ritual Rite of Flame Chalice of the Void Crop Rotation Lava Dart High Tide Memnite Ornithopter; this is just scratching the surface. Even Repeal works when you already have a Mox Opal!
What kind of a deck could take advantage of Illusory Angel? Any deck that might be in the market for a 4/4 flier for three obviously. What would that look like though?
One possible direction is to play a Faerie Stompy sort of deck possibly with Sea Drakes as well. We actually have an embarrassment of riches when it comes to good three-drops though with Serendib Efreet and Fettergeist as options as well. It is not clear what the best mix is but for a Faerie Stompy deck Illusory Angel is surely the best by a clear margin. It is so much better in fact it has chances of helping elevate Faerie Stompy out of fringe.
A deck like this is going to want to use Ancient Tomb and City of Traitors to accelerate out its Illusory Angels even faster. Turn 2 is nice but we can do even better. Chrome Mox is the perfect complement to the Angel as it plus a Tomb or a City gives you a 4/4 flier on turn 1! It is possible that we want Mox Diamond or Lotus Petal as well which would also give us access to the turn 1 play.
When your "back-up plan" is to play a 4/4 flier on turn 2 in a deck full of cheap and free countermagic you are talking about some pretty exciting stuff.
Another possible home for Illusory Angel is in Affinity! That's right Affinity. Why? Well the use of Mox Opal Chrome Mox Memnite Ornithopter Springleaf Drum and more means we would have no trouble at all triggering the Angel. We would probably look to include some of the double-lands as discussed opening up more turn 1 and turn 2 Angels. Affinity is particularly well suited to take advantage of the Angel as it has lots of other creatures that will be beating down as well. It even has Cranial Plating which works very well on fliers.
Yet another possibility is in some sort of Illusions deck. We have Lord of the Unreal and Krovikan Mists as pay-offs and Phantasmal Bear and Delver of Secrets as one-drops (even if Delver isn't an Illusion). Add some Force of Wills and a bunch of zero cost cards and you have a shell.
Ok so Illusory Angel is a totally sweet new creature that could show up in Legacy. What about the new plane preview Quicksilver Sea?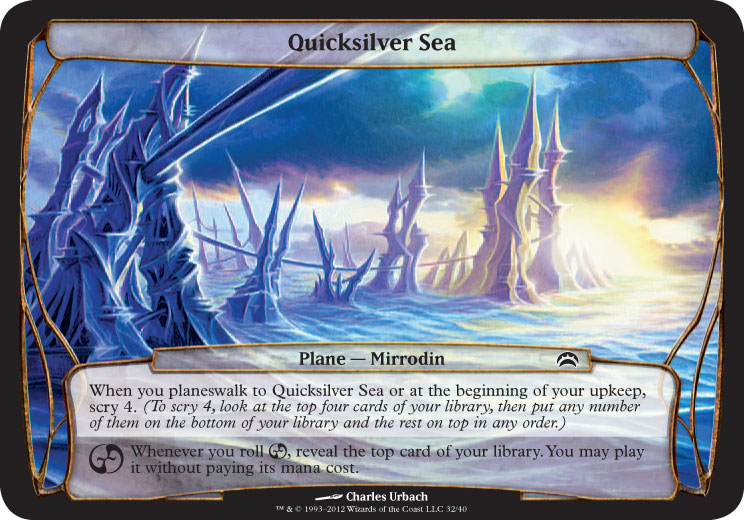 While the Planechase planes are not for tournament play it doesn't mean they don't have strategic implications. Some players are going to play with them as just a random element to mix things up. Many players however are going select a deck of ten planes (facing an opponent or opponents with ten planes as well) choosing a mixture of possible planes that their deck can take advantage of. You can't always control when the battle will go to any given plane or how long you will be there but you can set your deck up to take advantage of them when you are there.
Quicksilver Sea has basically two elements to it. To begin with it is a powerful symmetrical library manipulation card. Scry 4 is a ton.We are talking about a Howling Mine worth of influence on the game but since it is all selection and every turn you are going to find all players able to cycle through their decks to find whatever they want very quickly. Unlike Howling Mine you get to be the first one to take advantage of the effect since it also has a comes into play ability.
Scry 4 is not just a very powerful way to dig; it is also a way to set up the top of your library and always know what it is. This works with miracles Predict Counterbalance Erratic Explosion cascade and more. Even if this was all it did there would be plenty to work with.
"But wait! There's more!"

During each player's turn they can roll the planar die as often as they like with it costing just one mana per time you have already rolled. This means the first one is free the second costs one the third costs two and so on. Each roll of the planar die gives you a 1/6 chance of switching to a new plane and a 1/6 chance of the chaos ability of the plane being triggered.
Quicksilver Sea's chaos ability works very well with a number of cards and strategies that can take advantage of its normal scry ability. Changing the top of your library during your upkeep lets you plan ahead on what you will get paid off with if you roll chaos. Even if you go your whole turn without triggering the chaos ability next turn you can rearrange your deck before your draw phase to set yourself up to have the best chances next turn.
Remember the idea of using the scry 4 ability to try to set up Erratic Explosion? Well what if we combine that with Emrakul? Yeah Draco would deal one more damage but Emrakul is really really good to just cast for free sometimes...
There are countless new ways to use the new Planechase cards and I am super excited that they are even throwing tournament Magic a bone by including new tournament legal cards in addition to the Commander-friendly Planechase cards.
There's no way Illusory Angel is a taste of things to come is it?
Is it?

Patrick Chapin
"The Innovator"