Mr. Beety Goes To Gen Con *Settlers Of Catan 31st*
Though most longtime StarCityGames.com readers know me as a Texan I was born in Indiana and raised there. While I was in college—all the way up to a couple of weeks before my 21st birthday—Gen Con Indianapolis was right in my backyard. Four days of gamer-geek paradise just an hour and a half from my hometown.
I never went.
I had a good excuse for not going while Gen Con was in Wisconsin; when I was younger "gaming" meant chess where I nabbed a couple of state junior blitz chess* titles but never was any sort of national title threat. In the summer of 2004 I had an internship out-of-state and just before the summer of 2006 I moved down to Texas so I had good excuses those years too.
The summer of 2003 though? The summer of 2005? Gaming meant Magic and Gen Con was right there. I still didn't go. I didn't value gaming the way I do now until I got down to Texas when Magic went from a college student's friend-finder and pastime to a young professional's social lifeline. Maybe I didn't have the signature Texas drawl when I first arrived but even in my Indiana accent** I could still speak Magic geek and that was enough.
Just about the time Gen Con became an event a thousand miles away of course was when I found I desperately wanted to go.
Last week after six years of waiting I got there.
Wednesday: Feeding Gavin Verhey Texas Barbecue
Due to a flight delay I didn't arrive in Indianapolis until the wee hours of Thursday so my Gen Con experience didn't truly start until then. That said I did meet up with several people going to Gen Con on my flight to Indianapolis; Dallas/Fort Worth International Airport is an American Airlines hub so many people were routed there for a connecting flight to the Indiana capital. Among them was current Wizards employee (and former StarCityGames.com writer) Gavin Verhey. When we met at the gate he was hungry as heck and running on "six Frosted Mini Wheats" as all the food he'd eaten that day. After a half-joking suggestion of more cereal at the Cereality cereal bar (I'd enjoyed a "Devil Made Me Do It" concoction for dessert) I led him to the nearby Dickey's Barbecue Pit which is the real Texas barbecue deal with Dallas roots.
Gavin got food and got on the plane which was more than could be said for a pair of his acquaintances who'd had a hard-luck tale of cancelled and delayed flights stretching back to the morning and added to it after nine o'clock at night. From what I heard over the next few days weather wrecked Gen Con plans all across the country so escaping with only a 90-minute delay was fortunate though it didn't feel so at the time...
Thursday: Big in Catan?
... And especially not as I was standing in line at a little past two in the morning waiting to collect my Gen Con badge. That was my first true "geek shock" when I realized that if not for my StarCityGames.com hooded sweatshirt my dress-shirt-and-tie-wearing self would be looking like a total muggle. The badge collection and a single Legacy match with one of my hotel roommates (hat-tip to Omar Hernandez and the rest of Room 435) were my sole "super-late-night" Gen Con activities; most days I found myself too tired to cube and too booked-up to enjoy what many call the "real" Gen Con. I'll have to fix that the next time I attend if I do.
My first experience with the much-discussed Gen Con security was overwhelmingly negative when a guard blocked me from going to the tournament hall for my ten o'clock Settlers of Catan event refused to listen to my explanations and sent me into the mass of people waiting for the exhibit hall to open. That guard looked like several others who shared his blond-to-gray hair and mustache and I spent the rest of Gen Con trying to dodge all of them.
Luckily for me the Mayfair Games tournament organizer for Settlers of Catan figured out what was going on and she delayed registration until everyone who had bought a ticket had a reasonable time to make it to the tournament hall while routing around the Security Guard of Doom. As it was my first Settlers of Catan tournament I wasn't entirely sure what to expect and I asked lots of questions about tournament norms and prefaced every game I played with "This is my first tournament and I'd rather not handle the bank."
There were four games in the Thursday tournament which was a pre-qualifier for another 32-player tournament that would award the final spot in the World-Wide Catan Championships to the winner. I won the first (10-8-7-4) the second (10-8-8-6 victory on a 20% chance to buy a Victory Point card from the development deck) and the third (10-6-6-5) games I played. I went up to the tournament organizer after that third game asking about my chances to make the Field of 32 that would jostle for the World Championship slot.
"How did you do in your first three games?" she asked.
"I won all three..."
She went wide-eyed and one hand started circling. "Go go go!"
Though I tied for last in my fourth game (6-10-9-6) my three wins on Thursday virtually assured me of a spot in the Field of 32 which would consist of players who won earlier tournaments around the country and the top scores from the "grinder" style tournaments on Thursday Friday and Saturday.
I'd started the Thursday Catan tournament as a complete unknown and ended it as a player to watch; in retrospect it's far more plausible than the Magic equivalent a player registering with the DCI at the start of a PTQ and making the Top 8. But I was still in Magic mode and I wasn't dealing well with the shock. I had people I'd never met walking up to me and congratulating me one bloke grumbling that I must be some sort of ringer who was lying about it being my first Catan tournament and finally one gentleman who tried to compliment me and then gave me some fatherly advice when I didn't take it the right way: "When you talk about how it's your first tournament how you got lucky it's a little annoying. You're good at this game. Own it."
I thanked him and after that I did own my new status. Though I did my best to stay away from arrogance I smiled and enjoyed the compliments taking them with thanks and without downplaying myself. As I left the Catan tournament hall and took out my cell phone a little snippet of Alphaville's "Big in Japan" ran through my head and I chuckled. I'll have to work on the lyrics to a "Big in Catan" parody song one of these days...
Outside the Catan hall I went back to Magic mode and I linked up with Brendan Weiskotten a rival site's (boo!) Vorthos (yay!) who'd found a last-minute ride to Gen Con. We had dinner at Buca di Beppo an Italian kitsch-kitchen chain and we were so busy talking and doing our respective things that we didn't even notice how long it took to get our food. The manager did though and comped our meal. Score! The server got a little more than 20%; it wasn't his fault the food was late after all.
Friday: My Magic is Limited
I was exhausted at the end of Thursday so I slept well that night. I was up at a decent hour though to eat breakfast in the Marriott's downstairs restaurant with Helene Bergeot other Wizards of the Coast employees and a number of players who had given Wizards feedback about Organized Play. (Things you might not know about Ms. Bergeot if you've never met her: she's smart funny Euro-charismatic and even more passionate about Magic and its tournament culture than I am. Yes that's possible. No I don't know how she does it.)
I really enjoyed being able to talk with her over breakfast and the walk over from the hotel to the convention center. Her excitement about the World Magic Cup was palpable and the overall energy on that side of the card games tournament hall reinforced how important true team Magic is to the community and how the World Magic Cup created new forms of Magic community as each nation's top pro often led team testing and development. For all the fretting I've done about the World Magic Cup and the changes that surely will come a great deal went right at this inaugural event and I commend Wizards and Organized Play for it.
While my Friday of Limited format Magic didn't go so well (1-1-drop in the Draft Challenge and 2-2-drop in the Special Sealed) I had special moments to bookend the day both at the start and at the end. I was cleaning up my drop from the Special Sealed when I heard a whoop from the World Magic Cup pairings board. Soon a player came running up to my area where three other Latin American gamers had gathered.
"31!"
They were the Dominican Republic's World Magic Cup team and they had made the next day of competition. They were 31st of 32 teams to make the cut but that was all they had to be. The sheer joy I witnessed as they celebrated together is what defines the inaugural World Magic Cup for me.
Saturday: Legacy and Not-So-Big in Catan
As usual for me and Legacy I sleeved up Battlebots (the deck formerly known as Affinity) for the Legacy Championship. Here's my (4-2-drop) list from the event:
Creatures (28)
Lands (16)
Spells (16)
At least one sideboard slot was a mistake; Spell Pierce really should've been Flusterstorm. At least with a 4-2 record I was able to walk away from the Legacy Championship with dignity if not prizes.
Then I went over to the Catan side. When I was announced as the 10th-ranked player from the qualifying tournaments I officially was a Catan quarterfinalist. I received more congratulations for making the Field of 32 found out a couple of players I'd gone against on Thursday had qualified over the next two games and celebrated with them. Then it was time for the quarterfinal round: two games with the situation essentially "win (one game) or go home."
I bombed on both. In my first game (math oriented with an actuary major and an engineering major at the table) I had the on-the-board lead at seven points but an opponent nominally at four points swooped in for the win in one turn taking the Longest Road from me amassing the Largest Army building up for another point and flipping over a Victory Point development card to claim the win. He left the rest of us at the table shaking our heads and shaking his hand. (Here's a Mayfair Games photo of that table taken shortly before the red-haired gent in the back stunned us all. I'm the tie-wearing schlub on the left. Curse you male-pattern baldness!)
My second game was more people reading oriented with a former juvenile prison security guard and a counselor with a master's degree in psychology. Ours was the last game to finish largely because we kept it light almost to the end trash talking each other ("Use your indoor dice! Your indoor dice!" as I kept sending dice across the table with my rolls) and swapping resources like old-school horse-traders. As the counselor got close to a win though things got serious. Finally it reached the point where he could win on his turn and all he had to do was dodge a hand-destroying seven with his roll of the dice.
Six pips on one four pips on the other. Ten is not seven. His primal "Yes!" must have been heard in the next hall and he went on to seal my fate.
I fully intended to self-medicate with a pint of ice cream after my Catan debacle and bought a pint of Haagen-Dazs for the purpose but I ended up leaving it in the freezer. When I left the hotel room Sunday I also left a note: "The pint of ice cream in the freezer is unopened and all yours."
Sunday: Who Says You Can't Go Home?
That was the Bon Jovi song playing in my mother's rented silver Prius as she drove down the highway sandwiched between Dwight Yoakum and Martina McBride. For me the best part of going to Indiana to play Magic isn't the tournament but seeing and spending time with her even if it's as little as a few hours like I had between Gen Con and my flight back to Texas.
I'd gathered up my clothes in the morning and packed the dirty ones away and gone down to the tournament hall to find my placement (31st of 32 somehow not last) and watch the semifinals get underway. Then I chased souvenirs both free and not; a Collector's Edition Mark Poole Island artist's proof made a nice purchase as did the jumbo polyhedral dice set I picked up at the Chessex booth. For free I updated the old military "short snorter" tradition for the gamer age and collected signatures of people I'd met for the first time at the convention on a Noah Bradley Plains that had nice wide light spaces for ink.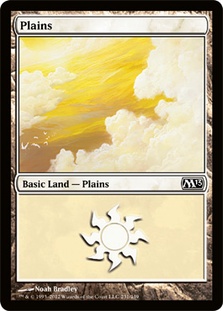 This but signed by cool people.
Then it was a mad scramble back to the hotel to pick up all my belongings and meet my mom.
Over Cheesecake Factory she showed me some of the pictures we had taken on our Magic Cruise to Alaska. Other people's vacation photos are a bore so I won't inflict any of my amateur photography on you but I lingered on the picture taken by a passerby of me and my mother standing in front of the Mendenhall Glacier. Got there I thought to myself and I was holding the proof in my hands.
Gen Con for me lasted through the plane ride back to Dallas (all three of us in my row on my side of the aisle had been at Gen Con) but when we got up and went our separate ways the convention was well and truly done.
It's All Over Now...
... And it sure is Monday. The country radio station in my mom's car was taunting me yesterday.
Would I do Gen Con again? I'm not sure to be frank. Plane tickets aren't cheap though and neither are hotel rooms or badges. There are significant costs to the experience and those weigh on me. That's when I start thinking about all I would miss though: another crack at Catan tournament play armed with the knowledge that I can take on strong players and win; the strange excitement of the Legacy Championship; the people so many people with whom I often communicate but rarely if ever meet. They're worth plenty.
If I go back to Gen Con it will be with a commitment to not committing to scheduling maybe one Catan tournament one True Dungeon Adventure a Legacy Championship and that's all. I overscheduled myself and missed out on what many consider to be the "real" Gen Con discovering new things and meeting people. My big novice mistake was not carving time out for the people and so my first Gen Con experience was not all it could have been.
It was however more than enough.
As always thanks for reading.
-- JDB
@jdbeety on Twitter
*Blitz chess is played "on the clock" and you have five minutes to make all of your moves. Running out of time means you lose. If you think the Magic Online clock is harsh you've never been on the wrong side of a blitz chess heartbreaker.
**As a Midwestern accent "Indiana" is fairly mild for an American accent but it does have a few quirks especially in the south toward the Ohio River where I spent summers growing up. "Sophomore" becomes "south-more" and "wash" turns to "warsh." Layer six years of Texas on top of that and "Sophomores wash those cars" turns into "Y'all southmores warsh those cars y'hear?" Give me the wrong sentence and I'm just as apt to mangle the People's English as anyone else.